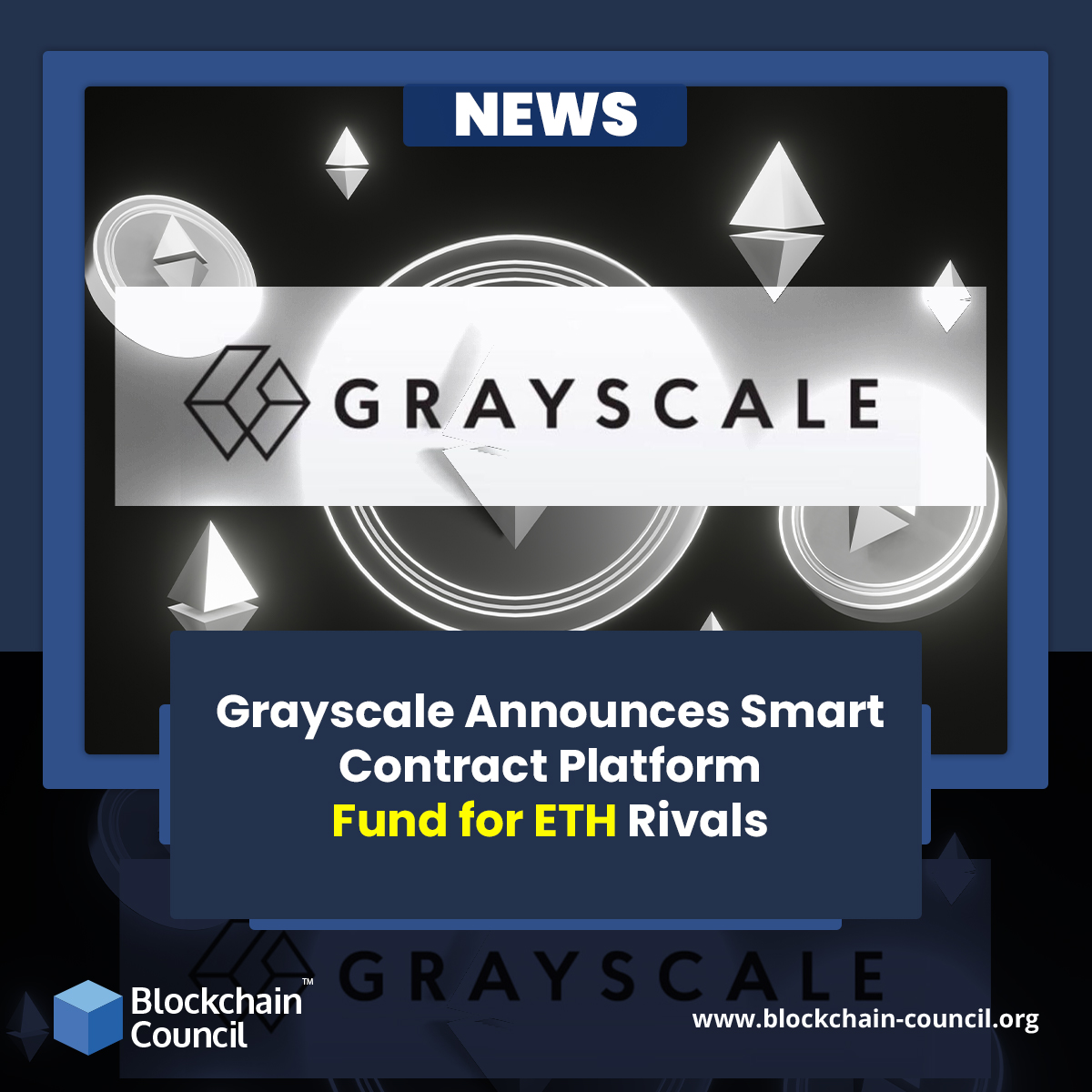 Grayscale's new fund invests in seven smart-contract cryptocurrencies but excludes Ethereum.

The Grayscale Smart Contract Platform Ex-Ethereum Fund has been formed by Grayscale, a well-known cryptocurrency asset management. Aside from Ethereum, the fund has exposure to a number of cryptocurrencies that support significant smart contract networks.
Smart Contracts Investment
According to a news statement issued on Tuesday, the fund is Grayscale's third diversified fund offering and 18th investment product. It uses CoinDesk's market-cap-weighted Smart Contract Platform Select Ex ETH Index to adjust its exposure to various cryptocurrencies.
The fund has 24.6 percent ADA, 24.27 percent SOL, 16.96 percent AVAX, 16.16 percent DOT, 9.65 percent MATIC, 4.27 percent ALGO, and 4.06 percent XLM as of March 16th. This was based on each cryptocurrency's performance at the time, albeit BNB and LUNA are noticeably absent.
Users can write open-source, self-executing code on "Smart Contract Platforms" to fuel more innovative, trustless transactions. This enables a wide range of decentralized apps (DApps) to be created on crypto networks, with decentralized banking being a prominent subset (DeFi).
On the other hand, smart contracts may render consumers more vulnerable to hackers and attacks while also taking up more space on the blockchain. In addition, some blockchains, such as Bitcoin and Dogecoin, are difficult to design for smart contracts.
A Product with a Wide Range
According to Grayscale CEO Michael Sonnenshein, as the cryptocurrency sector expands, more investors are looking for diverse exposure to the business.
"Smart contract technology is important to the digital economy's growth, but it's still too early to tell which platform will triumph," he said. "The speciality of the fund is that it authorizes investors to play a part in the growth of the smart contract platform ecosystem through a single investment instrument, rather than having to pick a winner."
Kevin O'Leary, a TV personality and businessman, has also emphasized the significance of diversity in the crypto world. He currently has 20% of his net worth spread among 32 different investments, including Ethereum, Solana, and Avalanche.
It's worth mentioning that the prices of cryptocurrencies remain highly connected, limiting the benefits of diversification for the time being. CoinMetrics, for example, presently calculates a 0.89 correlation between BTC and ETH.
Other Grayscale offerings include the world's largest Bitcoin fund, which is the Bitcoin Trust. The fund has been converted into a US-based spot ETF, but the SEC has yet to approve it.
The Blockchain Council's broad certifications are for you if you want to learn everything there is to know about cryptocurrencies and blockchain technology. In these courses, learners are given access to subjective and practical knowledge in an easy-to-understand way. In addition, they are inexpensive and provide you with rapid exposure to a growing market.
If you want to keep up with the trends of blockchain industry, join our communities on Discord, Reddit and Telegram.