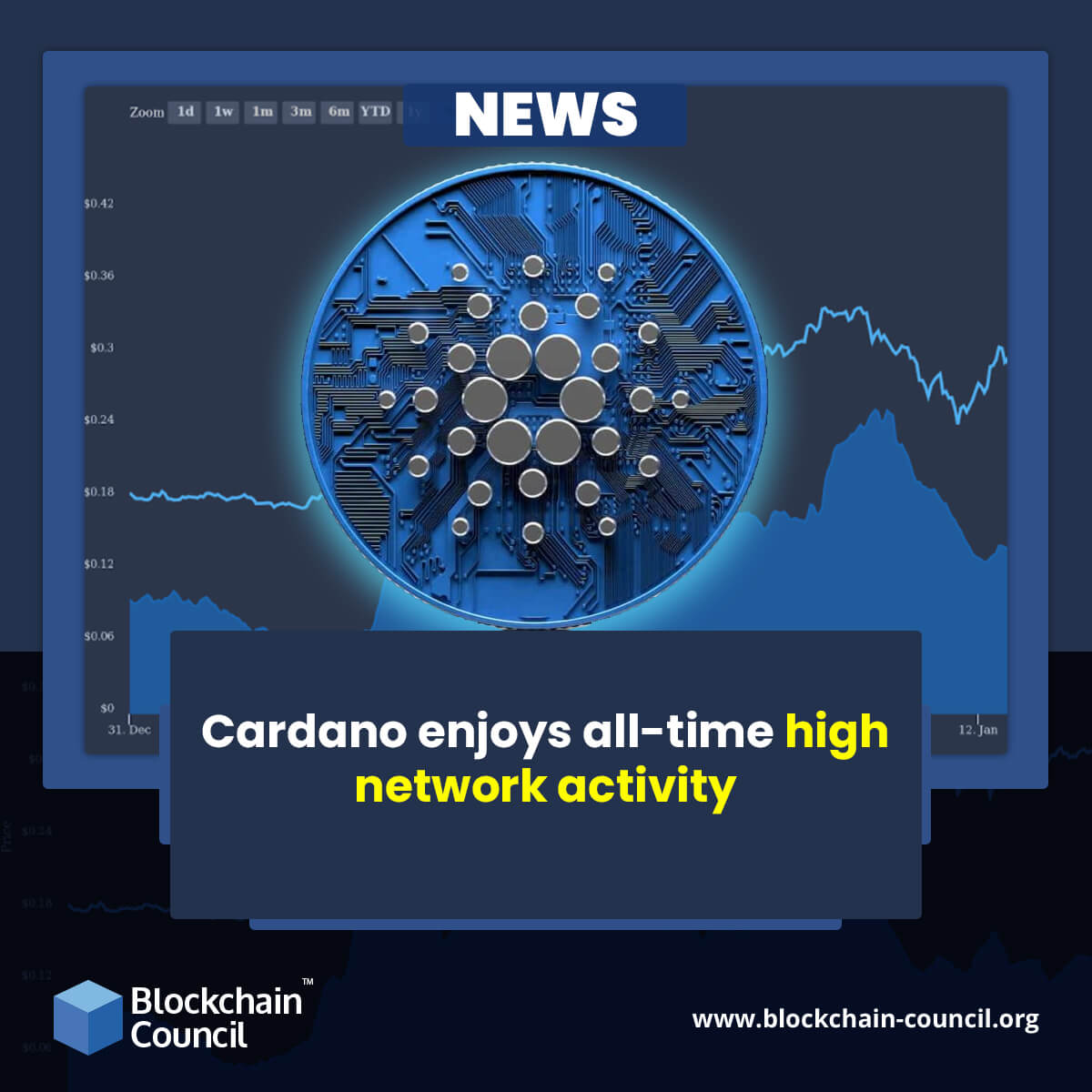 Thriving as a top-tier blockchain ecosystem, Cardano is fast approaching the maximum limit of its processing capacity as the network activity increases on the decentralized channel. While sustaining a constant value of more than 90% blockchain overload for eight days in a stretch, the Cardano blockchain has emerged as a strong player in the market. The surge in network activity can be attributed to the increase in block size implemented by the Cardano cluster in November 2021 to enhance the operability standards for the customers.

In Layman's words 'blockchain load' refers to the volume of memory space filled within the average Cardano block through user involvement. Where a full 100% blockchain load shows that the blocks have attained their maximum level, a 0% load indicates no activity on the channel. As per the report from Cardano Blockchain Insights, the network activity on the portal skyrocketed on January 14, 2022, from a value of 55.2% to 91.8% on January 16, 2022. The spike has continued to fluctuate above 90% since January 19, 2022. The all-time high of 94.1% was recorded on January 21, 2022, on the channel. The company increased its block size by 12.5% two months ago to meet this burgeoning network traffic.
Where on one hand this hints towards the struggling state faced by Cardano in meeting the network requirements on the other hand it shows the rise in blockchain adoption rate. The load increased since September when the firm launched smart contracts for users. Despite this, Cardano's native token ADA is trading 60% low at a value of $1.05 from the earlier $3 value. Throughout 2021, Cardano gained momentum as an eco-friendly smart contract platform. The current market cap of the project is more than $33B despite the ongoing crypto slump.
It is interesting to note that Cardano is expanding its block size to maintain the load whereas Bitcoin and Ethereum are taking other significant steps for the same purpose. The Bitcoin network is increasing scalability level through layers, predominantly the lightning network, for processing transactions off-chain and settling them in groups on the main chain. Ethereum is moving to similar layer solutions like roll-ups along with complex verification themes like sharding to expand scalability. The Bitcoin owners refused to accept block size increase in 2017 by rejecting the SegWit 2X upgrade. The solution was rejected to hamper decentralization. The Cardano platform has managed to sustain its position in the industry with constant upgrades in its system dedicated to making the ecosystem more user-friendly and effective.