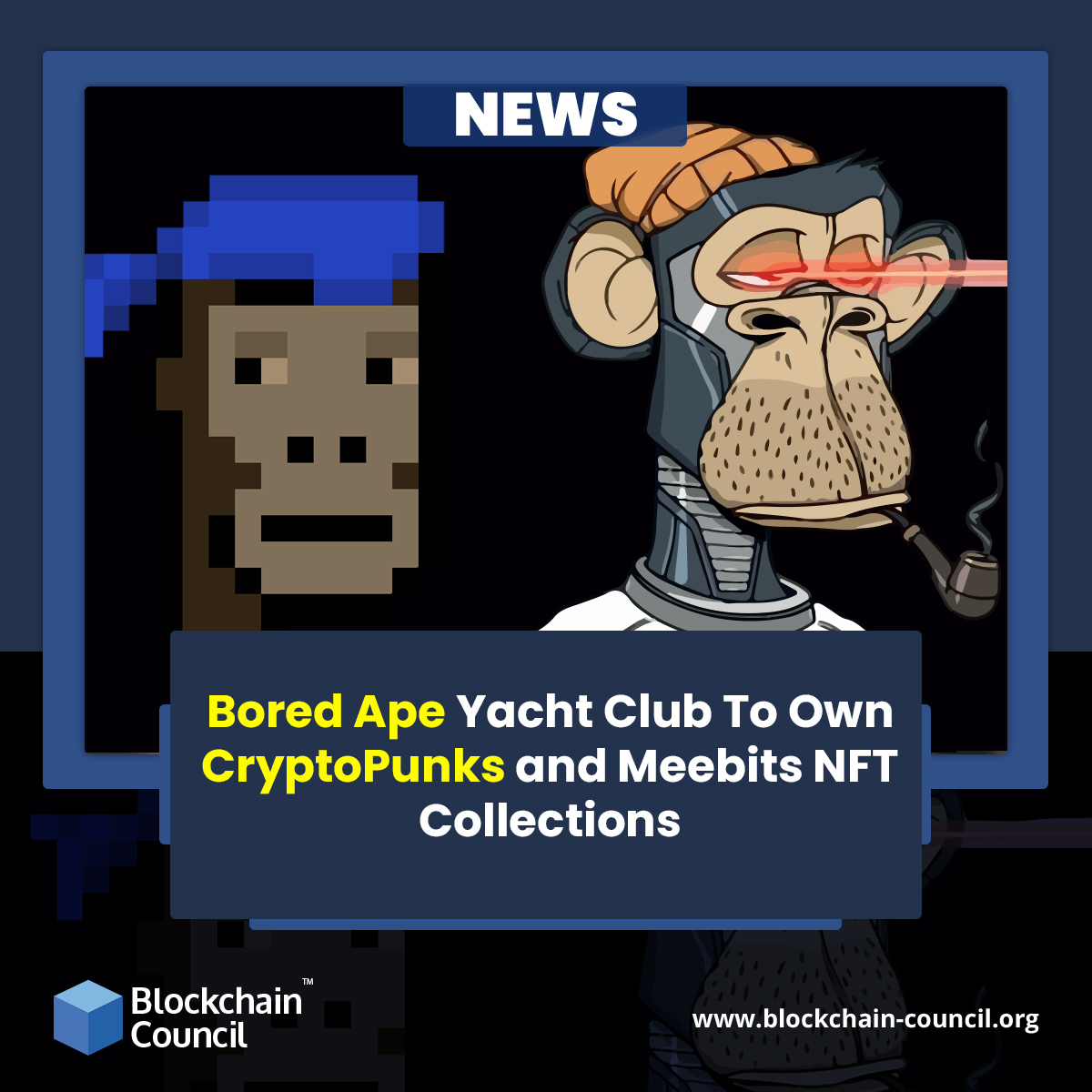 Thriving as one of the most popular NFT collections, the Bored Ape Yacht Club has taken the global Non-Fungible Token sector by surprise with its new expansion initiative. Yuga Labs, the creator of the BAYC NFT collection has proudly announced that the team has successfully purchased the intellectual property rights of CryptoPunks and Meebits NFT collections from their creator brand, Larva Labs. With NFTs gaining widescale popularity amongst investors of all ages, classes, and interests, this highly-anticipated deal by Yuga Labs is likely to pave the way for its success and help it take the lead in the competitive industry.

According to the arrangement terms, Yuga Labs will now be the sole owner of both the NFT platforms, the copyright advantage related to each collection, along with 1,711 Meebits and 423 CryptoPunks. Those holding CryptoPunks currently, need not have to worry about their holdings as Yuga Labs has decided to give full commercial rights to them. The collectors will enjoy complete freedom of choice to deal with their CryptoPunk NFTs in a fashion they deem to be fit without stressing upon any legal troubles.
Interestingly, the owners of the BAYC collection enjoy similar rights and authority to trade their assets as per their will. The strategic move is likely to make CryptoPunks a popular choice in the field of TV shows, movies, and the music industry. Talking about the deal, Yuga Labs, in a Twitter post stated that the firm is happy to see the BAYC cluster using their collaboration rights to create amazing products. The team is hopeful to see the same results for CryptoPunks and Meebits clusters as well. The post emphasized that the BAYC interface will continue to be the center of their environment. The firm is looking forward to growing together with its partners as a strong community.
The co-founders of Larva Labs, Matt Hall, and John Watkinson shall not be joining Yuga Labs post the acquisition pact. They will continue to manage Larva Labs and work on creating new projects that will shape the future of Web3 technology. The creators are confident that CryptoPunks and Meebits will continue to expand as thriving products under Yuga Labs. The creators added that they specialize in creating projects in the nascent phase of new technology. With the growth of the Profile Picture Projects, they feel that they are less suited to the operation of these projects and so sold the IP rights to Yuga Labs.
The investors looking forward to garnering knowledge and skills in crypto can move to Blockchain Council for some of the best certification courses. These courses are designed by experts to offer detailed information on the subject to the participants so that they can understand the industry trends and fluctuations easily.