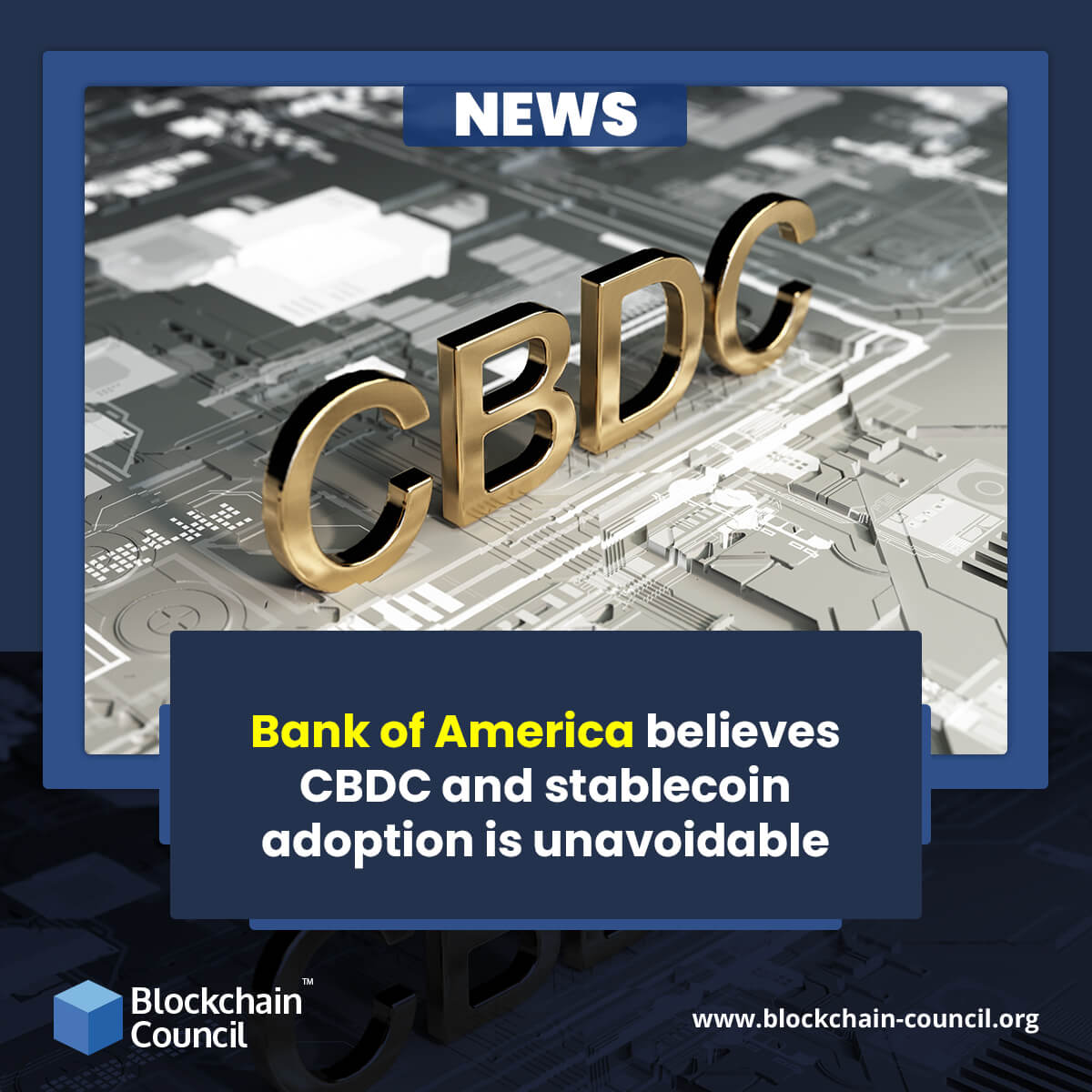 With governments from across the world keenly working on developing a fully-dedicated digital economy, the United States is also not behind in this endeavor. The recent developments are signaling towards the launch of a native Central Bank Digital Currency (CBDC) project by the financial authorities in the country. The speculations were confirmed by the Bank of America's crypto strategists Andrew Moss and Alkesh Shah who conveyed in a blog post that the U.S will be working to create its own CBDC for revolutionizing the financial space.

According to the report by Bloomberg, the strategists stated that CBDC's are an inevitable part of the present e-currencies cluster. The experts emphasized that there might be a surge in stablecoin adoption and usage for payment settlements in the coming years. The rise in popularity will be attributed to the shift of financial institutions to the digital asset custody and trading ecosystems. The quick adoption of blockchain technology in the industrial sector will also play a significant role in the stablecoin adoption rate. The report released on January 20, 2022, by the Federal Reserve Bank titled "Money and Payments: The U.S. Dollar in the Age of Digital Transformation" gave a deep insight into the pros and cons related to the adoption of a CBDC by the U.S.
The crucial report by the FRB talked about various aspects pertaining to a CBDC launch in the country. It discussed if a CBDC project would enhance the capacity of a safe and reliable domestic payments cluster for households and business entities. Though the payment system is evolving, it could facilitate faster payment settlements across countries.
In the recent report, Shah and Moss speculated that the dependence on virtual currencies issued by private entities is likely to witness a striking rise. Presently, the digital currency infrastructure involving online bank accounts and payment apps is largely operated by private firms like commercial banks. Though, a CBDC is different from this as it is controlled and managed by a central bank like the Federal Reserve Bank of the United States. This helps the customers to enjoy a regulated trading experience when dealing in crypto. The report highlighted that the use of crypto can pose multiple difficulties like ensuring financial stability, protecting privacy, and controlling illegal transactions. The Fed has urged people to share their views on these issues until May 20, 2022.
The CBDCs have become quite popular amongst governments and financial institutions as they offer a perfect blend of decentralization and a regulated system. In 2020, The Bahamas launched the world's first CBDC project called the Sand Dollar. China is also running a pilot for its digital Yuan project. In April 2021, Sweden's central bank successfully completed the first phase of its e-krona stablecoin pilot program.