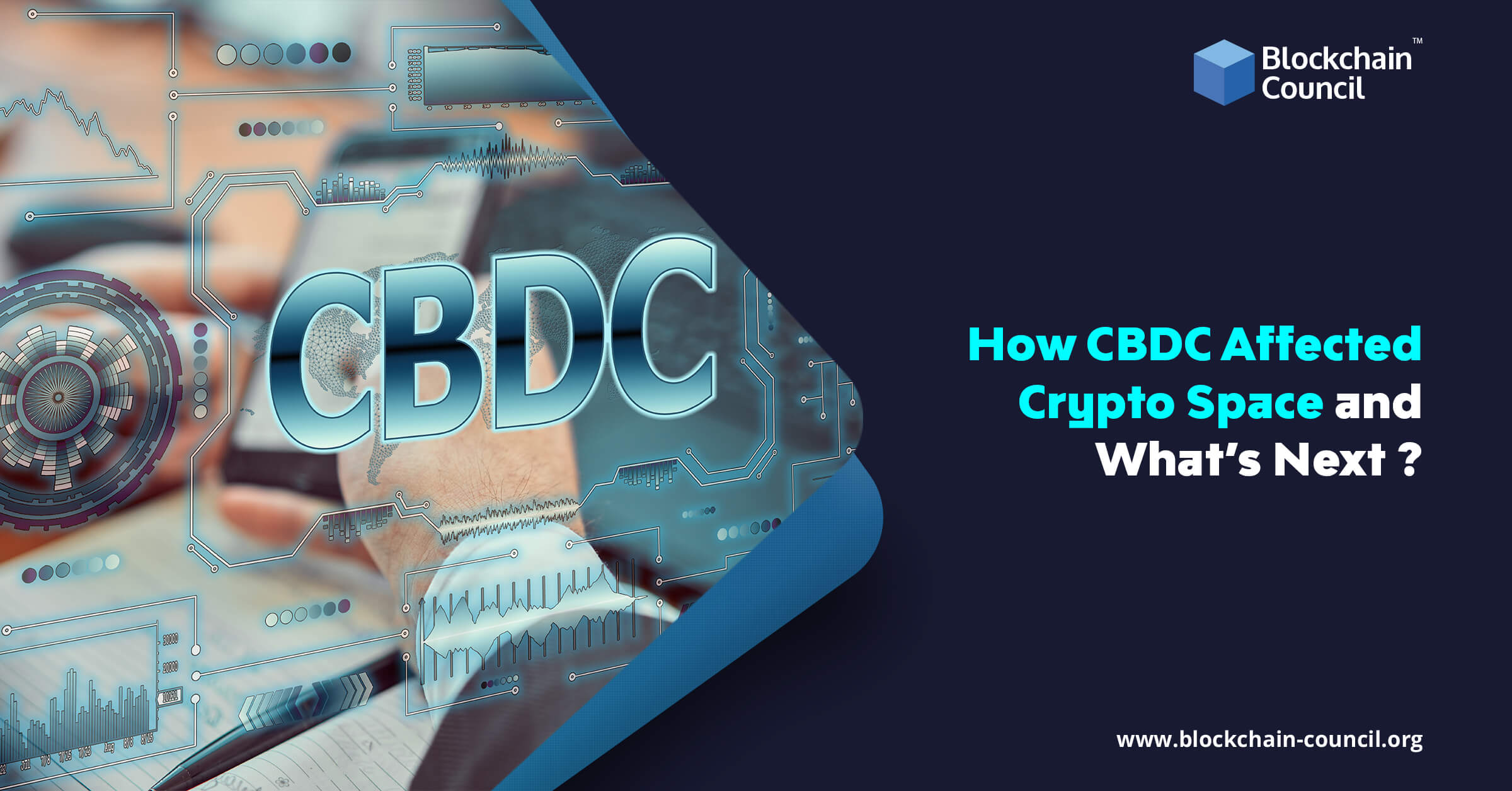 Wondering what exactly CBDC is? How it affected crypto space in 2020, and what will it bring for the future? You have landed on the right page.

Table of Contents
What Exactly is CBDC?

Why is CBDC Gaining Momentum?

CBDC's Effect on Crypto Space in 2020 and What's Next in 2021?

Concluding Lines 
What Exactly is CBDC?
CBDC is a digital payment device that is issued and backed directly by the country's central bank and is a legal tender. Instead of relying on third-party intermediaries such as banks and other entities, money transfers could be made directly between the participating parties in real-time.
Blockchain experts and technocrats consider CBDC as a new payment technology that could potentially increase payment efficiency and lower costs. It allows more direct control of the money supply than indirect tools and leads the way towards a full reserve banking system.

Are you looking for Blockchain Certifications? Get started with Blockchain Council today!
Why is CBDC Gaining Momentum?
The Bank for International Settlements reported in January 2019 that around 70% of central banks were studying the potential of issuing a CBDC. But 2020 has been a promising year in terms of CBDC adoption. It was reported that around 80% of the world's central banks such as Australia, Brazil, Estonia, Kenya, Russia, Sweden, Thailand, and many others are already evaluating CBDC adoption.
Central banks in developing market economies are moving toward developing CBDCs more swiftly than developed countries. Also, the competition of launching their respective CBDC between the United States and China led to the tech cold war. The conversation of this technology competition was even brought to the U.S Senate. 
There are various reasons for rapid CBDC adoption. European Central Bank, BIS, and many experts and technocrats believe that the COVID-19 outbreak is one of the prime reasons. 
CBDCs are crucial for the advancement of the financial system, as they can boost bank balances, radically modify conventional finance, reshape global markets, alter our perceptions of money and how we use it by substituting currency. 
CBDC's Effect on Crypto Space in 2020 and What's Next in 2021?
Brian Brooks, who is an acting comptroller of the currency, expressed his views regarding CBDC. He believes that at this tremendous development phase, the crucial question is how to achieve the digitization of the dollar and other fiat currencies. He mentions that due to the vital role of the U.S. dollar, the United States should step forward in this domain.
Another expert, a founder of Neo, and founder and CEO of Onchain, Da Hongfei, also shared his opinion on the impact of CBDCs. He believes that the implementation of CBDCs will certainly be a boon as its development declares the integral role blockchain technology will play in building the future of tomorrow. As blockchain development spurs, countries recognize the necessity to build a truly digital future that will fix global order shortcomings. 
According to Denelle Dixon, CEO and executive director of the Stellar Development Foundation, CBDC will prove to be an inventive tool for financial inclusion. She highlighted, saying that the COVID-19 pandemic has proved that CBDCs are impactful and central banks and other entities are recognizing ways to serve citizens better and create equitable access to the financial system, which is way much better. She further added that 2021 would see central banks take the learnings from 2020 and start placing CBDCs into practice.
James Wallis, vice president of central bank engagements at Ripple, expressed his views and stated that in 2021 he expects to see a world where crypto assets, stablecoins, and CBDCs have their own place in the finance domain with even more comprehensible and precise use cases. As governments continue to pilot CBDCs, he thinks that more regulatory clarity in those jurisdictions will follow suit. 
Mance Harmon, co-founder and CEO of Hedera Hashgraph, shared his opinion stating that CBDC will continue to put a spotlight on the wider cryptocurrency and distributed ledger domain, and in next year, we will notice small countries issuing their first digital currencies apparently using private, permissioned ledgers.
Roger Ver, executive chairman of Bitcoin.com, also thinks that the pace of innovation is going to grow and develop in the years to come.
Want to become a Certified Cryptocurrency Expert? We are here to assist you!
Concluding Lines 
From the above discussion, it is clear that CBDC holds a very promising future in the years to come. People would prefer CBDC over a bank account because of the fact that central bank digital currencies are not vulnerable to risk. Moreover, the removal of that risk would not only be advantageous to citizens but to the economy as well.
To get instant updates about Blockchain Technology and to learn more about online Blockchain Certifications, check out Blockchain Council.