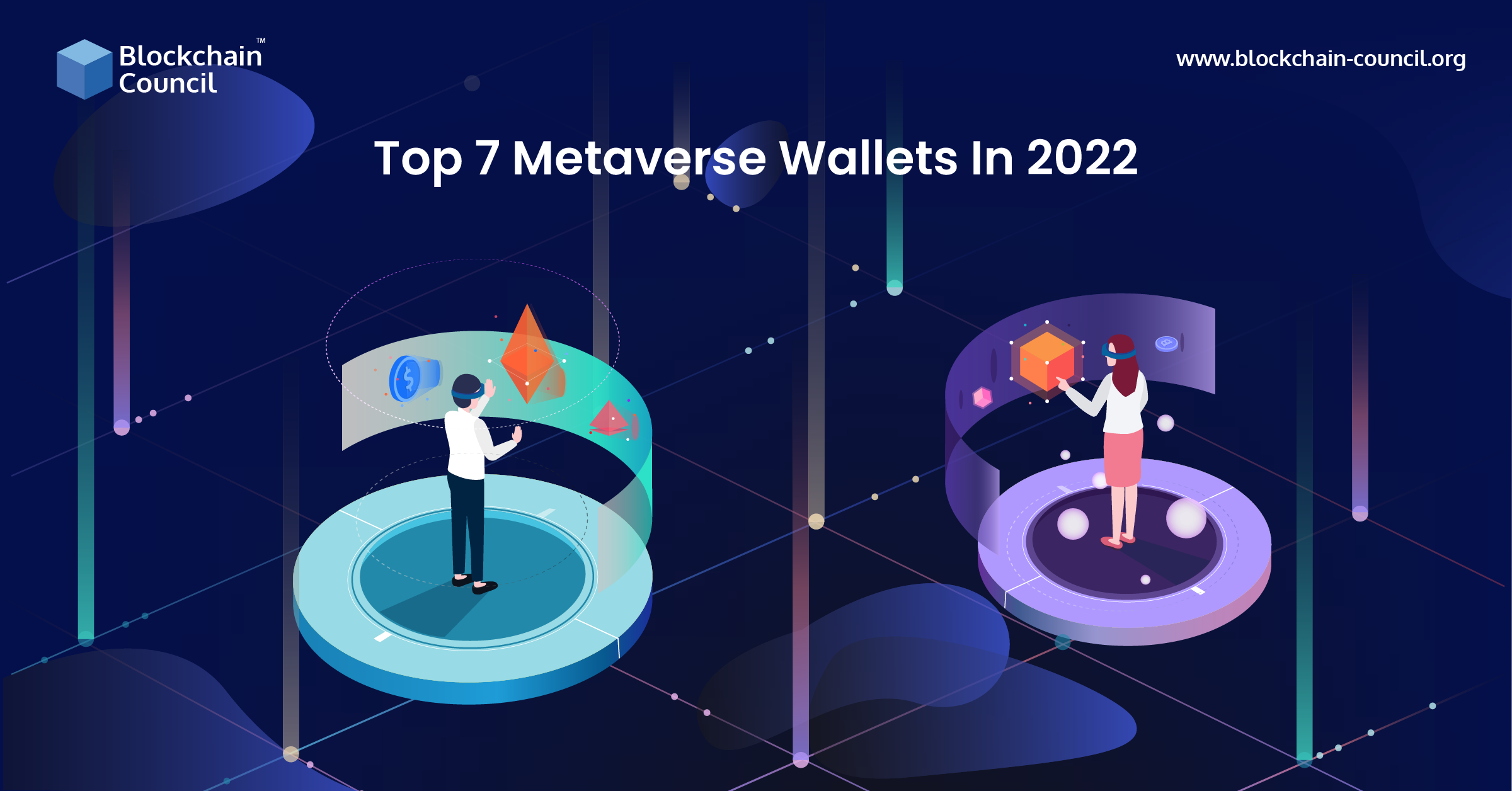 According to Mark Zukerberg, Metaverse is the successor of the mobile Internet. The internet coupled with digital technologies has done wonders for the world. Businesses and individuals are more connected than they were 10 years before it. 

With Metaverse which is a virtual world, we can interact with each other through digital avatars. Though the metaverse is still in development, this has not stopped us from developing complementary technologies that will help to interact with the metaverse.
While diving into the metaverse, a metaverse wallet is necessary. By choosing the top metaverse wallet, users can manage, buy, sell or even trade digital assets. We have made a list of the top 7 wallets so that you can choose the one that suits your requirement. Let us dive into it.
Why is a Metaverse Wallet important?
The metaverse is only possible due to blockchain technology and Non Fungible Tokens (NFTs). The metaverse is like an entity and NFT is the blood that runs in those veins. Moreover, each metaverse will have its own economics where users can exchange items, participate and do almost everything they do in the real world.
That is why the metaverse provides exciting offers and more multi-dimensional interaction than the mobile internet. Even Facebook, a multi-billion social networking platform changed its name to Meta to launch Facebook Metaverse for a more immersive connection.
The virtual land is full of promises and this makes it interesting enough that large amounts of people are jumping into this race. That is why a metaverse wallet is necessary. Crypto wallets and metaverse wallets are similar, with the only difference being that a metaverse wallet has the flexibility for using NFTs. Thereby making them eligible for the metaverse.
Top 7 metaverse wallets to look out for in 2022
One of the biggest concerns while choosing a metaverse wallet is the lack of awareness concerning available options. As the entire world of the metaverse is still under development, there is a lack of clarity about digital wallets that can properly support the existing ecosystem. 
For any user or investor looking forward to choosing a metaverse wallet for themselves, getting proper clarity on the same is a must. If you too are considering it, it is necessary to take a note of the top crypto wallets available around.
Here are the top 7 metaverse wallets you must know about in 2022:
Meta Mask
Metamask was created by ConsenSys, a software company involved in the creation of Ethereum-based tools. It is one of the most popular and commonly used metaverse wallets due to easy accessibility through browser extensions. This particular feature of the metaverse wallet extension makes it easier for the user to access and browse through any given NFT marketplace. 
Although the process may seem complicated, it is not much difficult to use a meta mask as it is an extremely convenient metaverse wallet option. In addition to this, Metamask users can also benefit from the recent update that enables them to slap tokens from any decentralized exchange. The best thing about this feature is that it lets you analyze and compare prices from different decentralized exchanges so that you get the best possible price. The users can also have the option to pay lesser fees and get access to the most affordable cost for the purchase route. 
Another reason for its popularity is that its users can also configure multiple addresses for holding their tokens. All these functionalities enable the user to get access to a variety of options with secure connections to multiple decentralized applications. 
Enjin Wallet
Another best performing metaverse wallet on our list is the Enjin wallet. Among various other players in the market, Enjin has been able to secure a dominant position among the leading names. For any user looking willing to go with an easier way to secure a diverse NFT collection along with other collectables, Enjin wallet is the best option to go with. One of the primary reasons why it is so popular among its users is the ease and convenient accessibility that comes with it. 
For instance, if you are a user of Enjin wallet, you will be able to trade all your digital assets by using it. Apart from this, you can also avail many other advantages over other options such as a versatile and well-designed interface. You will also get early access to DeFi and other leading meters projects along with easy to use features that don't take up much effort.
Secondly, the wallet also provides a unique ecosystem to the user that enables them to access any modern gaming platform concerning the crypto domain. All-in-all, all these features come together and make it a top entry in the list of best metaverse wallets you can go for!
Coinbase
Are we even talking about the best metaverse wallet if we don't include Coinbase in it?
Developed in June 2012 by Brian Armstrong, Coinbase is currently one of the best performing metaverse wallets in the market we have today. The wallet allows you to perform your transactions securely and store assets in the metaverse. Alternatively, you can also store them even on your local devices.
From offering the best possible range for storing metaverse tokens and NTFs to complete control over your crypto assets, Coinbase is one of the best performing metaverse wallets of all time. There are various reasons why people like it so much. The first and most important reason is the simplicity of using it. Its user's face is extremely simple and convenient to use as you connect your wallet for a transfer and exchange accounts. It allows you to easily transfer your tokens without requiring a public metaverse wallet address. Hence, you get all the freedom to perform the operations as well as the security of your assets in the metaverse.
As a renowned metaverse wallet, Coinbase has been able to maintain its reputation in the market which has made it one of the best-rated wallets we have today!
Math Wallet
Another deserving name in our countdown is none other than Math wallet. The wallet supports more than 65 different types of blockchain networks and offers the most diverse functionalities along with integration with hardware wallets. It is a one-stop crypto solution platform that easily integrates with multiple blockchain networks while letting you create multiple wallet addresses.
Although it has been successfully able to establish a distinct brand identity in the market, its features show several similarities to that of Metamask. As the platform has claims to support over 65 major public blockchain networks, it would not be wrong to say that the users have been able to use the wide variety of features it comes with. The first and most useful feature is the in-built browser that helps the user to explore NFT markets using metaverse wallet login options. 
Secondly, users can also stake and trade digital assets directly through their digital wallets. The platform also delivers unparalleled performance in terms of safety and security. This particular feature makes it a powerful crypto wallet that enables you to store all your digital assets in the safest ecosystem. 
Overall, it is a constantly growing digital wallet platform that offers reliable features to the user which also makes it a desirable option among the users. 
Alpha Wallet
Alpha has been able to position itself as one of the best digital wallet solutions for users. It is mostly preferred by investors looking forward to investing in Ethereum based non-fungible tokens. The main reason why it is so popular among its investors and users is that it allows them to mint and invest in metaverse. The wallet also supports NFT markets along with a minimalistic and user-friendly interface which makes it an attractive choice for its potential users.
The wallet is run by a multinational Association that has years of experience in the blocks in the industry with the most diverse forms of projects. This diversity in experience is probably one of the reasons why it comes with so many features. Here are some of the best performing characteristics of this wallet:
The wallet can support every token involved in the smart contract. It implies that any action taking place within its interface is rendered from the internal files that are not hard-coded. 
Although the procedure to use it is not much complicated, the interface of the volume is extremely convenient and easy to use. The user gets the widest range of open source tools applicable for any category of user. So, no matter if you are an investor, developer, business person or any other general stakeholder. You can always use its inbuilt browser to get direct access to your digital assets and many other resources.
The wallet also offers a unique security key to improve the overall user experience and security. It also comes with a free equipped list of digital tokens enabled on the platform, which gives a unique experience to the user.
Coinomi
Created and launched by George Kimionis in the year 2014, Coinomi is another leading digital wallet solution developed for blockchain applications. It is a multi-chain and security for the user's digital wallet available in both Android/IOS and desktop versions. 
The wallet comes with a spectrum of unique features that support SegWit along with the provision of more than 168 fiat currencies identifiable in over 25 languages. Users can also find built-in exchanges within the digital wallet that facilitates the instant exchange of any digital asset supported by the platform. Apart from this, the platform also offers multiseed support that comes with separate custom and dynamic fee structures allowing the user to interact with other applications available on it. 
The best part about the entire process is that the platform does not charge any fee for the transactions. The platform also offers distinct native support for cryptocurrencies such as Bitcoin and other altcoins. This particular feature of Alpha wallet helps it to integrate with over 125 blockchain networks. 
Over the past few years, it has been able to position itself as a high-rated and successful digital wallet capable of providing a safe and secure environment to the user to manage and trade their digital assets. From providing high-security features to distinguishing itself based on the number of blockchain networks that it can integrate with, the platform has definitely proven itself. As no fees are being charged for the transactions, it becomes an even more attractive option for the users to discover its potential in the coming years!
Trust Wallet
Last but not the least, we have Trust Wallet, which is owned by Binance. The platform has shown a promising performance over the years which makes it one of the best performing and highly rated digital wallets. 
It is one of those NFT wallets that enjoy good numbers in terms of its user base with over 5,000,000 active users currently. The platform allows a user to store and manage their tokens. However, it is important to note that it does not enable processing transactions. Hence, it may not be the best option if you are looking for a wallet you can use to trade or transfer assets. Nevertheless, the metaverse trust wallet is a considerable good storage option for digital assets that comes with a smooth graphical interface capable of supporting multiple blockchains. 
Conclusion
In a nutshell, we can say that all these metaverse digital wallets have been performing consistently well over the past few years. Keeping this performance in mind, one can conclude that they show a promising prospect even for 2022. Hence, if you are a stakeholder, investor or just a general user looking for the best digital wallet, make sure to go through this list for a detailed insight. It will not just help you go through the current scenario but also help you analyse the best possible available options. Hopefully, it will guide you through your decision so that you can get all the clarity you need!