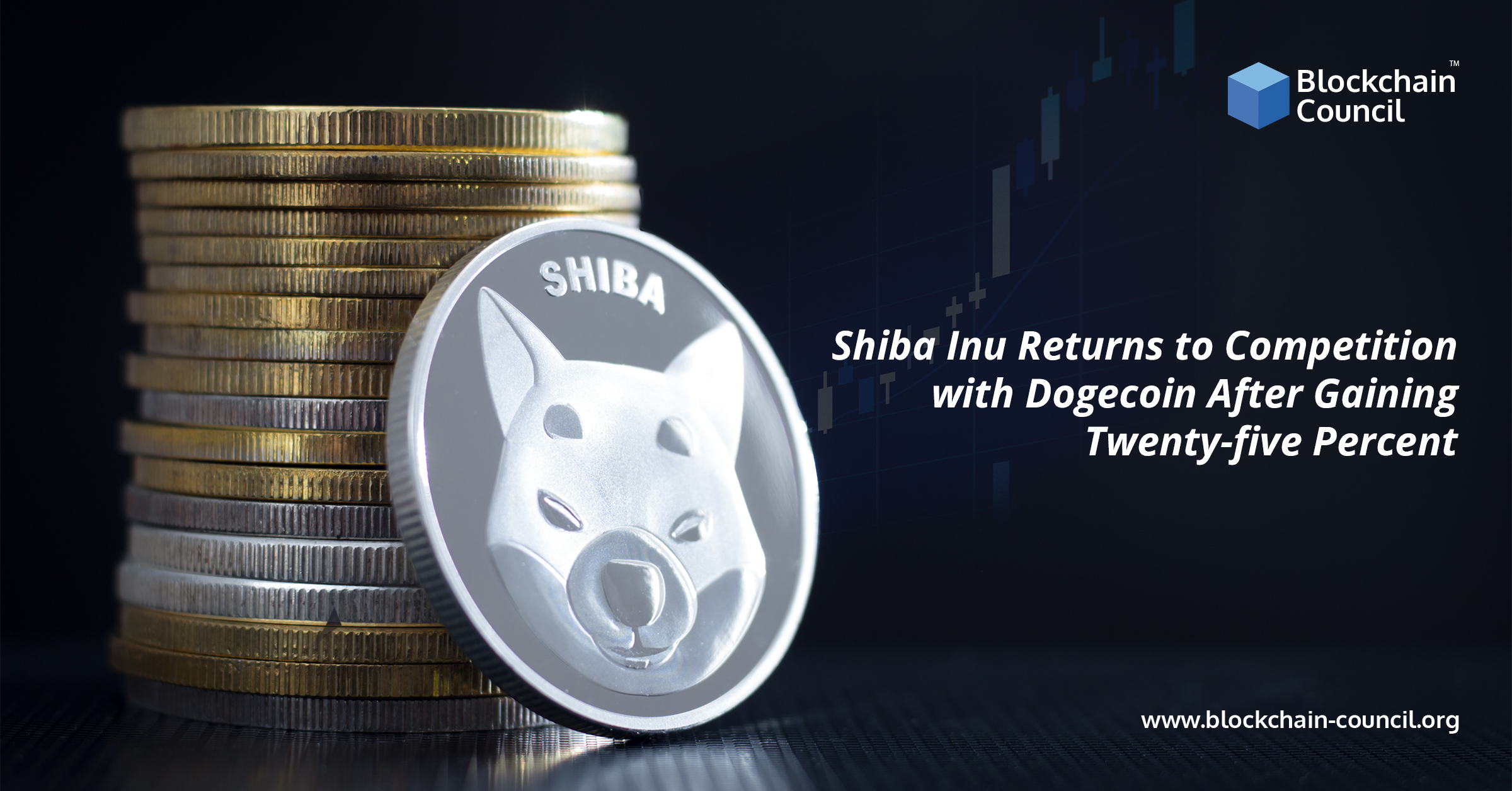 Most of the leading altcoins saw decent increases as the global crypto market value rose past $1.71 trillion on the strength of Bitcoin's climb above $42,000. On the other hand, Meme coins still had the hearts of the crypto investors, with many deciding to buy Shiba Inu. Thus, Shiba Inu recorded the largest market gains of twenty-five percent ahead of Dogecoin, and it is back in competition with it.

Meme coins are built on internet jokes, and there's been plenty for Shiba Inu to enjoy huge increases. As more investors buy Shiba Inu, the coin has successfully found its way back into competition with Dogecoin. Dogecoin is the biggest meme coin with a market valuation of $20 billion, slightly higher in the crypto rankings than Shiba Inu's $16.8 billion market cap. Despite more investors choosing to buy Shiba Inu, the coin's price rose in January and February 2022 due to metaverse announcements, merchant adoption, and large events.
In October of last year, Shiba Inu reached an all-time high market valuation of about $40 billion, with prices 158 percent higher than they are currently. There's room for more growth, but there's also room for more instability, and investors who intend to buy Shiba Inu must be aware of this.
Overview Of Shiba Inu
Shiba Inu is an Ethereum-based cryptocurrency. ERC-20 tokens, such as Shiba Inu, are fungible tokens (instead of non-fungible tokens, or NFTs, which use the ERC-721 token standard). The Shiba Inu may use smart contracts to construct decentralized finance (DeFi) products because the token is based on Ethereum.
The DeFi sector has gained traction this year, with tokens as Uniswap yearn. Finance and Aave see price and adoption increase. To construct decentralized exchanges (DEX), lending protocols, and even interest-bearing accounts, these cryptocurrencies leverage smart contracts on the Ethereum blockchain.
Shiboshis, a collection of 10,000 NFTs styled after their pet Shiba Inu, has also entered the NFT space. The decentralized scheme makes use of the Ethereum network, which allows NFTs to be auctioned off instead of using smart contracts.
How Shiba Inu Bounced Back To Competition With Dogecoin
In early February, Shiba Inu jumped to 13th place in the cryptocurrency market cap rankings, with a valuation of $18 billion. That put it in second place after Dogecoin, also based on online memes about dogs. However, while Dogecoin only experienced an 11 percent MTD (month to date) gain in February 2022, Shiba Inu saw a 50 percent MTD gain as crypto enthusiasts thronged to buy Shiba Inu.
The majority of these gains may be traced back to two days in February: February 6 and 7. SHIB's price increased by 41% on these dates following favorable news and anticipation.
Welly's, a fast-food business that sells hamburgers and french fries, unveiled a Shiba Inu re-brand on February 3. This includes Shiba Inu-themed products, such as NFTs, and the ability to purchase with SHIB. The price of SHIB increased by 7% the day after the announcement.
Bigger Entertainment, a crypto company, later announced on February 5 that 162 million SHIB would be burned on Valentine's Day. The scarcity and price of Shiba Inus will rise due to this. On the same day, Unification, a Singapore-based blockchain solutions company, announced the development of Shibarium, a layer-2 solution. The Shibarium will be optimized for gaming in collaboration with Shiba Inu makers.
While the Shiba Inu has gotten all the attention, Dogecoin has been trading much more quietly since its moment in the sun on January 14, when Elon Musk revealed that Tesla would accept DOGE as payment. 
SHIB has its own set of challenges. To begin with, the token's meteoric rise hasn't done anything to boost its utility outside of Bitcoin exchanges. Up to 618 establishments worldwide accept SHIB payments. Almost 2,000 merchants have integrated DOGE into their checkout pages to put that into perspective.
The problem is that meme coins are nothing more than memes. They have their Internet moment, and then the focus shifts to something else. One emerging trend in the crypto business is to focus on cryptocurrencies with better usefulness and fundamentals, which can withstand unfavorable cycles and mature into solid crypto investments.
While DOGE spiked to $0.2148 following the Tesla news on January 14, but has subsequently plummeted to around $0.15. SHIB was just 5% behind its year-to-date high of $0.00003523, aiming for a breakout above its interim resistance level of $0.00003331. Shiba Inu, unlike Dogecoin, has maintained its recent increases as investors are still opting to buy Shiba Inu.