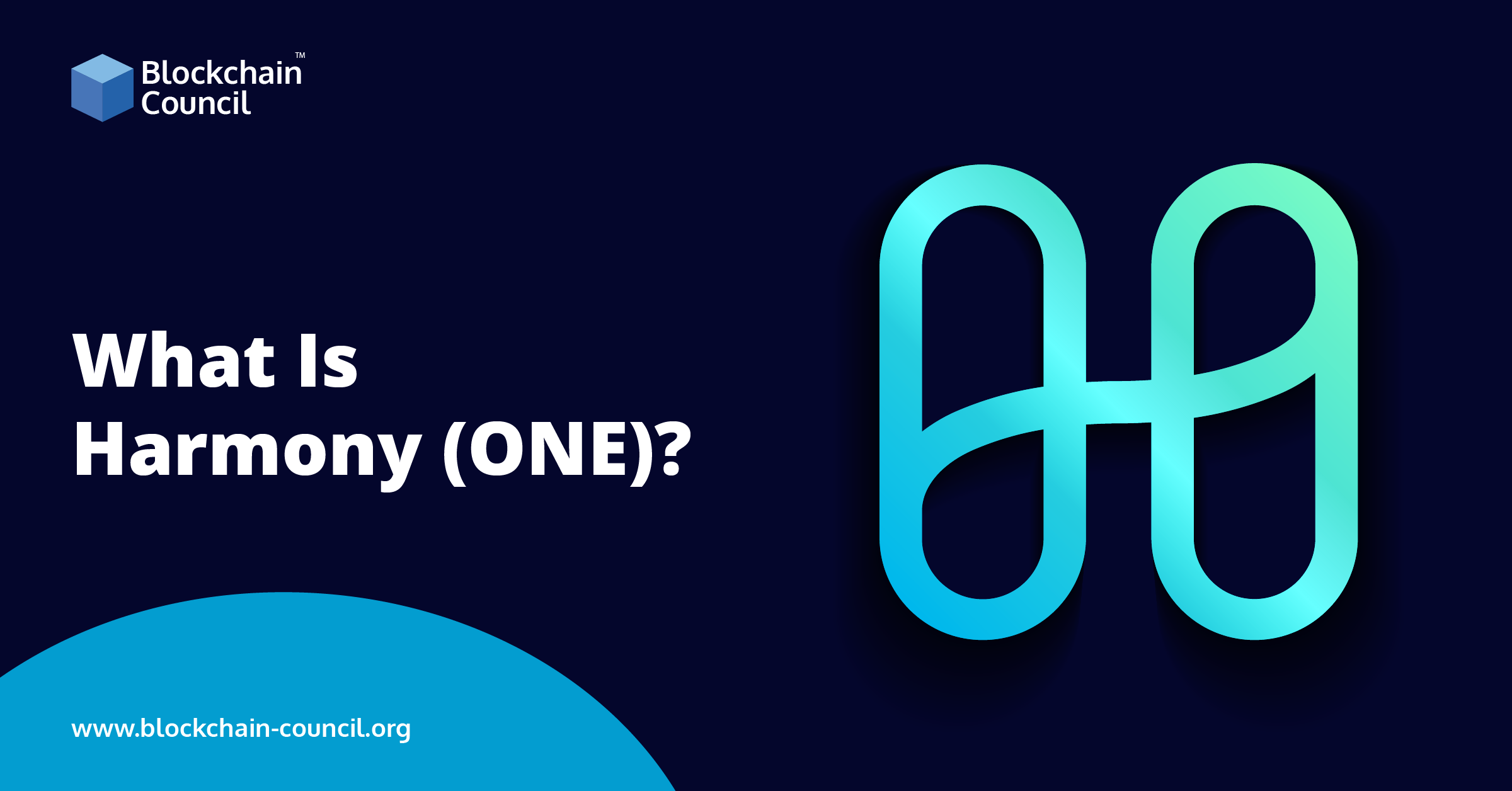 Decentralized finance is rising, and it's expected to continue endlessly. It's been evident since the outset that the speed for which interchain transfers can be carried out defines the distance between DeFi space and the moon.

Using a single-chain medium for business has several limitations. Single-chain superior cross-chain alternatives have become available. Harmony One is a cross-chain initiative that has recently gotten a lot of attention. This paper aims to look at how effectively Harmony One tackles scaling concerns in the DeFi industry. We'll also look at all to know about Harmony in one application.
What Is the Harmony Blockchain?
Harmony is a Layer 2 Ethereum blockchain platform that makes it simple for developers to create apps. Because of Ethereum's fluctuating gas cost, altcoins are developing scaling solutions to dethrone Ethereum as the most well-known platform for decentralized developing apps. In contrast to many other platforms throughout this classification, Harmony collaborates with Ethereum instead of fighting with it.
Harmony employs a novel approach for dividing the blockchain medium into fragments or parallel grids to increase speed and reliability while reducing costs. Thanks to this technique, deals on the medium are resolved in 3 seconds. Harmony blockchain transaction costs are a hundred times lower than traditional systems.
For ONE, Harmony's management token, a PoS mechanism is used, comparable to several renewed tokens. Proof of Stake has a lower price, uses more nominal energy, and provides greater decentralization than other methods. Shareholders in the ONE have a vote on how the Harmony forum is governed, and by staking, they may earn a passive income.
The ONE token's one-of-a-kind validation methods are one of the main reasons for its tremendous appeal. The number of approved nodes you have is determined by how many tokens you have invested. Validators with a higher stake operate more nodes than validators with a lower stake. There are now 1,000 active nodes on the Harmony forum.
What Is ONE?
Like several other Layer 2 media, Harmony has a token called Harmony ONE. The name Harmony highlights the company's goal of assisting billions of people worldwide through open consensusal methods. The Harmony One money is used to pay for voting, transaction fees, gas charges, staking, and earning rewards.
The Harmony One use case's inflation rate was dynamic until March 2020. Afte then, inflation was regulated at a fixed early pace.
How Does Harmony Work?
By jeopardizing the network's decentralization, affordable proof of stake boosts network delegation and reward compounding. Supervisors can use it to defend nodes and stake tokens according to their value.
Nodes on Harmony look for other nodes which could be beneficial in finding a compromise and invite them to participate. This increases the efficiency and purchase price of the procedure.
Each new cryptocurrency has the potential to be hacked. It is most impossible for the code to forecast which shard it'll be transmitted to. The chances of being able to assault are slim. DRG, or Distributed Randomness Generation, is a cryptographic approach that has been employed on several platforms.
After evaluating them, Harmony discovered a serious problem in OmniLedger and Rapid Chain solutions. One flaw in these methods was that the rates of overall safety were already balanced.
DRG Harmony integrates Algorand's Verifiable Delay Function technology with the Verifiable Random Function. It is expected to be used in a future Ethereum implementation. Validators generate random values and send them to a leader node, which is a distinct node. Validators generate random values and send them to a leader node, which is a distinct node.
Total revenue is picked from the available alternatives using the BFT approach. Algorand's VDF kicks in because the total above is paused to keep the transaction secure. Harmony's approach for validating transactions is better, faster, and transparent than most other techniques. Because it incorporates the advantages of multiple systems whilst using them to mitigate the drawbacks of others.
Highlighting Features of Harmony One:
Harmony's team is currently working on three more major innovations that have the potential to destabilize the DeFi business creatively.
Noncustodial Special Wallet 
You'll need a strong password and private keys stored in a secure area to maintain your crypto protection. If Harmony gets it right, that will change. The Harmony development community is working on a solution by creating a Harmony one valid that can be accessible with two-factor authentication. In terms of privacy, it's uncertain how this might work, but we're holding our fingers.
Stablecoins and the DeFi protocol 
Harmony also intends to create a DeFi currency that will pay stablecoin holders a 20% annual interest rate. We've seen it before with Terra's protocol anchor, and we are looking forward to seeing how Harmony handles its traditional protocol.
The final purpose of harmony 
A Bitcoin Cross-Chain platform is to establish a bridge-like medium that enables three-minute transfers between two separate protocols. This is a huge difficulty in DeFi, and THOR-CHAIN will be the only protocol that has successfully achieved it.
How Do I Purchase ONE Token?
ONE may be purchased on some cryptocurrency exchanges, the most popular being Bybit.
Follow these easy steps to order ONE on Bybit:
Step 1: Go to the Bybit exchange and create an account (or login).
Step 2: Look for the ONE/USDT pair in the Spot Market area.
Step 3: Verify that your Bybit wallet has USDT. You may buy USDT with a credit card or a debit card by exchanging fiat currency for it.
Step 4: Select Buy and enter a limit order and a price for your transaction.
Pros and Cons of Harmony ONE
Pros
Harmony is the first multilayer category represented in the world.
Is Harmony faster than its competitors? Yes, you're right. It has high speed and the infrastructure needed for enhanced scalability and reliability.
Harmony looks to be doing a fantastic job with its partners as well. It entered the market with an IEO and Binance Labs funding, indicating that the team was well enough in the area.
NFTs are big in digital money. The high gas rates on Ethereum have deterred many people from buying them.
The ONE token could be released on Coinbase in early 2022. If this occurs, the consequences will be severe.
Cons
Ethereum and Zilliqa are already addressing Harmony's flaws. Is Harmony a better option? Probably. But if meme currencies have taught us anything, good use cases aren't always enough to make a cryptocurrency popular. Instead, the public is interested in the buzz — whatever choice the crypto market considers the "best."
Harmony's efficiency is based on -edge technology such as the 5G network. It is temporarily offline in far too many world regions.
In a brief conversation, Harmony 's founder Stephen Tse did not comment on Harmony's road map for the One token.
For a cryptocurrency with so much excitement, this night result in unnecessary red candlesticks on its long-term charts.
What is ONE's maximum supply?
Harmony uses a unique protocol that allows for control of its currency without relying on smart contracts. However, this does not mean that the coin cannot be managed with the help of the blockchain.
Unlike several other Layer 2 tokens, Harmony does not have a maximum supply. Furthermore, 441 million ONE tokens are issued and added to the current supply every year.
What is the total number of ONEs in circulation?
The ONE token from Harmony has a ten-billion-token circulation supply. It exploits inflation to reward stakers, even though there is no maximum supply. ONE looks to be a deflationary token at first glance. However, this is not the case.
A fixed supply of 441 million ONE is released every year, with half of all staked tokens taken by bad actors being burnt. As additional users join the network, the supply of new tokens is offset, and the inflation rate is steered toward zero.
Is it a good idea to invest in Harmony Crypto (ONE)?
Yes. Although there is still more to be done, the harmony crypto has been considered a solution to the problem of inadequate scaling and interoperability and a valuable foundation for DApp developers to scale their apps and transactions. Harmony aspires to be a top crypto network recognized for its speed and efficiency, and it's well on its way to achieving that goal.
Like any other cryptocurrency or platform, ONE will value as Harmony grows in popularity. Perhaps we'll see other use cases in addition to where to buy Harmony one coin, selling, and staking.
What happens to the price of Harmony if someone else has more tokens than the supply?
When a new token is issued on a blockchain, some are burnt and destroyed through "burning." This is a way of internal circulation and reduces their physical units while distributing their value to other currency holders. The users' previous holdings will be diluted. Harmony's decoupling from Bitcoin means that each new issue will likely disperse down chains rather than destroy its previous supply.
What's the maximum amount of Harmony One (ONE) coins in circulation?
Harmony does not limit the total number of tokens in circulation, but 441 million tokens are issued every year, half of which are locked into user staking wallets.
Is Harmony one a good coin for me?
It is not clear that there is a good coin for everyone, but with the rise of interest in cross-chain technology. The trading volume and value of ONE are two indicators that give credence to its importance in the market and its potential as an investment tool for you. It is wise to get information about this cryptocurrency before investing in it.
Will Harmony be listed on other cryptocurrency exchanges?
Harmony is actively seeking listings for its primary currency, ONE coin, to bring the benefits of Layer 2 technologies to a more significant number of users. The presence of a crypto exchange allows additional users to trade and develop new applications that can use the Harmony protocols. In addition, the fair exchange will help ONE token price to increase.
Is it worth buying one token?
It is not good to buy any cryptocurrency to sell it at the highest possible value. If you do this, you will be in a situation where there is a short-term high, and your investment is ill-timed. Harmony One investors should always buy and hold their tokens for long-term investment to maximize their gains.
Harmony One is intended for long-term holding and investments, but we cannot predict the future. Although we think that the price of Harmony One is lower than its value and will be a good investment option in the future, you should only invest if you have an excellent knowledge of cryptocurrencies.
How do I get my ONE tokens?
To receive your ONE coin, you will have to install the Harmony Wallet, available for Windows, Mac, and Linux. If you need help installing it, there are detailed instructions on using them. In addition, you can also buy them on several exchanges.
Can Harmony One (ONE) price drop?
The coin's price can only drop if it is not used to be traded and held. The price can also increase due to good news or new features. However, it is essential to remember that the value of one token depends on many factors, some of which cannot be controlled by Harmony One itself.
Conclusion
Despite being in a crowded market, the Harmony network has decided to use Ethereum's massive user base rather than compete with it. Because the facility is still new, there is just no clear winner. Harmony's decision to tackle the blockchain's fourth trilemma privacy may have been a key distinction.
Harmony One is evolving from a cross-chain platform to a fully decentralized platform. We're interested in seeing if the Harmony One token will continue to be popular when Ethereum 2.0 is ultimately the result.