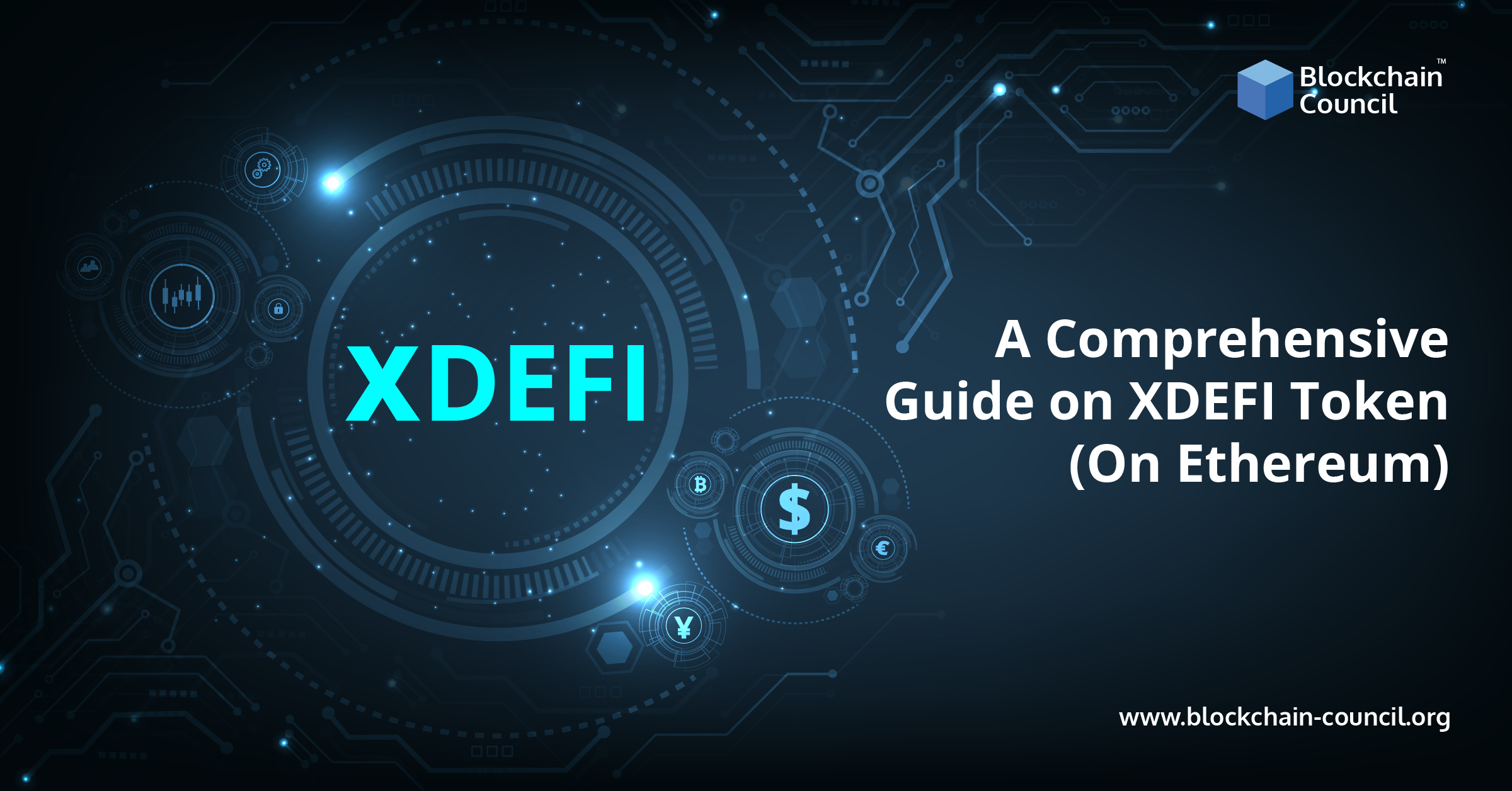 As the trendiest topic in the finance industry, xDeFi token also known as decentralized finance token has ballooned over the years. There are several protocols of xDeFi locked up in their smart contracts. For all the people who want to invest in cryptocurrency, it is important to understand the basic concepts of xDeFi wallet token. As confusion about the different cryptocurrencies may lead to difficulty in trading. Therefore, cryptocurrency advisory course have become increasingly popular among the investors prepared by highly-qualified cryptocurrency experts. We suggest you enroll in a course for cryptocurrency, learn its fundamentals. It is the first step to start a journey of becoming the best cryptocurrency professional.

Whether you're just starting your investment journey or you've been an experienced trader, it's a good chance to gain some knowledge about the topic through cryptocurrency education platforms. Generally, experts call xDeFi token, a crypto's big thing. We have outlined the key information about the topic to help you with cryptocurrency trading.
What is xDeFi and Highlights
xDeFi token is a gateway that connects to any software application in the distributed and decentralized ledger. Also, it is a xDeFi wallet token project through which one can swap assets along with sending and receiving tokens through regular wallets. This multifunctional wallet allows users to trade in the world of cryptocurrency easily. Moreover, it helps users to participate in DeFi activities related to the wallet. People can buy tokens on the wallet and later sell them to other individuals. According to the resources, the top cryptocurrency trading in xDeFi Wallet stock includes Huobi Global, Uniswap (V3), Gate.io, KuCoin, and AEX. Still, there may be other cryptocurrencies as well.
Moreover, xDeFi is rudimentary and has limited password settings for cryptocurrency security. Users can set a password using uppercase, special characters, and lowercase letters. It also has a browser extension for the people who want to enter the world of DeFi.
Highlights of xDeFi are as follows:
Connects to any application in the Blockchain.
Accept and send assets independent of the Blockchain platform.
Purchase and sell tokens on the xDeFi wallet.
Exhibit NFT in the form of images stored in the xDeFi wallet token.
xDeFi made its own Extension to support people who want to display even NFT images in the xDeFi wallet token.
Over the past few years, cryptocurrency experts have seen a huge increase in mobile wallets. The first multi chain wallet or xDeFi builts with DEX/Bridge aggregator is accessible through the mobile wallet as well. Additionally, it is the first wallet built that displays and manages NFTs from every chain. It also interacts with 9,000+ dApps created on various blockchain platforms. Users can stake and earn from the wallet along with the permissionless cross-chain swaps. In fact, people should make a wallet on xDeFi browser to increase fun and personalize their wallet.
How to buy xDeFi
Users can purchase a few of the cryptocurrencies such as xDeFi along with another cryptocurrency like Ethereum on decentralized exchanges. If an individual has interest in purchasing xDeFi, they need to first buy Bitcoin (BTC) or Ethereum (ETH). In this section, we will explore how to buy xDeFi in steps.
By using a credit card or bank account, you can start cryptocurrency trading. Here are the steps to buy xDeFi, follow the steps given below. However, you need to first visit authentic websites and choose a platform.
Check the authenticity of the website
To purchase xDeFi, lookout for the 'Secure' certificate on the selected website. A pop up in the address bar of the website acts as a confirmation of its genuineness. Further, to be a safe place make sure you bookmark the authentic website. It helps in cryptocurrency trading without any confusion.
Choose to fill in trading details
Fill your details by clicking on the ''Register" tab on the website page. Now start filling all your information such as mobile number, email address etc., as per the asked details in the form. Make sure you use an email address that you are not using for any other financial service. Also, create a password that is strong enough for the wallet to further solidify the cryptocurrency security it provides. Make sure you remember the password because usually crypto exchange platforms don't save your passwords. Hence, whenever you sign in to your account, the website will ask you to enter the password. To build a strong password cryptocurrency expert advises to mix it with symbols, upper, lower case letters and numbers. The moment you enter all the details, the website sends 6-digit code via the email you provided. Lastly, complete the registration process.
Buy first bitcoin
After securely storing the information, move your cursor to the 'Buy Crypto' tab which is usually on the top bar of the website. Now, click to open the dropdown menu and choose the currency. Further, find the 'Credit/Debit Card' option. Now click the Buy BTC option and then move your cursor on the payment option. Further, after filling credit card details you can move ahead and make the purchase.
Next Create a Metamask Account
Next, search for the metamask website on Google. Click the "Create a Wallet" option on the website and then choose "I've copied it somewhere safe". You finally have an account in MetaMask where you can view your address on Etherscan.
Deposit ETHereum
You can start depositing ETHereum into your MetaMask wallet after copying the address of your account. Paste the address in the recipient area by choosing the transfer network "Ethereum (ETH) ERC20". Now you can use ETH or ethereum to buy a xDeFi wallet token.
Features of xDeFi Wallet
xDeFi is a one non-custodial wallet for Web3. The features of xDeFi Wallet are as follows:
It can swap, store and send more than 9,000 assets on Terra, THORChain, Ethereum, Litecoin, Avalanche, Polygon, Binance Smart Chain, Bitcoin, Binance Chain, Doge, and Bitcoin Cash.
xDeFi is a single gallery where you can store your NFTs such as Terra, Polygon, Ethereum, and Binance Chain NFTs.
It allows permissionless and unlimited swaps along with bridging. The swaps for Terra and THORChain assets in just one wallet.
This wallet is non-custodial which means no one can have access to your funds. Additionally, even the xDeFi Wallet does not store your password, seed phrase, or any private information.
You have full control of your funds and data.
How To Use The xDeFi Wallet
Firstly, install the xDeFi application. You can also visit the xDeFi website and then set up the account to use it. Next, creating a new xDeFi wallet. Also, don't forget to name your wallet. You can make your wallet default as per your choice.
Now, start with the restore wallet option to import the wallet to a new device. Backup phrase before restoring the wallet. Continue the steps by connecting the xDeFi wallet to a ledger device. For this, you can plug in your ledger device to your PC. But keep in mind to install the blockchain application in the device.
Finally, you can transfer assets using the send option. In addition to this, click on the receive option to receive any assets. Further, choose the coin on the wallet interface to get the receiving address. In the final steps, if you want to purchase a xDeFi wallet token, select the Buy option. Choose the cryptocurrency you want to buy and fill in details such as email address to end the procedure. Once all the steps are done, you will have the crypto in your wallet.
How to keep xDeFi wallet safe? 
To keep xDeFi wallet safe, you need to activate the "Auto Lock" option. Choose this option from xDeFi Wallet Settings.
Secondly, select the "Require password for transactions" option in the Settings of the application again.
Remember to use a password that can not be easily hacked. This will aid your cryptocurrency security in xDeFi Wallet.
Next, to validate transactions of your bought crypto you can use hardware wallet for enhanced safety.
Also, keep your wallet PIN and phrase safe to make it unreachable to hackers. This is achievable by saving secret phrases, keystore files, password, backup file, and recovery code.
Don't forget to encrypt the device in which you are saving this sensitive information.
Sharing of backup file, keystore file, code, passphrase may lead to serious circumstances. So, avoid such behavior.
Don't send funds without any purpose.
View the websites carefully when you visit to make a xDeFi wallet.
This advice should be kept in mind as even a little suspicious activity can lock the xDeFi Wallet extension in the browser.
How to reset password for xDeFi Wallet? 
To reset password for xDeFi wallet, continue with the following steps:
First you need to visit the xDeFi Wallet Settings. Then click on the Change login password option.
Next, fill in your Current password in the box.
Now, type your New password twice.
Click on Confirm option.
What to do if someone Hacks your wallet?
If your wallet is under a hacker's control, you can still try to make your cryptocurrency safe and secure. To attain this, follow the steps mentioned below:
Firstly, go to xDeFi Wallet Security Settings to select the option "dApps permission management".
Now, select all and revoke all access.
Before you continue further steps, it is better to clear your web browser history.
Now, proceed to the analysis section of your PC or laptop.
Further, remove any unwanted file on your PC or clear cache.
Check your antivirus software and do the actions required. Verify its settings as well.
You can refer to the firewall for checking its permissions.
Set a new password of xDeFi Wallet by changing the login password from settings of the app.
Make sure you enable the new password for further transaction options if you notice its not enabled.
You can define or redefine the password required for the access of your OS session.
Encrypt your Operating System of your computer.
Lastly, apply for legal provisions so that the issued firms can take actions in your country against the cyberattack.
So, will the crypto assets be insured by the platform, if a hacker steals their wallet? The answer to this question is that your crypto assets won't be insured once they are gone from your wallet. As xDeFi Wallet is non-custodial which means a person who owns the wallet has complete responsibility for it. It is a decentralized wallet that is not responsible for the xDeFi token.
What are the popular dApps a xDeFi wallet gives access to?
As we already mentioned, xDeFi Wallet gives access to more than 9,000 dApps. These dApps are built through blockchain technology. Some of the dApps that can access xDefi wallet are as follows:
Terra
THORChain
Ethereum
Polygon
Binance Smart Chain (BSC)
Bitcoin
Binance Chain
Litecoin
Bitcoin Cash
Avalanche
Closing Thoughts
xDeFi is a new and more advanced addition in the space of digital coin transactions. The article covers all the fundamentals one should know before trying out xDeFi token trading. Further, you can become more visible to the top blockchain-based hiring companies by completing cryptocurrency certification with BLOCKCHAIN COUNCIL. Join the online cryptocurrency advisory course to get an assured offer letter from your dream company. A cryptocurrency course will help you in gaining knowledge about bitcoin and how to start crypto trading. It is widely opted by cryptocurrency experts who want to build a strong foundation. No matter whatever your career path is, crypto trading will help you increase more income.
Also, to get essential skills for a cryptocurrency developer job, you should focus on building basic concepts about xDeFi token. Become a smart trader today!