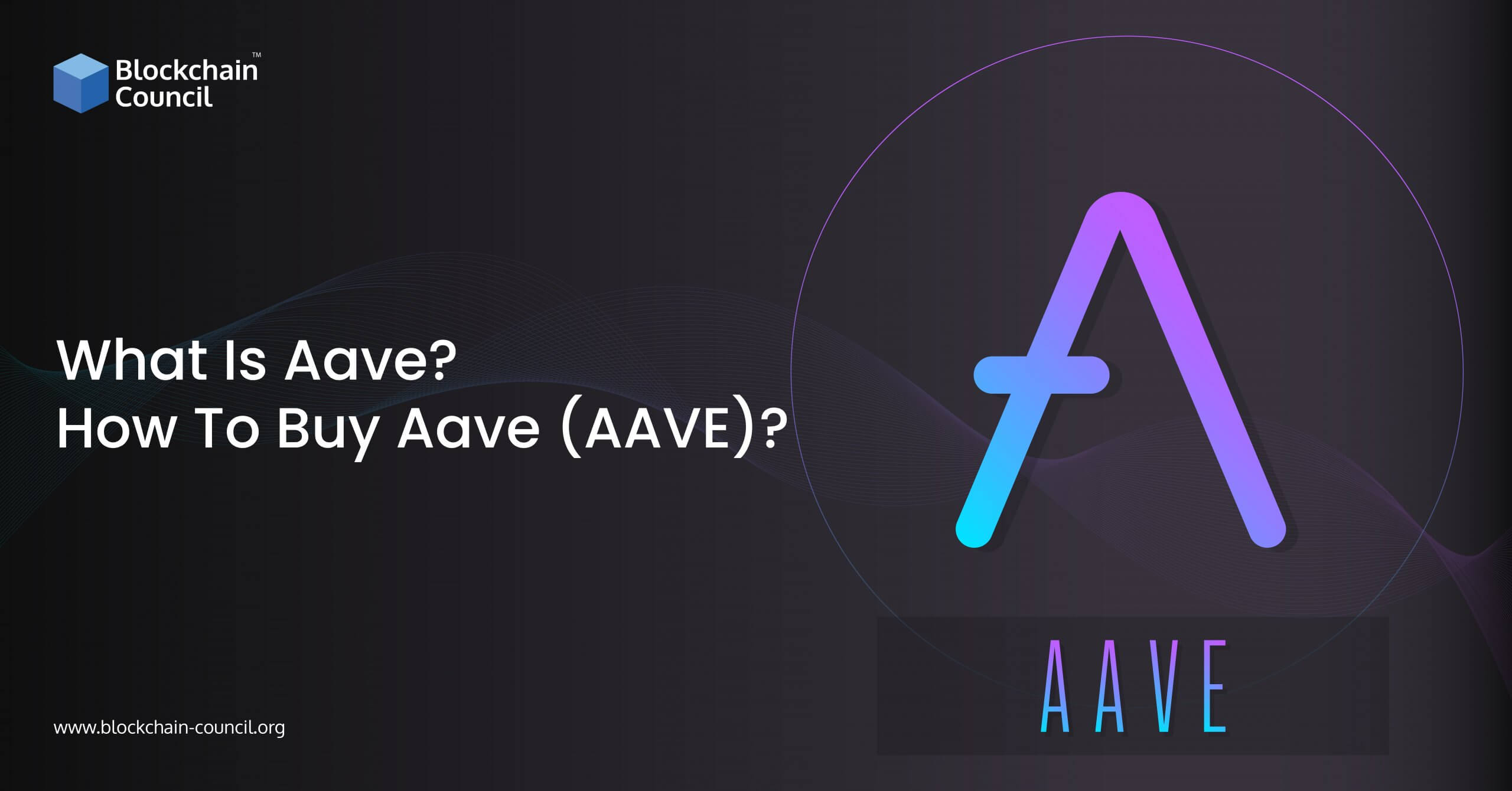 Want to know how to buy Aave? Don't worry; we've got you. In this article, we will explore everything. Keep reading. 

Aave is now considered one of the most popular Defi cryptocurrencies. The main reason behind its popularity is — the exceptional technology that comes along with it. 
Basically, Aave is a cryptocurrency based on a beautiful lending and borrowing system. People lend or borrow cryptocurrency through it without the interference of any intermediary. Moreover, everything happens autonomously. This is what sets it apart from the traditional bank's lending and borrowing system. 
Let's dive into the depth of the Aave.
What Is Aave? 
Aave is a Defi cryptocurrency protocol built for people who want to borrow or lend cryptocurrency without central control.  
Aave uses a Decentralized Autonomous Organisation in which the control over the transactions is distributed amongst its users. The transaction on Aave successfully takes place because of the ERC20 tokens. These are the same tokens used in the Ethereum cryptocurrency. So, it would be better to say that Aave is primarily built on the Ethereum blockchain technology. 
The Aave token is also linked with Aave, which is an Ethereum token. The holders of this token have the power to vote in the company's decisions. It can be said that token holders have governance control over Aave's management.
A Glance At The History Of Aave 
From the very start, Aave has played a preeminent role in the crypto world. There was no well-established cryptocurrency in the market that allowed lending and borrowing without any hierarchy – and it was really needed in the crypto world. 
Then it entered the market as ETHlend in 2017. It was founded by Stani Kulechov. In the same year, $16 million coins were raised in ICO, and 1 billion units of Aave were sold, according to Kraken.
ETHlend didn't perform well as it spent the first few years in the bear market. But, it was one of the best things that happened to it because that's exactly where Aave was born. 
ETHlend had similar ideas as Aave – connecting the borrowers and lenders. But, it had some flaws that created problems for the people. For example, it was not automatic, and the borrowers had to wait to find a lender who matches their needs.
In 2020, ETHlend was named Aave and brought to the market with more enhanced technology – completely automatic and much better than ETHlend.
The Mechanism Behind Aave – How Does It Work? 
I hope you have heard about the traditional bank's lending and borrowing system. For instance, you go to a financial institution, request a loan, and offer something of the same value in return. Once you get the loan, you receive a time limit for repaying the loan. 
Aave's lending and borrowing system are incredibly different. Let's understand it in an easy way.
P2P model:
In Aave, instead of borrowing a loan from any financial institution, you borrow it from people like you. The lenders and borrowers are both individuals, and everything takes place automatically with the help of computer codes known as smart contracts. 
If someone wants to lend their money, they can easily deposit it in smart contracts and earn good interest. They can also lend their money against borrowing. The money they deposit gets collected in the pool, which makes trading easy between the assets. 
Collateral:

 
People who want to borrow cryptocurrency can withdraw it from the pool after depositing collateral. Collateral in traditional banks is mostly an item that can be seized if the borrower fails to pay the loan back. Mostly, banks ask the borrower to provide their home as collateral.
On the other side, Aave also demands collateral deposit, but it's in the form of cryptocurrency. The main thing is that borrowers have to deposit the over collateral to avail the loan. The simple logic behind it is – the volatility of the crypto market. 
For example, let's say you want $100 crypto as a loan, so you will have to deposit more than $100 as collateral. Because in the future, if your collateral loses the ability to cover the loan, it will be automatically taken for covering the cost of the loan you took.  

However, there are also chances that your collateral may increase in price and earn you profit. For example, if you lend $500 Ethereum and borrow the $480 tether. The chances are that your Etherium may increase or even double-up. 
Because of the beneficial technology, Aave has impressed a lot of crypto enthusiasts, and many DeFi experts have even considered Aave a world bank for crypto. 
The Interest Rate 
You must be wondering how much interest rate is charged on Aave? 
The asset's utilization rate in the pool affects the interest rate. It basically works like this: If all the assets have been used from the pool, the interest rate touches the heights. It helps attract the people who can deposit more capital – they are known as liquidity providers. 
On the other hand, if the pool is filled with unused assets, the interest rate reaches the bottom. It attracts the borrowers to use these assets. 
Ok, Now Tell Me How To Buy Aave? Here's Your Quick Guide
Before getting into the guide, it's recommended to get advice from a blockchain professional before making any investment. It's your hard-earned money, be wise!
How to buy Aave coin is not rocket science: almost anyone can do it.  Here are the simple steps to follow:
Step 1 – Open an account on whatever crypto exchange you have selected. In the market, you find many popular exchanges like Coinbase and Binance. 
Step 2 – Complete the verification process. Provide your name, date of birth, country of residence, and phone number. You can purchase AAVE with cryptocurrencies like BTC and ETH. But in order to use cash (i.e. USD or EUR), you will need to provide additional documents to verify your identity.
Step 3 – Now fund your account with fiat currency.
Step 4 (The final nail in the coffin)  –  After the fiat currency deposit, now you can buy the Aave. Congratulations! You have completed the purchase of one of your favorite cryptocurrencies.
What Are The Benefits Of Aave?
 Here are some benefits of Aave that make people fall in love with it. 
It is easy to use. Most users of Aave have confessed about the user-friendly interface that Aave offers.
It gives investors a chance to get exposure to other cryptocurrencies.
There is no need to fill any kind of long-form as no middle man controls transactions on Aave. It's best for the people who keep privacy in mind. 
It has a feature named Flash Loans which allows users to borrow loans without depositing any collateral. But the loan should be returned within the same transaction along with the

0.09% fee. 
What Are The Drawbacks Of Aave? 
Along with benefits, Aave also has some drawbacks. 
It has a lot of competition. Many cryptocurrencies offer the same services as Aave, and some even provide higher interest rates. This is a negative point for the Aave as it can adversely affect the price in the long term.
It has a lower rate of interest which might be a plus point for borrowers, but not for the lenders. If lenders don't see any potential in the Aave, they may resist putting their money in it and seek other alternatives. 
Over collateralization has been another major problem in Aave. It restricts many investors as they don't have the huge capital demanded by Aave. 
What Experts Have To Say On Aave?
Aave has brought impressive technologies like prompt and affordable trades, platforms showing lend and credit scores, etc. These kinds of innovations have always made investors happy and see potential in the Aave. The more it improves, the more it wins the people's trust. 
Many experts have acknowledged that Aave can be one of the largest cryptocurrencies by market cap. It also has been said that It has good potential in the long run and can give high returns. Some have also said that Aave can beat its competitors as it is constantly working on the betterment of its product. 
This is exactly what motivates many investors to put their money in the Aave and hope for good returns. But, we will recommend you to do your research and then decide whether it is for you or not. 
Conclusion 
Aave has one of the best technologies for people who want to lend and borrow cryptocurrency. The platform's decentralization has made it unique and better than the traditional banks' system. Aave's interface is also very easy for people to make purchases which is a huge advantage. 
It also has some disadvantages like over-collateralization. It may turn off some investors as not everyone has enormous capital to invest. However, these disadvantages are not that significant that they can outweigh the benefits of Aave – a fantastic open-source and non-custodial protocol.
If you want to be an expert in Blockchain technology, we recommend you take a Blockchain course and become a pro.