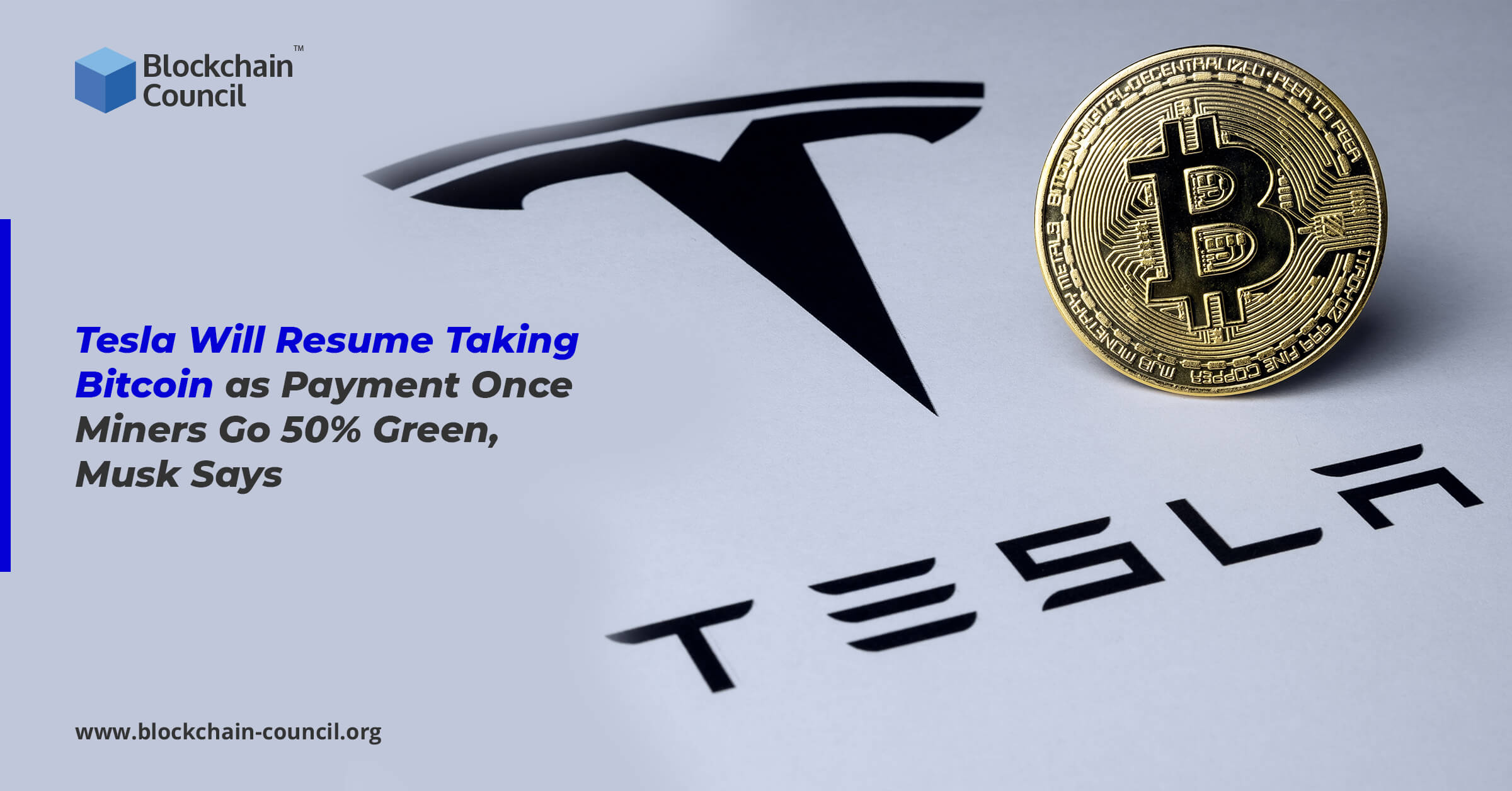 The globally known business tycoon, Elon Musk, CEO of famous automobile company Tesla, announced on Sunday, 13 June 2021, that Tesla will resume taking payments through bitcoin once the miner's industry will confirm the usage of adequate clean energy from now onwards.

Musk tweeted on Sunday that if miners provide a formal assurance of using at least 50% of clean energy in order to maintain a positive impact on our environment, Tesla will indeed start bitcoin transactions. 
The electric-car producer company stopped putting up with installments from customers who intended to pay their car expenses with bitcoin. Tesla took this sudden step in mid-may 2021 as the company had some serious concerns regarding how cryptocurrency mining is affecting climate change. This concern was raised as cryptocurrency mining makes use of vast pools of powerful computers.
In may Musk said, his company is deeply concerned about this rapid increase in the use of fossil fuels in order to carry out Bitcoin transactions and mining, particularly coal, which is well known to produce the worst emissions among whole categories of fuel.
Musk reacts to the tweet of the CEO of South African asset manager
The CEO of South African asset manager sygnia, Magda Wierzycka, tweeted that Elon Musk is trying to manipulate the market by tweeting about bitcoin prices. He added that Musk's behaviour should trigger a thorough investigation on the matter by the United States Securities and Exchange Commission.
On Sunday, Tesla CEO denied allegations imposed on him by Magda Wierzycka regarding market manipulation. He explained that his company has hardly sold 10 per cent of its bitcoin ownership to substantiate that bitcoin could be liquidated effortlessly without any need to move the market, he said in his tweet. 
Furthermore, by disclosing its earnings statements, Tesla announced it has sold some 272 million dollars worth of crypto assets during the initial quarter, and this move helped the company to reduce regulating losses by 101 million dollars, as mentioned in the company's earnings statement.
In February 2021, Musk's company, in an SEC filing, revealed that it purchased 1.5 billion dollars worth of bitcoin and also confirmed that Tesla would soon begin to accept bitcoin as an installment method for its products.
Conclusion 
Often, the Tesla owner Elon Musk's statements on social media regarding cryptocurrency makes significant rise and fall in crypto prices, but on Sunday, it appeared to show an instant effect as bitcoin prices overall elevated nearly 8 per cent just around the daytime on Sunday.