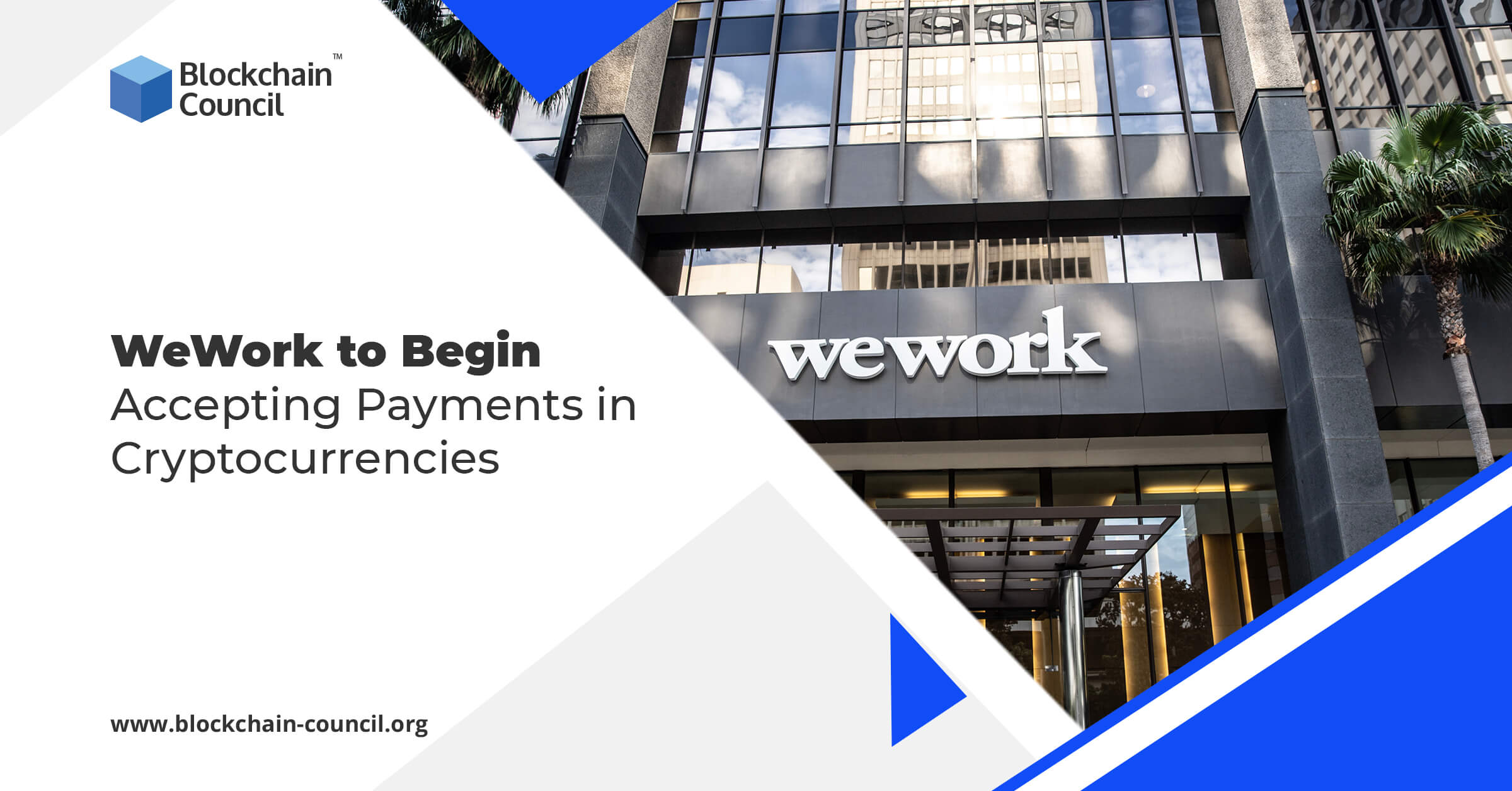 According to the latest announcement, WeWork, the office-sharing giant, will start accepting payments in cryptocurrencies. In collaboration with Coinbase Global Inc and payment app Bitpay, the leading space provider WeWork, will expand its flexibility by employing cryptocurrencies for inbound and outbound transactions.


As per the announcement, WeWork will hold the cryptocurrency on its balance sheet and pay landlords and third-party partners in the form of cryptocurrencies using Coinbase, the largest U.S. cryptocurrency trading platform. Also, WeWork announced that Coinbase would be its first member company to use digital payment as payment for its membership.

WeWork mentioned that it will accept cryptocurrencies such as Bitcoin, Ethereum, USD Coin, Paxos and others as payment for its offerings and memberships.
WeWork is Offering an Innovative Payment Option to its Customers  
As a part of the announcement, WeWork chief executive Sandeep Mathrani mentioned that the company needs to adapt to the needs of its expanding membership in the fintech industry and to service this "new economy."
BitPay CEO Stephen Pair also mentioned that WeWork is providing a cheaper, more accessible, and innovative payment option compared to those of credit cards and taps a community valued at over $2 trillion. 
WeWork Chairman and Softbank Group International CEO Marcelo Claure believes that WeWork's announcement to start accepting cryptocurrencies indicates the company's commitment to innovation and being a globally-focused business. He seems glad regarding the steps that WeWork is taking to recognize the value this technology can provide to its current and future members.
It was recently announced that the shared-office provider WeWork is expected to merge with a SPAC called BowX Acquisition Corp.
WeWork's move is similar to Elon Musk's Tesla, where the entrepreneur announced that people can now buy a Tesla with bitcoin, whereas people outside the country can buy a Tesla with bitcoin later in 2021. As cryptocurrencies are becoming increasingly popular as a form of payment, Venmo also announced that customers can now buy, hold and sell cryptocurrency directly within the Venmo app with as little as $1.
To get instant updates about blockchain certifications and become a blockchain expert, check out Blockchain Council. Get the clarity in blockchain technology that you are looking for.