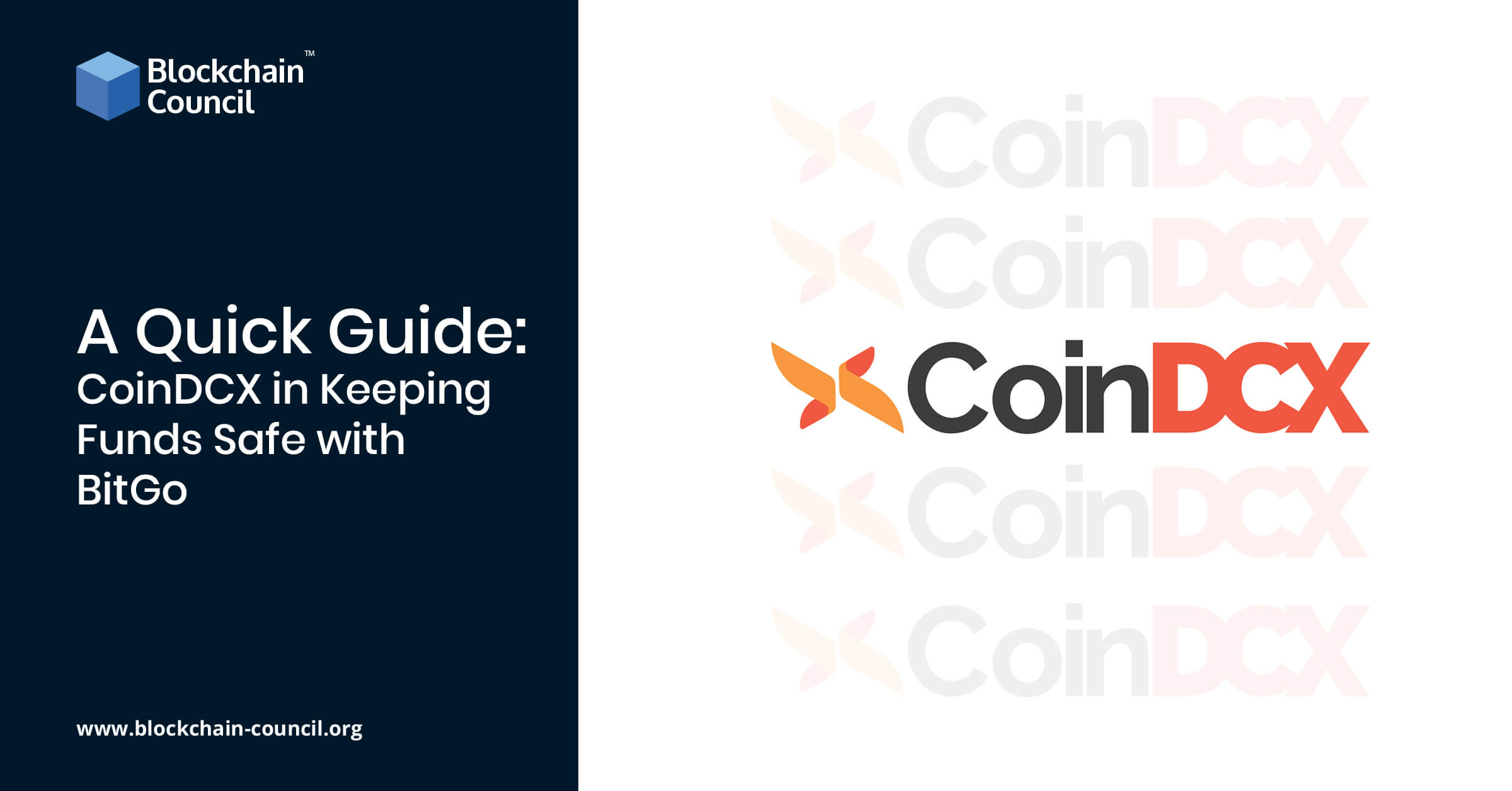 Cryptocurrency trading is a trending profession nowadays. People are curious to know more about cryptocurrency and other digital assets. Blockchain technology is the basic technology behind cryptocurrencies like Bitcoin and Ethereum. Crypto has been considered a secure platform for investing and trading. However, it's essential to have detailed knowledge about cryptocurrency security, cryptocurrency exchanges, and trading. This article talks about one of the best cryptocurrency exchanges in India, "CoinDCX," and how it provides funds security to its users using BitGo. 

Also, you can learn crypto trading online and be a bitcoin professional by pursuing cryptocurrency trading certifications at the blockchain council.  
Table of Content 
Overview 

What does CoinDCX do? 

What is BitGo? 

Security of Funds for CoinDCX

What is BitGo Insurance? 

Points to Remember while investing in Cryptocurrency 

Conclusion
Overview 
Recently, CoinDCX announced its tie-up with BitGo to protect its users and enable the best and safest cryptocurrency exchange worldwide. CoinDCX has been known for its top-notch cryptocurrency financial services. It provides a user-friendly experience in accessing different digital assets securely. It also provides insurance and safety to its users with BitGo.  With BitGo protection, the level of security is increased, and it has backed CoinDCX with industry-leading security processes. 
CoinDCX was launched on April 8th, 2018, and currently has more than 4 million users on board. Also, CoinDCX became the first Indiacryptocurrency exchange to achieve Unicorn status by raising $90 million. Now BitGo is safeguarding with CoinDCX to provide the best crypto experience to the users. Due to these high-security standards, active users are increasing at the rate of 80%. 
What does CoinDCX do?
CoinDCX is a Singapore-based company that practices crypto-financial services and is  ISO certified. It is one of India's largest cryptocurrency exchange platforms bringing revolutionary crypto-based products and enabling faster & more straightforward transactions. With the help of CoinDCX, crypto trading has become easy and secure. Individuals who are interested in learning crypto trading and exploring major cryptocurrencies like Bitcoin and Ethereum can checkout online certifications. CoinDCX is a platform that enables users to trade their digital assets with high security as they are using the BitGo security standards. 
CoinDCX and other similar cryptocurrency exchanges give the privilege to their users with geographically distributed cold wallets and DDoS (distributed denial-of-service) protection. Also,  for achieving high-level security, it enables regular stress testing measures combined with multi-signature authentication. 
What are Distributed Cold Wallets?  
Cryptocurrency wallets are used to store crypto coins or any digital assets like bitcoin, ethereum, NFT, and other tokens as well. Now storing can be done online and offline. When cryptocurrency is stored in online wallets, it is prone to cyber-attacks and thus can be risky sometimes. In contrast, when cryptocurrency tokens are stored offline, i.e., cold wallets, it makes the user's holdings more secure and prevents them from getting hacked by unauthorized means.  Therefore, cold wallets are used for achieving high security because this platform is not connected to the internet and does not attract vulnerabilities like online wallets. 
What is DDoS? 
DDoS stands for Distributed Denial of Services attack. This is the most popular type of attack which is affecting the internet nowadays. This occurs when there is massive traffic, and the system gets overloaded and becomes vulnerable. Technically, when multiple systems overload the bandwidth of a targeted system with more web servers, this occurs under a DDoS. The affected system can be a website or an application resulting in the unavailability of the services. As cryptocurrency is gaining a tremendous amount of importance and popularity, this makes it an optimum target for DDoS attacks.  
DDoS protection is the process of successfully defending the targeted network or server from a DDoS attack. Specially designed network equipment and cloud-based protection can attenuate the threats affecting the particular system. In DDoS, the attackers make use of multiple compromised or controlled sources while generating the attacks. Therefore, it is crucial to have security standards that can handle this type of internet attack and mitigate them. 
What Is BitGo? 
BitGo is a security company offering multi-signature wallet services where it provides security keys to the owner for managing the risks. It was established in 2013 by Mike Belshe and Ben Davenport, and its headquarters are in Palo Alto, California. A digital asset trust company, BitGo has announced a tie-up with the CoinDCX for safeguarding the user's funds. 
Usually, BitGo wallets have three keys, out of which one is with the BitGo, and the other two are provided to the wallet's owner for high-level security. However, it's essential to secure the key somewhere safe. Both hot and cold wallet configurations can be given as per the user's suitability. Moreover, wallets with non-custodial and custodial configurations are also available for the users. 
What is a Custodial Wallet?
A crypto wallet in which a third party has complete control over the user's private key for security reasons. The users have the permission to send or receive any transaction are known to be Custodial wallets. 
What is a Non-Custodial Wallet? 
In this type of configuration, users have complete control over their private keys and funds. It allows you to be your own bank and access the funds anytime and anywhere.
The collaboration of CoinDCX with BitGo will help the users to navigate through the complexity of the digital assets with liquidity and faster processes. Let us know what more CoinDCX offers in terms of Funds security. 
Security of Funds for CoinDCX
CoinDCX is known to be one of the safest cryptocurrency exchanges in India. It is crucial to keep the funds safe as the crypto market is fragile, and some miscellaneous thefts can happen due to weak security. Therefore, CoinDCX claims to provide cryptocurrency security and store user's private information within its platform. 
CoinDCX has managed to secure users' funds with $100 million BitGo insurance, significantly benefiting cryptocurrency traders. For achieving high-security standards, daily audits and protocol updates are carried frequently by CoinDCX. Moreover, it is important to maintain cryptocurrency security and achieve solid and impenetrable security standards for protecting the user's funds.  
The primary measures that must be implemented to achieve world-class security are as follows: 
Geographically distributed cold wallets 
For reaching the best security levels, it is essential to store your cryptocurrency into a cold wallet that can be accessed and distributed globally. Cold wallets are more secured wallets, and hence it is recommended by crypto advisors for storing cryptocurrency. 
Multi-signature authentication 
It is a Digital signature scheme where a single document is signed by multiple users to achieve the crypto wallets' high-security standards. Its a type of authentication with allows a group of users to sign the document and agree upon any particular transaction digitally. A multi-signature algorithm increases the adds extra security to the cryptocurrency transactions. This type of authentication is more compact and easy the complexity of collecting signatures from the individual users. Also, multi-signature wallets need all the parties or users to agree with the digital signature before processing the transaction. Therefore, no single party has a hold over a transaction, increasing the protection and preventing any transactional fraud.  
DDoS Protection 
Implementing Distributed Denial of Services (DDoS) attack protection is essential, as this type of attack is the most common and popular amongst hackers. The DDoS attack allows the hackers to gain access to the database resulting in enormous losses for the organization and people associated with it,  like stealing users' data for their own benefit. This attack can shut down any website, which can affect the business directly. 
DDoS attack harms the network of the system by targeting nodes and blocking the incoming traffic. Due to this, the whole system can get corrupted and face data loss, complete system failure, and loss of money. DDoS protection is essential for all types of businesses to prevent their organizational loss and other repercussions caused by the attack. 
Regular Stress Testing Measures
Cryptocurrency exchanges have to update the security standards and protocol to mitigate cyber-attacks, including regular stress, penetration, and scenario testing.  The cryptocurrency and security experts solve the concerns and conduct the testing measures so that the network or a system can hold the load and catch the unauthentic trespassing.  
All these measures are taken very seriously to prevent the system from crashing or getting fished. Also, safeguarding cryptocurrency and user's private keys is the topmost priority for CoinDCX's team. The team consists of cryptocurrency experts, crypto advisors, cybersecurity experts, bitcoin professionals, blockchain experts, Crypto traders, etc. 
Individuals can gain knowledge about bitcoin blockchain and be Bitcoin professionals. You will have the opportunity to work in the field of blockchain as you will be aware of the bitcoin blockchain network, privacy characteristics, bitcoin market trend, and much more. 
What is BitGo Insurance? 
BitGo is a custodian associated with the CoinDCX, which claims to ensure the user's data, private keys and prevent any malicious act. It is one of the largest and leading names for providing digital assets security. With BitGo insurance, CoinDCX exchange will protect the user's funds with an issuance policy of 100 million USD. This also includes other 2-way authentication systems and the safety of cryptocurrencies in hot and cold wallets. 
BitGo supports 250 crypto tokens globally and holds 20% of the crypto transaction processed worldwide. It maintains wallet segregation for the clients and achieves the best security and privacy measures. The CoinDCX will insure loss of keys, insider theft, or any copying of keys with the help of BitGo insurance. Now, we can say that cryptocurrency trading and investing are reaching a milestone by integrating such security measures.  
What BitGo offers? 
Segregated Wallets for clients. 

Wallets are secured with multi-signature and a key to access or process the transaction. 

Required multiple users to access the key stored in the vaults. 

Highly secured login audits and access control is required for changing personal data.  
Funds are held in multi-signature cold wallets where no single person is accessing the account. This increases security at a high level. Only 5% of the funds are stored in hot wallets, and 95% of the user's funds are stored in cold wallets, resulting in complete fund safety. 
2-factor authentication increases the security by a level, and users will receive the OTP via mobile number or google authenticator. Vetting of accounts is also practiced regularly to limit any future risks. 
All these types of measures taken limit the risk of any unauthorized access and increase cryptocurrency security. It is necessary to vet the large withdrawals and multiple account reconciliation for achieving secure funds.  
Points To Remember while investing in Cryptocurrency
Managing cryptocurrency is crucial and needs expertise. However, you can learn crypto trading, bitcoin blockchain, cryptocurrency investment online at Blockchain council and implement the knowledge in the professional field. 
Here are some supervision steps that you can take to avoid significant risks- 
Install the application from authentic sources like the google app store or Apple App store for cryptocurrency trading.  

Make sure to update your apps to get the latest security updates. 

Never leave your device unattended. 

Always use a secure network connection. 

Never provide your credential to any unsecured website. Look for HTTPS websites only. 

Avoid using unknown devices. If using, then make sure to erase the history. 

Also, do not use public wifi as they are less secure. 

Make sure to not use any rooted/ jailbroken devices while crypto trading. 
DCX Learn partners with Blockchain Council
DCX Learn, the online learning platform of CoinDCX has partnered with Blockchain Council for Cryptocurrency certifications and courses. This collaboration will help the individuals to gain knowledge about the trending blockchain and cryptocurrencies and utilize the skills professionally. Crypto enthusiasts have a great opportunity to explore Cryptocurrency Certifications online and stay ahead of the hood. 
Conclusion 
Cryptocurrency is here to stay, and many big companies are investing in it. However, it is vital to know the proper measures to secure your digital assets. Most importantly, trusting the suitable crypto exchange must be done. Before completely trusting any single crypto exchange, you must know deep crypto trading and the bitcoin blockchain. For that, you must run proper research and find the best possible results for yourself. Learn more about crypto and the latest blockchain technologies from the Blockchain Council and boost your career in the field of blockchain technology.