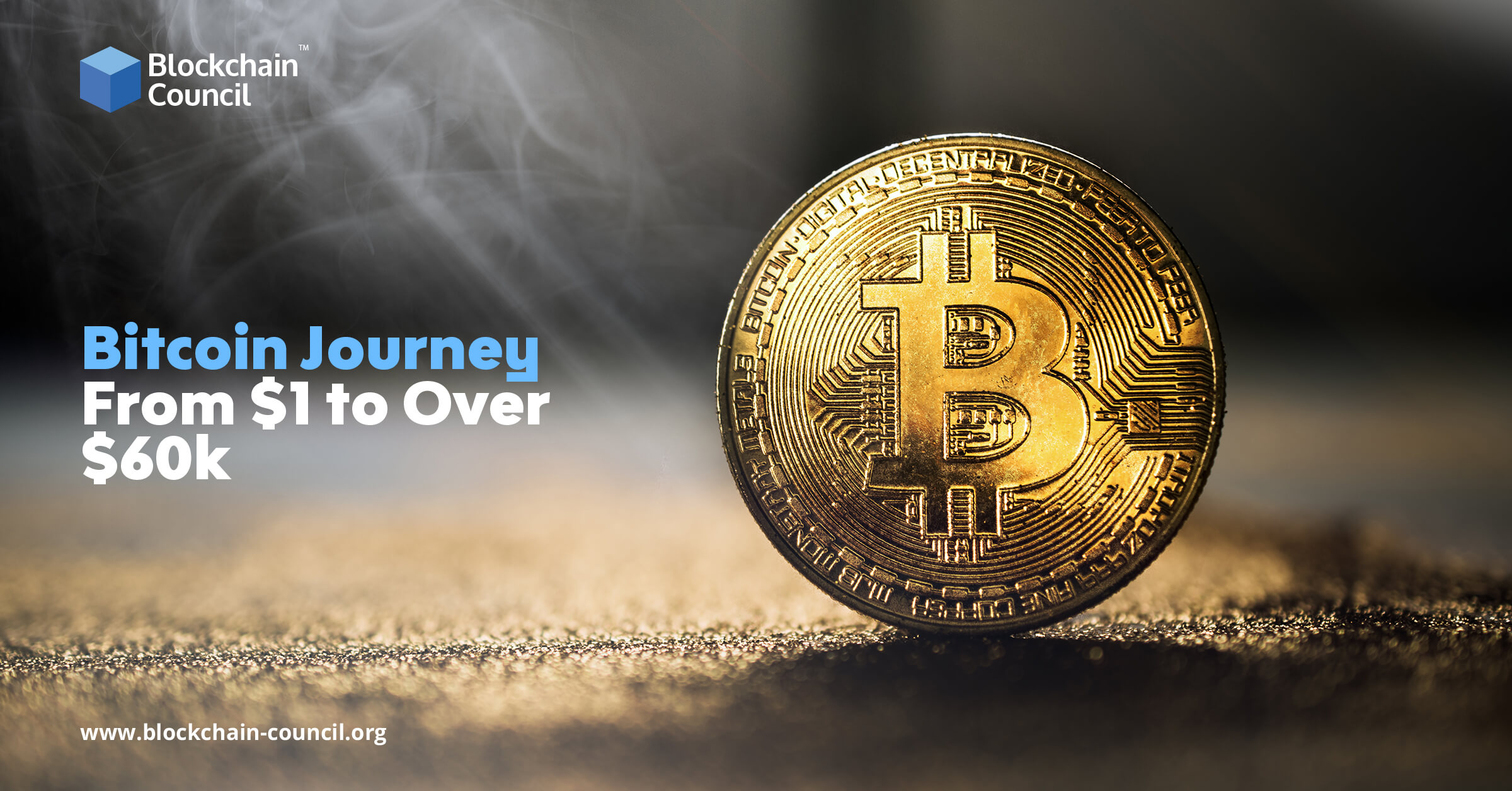 Are you a Blockchain Enthusiast? This article talks about Bitcoin's history, its rise, fall and illustrating its journey towards breaching the $60,000 mark. 

Table of Contents 
Bitcoin's History

A Timeline of Bitcoin's Journey: From December 2020 to March 2021 

Concluding Lines: What the Future Holds?
Bitcoin's History
Bitcoin is the first-ever example of decentralized digital currency that was introduced in 2009 under the pseudonym of Satoshi Nakamoto. On 18 August 2008, the domain name bitcoin.org was registered, and in January 2009, the network of Bitcoin came into existence with the release of the first open-source bitcoin client and the issuance of the first bitcoins, with Satoshi Nakamoto mining the first block of bitcoins ever. Then in 2010, the first official cryptocurrency stock exchange named 'Bitcoin Market' was launched. The first price rise happened in July 2010, when the value of a single bitcoin rose from $0.0008 to $0.08. In January 2013, it was seen that BitPay exceeded 10,000 transactions. As the Bitcoin era was begun, a documentary film, 'The Rise and Rise of Bitcoin,' was released in the year 2014, featuring interviews with bitcoin users. In February 2015, the Bitcoin price touched $262, and in November 2017, the price surged to $10k.
However, next year in 2018, Bitcoin saw the most critical crash to $3,200, but somehow in 2019, its price stayed above the US $3,190. This year Bitcoin has seen some significant ups and downs. After its lowest drop in 2019, in mid-June, the price rose to the US $10,000, and again in December 2019, the same price fell to US $7,112.73.  
Interested in learning about all ins and outs about the Bitcoin cryptocurrency? Enroll in the Certified Bitcoin Expert course and get started now!
A Timeline of Bitcoin's Journey: From December 2020 to March 2021 
In 2020, coronavirus brought havoc all across the globe, infecting millions of people worldwide. Despite this adverse situation, strangely, Blockchain and crypto space didn't suffer, and, in fact, pandemic even fastened the crypto's adoption worldwide.  
In those critical times, Bitcoin managed to refuel its prices by 23 November when prices rose to $18,353, and in December 2020, unexpectedly, the price raised to $2,400, setting an all-time new high.
2021 has been the best year for Bitcoin as it experienced an unexpected hike. In January 2021, Bitcoin price rose to $40K, and on 16 February, the price further surged to $50,000, recording an all-time high. And finally, on 13 March 2021, it was announced that the price of Bitcoin rose to $60,065, and hours later, the price crossed $61,000 to set a new all-time high of $61,556.59. 
According to CompaniesMarketCap.com, the move to $61,000 has brought bitcoin's market cap to $1.14 trillion, indicating that it's not so far below the $1.385 trillion value of Alphabet (Google). 
Want to master the cryptocurrency market? Enroll yourself in an Online Degree in Cryptocurrency & Trading and get a deep and strengthened knowledge about cryptocurrency and how it works. 
Concluding Lines: What the Future Holds?
There were many predictions that were made regarding Bitcoin's price, where few came out to be accurate, while some were proved incorrect. According to the Genesis Mining poll of 1,000 people, conducted in December 2020, 50.1% believe that Bitcoin's value will be less than $20,000 in 10 years' time, while the remaining agrees that the price will continue to upsurge. At that time, just 18.6% of investors believed that Bitcoin's price would exceed $50,000, and now Bitcoin has crossed over $61,000. 
No matter how technocrats, professionals, and investors are considering Bitcoin, it is quite clear that the Bitcoin era has begun, and it will make a revolution in the years to come.
What do you believe will be the price of Bitcoin by 2030? Let us know in the comment section below. 
Looking for the best cryptocurrency certification courses? Get started today with Blockchain Council. 
To get instant updates about Blockchain Technology and to learn more about online Blockchain Certifications, check out Blockchain Council.