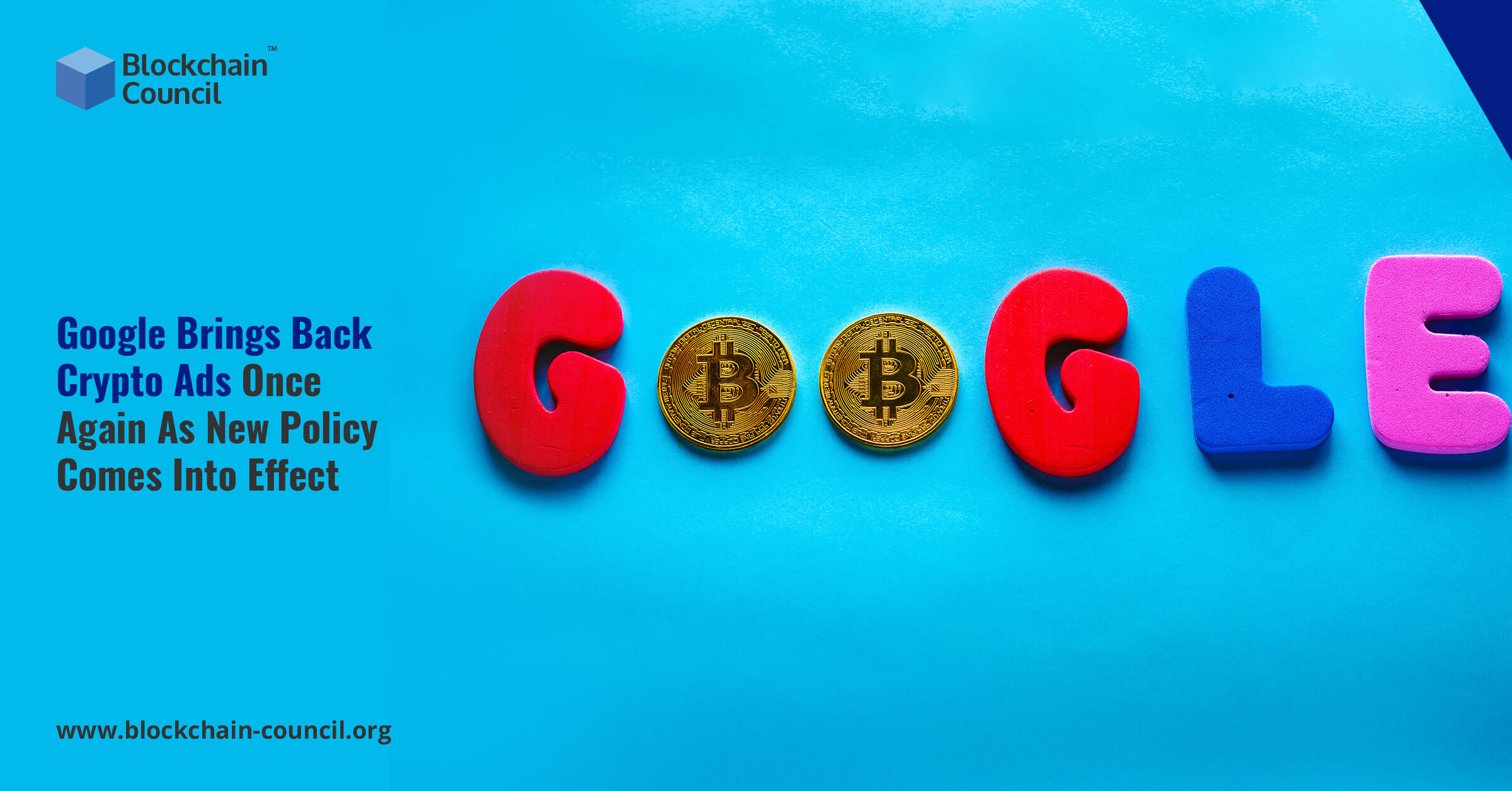 The Tech Giant Google is once again allowing crypto ads to run on their platform, starting from the 3rd of August. Google, which is the largest ad network in the world, had banned the prevalence of crypto ads on their platform earlier this year, back in the month of March. The new policy which came out, clearly states that the tech giant will only allow crypto wallets operating out of the United States and is registered with the FinCEN. 

After the tech giant Google had banned crypto ads from running on their platform, they have again started allowing crypto ads to be back on their advertising platforms. This happened after the company decided to revise their previous policy back in the month of June.
The largest tech company had banned all advertisements related to initial coin offerings or ICOs and along with other crypto companies from running on their advertising platform. Google's crypto ban policy imposed a serious all encompassing ban on every product and service related to crypto, which includes digital wallets, crypto exchanges and so on. 
However, according to a new statement made by Google in the month of June, it stated that the new and revised policy on crypto will come into effect from the 4th of August, 2021.
The newly revised policy by Google mentions that it will be applicable only for those crypto wallets that are based out of the United States. Even though that is the case, they also stated that the ads for these crypto wallets will be displayed all over the world.
The new policy also suggests that these crypto wallets have to be registered with and authorized by the United States Financial Crimes Enforcement Network or FinCEN as a Money Services Business provider which can show at least one state where the money is transmitted from. It is clear that Google wants to keep no stones unturned in order to protect the interests of the users and in doing so, protect their own reputation as well. As a result, they have undertaken these strict safety measures.
The whole idea for this initiative is to add credibility to the businesses who are willing to display advertisements on the world's largest ad network. Moreover, the businesses will also need to register themselves with a state chartered bank or even a federal bank entity, in order to bear compliance with all the legal, relevant and significant regulations. Also, it goes without saying that Google has its own set of policies for advertisement which the businesses need to adhere to.
Decentralized finance (DeFi) trading protocols and Initial Coin Offerings (ICOs) may have to wait for now  
As it seems, the revised new policy does not come without certain limitations for now. Even though Google has cleared the path for crypto wallets and crypto exchanges to advertise on their platform, they have not done the same for Initial Coin Offerings (ICOs) and Decentralized Finance (DeFi) trading protocols. The company made it very clear that they will also prevent other companies who are trying to advertise products that in reality are basically promoting the sale, purchase and also trading of cryptocurrencies and other such related products. Having made this declaration, they have also provided a non-exhaustive list which clarifies what they might include.  
Some of the examples that are mentioned on this list are cryptocurrency loans, celebrity endorsements of any cryptocurrency, unregulated DApps, ICO pre-sales or offerings to the public, token liquidity pools, initial DEX offerings, unhosted wallets etc. According to the tech giant, these are some of the instances of products that are still banned. 
This also means that products or services related to crypto investment advice, crypto trading signals and affiliate sites or aggregators that contain content related to the aforementioned criterias, or even reviews from brokers, will not be allowed to advertise. To be very clear, Google does not want companies who compare or even perform as aggregators related to those who issue cryptocurrencies, to use their platform for advertising.
According to some experts, while most of the crypto community will be dismayed by the change in Google's policies, it is true that maybe the tech giant is right in maintaining the above restrictions.Crypto users and experts cited example of Facebook, stating how their ad space is littered with crypto scams in the name of adverts. This sure is not a good thing.
According to the experts, it is a good sign that Google is actually adopting a phased approach to this entire space of advertising for crypto. This will give the company ample time to focus on the industry and understand it better in order to develop policies in the future. Owing to the bullish trend of Bitcoin since last year, there have been more regulations in place to maintain better scrutiny and clarity among the users. However some of the cryptocurrencies are still hovering in the grey area.