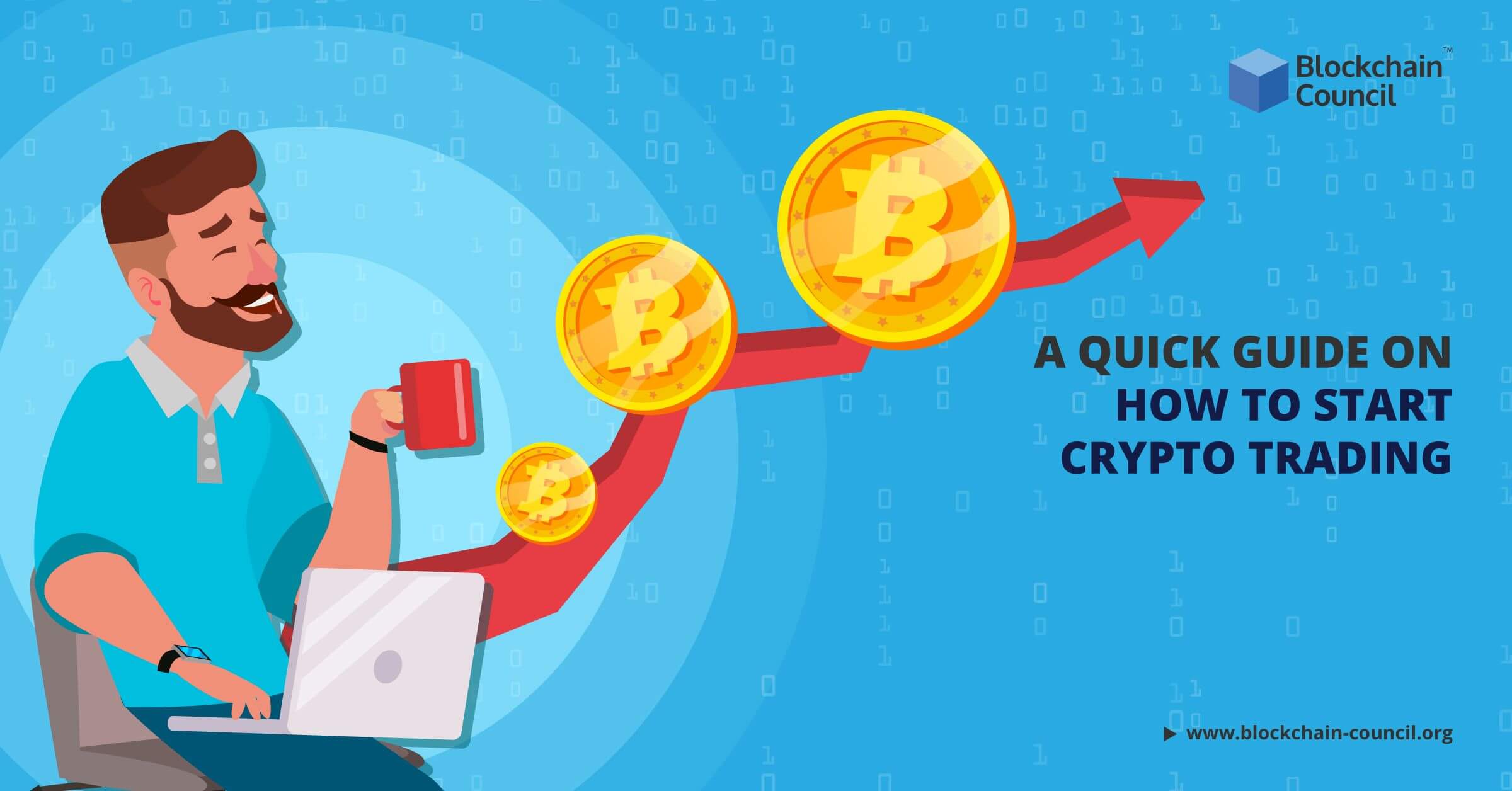 Are you wondering how to start crypto trading? This article enlists essential steps that will help you kick off your crypto trading learning journey.

Table of Contents 
What is Crypto Trading?

How it Differs from Forex Trading?

Steps on How to Start Trading Cryptocurrencies

Concluding Lines 
What is Crypto Trading?
Interest in crypto trading has been increased over the past few years because cryptocurrencies are extremely volatile assets, and they can give you much higher returns than traditional investments.
We can define Cryptocurrency trading as the act of speculating on cryptocurrency price via buying and selling the underlying coins through an exchange. 
As crypto trading gets more mainstream attention, newer players have entered the market and are looking to learn trading techniques. 
If you are one of those, who want to learn about trading and the crypto market, you can enroll in a cryptocurrency certification course and become a Certified Cryptocurrency Trader. 
How it Differs from Forex Trading?
Forex trading is the exchange of currency into another currency for multiple reasons. It is also known as Forex or foreign exchange(FX). In other words, it is a network that allows buyers and sellers to transfer currency with one another at an agreed value. 
The major difference between these two trading approaches is that Crypto trading is more volatile as the markets can fluctuate enormously. Moreover, compared to the cryptocurrency market, forex markets have higher liquidity as a result of a long history of activity. 
Steps on How to Start Trading Cryptocurrencies
Let's explore how to start crypto trading. 
Choose Crypto Exchange Platform to Trade on
At present, there are a number of popular crypto exchanges available that can be utilized. If you are wondering what exchanges are, please note that the portals which connect our world to the crypto-worlds are exchanges. Binance is no longer available in the US market. At this point, you think you do not have much of a choice. Actually, there is VPNpro wrote an informative article about how VPN service can be used for accessing crypto exchange platforms without any risks.  It will help you to bypass these restrictions.
Some of the most popular crypto exchange platforms are:
Coinbase

Headquartered in the USA, Coinbase is a renowned exchange platform that facilitates the trading and storing of crypto tokens. Marking its presence across 30+ countries across the globe, Coinbase makes dealing in crypto super easy for investors. Those interested in crypto can find a diverse range of top-rated crypto tokens on the exchange. The list includes coins such as BTC, ETH, Solana's SOL, Cardano's ADA, LTC, etc. Coinbase ecosystem includes:

     

Coinbase app- For trading tokens

     

Coinbase Pro- A popular asset trading portal

     

Coinbase Wallet- It helps users to access DApps using a DApp browser.

     

Coinbase Earn- a learning portal devoted to crypto

     

Coinbase Card- A debit Visa card for making seamless crypto payments.

Coinmama
Founded in 2013, Coinmama is a trusted cryptocurrency exchange portal for buying and selling crypto tokens with ease. The exchange allows users to trade in crypto using credit cards, debit cards, or simple bank transfers. To simplify the access procedure, Coinmama facilitates quick account registration and setup for users. Purchase or sell your crypto assets on Coinmama without holding back as the portal offers high spending limits to customers. The powerful exchange interface helps owners to get instant delivery of coins after order placement.
Taking pride as a renowned platform for crypto purchase and sale, bitFlyer offers everything you need to kickstart your investment expedition. Launched in 2014, bitFlyer manages a strong customer base of millions of crypto fans across the globe. It is the only exchange that is duly licensed to work in the United States, Japan, and Europe. Enjoy a seamless trading experience with an instant deposit facility for all the top-rated coins including ETH, BTC, LTC, etc. The user-friendly bitFlyer app helps users to keep a track of their investment habits and their portfolio. The platform offers real-time data analysis of the crypto market trends.
Indulge in a safe, secure, and high-tech trading experience with Poloniex crypto exchange. The portal offers access to more than 200 spot trading pairs and 25 margin trading pairs for investors to gain maximum earnings. On Poloniex Futures, one can find perpetual swap contracts offering up to 100x leverage to owners. The exchange helps users to earn interest through the lending of tokens. The interface offers a perfect blend of technology and intuitive features designed especially to ease crypto trading for users.
Choose a Crypto Wallet
Crypto wallets are tools that allow you to store and send crypto coins. These are of various types. Let's explore. 
Internet connectivity defines a wallet in terms of hot or cold. Hot wallets are connected to the Internet and thus are less secure and pose more risks but are user-friendly. Cold wallets, on the other hand, are stored offline and don't require internet connectivity, thus leading to improved security and less risk. Hot wallets are more likely to be used for daily transactions, and cold wallets for more long-term holdings. 
Hardware wallets are hardware devices that individually handle public addresses and keys. It looks like a USB with an OLED screen and side buttons. It is a battery-less device and can be connected to a PC and accessed by native desktop apps. They are more secure than hot wallets and user-friendlier than paper wallets but less than web and desktop wallets. The most popular hardware wallets are Ledger Nano S and Trezor.
You can also choose Mobile Wallets such as Coinomi and Mycelium, Desktop Wallets such as Exodus, Bitcoin Core, Electrum, or Web Wallets which can be non-hosted wallets such as MyEtherWallet or MetaMask or hosted wallets Binance, Coinbase, and others.
Keep Track on Crypto-Related News
Once you have finalized a crypto exchange platform and a perfect crypto wallet, all you need to do is keep track of crypto-related news before making any investments. To study the asset, one of the best tools for this research is Coinmarketcap. It is a price-tracking website for crypto assets where you can find information on every coin, such as capitalization, supply, trade volume, and other valuable insights. 
Concluding Lines 
Hope this article has helped you in providing a complete understanding of how to start trading cryptocurrencies. If you want to gain a deeper insight into cryptocurrency trading and investing strategies, you can check out the best cryptocurrency certification courses offered by Blockchain Council and become a Certified Cryptocurrency Trader. 
To get instant updates about Blockchain Technology and to learn more about online Blockchain Certifications, check out Blockchain Council.