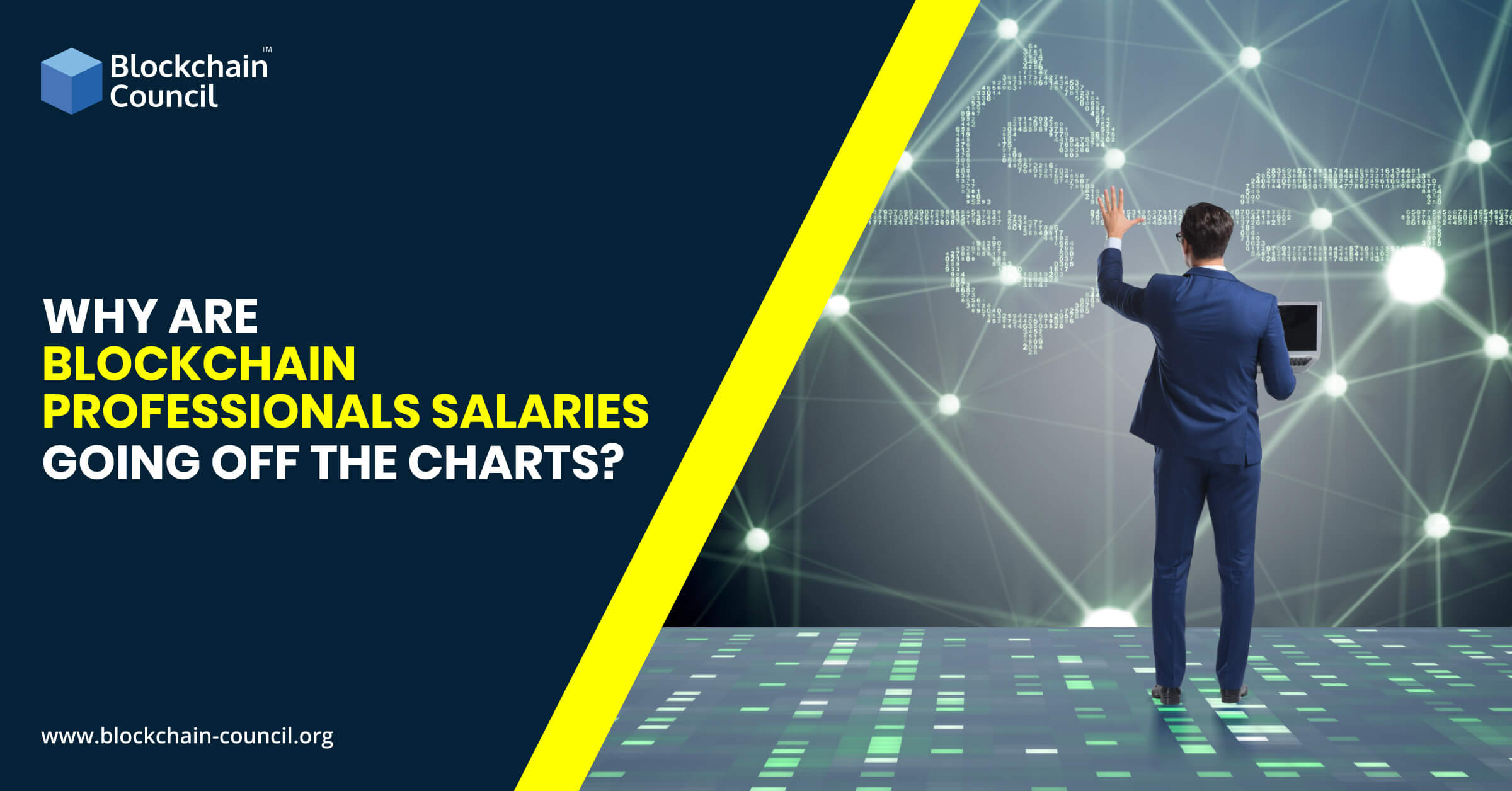 Wondering why the salaries of Blockchain Developers and Blockchain Architects are soaring? This article will illustrate why Blockchain is the most lucrative profession and will throw light on their salaries patterns.   

Table of Contents 
Who is a Blockchain Expert?

Blockchain: The Most Lucrative Profession

Blockchain Developers Salaries Higher Than Other IT Professions 

Future Scope for Blockchain Specialists: Concluding Lines 
Who is a Blockchain Expert?
Guided by the advancement of robust scalability solutions, the exponential growth of Blockchain technology has caught industries and enterprises' attention worldwide. Blockchain development has made significant progress in the most desired programmer skills, and the expenditure on Blockchain solutions globally is projected to grow from 1.5 billion in 2018 to an expected 15.9 billion by the year 2023.
A Blockchain Expert is a professional who understands Blockchain technology profoundly and can build Blockchain-based applications for businesses. But one has to be incredibly experienced in a single niche to call himself a Blockchain specialist. More so, you will need to have functional and practical knowledge in the Blockchain/Crypto space. 
At present, the demand for Blockchain developers and Blockchain architects are soaring. Before we understand why their salaries are going off the charts, let's understand who is a Blockchain Architect, and what do they do?
Blockchain Architects offers end-to-end solutions to its customers using Blockchain technology and helps develop an overall Blockchain ecosystem engagement strategy. Experts who understand business components and technical elements of Blockchain architecture are high in demand. 
Blockchain: The Most Lucrative Profession
Many non-technical consumers consider this technology, especially in relation to cryptocurrency, which is not true. Today Blockchain has its scope in almost all industries, and therefore it is becoming impossible to ignore its emergence. Technology is now being seriously considered by tech giants, governments, startups, and even by FDAs, and therefore, they are looking for developers and architects all over the world. According to a study by LinkedIn, it is found that Blockchain tops the list of most in-demand skills for 2020, which indicates the demand for Blockchain professionals is soaring. According to the "Future of Nature and Business" study, "Emerging business opportunities across Blockchain in energy and mining supply chains, manufacturing, and forestry could create over $3.5 trillion worth of annual value and almost 87 million jobs by 2030. 
However, identifying individuals who possess the right skills needed to build Blockchain solutions is proving difficult for organizations of all sizes. 
Blockchain Developers Salaries Higher Than Other IT Professions 
With a limited talent pool, Blockchain professionals are in huge demand. As the Blockchain job market is exploding, industries and enterprises are searching for skilled Blockchain professionals. 
As per Hired, Blockchain experts' average salary lies between $150,000 and $175,000 per year in the hi-tech regions of the US, such as Silicon Valley, whereas Glassdoor specifies $94,000 as the US national average for a Blockchain Developer. 
Talking about New York City, Glassdoor reports that the average base pay of a Blockchain Software Engineer is $ 97,215 / yr. Senior Blockchain Developers tend to have high packages as compared to entry-level Blockchain developers. According to indeed.com, the average salary of a Senior Blockchain Developer is $126,410 per year. Codementor reports that in freelance markets, the average hourly rate of a Blockchain Developer is around $81-100.  
As we already mentioned, Blockchain Architect is the other most-in profession that recruiters are searching for. According to Glassdoor, the average Blockchain architect salary in the US ranges from $146,258 to $157,987. 
Future Scope for Blockchain Specialists: Concluding Lines 
Blockchain developer jobs are hot right now, and this popularity is expected to grow in the coming years by leaps and bounds. Blockchain technology offers tremendous career opportunities as one can be a Blockchain Developer, Blockchain Architect, Hyperledger Developer, Solidity Developer, Quorum Developer, Corda Developer/Architect, and much more. But remember, the right skills along with certifications, is all you need to get a high paying job. 
Blockchain Council, a globally renowned online training and certification organization in blockchain space, is a one-stop solution if you are wondering about taking your career in the Crypto/Blockchain world. Getting enrolled in Blockchain Council can help you achieve the success that you are looking for. 
To get instant updates about Blockchain Technology and to learn more about online Blockchain Certifications, check out Blockchain Council.