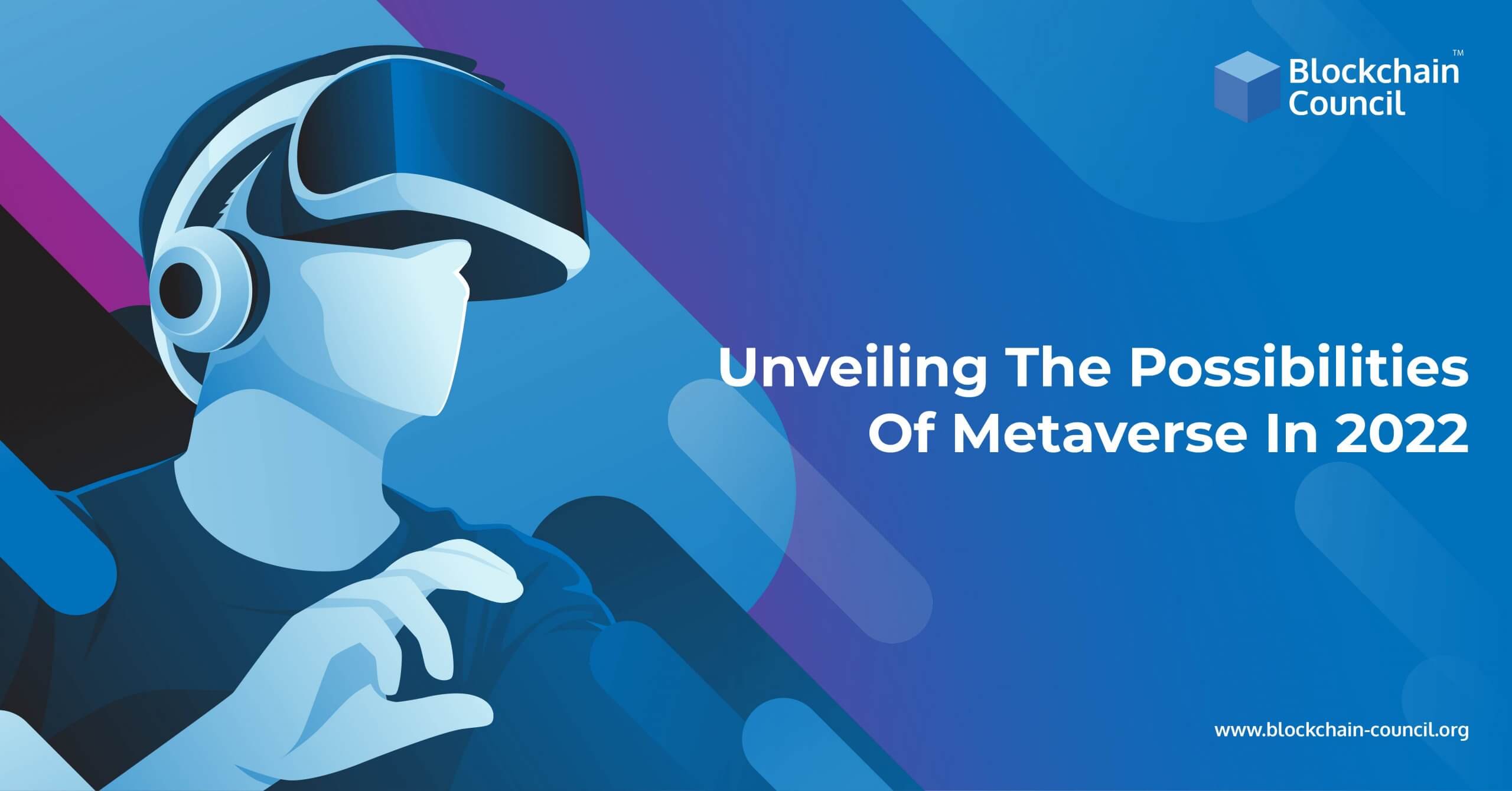 Metaverse is going to explode in 2022! The way developers are working on it clearly shows that Metaverse will be the next big thing in the tech world. 

Many big companies like Facebook (now known as Meta), Apple, and Google have firmly taken their stance on Metaverse. They already have an idea to bring Metaverse into reality as soon as possible. Companies like Apple also tried bringing this idea way before, but it was not adequate for people at that time. But, now it is! Tech giants have buckled up again and are getting ready to ride the metaverse wave. 
It's been said that if Metaverse comes into the mainstream, it will become essential for people – just like social media and other technologies we currently use. This means we will not be holding our mobile to interact with people. Hitting up friends on messages or audio and video calling will vanish. Instead, we will meet them in a virtual world, probably with the help of VR glasses, which will feel very real. 
Basically, it can be said that these tech companies are improving our experience in connecting with people. 
Not only this, but you can also visit and experience any place in the world without actually physically being there. Music concerts, movie shows, parties, meetings, and many more things can be experienced as reality with the help of Metaverse. 
Many experts have confessed that the metaverse is here to stay, and it is the future. And it seems to be accurate. Because we can easily see how confidently tech companies are displaying the idea of Metaverse. 
Mark Zuckerberg has been the first person who came forward and proposed the idea of the Metaverse in front of the world.
He came out with a video explaining how meta could look like. A few avatars were shown as an example, which were absolutely fascinating. He even changed the name of Facebook to Meta to indicate to people that the company is branching out and will serve you with more than one product. 
However, Meta is not the only company running in the Metaverse race. There are some other big companies as well, and we will discuss them further. 
Keep reading to educate yourself about Metaverse. Let us start from the very basics. 
What Is Exactly Metaverse? 
In simple words, Metaverse is a platform where people can interact with each other in 3D augmented and virtual reality without actually being there physically. This virtual world can be accessed with the help of virtual reality glasses.
The main motive is to enhance the experience of socializing with each other. 
The term metaverse was first shown in a novel named Snow Crash by Neal Stephenson. It was a science fiction novel released back in 1992. Metaverse can be broken down into two parts. 'Meta' means beyond, and 'verse' means universe, which means beyond the universe. The idea was the same in the novel as we see it today, and features like meeting people in virtual reality were clearly mentioned. 
So, it was like a beautiful prediction that is now coming into reality.  
Currently, there's no exact declaration of when the metaverse will become mainstream. Some are saying that we may see the metaverse in our life within two or three years. 
On the other hand, others say that it's challenging to bring metaverse mainstream within this short period. It may take around five to ten years. 
What Are Some Metaverse Projects That Would Be In Limelight In 2022?
As we can hear from experts, the metaverse is here to stay and will expand, no matter what. So, it's definite that new projects will take place in the next coming years. Let's take a look at a few metaverse projects that may be in the public eye this year. 
Star Atlas 
Star Atlas is a NFT based metaverse built on the Solana network. The concept of this game is fascinating. 
It is basically based on the people living in 2620 competing to conquer lands and build domination. 
One of the best features of this game is that players get opportunities to earn real money by taking control of the lands. 
MetaCity 
MetaCity is another NFT-based game that gives its user a free-to-earn opportunity. 
One of the best things about MetaCity is that it allows you to play games, do your favorite activities, and earn some great rewards. Some famous games like Minecraft and GTA5 will also be included — giving gamers a higher sense of pleasure. 
Bloktopia 
Bloktopia is another fascinating project, and it will be on the radar in 2022. 
Bloktopia is considered an all-around metaverse project – featuring a fantastic 21-Floor-tall skyscraper. It consists of various opportunities that help users to earn. 
It also helps users create their own avatars, interact with people and buy virtual land. 
Aliens Worlds
The alien world is considered a decentralized metaverse built with the NFT model. The theme of this game is that players will be competing with each other for scarce resources.
According to the sources, Alien World is one of the fastest-growing crypto games. Its number of users touched the sky in a short time span. Currently, it has around 2.5 million users globally. 
Features like special quests, mining, and battling with other players can help you earn more tokens.
Decentraland 
Decentraland – also known as a virtual social world, consists of many exciting features–for example, marketplaces to trade digital tokens, enter the online event, socialize with other players, and play online games. 
One of the best things about Decentraland is that it gives users complete ownership of the assets. 
What Role Are Big Tech Companies Playing In The Metaverse World? 
There are many companies that are entering the wave of Metaverse and planning to build their virtual world. 
Here are the top 4 tech companies that have big plans regarding metaverse. 
Meta 
Meta, earlier known as Facebook, has some really big plans to bring the metaverse technology into reality in the very next few years. 
For example, they have already started working on manufacturing VR headsets.
They are also working on the Horizon Workrooms. Here people will get a chance to interact with each other, experiencing virtual reality. Events like comedy shows, movie shows, and music concerts can take place. 
Developers have spent a lot of money to make the Metaverse happen very soon. In 2022, they are expected to spend between $91billion-$97 billion on their project, according to The Money Fool.
Meta is the very early adopter of the metaverse, which probably has given them an edge. 
Roblox 
Roblox is known as an American Gaming company, which is also planning to play big moves in the metaverse. 
Roblox has many plans to work upon the metaverse. The company's primary aim is to help users do many more other things along with gaming. 
They have always brought new features like unique clothes, an enhanced way for the users to communicate, etc. They are constantly working on the technology so that the users can have the best experience of the metaverse. 
They have recently launched several games–for example, Meepcity and Bloxburg. These games allow users to build their own homes and perform survival tasks. 
Roblox hasn't limited itself to gaming only; they are going beyond. They have brought up a few features like chatting, building homes, and even some adventures that are accessible. 
Tencent
Tencent is known as a multinational Chinese company that provides digital services to people. Now it is entering the metaverse world. 
They have planned to build a space for socializing, open collaboration, gaming, and many more. It will be more like a multiverse platform where people will get an opportunity to play and have some fun in virtual or augmented reality. 
Tinder
Currently, Tinder is a dating application that people use to find their potential partners. Now they are bringing dating into the metaverse. It will be a unique and refreshing experience of dating in virtual reality. 
Tinder has already started working on its platform and produced some really fascinating features like Digital avatar, Swipe night, and Explore.
However, this is not the first time tinder adapting itself to new technology. They have also stepped into the cryptocurrency world by launching tinder coins. 
Final Verdict
By seeing the hype and excitement around the metaverse, it can be predicted that people are eagerly waiting for it to become mainstream. And, it is understandable because we have only heard about the concept of virtual reality but haven't seen it yet. 
However, most likely, it will take some time to become mainstream, probably between 5-10 years. 
Apple, Microsoft, Google, Meta are some of the biggest companies playing a significant role in the metaverse. But, apart from that, there are many other companies as well who are bringing out high-value projects and helping metaverse technology to be successful.