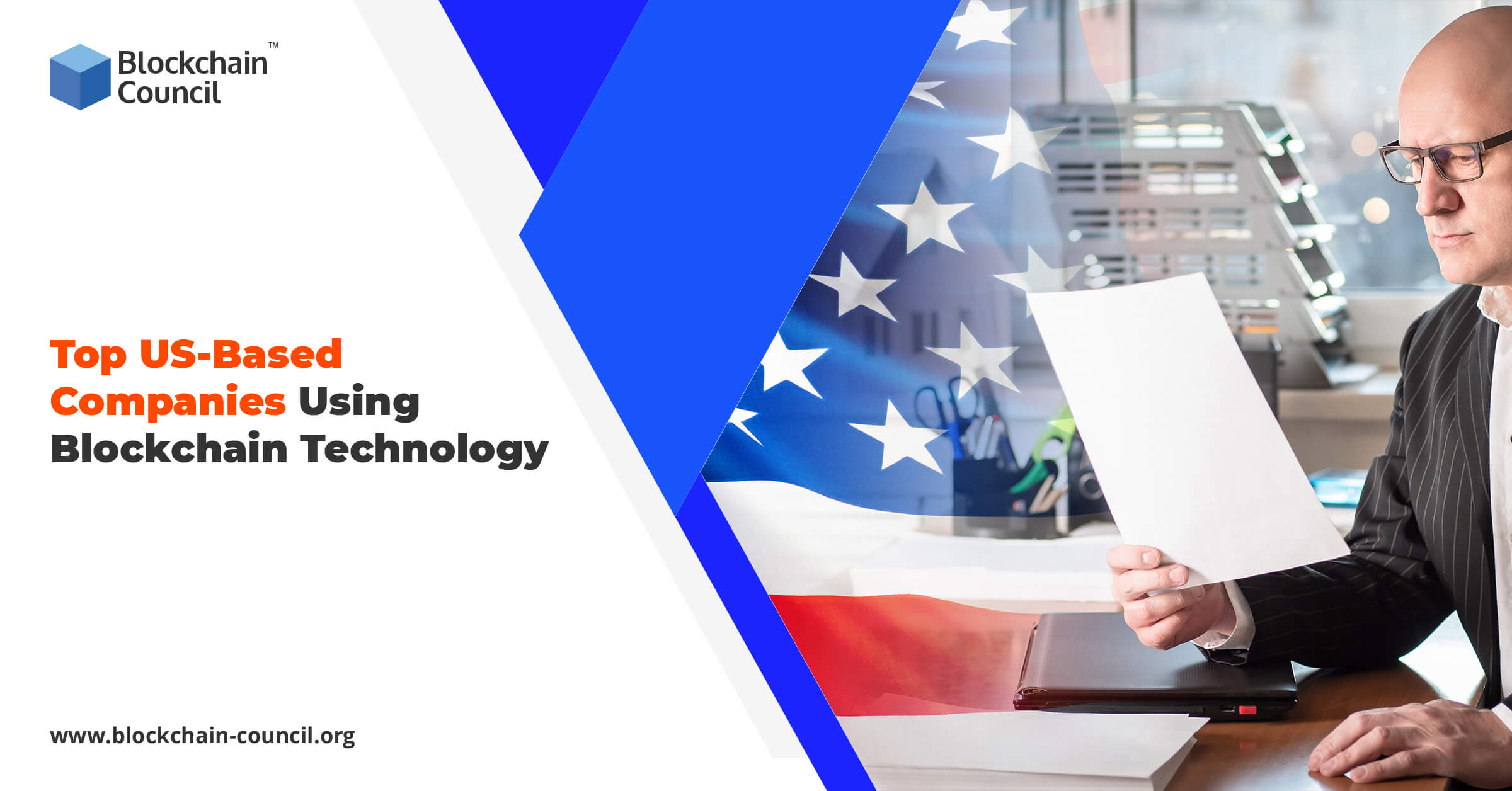 If you are wondering which top US-based companies are leveraging Blockchain Technology, you have landed on the right page. 

Table of Contents 
Overview 

List of Few Top Companies Using Blockchain

Concluding Lines 
Overview 
Gone are the days when Blockchain was associated with cryptocurrencies like Bitcoin and Ethereum. Today, technology has its implications across various domains such as Finance, supply chain, healthcare, logistics, identity management, and others, due to which industries are welcoming it with open arms. Due to its ability to offer complete decentralization, transparency, immutability, and security, tech giants and even startups are adopting and implementing Blockchain for their efficient operations.
Here we have curated a list of few US-based companies that are leveraging Blockchain technology for improving the future.
Want to gain an in-depth understanding of Blockchain technology? Check out the best Blockchain certifications and get started today with Blockchain Council.
List of Few Top Companies Using Blockchain
Here we are enlisting top companies and organizations that are leading the pack to adopt Blockchain technology for their operating needs and to speed up business processes, increase transparency and potentially save billions of dollars, creating waves in the industry.
Chronicled
Chronicled is a Blockchain-based company that aims to build trust & automation between participating parties. With its blockchain-powered MediLedger Network, it intends to bridge the gap between trading partners. Its completely decentralized ecosystem helps industries, including pharmaceuticals, commodities, and others, to track-and-trace every move their shipment takes. It ensures complete privacy by allowing total control over your data and who you share it with without involving third-party intermediaries. The best part is that it provides secure peer-to-peer messaging that automates direct transactions between trading partners.
CoinBase 
Coinbase is a San Francisco based company that offers the easiest place to buy and sell your cryptocurrency portfolio. It is a digital portfolio that has numerous features such as recurring buys and vault protection that make it the best place for trading. Moreover, it helps you create your cryptocurrency portfolio as well. The platform claims to offer secure storage by storing the majority of the digital assets in secure offline storage and ensures that cryptocurrency stored is protected by an insurance policy. Whether you want to trade Bitcoin, Ethereum, Litcoin, or Bitcoin Cash, this is a one-stop platform for trading crypto-assets. 
High Fidelity
High Fidelity is a Blockchain-based company that aims at building a next-generation virtual world. Built on Blockchain technology, it is an open-source platform for developing virtual environments. It allows users to hang out with other VR users virtually and purchase accessories for their avatars and even attend events. Whether you just want to try it, create your own virtual environment, or enrich your own app, it allows users to explore High Fidelity's Spatial Audio, one core component (it's like hearing sounds from different directions). High Fidelity's blockchain-based Digital Asset Registry (DAR) gives each object a unique fingerprint and provides a decentralized, publicly auditable ledger of transactions to stimulate commerce and safeguard the content from fraud.
TraDove 
TraDove is a platform that offers business-to-business (B2B)Blockchain payment solutions. It allows business buyers and sellers to meet, connect, and trade all across the globe and helps in eradicating unaligned buying & selling processes, lack of communication & transparency, and deals with other challenges. In short, we can say that it is a public social network that enables both the participating parties to come together and exchange their goods online.
If you are finding it difficult to discover new markets, this platform will help you find many and allow trade using its payment solution, based on Blockchain and eliminate the complexity associated with international transactions.
IBM 
IBM is a US-based multinational technology company known for producing and selling computer hardware, middleware, and software. International Business Machines Corporation (IBM) also provides hosting and consulting services. IBM, founded in 1911, and its headquarters is located in Armonk, New York.  IBM was the first among the big companies to start investing in Blockchain technology. To begin with, the Digital Health Pass application of IBM helps the enterprises in verifying their COVID-19 Test and temperature results. This application works on blockchain technology using IMB blockchain and Hyperledger Fabric. IMB's Digital Health Pass has helped so many companies, individuals, and customers like stadium operators, they all can choose their own criteria whether a person was vaccinated. The IBM blockchain technology allows each participant to connect and share with the network. Also, it has network transparency among the customers. IBM has come a long way towards bringing blockchain technology into the system and this has proven major benefits to the user enterprise. Most large companies are getting together to promote blockchain technology as it creates a trust and transparent network for connecting to the partners and sharing the data across the secured network. 
Concluding Lines 
Blockchain started with a mission to move Bitcoin as a cryptocurrency from one point to the other. But since then, it is widely used by tech giants and organizations to monitor and move any number of assets all across the globe as easily as sending an email.  
We hope the list mentioned above will help you in providing deep insights into Blockchain technology and the best possible options for your business basis. 
If you want to gain an in-depth understanding of Blockchain technology and become a Certified Blockchain Developer, get enrolled in Blockchain Council.
To get instant updates about Blockchain Technology and to learn more about online Blockchain Certifications, check out Blockchain Council.