Interested in learning the concept of smart contracts? Whether you are a beginner or an advanced learner, you will find this article useful as it focuses on the current top 5 blockchain-based smart contract platforms.
Introduction to the concept of Smart Contracts
Smart contracts support the effective exchange of money, shares, property, or anything of value in a conflict-free and transparent manner without the need of any intermediary. It can be described as a computer program code that is capable of facilitating, executing, and enforcing the performance of an agreement using Blockchain technology. The best thing about smart contracts is that they run on blockchains, and blockchains are decentralized systems that exist between all permitted parties. There is no need to pay intermediaries; thus, they save time and eliminate the conflict between parties because everything is public and transparent. These are undeniably faster, cheaper, and more secure when compared to traditional systems.

Want to master the core concepts of building up smart contracts? Become a certified smart contract developer now.

Why Smart Contracts Are So Popular?
Smart contracts are revolutionizing almost all domains, be it finance, healthcare, supply chain, education, or more. But what are the reasons behind its popularity? Let's figure out. 
Smart contracts manage agreements between users efficiently.
 They operate in a transparent and conflict-free way.
They function as multi-signature accounts so that fund spending will happen only when a certain percentage of people agree to it.
Provide utility to other contracts.
They are digital and written in programming code languages like Solidity, C++, Go, Python, Java, which makes them easier to understand and read.
Top 5 Blockchain-based smart contracts
Here is a list of top 5 Blockchain-based smart contracts-
Ethereum
NEM
Hyperledger
EOSIO
RSK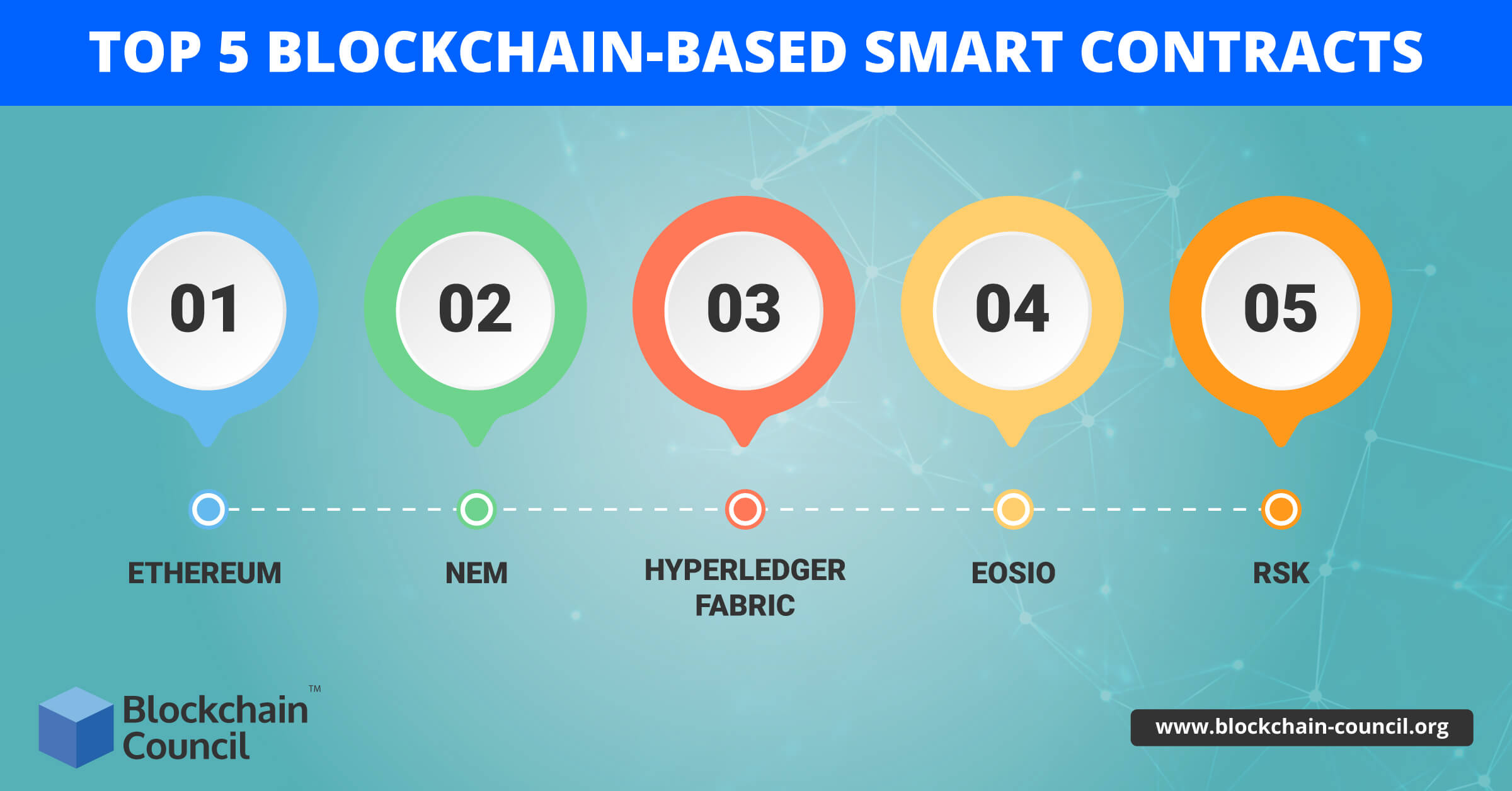 Ethereum 
The community of Ethereum is regarded as the largest and most active blockchain community across the globe. Ethereum is a software platform that runs on a network rather than running on a single computer. The goal of Ethereum is to offer everyone a decentralized trust-less platform to build decentralized applications on. These apps run on the Ethereum blockchain, and its execution is monitored by thousands of peers, who secure the blockchain. Unlike Bitcoin, Ethereum, allows people to run different programs on its Virtual Machine (EVM), irrespective of any language. With the aid of Ethereum, one can decentralize any centralized service. Among all the smart contract platforms, though it has the biggest market capitalization, it is investing more to improve the development and operation of smart contracts.
Want to become a certified ethereum expert? You are just a click away!
NEM 
NEM, a blockchain-based, decentralized peer to peer network, has both private and public blockchains. This platform allows third parties to build applications such as crowdfunding tokens and cryptocurrencies. It focuses on building what you need, be it a fintech system, an ICO, document notarization, tracking logistics, decentralized authentication, or much more. NEM offers several advantages to its users, such as ease of deployment, performance, deep customization, and complete security.
Rather than using proof-of-stake or proof-of-work, NEM uses proof-of-importance consensus mechanism, which saves a lot of energy, and this distinguishes it from other blockchains.
Hyperledger Fabric
Hyperledger is an open-source, global platform that helps in creating and developing enterprise-grade and distributed ledger frameworks to support business transactions and to advance cross-industry blockchain technologies, hosted by the Linux Foundation. Hyperledger comes with several free tools and frameworks that allow enterprises and developers to build their blockchain-based solutions. It is known for its modularity and versatility that satisfies a broad range of industrial use cases. Its modular design aims at delivering high degrees of confidentiality, resiliency, flexibility, and scalability for the deployment of enterprise teams.
Want to become a  certified hyperledger developer? Let's get started! 
EOSIO
It is a blockchain platform designed for the real world and built for public or private blockchain networks, customizable to suit as per user business needs. Building on EOSIO supports familiar development patterns and programming languages used by existing non-blockchain applications so that blockchain developers can create a seamless user experience using development tools they already understand. This platform is famous for its scalability, flexibility, usability, governance, and parallel processing capabilities. Moreover, it offers a flexible cost model for operation with zero transaction fees.
RSK
RSK (known as Rootstock) was introduced to be compatible with Ethereum's applications but using bitcoin as the underlying cryptocurrency. It enables users to create and run smart contracts on top of the Bitcoin blockchain. One of the most noticeable aspects of RSK is its focus on security, using monetary bounties to help appeal to developers and security professionals to recognize vulnerabilities so the system can improve overall security for its various stakeholders. This platform offers scalability along with fast payment and a low latency network.
Conclusion 
Hope you have understood the concept of smart contracts and learned about the top 5 blockchain-based smart contracts platform. Considering all the features, pros, and cons, as mentioned above, which platform you found most interesting?
To get instant updates about Blockchain Technology and to learn more about online blockchain certifications and become a blockchain expert, check out Blockchain Council.