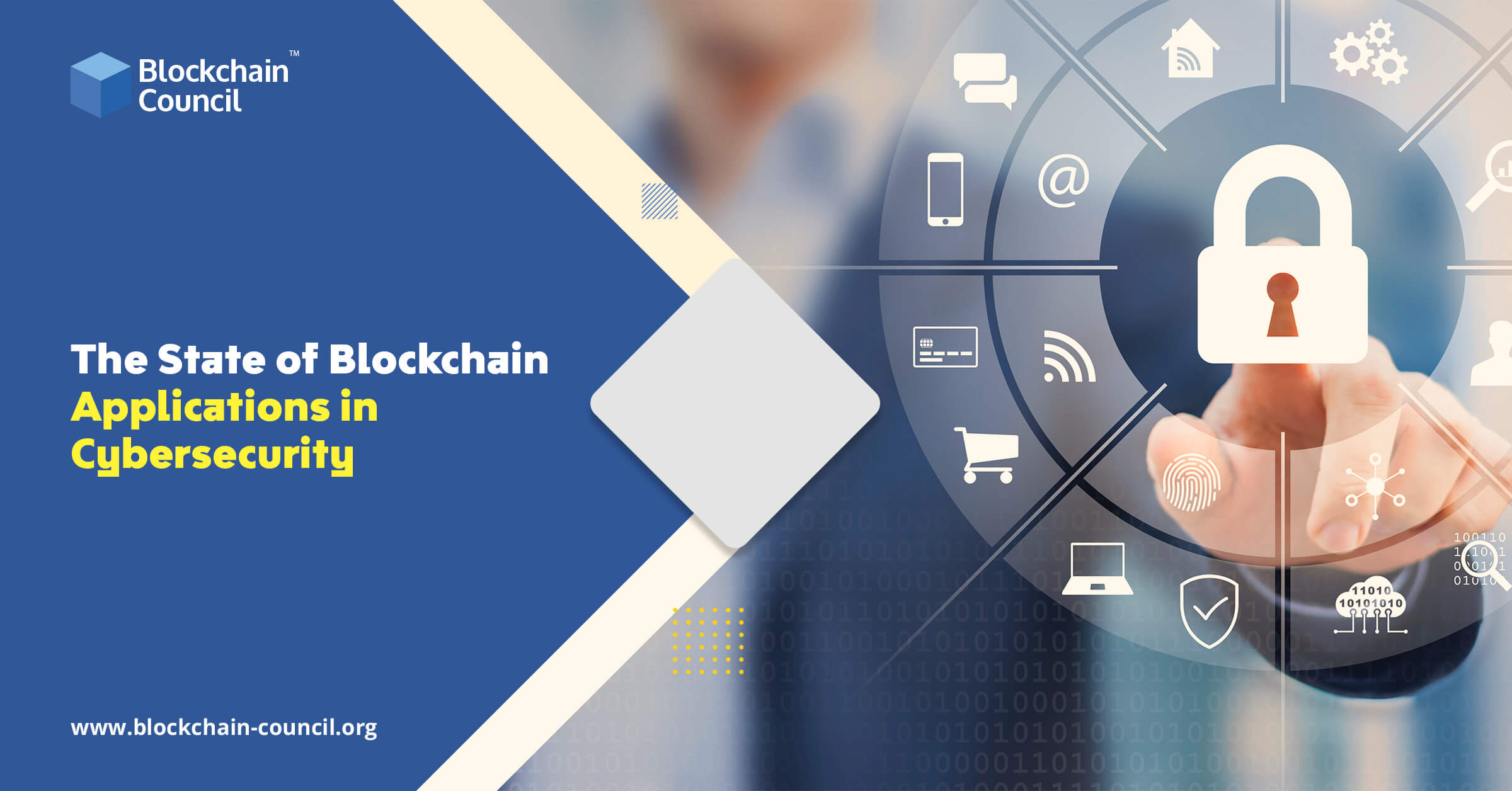 Blockchain Technology works on decentralized networks which makes this technology beneficial for cybersecurity. This fast-emerging technology and blockchain platform offers applications to many industries including, IT, finance, healthcare, retail, supply chain, media & entertainment, transportation, and many more. Now government sectors are also gradually inheriting Blockchain Cybersecurity for storing data and maintaining secured networks. Many industries are implementing blockchain applications in cybersecurity. Every day something new is created and uncovered by skilled Blockchain developers and professionals resulting in the popularity of this technology. 

If you are a blockchain aspirant and looking for the right platform to learn blockchain, then you have landed on the right page. Here in this article, we will be discussing the part that blockchain plays in the cybersecurity sectors. 
Table of Content 
Overview 

Blockchain Meeting Cybersecurity

Pros and Cons of Blockchain Cybersecurity

Blockchain Vendors 

Role of blockchain in Cybersecurity

Conclusion 
Overview 
Blockchain network provides an extensive risk management framework system including cybersecurity framework, assured services, and reduced cyber attacks. Blockchain technology has managed to provide security, transparency, immutability, decentralization which help in keeping valuable data in place. Blockchain offers a decentralized network with cryptography and consensus algorithms that make sure to have reliable and trustworthy transactions.
As we are aware, with the rapid increase of cyberattacks over the past decade, organizations have been spending immensely on resolving the attacks and making their Network systems more secure or risk-proof. As per Infosys and industrial reports, from 2017 to 2021, various industries and organizations have planned to spend around $1 trillion to secure and protect their systems and data from cyberattacks, online threats, etc. Also, these increasing cybercrimes and attacks can not be resolved by the traditional security systems anymore. 
Due to the Coronavirus pandemic, most of the employees are working from home, and this has caused some vulnerabilities in the whole system. Therefore, organizations are investing in removing those vulnerabilities which cause cyberattacks. For resolving and minimizing the effect of cyberattacks, the Blockchain platform is preferred and adopted by a large percentage of the industries.  
Now, How blockchain meets cybersecurity? What is the role of Blockchain Cybersecurity? And pros and cons of using Blockchain Cybersecurity! Furthermore, we will be discussing these topics in detail.  
Blockchain Meeting Cybersecurity
Blockchain is the latest cybersecurity technology that is gaining popularity and recognition in the IT ecosystem. Now, blockchain cybersecurity is what every organization needs. The Distributed Ledger Technology (DLT) of Blockchain is creating a reliable and robust cybersecurity technology. It has the potential to provide authenticity to each block added to the network. Also, blockchain builds a near-impenetrable network for hackers and safeguards the data. Blockchain cybersecurity works on the fundamentals of the peer-to-peer network. Blockchain makes a robust verification system that keeps cyber threats away. 
Blockchain cryptocurrency is built on three pillars which include integrity, confidentiality, availability of the network. 
Data Integrity:

A decentralized validation network of the blockchain offers data integrity for cybersecurity. With this, monitoring and detecting any changes to the stored data or in transit data can be achieved effortlessly.   

Availability:

Blockchain platforms can be private or publicly available. Therefore in Blockchain cybersecurity offers ensured authorized access, reliable backup, fault tolerance, redundancy, and prevent data loss. 

Confidentiality:

Blockchain does not particularly provide confidentiality. However, the system has the power to defend against authorized access. Also without the consent of the organization, no data is made public. In fact, blockchain cybersecurity makes sure to protect the data throughout and after the transaction. 
Pros and Cons of Blockchain Cybersecurity
Implementing blockchain into cybersecurity sounds fascinating but Is it really that easy and advantageous? To learn blockchain in a better way, you must be aware of the benefits and drawbacks of blockchain technology. 
Pros of Blockchain Cybersecurity
Blockchain hash feature makes the network secure

It offers near-instantaneous update

Maintain the privacy of the users

It is fixed and sealed cryptography making it more secure

Blockchain technology is auditable and irreversible

It maintains order and timestamped 

No or less third parties are involved
Cons of Blockchain Cybersecurity
Blockchain is dealing with scalability issues. 

Blockchain relies on private keys

Adaptability challenges

Limited storage

Operational cost is high

Blockchain literacy 
Although blockchain technology has gained huge popularity, companies still lack qualified blockchain developers, blockchain experts, and cryptography experts. Blockchain developers are required to understand the skills required to develop the blockchain. This includes the basics of blockchain, blockchain terminologies, cryptography, high-level programming languages, and development tools. All this can be achieved by pursuing Blockchain certifications. 
What are Blockchain Vendors? 
Particularly here we will talk about three main blockchain vendors who tend to provide the Blockchain-as-a-Service product. Regardless of the private or public, all the industries, organizations, enterprises that are willing to deploy applications, use blockchain services and develop solutions are using Blockchain vendors. 
Amazon Web Services (AWS)
AWS provides the open-source blockchain framework, which can be deployed easily for increasing cybersecurity. Here, clients can effortlessly invite other users to the private network.
Microsoft Azure 
Microsoft Azure cloud platform offers the feature of deploying the scalable blockchain network to the clients. It allows the clients to focus on developing applications and implementing great business logic. With this cloud platform, organizations can have more availability and capability for developing better blockchain solutions which result in an improvement in cybersecurity.    
IBM Blockchain
IBM Blockchain platform offers designed Hyperledger Fabric for the organizations. As Hyperledgers fabric has the feature of being modular, it offers control on cryptography, smart contracts, consensus algorithms, and identity. Also, IBM's. BaaS can offer to operate, model, and create networks that have the best performance and security. 
Deploying options are as follows: 
IBM Cloud

On-premises cloud

Third-party clouds

Hybrid Cloud 
Role of blockchain in Cybersecurity
Blockchain is redefining Cybersecurity in a different way, here are some of the solutions that blockchain cybersecurity is providing into the ecosystem. 
Identity Security

Transaction and Communication Security 

Preventing data manipulations

Protection from compromised nodes or server failure

Decentralized data storage

Multi-signature login capabilities 

Domain Name System (DNS) Security 

Blocking various false transactions

Preserving data accuracy
Conclusion
Blockchain Cybersecurity offers a path towards the security of the data in a sophisticated way. Also, it keeps cybercrimes away from the system and makes it less prone to cyber-attacks. We discussed the basics of blockchain cybersecurity and how it is affecting the ecosystem of organizations. Using Distributed ledger and consensus algorithms are the major blockchain features that positively change the fundamentals of implementing cybersecurity.  
To learn blockchain technology in-depth, checkout Blockchain certifications and courses online at Blockchain Council. Doing so will give you an extensive understanding of blockchain development, hyperledger, cryptocurrency, and many more blockchain.