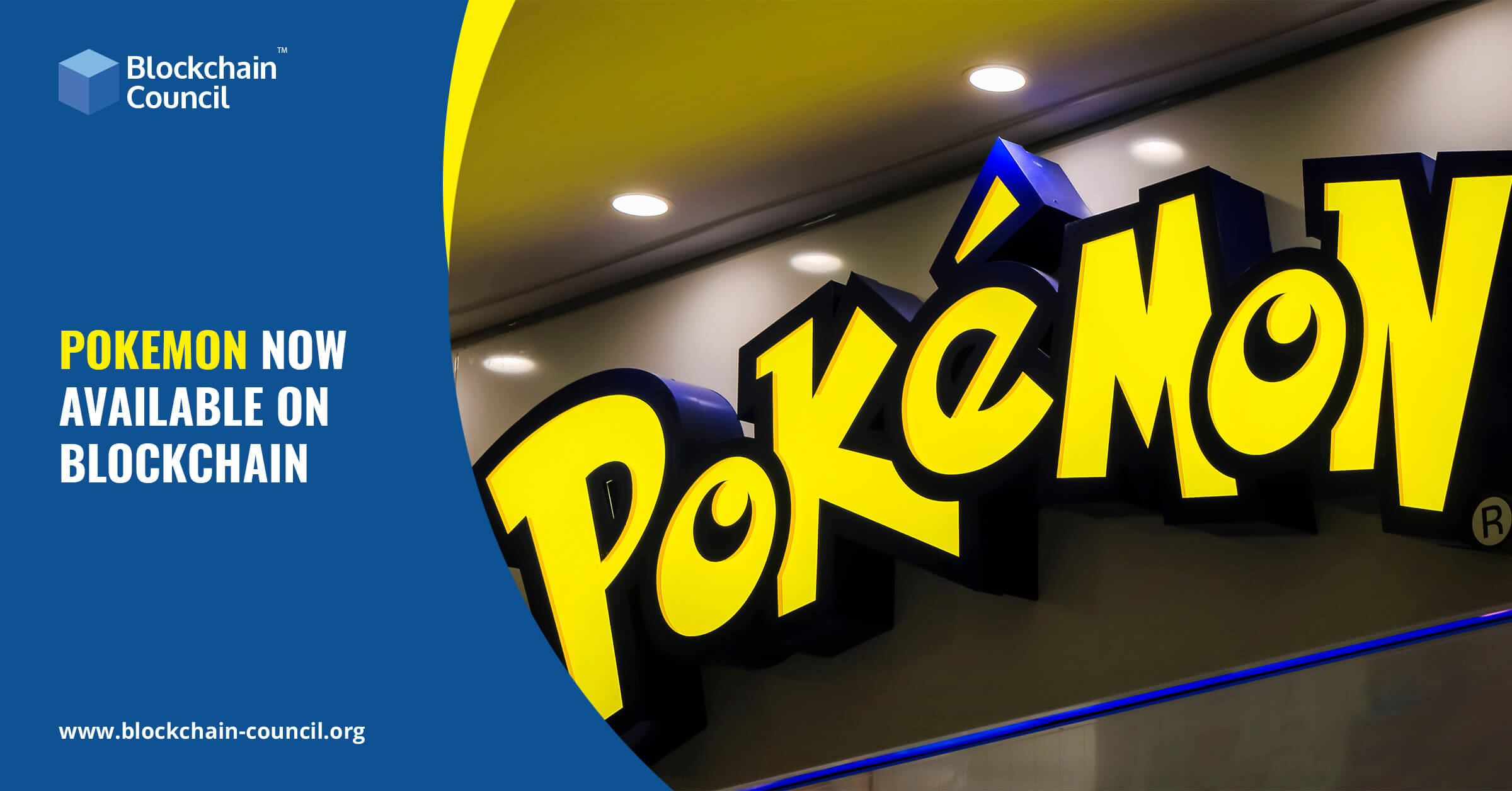 Throughout the crypto sphere, many real-world apps and video games have been launched in recent years. These decentralized programs incorporate smart contracts and bitcoin units to record ownership details and numerous other essential game aspects. CryptoKitties created the most noise the previous year once its demand caused the Ethereum blockchain to become jammed. Designers have taken the message as well as grasped the value of Crypto Items. Designers have now launched the crypto-based Pokemon games Etheremon to tap into that sector. Let us see what the different Pokemon games available on Blockchain technology are.

Which Pokemon games are available on the blockchain?
Etheremon was the initial Ethereum-based digital monster video game, and it's a lot like CryptoKitties. Digital monsters, each with their unique set of powers and drawbacks, can be bought and sold by gamers. The video game stores the holding of Mons in the gameplay using Ethereum smart contracts. This is significant since it is the inaugural time that gamers will possess their characters in a virtual world. Furthermore, the Pokemon are valuably attributed to the reason that neither of the Mons is evenly shared. In reality, several characters appear barely twice or three times during the game. 
Etheremon is unique because it also allows players to improve their monsters in combat. By mentoring, they will get new abilities and, as a result, will be valued a lot of cash on the marketplace. The more Pokemon that are prepared, the more valuable they become. Mostly in-game stores, you can buy Level 1 Pokemon. It is possible to train them to evolve as well as lay eggs. Because most Pokemons are infinite quantity, once all of a form's Pokemon have been purchased, they would only be accessible on the trading market. Pokemon in Forms two and three could also exclusively be obtained through evolution, making them somewhat rarer. Pokemon's unavailability will increase their worth throughout time. 
Gamers can utilize their Pokemon in battles against other opponents after developing them. The game's main objective is to attain all of the different Pokemon and rise to the position of Pokemaster. Pokeballs will be used to catch the Pokemon. The Pokeballs must be purchased using Ethereum from the game market, with different prices. Etheremon allows users to produce EMONT, an in-game cryptocurrency. The ERC-20 coin EMONT has a limit of 20 million units. EMONTs could be exchanged for Ether or utilized in-game; thus, collecting them is beneficial. 
Chain Monsters is another blockchain video game on Pokémon that has been around for about a year. The multiplayer testing stage for a restricted number of gamers has begun at Netherstorm. The first multi-player session went 'seamlessly,' but Netherstorm is soon preparing a follow-up test program. The game enables participants to catch and train monsters and then use them to attack one other. Chain Monsters, the very first blockchain multiplayer game powered by Unity, was released a year ago. Until now, it had been a solo experience. Ranking matches against random gamers, challenging fights against particular people, and solo gameplay for those who would like to improve their abilities against non-player avatars are all part of the multiplayer function. 
The video game developed by Netherstorm is a retro-style Pokemonster seeking, fighting, and exploring RPG that runs on the Ethereum network. Blockchain technology secures, saves, and verifies every information in the gameplay. Chain Monsters may be enjoyed on PC and mobile platforms by linking the application to your Ethereum account. The Pokemon you capture is yours to keep since Chain Monsters is based on blockchain technologies. Every Pokemon caught will be associated with the person's account. People can also trade their Pokemonsters on the market. 
Here on the Chain Monsters webpage, you can find this market. The most premium Pokemonsters also are available for 4.5 ETH, whereas the least are available for 0.19 ETH. Gamers who would like to assist in the game's progress can do so by purchasing gifts. The video game was first released on PC, with further progress focusing on mobile versions. Linux and Mac editions are apparently on the way and multiplayer that connects all of these architectures into a single universe wherever you go. NetherStorm currently intends to release the game on Steam. 
My Defi Pet is a game about hunting, developing, competing, and selling a variety of 'pets or Pokemon,' each of which is an NFT. DPET coins are used in the gameplay and can be won or bought. You can either purchase expensive eggs that mature into Pokemons with DPET coins or participate in a Pokemon auction with them. You could give DPET coins to your Pokemons to power it up and make it powerful before taking it into a fight. The winning player in the inaugural season will get 150,000 USDT (Tether Cryptocurrency, now it's around 170/AU$126,815 to $98,927/£71).
The video game is set to premiere on Kickpad around mid-May, and gamers will be able to play it. As participants assemble their groups, the pets themselves might become valued as much as the grand reward if this, like previous NFTs, gets off. The drawback is that the victors are more likely to be the ones with the highest money than someone with the highest ability, but only time would tell. Even though My Defi Pet will not become the worldwide hit that traders expect, it won't be the last videogame to merge NFTs and blockchain with gaming. If done correctly, there are many advantages to joining the technologies. 
Twitch Plays Pokémon debuted a little over four to three years ago. Twitch Plays Pokémon managed to bring together millions of Pokémon enthusiasts. This included people recalling their 90s sentiments and purely enjoying the experience of playing these games. Pokémon games on Twitch collaboratively brought forward a good revolution. Twitch is a streaming platform mainly used by video game players and residence to some playful social experimentations. 
Each subscriber might deliver a request to a virtual gaming console, which the gameplay would then carry out. It was the most open event that had ever happened on the internet. Hundreds of thousands of people came together in the hopes of defeating Team Rocket, becoming the winner of the Pokémon League, as well as becoming the finest like no one before them. The internet lamented the passing of our favorite Charmeleon, Abby, and sought solace in the helix fossil. You could now play a Pokémon video game if you're ready to invest in crypto, in the current update of grabbing something that works perfectly as well as placing it on the blockchain. 
The anarchic torrent of ever contradictory demands as well as commands rendered Twitch Plays Pokémon so charming. To maneuver the gaming avatar or enter any other order now requires some charges, equal to one ten-millionth of a cryptocurrency or 69 thousandths of a US dollar. 
There is a Pokémon cryptocurrency, and the only Pokémon that it might potentially be is the emblem. I understand, Charizard is a well-known character. And, while it's probably too late for recommendations, I think Rotom might have been the best alternative. Right? "With such a body formed of plasma, it could occupy many kinds of machinery," as per its Pokédex record in Pokémon Blade as well as Shield, and "it enjoys to astound people." Mining cryptocurrency is a tricky area. A relatively strong setup is required to finish "blocks" (one megabyte) of validated transactions recorded to the blockchain. As previously stated, it's all over now, and this is a coin, which is a form of cryptocurrency. 
Tokens are digital versions of properties bought for ownership, held for worth, or exchanged for financial operations on the blockchain. "We hardly imagined the Charizard Token to expand so quickly in just such a short period when it was set up," the cryptocurrency's creators claimed. The community grew above the wildest expectations in a matter of a few hours. The decision was made to take matters professionally as well as work hard. It may be purchased on Pancakeswap, a decentralized marketplace that allows consumers to access BEP-20 coins. There is a slew of Pokemon-related businesses that have been profitable for years—for instance, video games such as Pokemon Revolution, Pokemon, and others. There have never been any copyright issues with any of these. We're here to stay, and it's safe to say!" Charizard Token's developers presented it this way. And, since we're on the subject of crypto art, they've been focusing on building one for each Pokémon since Generation 1. Not only would you be capable of acquiring NFTs, but you'll also be allowed to exchange them as well as use them to fight other owners. 
Pocmon is based on the meme cryptocurrency that brings the realms of Bitcoin as well as Pokemon together. The pocmon group intends to create an app that allows consumers to shop, exchange, and collect Pokemon NFTs—allowing bitcoin dealers also to train Pokemon at the very exact moment. In less than a few weeks since its introduction, Pocmon has amassed a slightly over 24 million dollar market capitalization. This will come as no surprise to some meme coin fans, as it has been heavily promoted on social networking sites by big names like Jake Paul, Mamba FX, and Wesleynysm. 
Pokemon, according to many enthusiasts, would be the next great meme coin. The tokenomics, or as in this instance, pocenomics, of this meme currency based on the Binance innovative network, are transparent and public. The local currency, PMON, has a market capitalization of 1500 trillion dollars and a circulation of 373 trillion dollars. It is a depreciating coin since 59 percent of the production will be destroyed. 5 percent is reserved for the team, 2 percent is sold privately, and the remainder is open to the public or has been sold.
For Pocmon, the journey to the Pokemon League is a lengthy one. They have a comprehensive as well as a comprehensive roadmap with numerous future goals. They had pointed out three solely focused on the coming in phase zero. Pocmon NFTs, as well as Pocmon merchandise, appear in stage one. They will introduce the complete NFT infrastructure, their PocDex, and a connection to the Binance NFT marketplace in stage 2. In stage three, they'll have created a Pocgame for PC and mobile that allows trainers to exchange, gain, participate, and exchange with one another. 
Conclusion 
So, before players get genuinely enthusiastic about crypto, it'll have to produce something comparable remarkable as well as drop unchangeable in-game stuff somewhere in its bowels. It costs a lot of cash and a lot of ability to create a videogame that accurately portrays the interest of enthusiasts, yet a few folks in this sector have earned a little profit.
So yet, the blockchain gameplay offerings have generally been lower-fidelity versions of previous video game successes, as though businesses in this field lack confidence that a groundbreaking, crypto-native videogame could be genuinely brilliant. For more information, you can visit the Blockchain council. Just click on the Blockchain council.