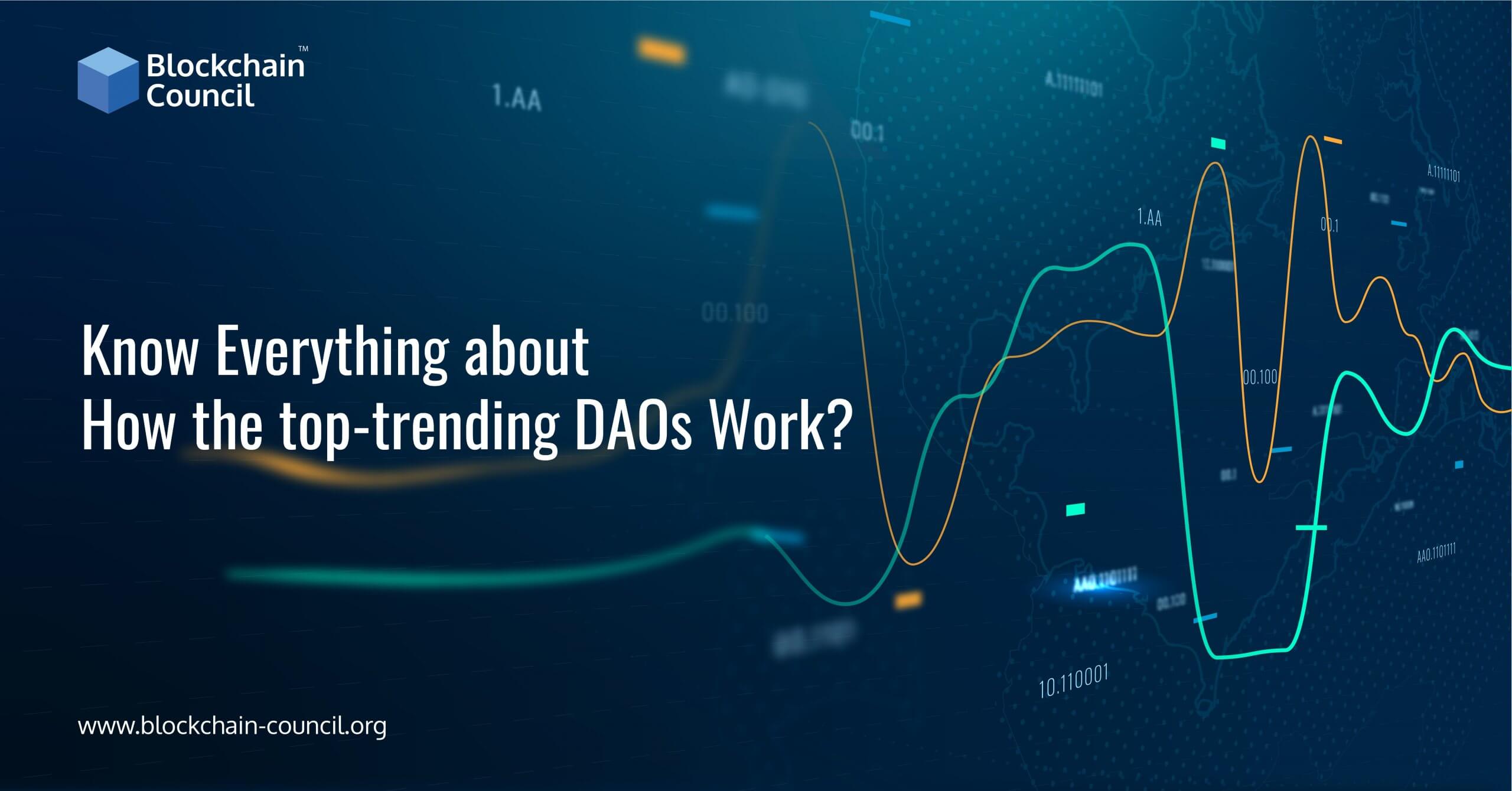 DAOs are a logical extension of DeFi apps, made feasible by the blockchain's capabilities. This has brought a revolution in e-governance through a majority-win voting methodology, including the proprietors of the native tokens. This model gives native token holders complete control over the decision-making process and a proportionate share of the distributing fees. Thus the overall appeal of joining these networks for prospective investors enhances.

Despite playing a growing role in broadening the breadth of the global crypto ecosystem, Decentralized Autonomous Organizations (DAOs) have gotten far less attention than Decentralized Finance (DeFi) and the raging bull market for Non-Fungible Tokens (NFTs). 
There are a few differences when it comes to the crypto assets that DAOs work with. They all, however, incorporate the key features of blockchain technology, allowing for safe and secure investor interaction in assets and autonomous financial instruments. 
PleasrDAO was found to be the anonymous customer who purchased a one-of-a-kind Wu-Tang Clan CD, Once Upon a Time in Shaolin, for £4 million earlier this spring. His purpose was to demonstrate the DAOs' tremendous economic output. 
According to Geoffrey Mak of The Guardian, DAOs have been earning "millions of dollars worth of cryptocurrencies" on the Ethereum blockchain. It utilizes a blockchain-based software platform with an associated cryptocurrency called Ether. However, several DAOs have created their own coins rather than relying solely on Ether. 
Friends with Benefits
Last year, Trever McFedries launched the Friends With Benefits DAO and a publicly tradable cryptocurrency called $FWB. But, according to The Guardian's Mak, he only made one million of these tokens in order to "limit supply and hype demand."
To be a part of the DAO collective, the members to be with Friends With Benefits must acquire at least 75 $FWB. According to Mak, the membership's worth has increased from $350 earlier this year to more than $9,000. 
Friends With Benefits, which presents itself as "where crypto meets culture," already has over 2,000 members across the world. 
McFedries provides cheaper alternatives for would-be community members who cannot afford the requisite $75 FWB.
Right to Participate
The most exciting aspect of DAOs is that they abide by democratic beliefs. In other words, DAOs do not follow any hierarchy and every node has the right to participate in decision making. Thus they form the distinctive exchange point of DAOs according to its proponents. 
The 'D' in DAO means 'decentralized,' which implies that a sole entity does not govern DAOs but a group of participants, as per the reporter of CNBC's money, Taylor Locke. 
According to the website ethereum.org, casting votes and sharing opinions helps in easy approval to ensure equal participation of group participants. Also, the site states that "There is no CEO who may approve expenditure based on their own whims, and there is no risk of a shady CFO tampering with the records." The objective is to ensure transparency in the system and the expenditure protocols are programmed into the DAO via coding. 
However, Mak of The Guardian cautioned that uniform distribution of power could not be promised. For example, Friends With Benefits values one vote for $FWB tokens rather than granting one vote per person. And thus this adaptation is criticized as "profoundly undemocratic" by Mak. 
DAOs also require a large number of employers to keep operations rolling. For example- Friends With Benefits is hiring for a treasury lead and curator, among other part-time and full-time positions, with $FWB tokens as remuneration. 
Reliability on Blockchain
Blockchain technology supports Bitcoin and other cryptocurrencies, and thus a large percentage of DAOs count on this technology. According to Cathy Hackl of Forbes, blockchain enables "automatic trusted transactions and value swaps." However, she continued that internet users all over the world want to organize themselves in a safe and expect an effective method to collaborate with like-minded people worldwide. 
Each DAOs governing system and protocols are drafted in smart contracts on the blockchain. Therefore, any changes to the blockchain code will almost always require a unanimous vote of all members. 
How DAOs unleash value for the customers
By now we are aware that DAOs vary differently in terms of the crypto assets they deal with. However they encapsulate the essential concepts of blockchain technology to maintain transparency. 
Currently, only 2.5 percent DAO related projects contribute to the total cryptocurrency market valuation. This is estimated to significantly rise in the future, owing to the increasing number of DAOs upcoming projects. Such projects include automated market maker (AMM) exchanges that are establishing partnerships with centralized crypto exchanges. This will attract investors' attention. The working capital will be utilized to develop further and explore the crypto ecosystem. Since they are not centralized, such AMM exchanges are truly decentralized. 
Furthermore, these token holders receive a predetermined percentage of the trade's transaction volumes, supporting the development of a more stable token user base with a long-term investing mindset. This incentive structure distinguishes these tokens from those issued by non-DAO projects, resulting in more cash flowing into DAO-run projects. 
Low transaction prices and high transactional speeds are other significant features that make DAO-based AMM exchanges popular. In addition, users may easily participate in staking, yield-farming, and liquidity mining across several blockchains, thanks to connections with popular blockchain platforms like Ethereum and Polygon.
Users merely need to connect their crypto wallets to the WalletConnect capability to invest in any channel mentioned above. Furthermore, they can track the performance of their investments in real-time using transparent protocol statistics, allowing them to pick the most liquid pools.
For investors hoping to make consistent profits on their crypto tokens, such exchanges offer the chance to earn up to 83% of the platform's trading commissions rather than the liquidity supplied by them. Furthermore, due to the token incentive and yield mechanisms used by each exchange, liquidity providers (LPs) can enjoy nearly free transactions on the exchange. Some of these DAO ventures offer tier-based rewards to drool investors even more.  
Despite the strong self-governance architecture in place, these transactions are also reviewed by professional firms like Hacken and BluSwarm to ensure that any potential virus or cyber-attack may be blocked using advanced AML and CFT analytics.  
Moreover, these DAO projects provide a significantly superior value proposition for both investors and normal users who seek to use the platform to transact across several blockchains, thanks to the reward structure that prioritises the community. These AMM exchanges are ready to transform the way the world will work in the future, with plans to integrate more blockchains and provide native support for creating and trading smart digital assets with custom rule sets. 
Conclusion
The recent surge in investment technology has attracted more consumers than before. With the help of technology people are willing to try their luck in the investment market. But no matter how efficient the technology is, it does possess some threats with it. 
To try some luck with investing, try seeking some professional help. If you don't want to spend bucks on outsiders, you can develop self-awareness by enrolling in cryptocurrency learning. Several companies and institutions are offering cryptocurrency courses and blockchain courses. Apart from providing theoretical knowledge, some of these institutions are offering hands-on experience. Give a thorough research and choose the option that fits the best in your requirement cell.