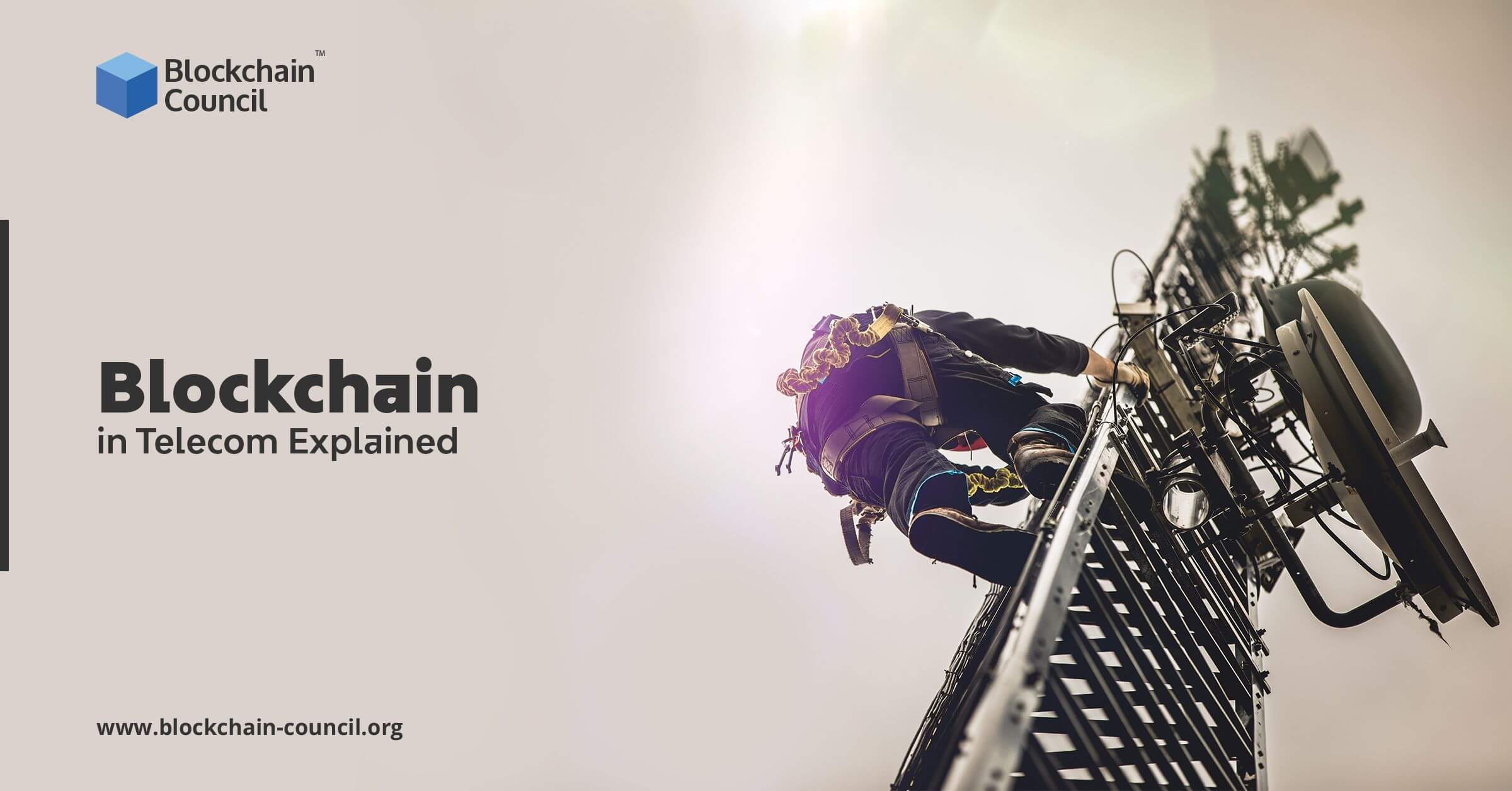 Wondering why telecom companies are adopting Blockchain technology? What are its use-cases in the telecom domain? This article has got you covered.

Table of Contents
Definition of Blockchain

Why Discussing Blockchain in a Telecoms Context is Crucial?

Blockchain Use-Cases in Telecommunications 

Concluding Lines: What is Achieved and What can be Achieved Further?
Definition of Blockchain
In most simple words, Blockchain is a Peer-to-Peer(P2P), decentralized, public ledger that records online transactions and works without involving any third-party.
It records all the transactions that have taken place in a secure and immutable way, thus ensuring security and privacy. Blockchain technology has become popular because of its ability to offer decentralization, reliability, and security. Apart from this, Blockchain does not take a lengthy process for verification, agreement, and approval.
Want to gain an in-depth understanding of Blockchain and become a Certified Blockchain Developer? Get started today with Blockchain Council.
Why Discussing Blockchain in a Telecoms Context is Crucial?
Blockchain, which started as a peer-to-peer version of electronic cash, has the potential to revamp and reconstruct almost every industry, including supply chain, finance, healthcare, logistics, telecom, among others. Technology has captured the popular imagination due to its ability to provide complete transparency, immutability, privacy, and security. When it comes to the telecom industry, there are various challenges. 
Despite the fact that the telecommunication sector has changed a lot over the last 20 years, still, both providers and subscribers struggle with roaming, high fees, risk of fraud, privacy issues, and so much more. When it comes to inter-carrier transactions, they rely on a mix of automated and manual systems that make the method of doing business together complicated, delayed, and expensive. 
Blockchain Use-Cases in Telecommunications 
Blockchain is arising as a revolutionary technology to manage all the existing issues in the telecom industry, thus opening a new era in terms of efficiency, transparency, and security. Due to its potential to enable full automation in financial settlement and fraud prevention to KYC procedures for onboarding customers, this technology is transforming telecom for good. Let's explore some of its use-cases in the telecom industry.
As we already mentioned, roaming is one of the major issues because intermediaries are involved in controlling roaming partner settlements, which takes around two months to get resolved. This process further leads to manual errors, frauds, lack of transparency, and other issues.
This complex process can be automated by using smart contracts functionality. Smart Contracts on the Blockchain network can ensure the settlement between the participating members by eliminating third-party intermediaries and automating the SLA agreements through tamper-proof verifiable transactions and real-time updates to the end-users.
Identity Management and Fraud Prevention
Identity Management and fraud prevention in the telecom industry is another crucial aspect because multiple third-party agents handle the submission of identity documents; thus, the chances of misuse and leakages are more. Blockchain can address such issues by offering decentralized storage with control remaining entirely in the hands of document owners. Its immutable nature will not only help reduce forgery but also control the submission of fraudulent documents. 
In the telecom industry, the large instances of databases and storage can be replaced with distributed ledgers, thus eliminating various issues.
Mobile Number Portability (MNP)
If you have ever gone through the MNP process, you must have realized that it's a long, time-consuming process. The reason for high processing time is essentially due to data mismatch between operators and periodic updation required from the central database.
Blockchain can streamline this entire complex process by providing a single source of truth where all service providers can review and action requests for Mobile Number Portability. The distributed ledger will help eradicate single-point failure, as all service providers have access to the shared data. Thus instead of days, MNP can be achieved almost instantaneously.
Concluding Lines: What is Achieved and What can be Achieved Further?
Due to Blockchain's potential, various telecom industries, including Airtel, AT&T, Vodafone, among others, are utilizing this technology to enhance their services. For instance, Telefonica has collaborated with IBM and uses the IBM platform to log information collected by various networks when routing international calls in order to improve the reliability and transparency of collected information. Similarly, Vodafone, a global telecom giant, leverages Blockchain to bring clarity and efficiency to transformed processes. Moreover, other well-known telecom industries are using Blockchain to enable micropayments for music, mobile games, and other value-added services. 
Thus from the above discussion, we can conclude that this distributed ledger technology is taking the entire world into the future, and despite this, there is so much room for exploring and discovering new opportunities.
To get instant updates about Blockchain Technology and to learn more about online Blockchain Certifications, check out Blockchain Council.