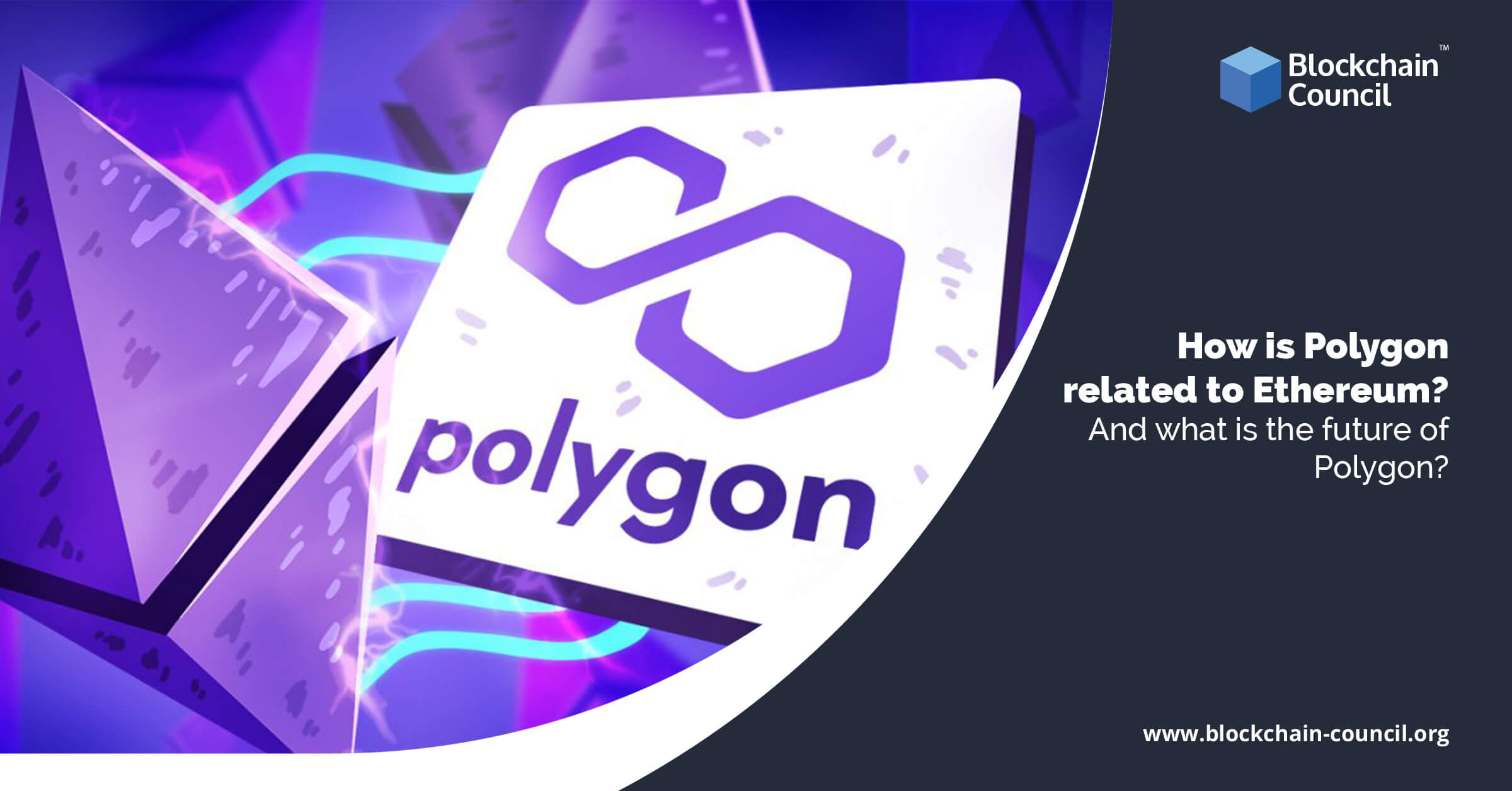 The most popular blockchain scalability platform, "Polygon," has its roots of origin in India. The technology that this blockchain scalability platform uses for establishing and linking various blockchain platforms is considered to be the most efficient technology to date. Since the launch of the Polygon, it has been a frequent topic of interest in the news due to its continuous improvements, developments, and enhancements in its working mechanism. Polygon has charmed investors not only due to its robust scalability solution but also due to an increase in investments in Matic Polygon (a type of cryptocurrency). Today, Matic polygon has gained a massive value on market capitalization.

Polygon and Ethereum (another blockchain platform) are often related to each other in terms of comparison or sometimes in terms of how they work together. In this article, we will understand the meaning of both the terms and also look into the functionality and relationship between them. In the end, we will also discuss future aspects of Polygon in the market.   
Table of Content
What is Polygon?

Solutions offered by Polygon

POS chains

Plasma chains

ZK-rollups

Optimistic rollups

What is Ethereum?

Relationship between Polygon and Ethereum

The future of Polygon

Closing Thoughts
What is Polygon?
Initially, the Polygon was known as the Matic Network. It is a structure for assembling interlinked blockchain networks. By using a new sidechain solution, Polygon allows users to enjoy better features and overcome drawbacks of the Ethereum platform, such as inadequate client experience, and absence of community administration, and its throughput. Polygon is intended to be a sole platform created mainly to launch interoperable blockchains. 
With the help of Polygon, now blockchain developers can assemble blockchain networks embedded with all the features in order to meet their needs. With the accessibility of various modules, these networks can be further restructured accordingly. This facility permits blockchain developers to create blockchain networks with more explicit usefulness. Polygon platform acquires some of the robust solutions that it utilizes to accomplish an excellent level of extensive conception.
Solutions offered by Polygon
POS Chain:

Matic POS chain is an Ethereum sidechain that is considered as Polygon's primary chain. POS chain amplifies a covering of proof-of-stake (POS) security to blockchains that are introduced on the Polygon platform. 

Plasma Chains:

Polygon utilizes a scaling technology known as Plasma chains to move resources between the child chain and root chains employing Plasma spans. 

ZK-rollups:

It is an optional scaling solution. Millions of transactions take place through blockchain platform, the primary function of this polygon solution is to wrap countless such transactions into a solitary trade by utilizing zero-knowledge proof.

Optimistic rollups:

This solution uses "Fraud Proof" in order to enable near-instant trading. This solution is created with an aim to perform its operations by dominating Ethereum.  
What Is Ethereum?
Ethereum is a globally known blockchain-based programming platform. It has functions similar to other crypto trading platforms (i.e., sending and accepting digital assets across the world without a central authority watching or interfering in the processes).  
Today, One of the fundamental use cases of Ethereum is the frequent exchange of digital assets by means of "ether', blockchain's local token. The reason for most blockchain developers' increased interest in cryptocurrency-related works is due to its drawn-out potential to grow in the future. Blockchain users are interested in ethereum to acquire more control over their financial accounts and online information. With loads of praises, the Ethereum blockchain has also got its fair share of critics. Some people believe this technology will not work as anticipated.
However, Ethereum believers are looking forward to make most use of this decentralized blockchain networks where  Leaderless applications are prepared using ethereum, which implies that a client's information can't be altered by anybody, not even by the makers of the service. 
Relationship between Polygon and Ethereum
Polygon is famously addressed as " Etherum internet of blockchains." Polygon functions in all those areas where ethereum activities are limited. It also intends to make a multi-chain environment of ethereum-friendly blockchain networks. 
Another way in which Polygon is related to ethereum is through its compatibility to the "Ethereum Virtual Machine." This makes Polygon an approachable platform for such applications that are not allowed to be built or perform any type of programming on the platform of Ethereum. Hence, Polygon is recognized as a platform that interconnects different landscapes of blockchains to enable broader access to various blockchain networks. It aims to break the isolated ownership communities of several blockchains.
Its drawn-out goal is to empower an open, borderless world wherein clients can consistently communicate with decentralized items and services without first going through mediators or system restrictions. It means to make a center that distinctive blockchains can fit in easily without much of a stretch while at the same time overcoming certain limits such as inadequate security,  high expenses, and low scalability.
The future of Polygon
Polygon could be the world's first interoperability solution to go completely functional. But, Polygon's opponents are likewise racing to go functional before polygon by introducing their services.  Although some of Polygon's solutions, such as plasma scaling and proof-of-stake chain, are already active; but unless the complete intended solutions of Polygon get actively accessible on the platform, blockchain developers aren't allowed to introduce their distributed security chains on Polygon. Furthermore, solutions like optimistic and ZK-rollups have also not been introduced on the network yet. 
However, according to a survey, at present, polygon has charmed a huge population of blockchain users and its crypto coin "Matic" is now the fifteenth biggest cryptocurrency. As investors are investing on $Matic, the token rose by 25 percent within a point of $1.1 to $2.2. The $Matic market value is more than 11 billion dollars, and at present, it carries out exchanges at 1.83 dollars. These are pretty good indicators of a bright future for Polygon.
Closing Thoughts
Polygon, The Indian-originated scalability platform, has quickly gained popularity in the market. It has likewise collaborated in different blockchain projects mainly related to government protocols. It has assisted government authorities in scaling COVID-19 related information. Its offerings have been embraced by 7.9 lakhs distinct users, 400+ applications, and 76 million trading rates.  $MATIC has been documented among the other most popular cryptocurrencies across the globe.
Learn blockchain technology at BLOCKCHAIN COUNCIL. Join in for blockchain training and various related courses.