Are you all set to welcome web 3.0 and use new decentralized apps in your daily life?
The article explains how blockchain technology serves as a foundation for Web 3.0 and how it is revolutionizing the industries.

Learning of Blog
 Introduction

Potential of web 3.0 in Blockchain Technology
Web 3.0 revolutionizing industries
Conclusion
Overview of Blockchain and Web 3.0
The World Wide Web has gone through several changes in the last few years. From only being a readable mode to currently enabling both read and write and now the time has come to enter a new era of www, and that is the introduction of Web 3.0, which is a real revolution of Blockchain.
Blockchain, as we all know, is a chain of data "blocks" stored on hundreds or thousands of computers or servers distributed over a wide geographical area. It is a complete ledger that maintains a copy of all the credit and debit transactions of a digital asset.
The integration of Blockchain with Web 3.0 has remarkable effects on our daily lives that we will see later in this article.
There are various blockchain certifications courses that offer infinite opportunities to kickstart your career. If you want to become a blockchain developer, you can check out the best blockchain online training platforms.
 Potential of web 3.0 in Blockchain Technology
Web 3.0, has many improvements over the older version of Web 2.0, and it has the potential to transform our experiences into the new world.
The major drawback of older versions like web 1.0 and web 2.0 was in its client-server architecture, and there was a treat to privacy.
Blockchain adds incredible value to the features of web 3.0 by eliminating and fixing the undermining issues of older versions. Here is a list of features that illustrates how this new version of the internet (Brave, an example) is exceptionally the best.
Web 3.0 blockchain stack offers a decentralized network which is more user-centric.
Version is built with keeping user privacy as a primary goal.
It is an open-source and allows users to browse the web eight times faster than Web 2.0.
The recent version allows users to browse the internet securely, unlike opera, chrome, which are examples of web 2.0 and most importantly, it blocks unwanted advertisements.
It offers more transparency and fair network without worrying about privacy and security.
All these features of web 3.0 will change our lives to a great extend, and none of the changes would be possible without blockchain technology.
Curious to learn and become a blockchain developer? Check out our best blockchain certification now.
 Web 3.0 Revolutionizing Industries
To understand how this new web version is revolutionizing the business world, it is crucial to understand all the significant characteristics of this latest version.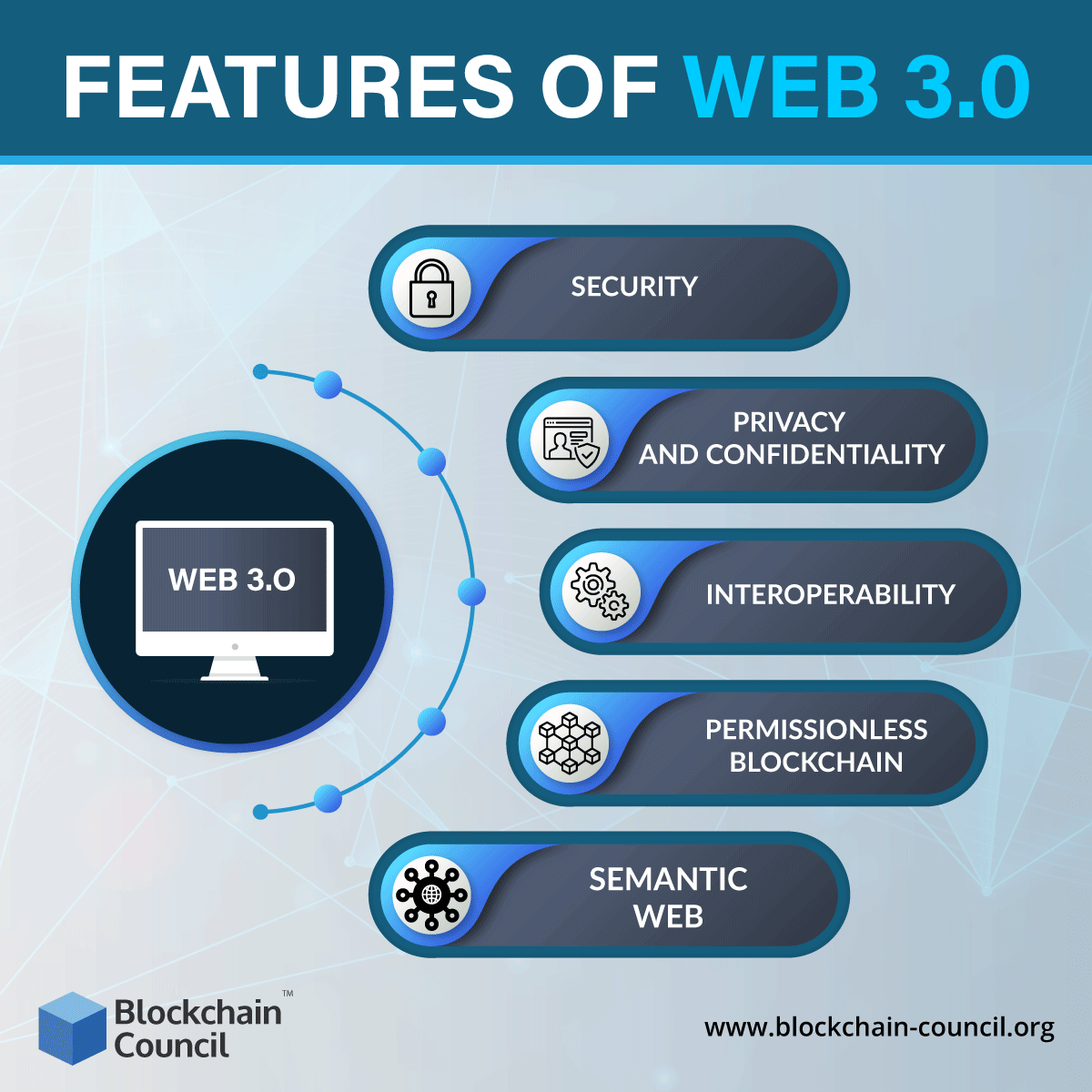 Decentralized Exchange, Highly Secure
For currency exchange, the centralization approach doesn't work. Web 3.0 possesses a decentralized exchange for providing seamless user trade experience without thinking of issues related to hacks or lack of transparency. By this, users will have full control over their funds, and there will be lesser chances of data tampering.
Moreover, decentralized blockchain platforms such as Ethereum, EOS, and NEO will also make Web 3.0 more useful and dynamic than older versions of the web.
Maintains privacy and confidentiality
Rather than maintaining a central control, web 3.0 focusses on maintaining privacy and confidentiality with the safe transmission of data. As the exciting popular platforms like Facebook and Google + follows a centralized approach, applications on this new version are decentralized, called 'dapps'. As everything is decentralized, it eliminates the need for the middle-man, hence no anti-monopoly. 
Interoperability 
Web 3.0 will allow users to access data across various applications without the need for any specific platform, which means you will not have to worry about a single device being accessible to Web 3.0 while not others. 
At developers end, it will be easy for them to develop web 3.0 as with this version, developers don't have to learn a new language; developers can make any dapps, depending on the requirements.
Permissionless Blockchain- No central Authority
This new version dissolves the need for a central authority as it allows everyone to join and participate in the network. It offers a peer-to-peer network that will make it possible for digital assets to be transferred to cross-border in a cost-efficient and in a timely manner. There will be no restrictions and discrimination based on gender, income or any geographical locations, hence allowing everyone to connect with the network. 
Introduction to Semantic Web 
Unlike older versions, web 2.0, which relies on keywords, page authority, and domain authority to rank the content, web 3.0 tries to understand web content like human behavior; this is what semantic web is all about. Semantic web, with the integration of artificial intelligence and machine learning techniques, teaches the computer to understand data and how it behaves.
Conclusion 
From decentralized storage to decentralized messaging, be it social media, insurance, and banking, and streaming audio/video, Web 3.0 is all set to hit the industries.
Blockchain, with the integration of Web 3.0, is focusing on making everything decentralized. From decentralized cryptocurrencies exchanges to decentralized messengers, Blockchain has undeniable benefits in the field of streaming video, insurance and banking, remote jobs, instant messaging, and lot more than this. Dapps like Storj(for storage), Akasha (for social media), Status(for messaging), UJO music(for streaming services) will be introduced soon. 
Web 3.0 ecosystem may take a few years to flourish, but in terms of privacy and security, the world will definitely be a better place to live.
To get instant updates about Blockchain Technology and to learn more about online blockchain certifications, check out Blockchain Council.