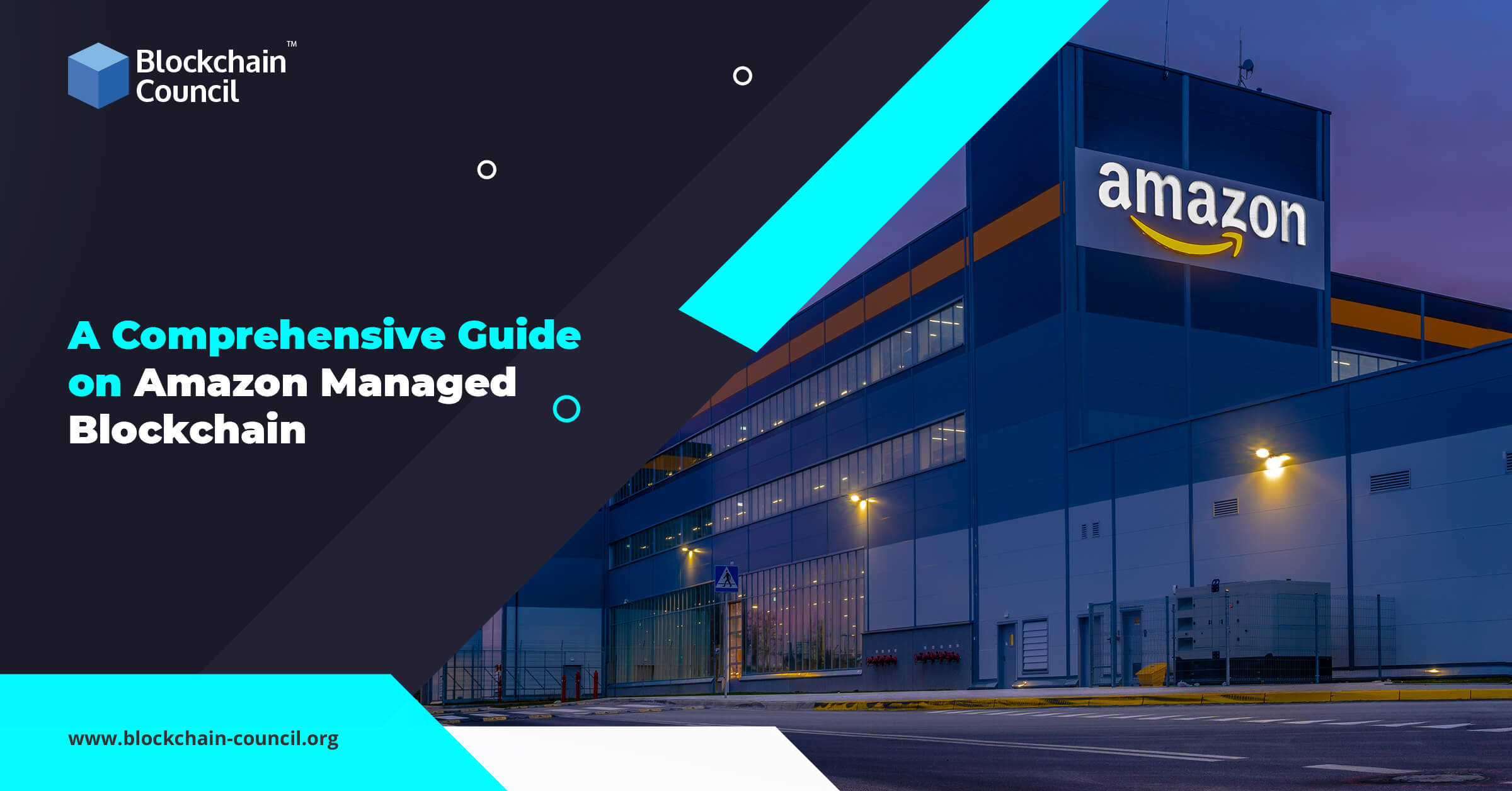 This article provides a comprehensive guide on what Amazon Managed Blockchain is, explaining its benefits and AWS availability of Ethereum on Amazon Managed Blockchain.

Table of Contents 
What is Amazon Managed Blockchain?

Benefits of Amazon Managed Blockchain

AWS Availability of Ethereum on Amazon Managed Blockchain

Concluding Lines 
What is Amazon Managed Blockchain?
For all Blockchain beginners, Blockchain is a peer-to-peer(P2P) decentralized distributed ledger technology that records transactions in an immutable manner. Technology allows developers to build applications where various parties can carry out transactions in parallel without relying on a central authority.
Although this might sound fascinating, it is important to note that Blockchain's scalability still remains one of the prime issues. In fact, building a scalable blockchain with existing technologies is a complex task.
Managed Blockchain is a completely managed service that empowers users to join public networks and maintain and manage scalable private networks with just a few clicks. Instead of manually installing software, creating and managing certificates for access control, and configuring networking components, continuously monitor the infrastructure, and adapt changes when required, one can rely on Amazon Managed Blockchain as it makes it easy to maintain your Blockchain network. 
The significant benefit of this Blockchain is that it eradicates the overhead that is required to create the network, and, most importantly, it automatically scales in order to meet the requirements of thousands of applications performing millions of transactions. 
Are you looking for futuristic career opportunities in the Blockchain space? Get started today with the best Blockchain Certification courses. 
Benefits of Amazon Managed Blockchain
Let's have a quick look at the advantages of Amazon Managed Blockchain.
Fully managed
Amazon Managed Blockchain assists in the creation of blockchain networks spanning several AWS accounts, allowing a group of people to perform transactions and exchange data without the need for a central authority. It also removes the need for manual provisioning of hardware, device setup, and networking and security configuration.
Offers two Different Blockchain Platforms
Initially, Managed Blockchain supported only Hyperledger Fabric, but now customers can choose either Hyperledger Fabric or Ethereum, depending on their needs.  
Scalable
This particular Blockchain has the potential to scale your blockchain network depending on the usage of applications on the network. This Blockchain has the ability to scale your blockchain network based  It means that if a network user requires additional capacity for making and validating transactions, he can instantly use Managed Blockchain's APIs to add a new peer node. 
Reliability
Managed Blockchain aims to improve the reliability of the ordering service, which is a component in the Hyperledger Fabric that ensures delivery of transactions, although it's difficult to keep track and recover the entire transaction history. Managed Blockchain's ordering service is built using special Amazon QLDB technology and has an immutable change log, which guarantees that the data is durably saved.
AWS Availability of Ethereum on Amazon Managed Blockchain
Initially, in 2019, Amazon announced the general availability of its fully managed blockchain service, and after two years, recently in March 2021, Amazon announced its extended services, mentioning its general availability of Ethereum on Amazon Managed Blockchain. Thus, with this announcement, Amazon Managed Blockchain presents the selection of two different blockchain platforms including, Hyperledger Fabric and Ethereum. 
Let's talk a little bit about Etherum and Hyperledger Fabric here. 
Hyperledger Fabric is an open-source enterprise-grade permissioned DLT platform that is known to provide modularity and versatility for a broad set of industry use cases, including banking, insurance, healthcare, supply chain, human resources, etc. It is well suited for applications with rigorous privacy and access control. 
Talking about Ethereum, it is an open-source platform for decentralized applications and is better suited for highly distributed networks where data transparency is critical. It enables a successful use case, and that is decentralized finance (DeFi) that is gaining a lot of momentum and showing no sign of slowing down. 
But when it comes to operating and managing Ethereum infrastructure, its not easy as there are various concerns, including data reliability, data storage scaling problems, and time-sensitive Ethereum software upgrades.
Now that Amazon has made Ethereum on Managed Blockchain generally available, consumers of AWS can easily provision Ethereum nodes and link to the public Ethereum main network and test networks such as Rinkeby and Ropsten.
Amazon Managed Blockchain helps customers in a number of ways. For instance, they can get:
secure and reliable networking 

reliable access to the network via standard open-source Ethereum APIs

reliable synchronizations to the Ethereum 

durable and flexible storage for data. 
Developers building smart contract monitoring tools and fraud detection apps can now reap the benefits from fully managed Ethereum service on Amazon Managed Blockchain. According to Amazon, Ethereum nodes are fully integrated with the AWS management console, which permits the creation or deletion of a node and regains information about running nodes. 
It was explained by Amazon that,
"Ethereum on Managed Blockchain only supports the eth_sendRawTransaction method, which demands that you create and sign the transaction before sending it to the node. Managed Blockchain does not have any way to sign transactions similar to an Ethereum wallet application."
Concluding Lines 
This has led us to the end of our discussion. Hope you have gained a clear understanding of Amazon Managed Blockchain. 
If the Blockchain domain interests you, you can get enrolled in Blockchain Council and become a Certified Blockchain Expert. 
To get instant updates about Blockchain Technology and to learn more about online Blockchain Certifications, check out Blockchain Council.