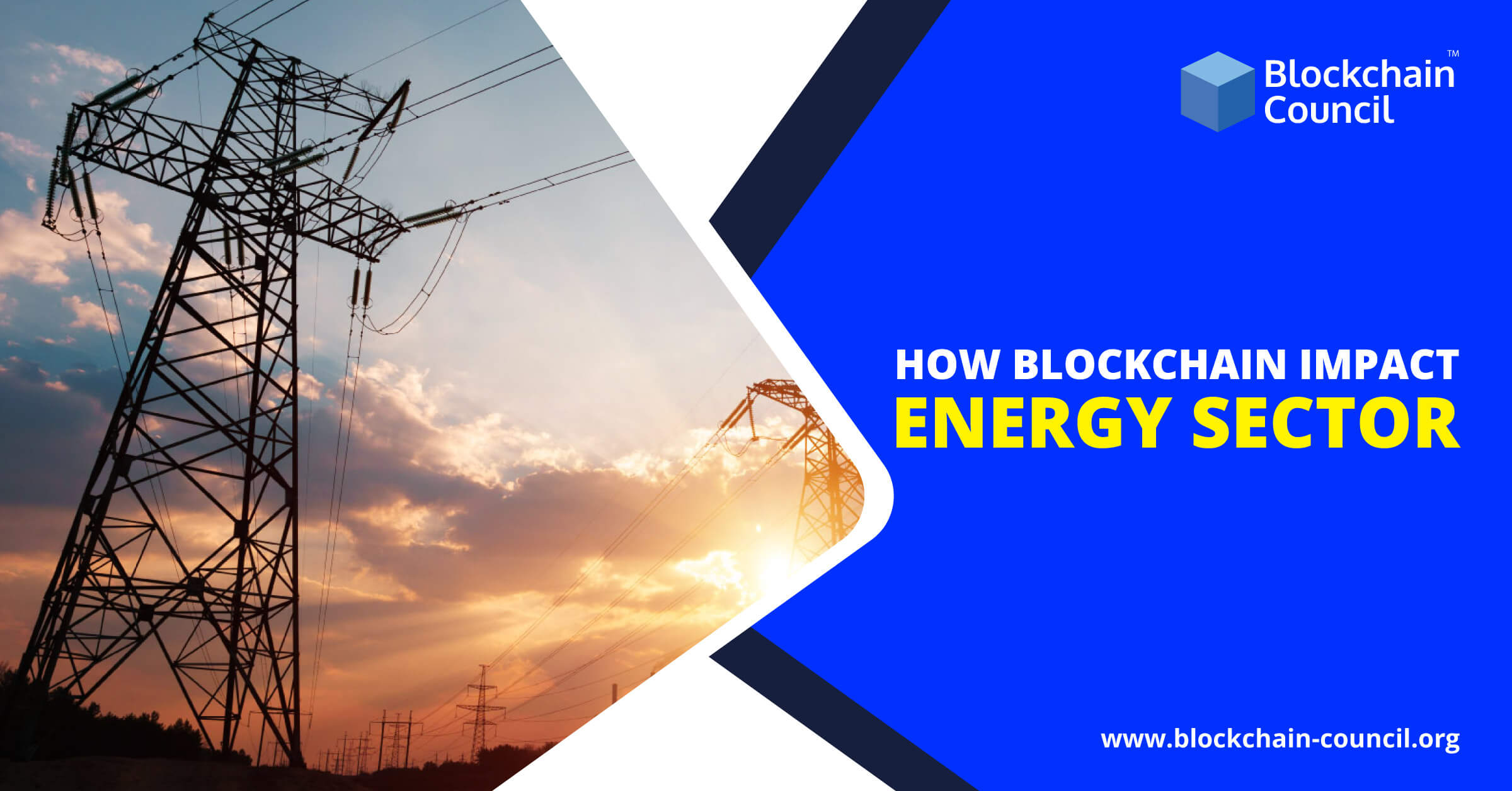 Wondering how Blockchain can impact the Energy sector? This article has got you covered. This article talks about the potential of Blockchain technology in the energy sector and will focus on Blockchain-enabled smart meters, which are gaining a lot of attention worldwide.

Table of Contents
Overview 

Potential of Blockchain in the Energy Industry 

Top Energy Companies Utilizing Blockchain

Concluding Lines 
Overview 
Blockchain is a P2P shared ledger that can securely store digital transactions without relying on third-party intermediaries. Technology that was primarily known from cryptocurrency is now experiencing an unprecedented rise in market capitalization. Along with its applications in various sectors, the energy domain is no more an exception. From the past few years, this area has had a complex system with multiple stakeholders, which makes it highly transactional and ineffective. Due to this, there has been speculation about Blockchain's ability to make the energy domain more efficient. 
Want to learn more about Blockchain technology and become a Certified Blockchain Expert? You are just a click away!
Potential of Blockchain in the Energy Industry 
Upstream generators generate raw material that is refined and shipped to downstream distributors that sell to the end-user via the midstream distribution network. Although this process initially appears to be a fairly straightforward procedure, it's not. Blockchain experts and technocrats believe that blockchain technology could potentially offer solutions to major challenges faced by the energy industry, and since last year there have been more than hundreds of research projects and startups spanning countries across the world.
Enhanced Efficiency Opportunities
What happens is that companies spend millions of dollars on building and accessing proprietary commodity trading platforms in order to execute transactions. Blockchain can help in providing a viable solution where prosumers and consumers can trade their flexible demand interchangeably on the basis of peer-to-peer, thus offering enhanced security, immediacy, and immutability of energy trading. Moreover, with distributed ledger technology, renewable energy certification processes can be sped up and automated, which are otherwise costly to obtain. Automated, tamper-proof smart contracts and metering techniques could improve offset accessibility as well.
Eliminating Middlemen, Lower Transactional Cost
In the traditional energy sector, retailers sell users' energy from utility providers, and thus consumers have to pay heavily for the energy they use. By eliminating middlemen, Blockchain systems can allow users to trade energy directly, especially in the case of wind energy and solar energy, which can be produced directly by the user itself. Thus the technology can allow prosumers to enter as a supplier into the energy market. Moreover, a transparent, secured, and immutable Blockchain-based system will allow users to purchase directly from the utility providers. 
Fair Asset Management 
The energy domain includes a number of stakeholders, such as upstream generators, distributors, etc., which means there are high stakes associated. Blockchain technology, with its shared and distributed ledger, can provide a shared source of an asset, and therefore data management can be uncommonly robust. Providing fair billing is another benefit that technology offers to both energy suppliers and consumers. With its unified ledger, Blockchain ensures that the current metering and billing process is made available to each participant on the network. Traceability of energy delivery provides a clear picture for consumers, thus offering peace of mind.
Apart from the use-cases mentioned above, Blockchain could safeguard privacy, data confidentiality, and identity management in the energy sector. Moreover, when it comes to resource sharing, technology could offer charging solutions between multiple users, such as sharing EV(electric vehicle) charging infrastructure data, and much more.
Top Energy Companies Utilizing Blockchain
Due to Blockchain's ability to streamline existing processes and create new functionality, top energy companies are adopting Blockchain for various purposes such as commodities trading, P2P energy trading, elimination of middlemen retailers, data management, and much more. They aim to incorporate Blockchain-based smart meters and real-time auctions to create an automated energy market that would not only reduce the cost of unbalancing current power systems but will also boost the system's overall performance.
Here is a list of a few top companies that are leveraging Blockchain:
Shell

Siemens

TenneT

Abu Dhabi National Oil Company

Chile's National Energy Commission
Concluding Lines 
From the above discussion, it is clear that Blockchain technology has the potential to revamp the energy sector. But there are few challenges that technology has to deal with. The first and foremost challenge is that Blockchain needs to prove that it can offer the scalability, speed, and security required for the proposed use cases. A large number of established energy companies are utilizing Blockchain DLT, which clearly shows the potential value of this emerging technology. But as this technology is still developing, it requires further development to achieve desired operational and performance objectives.
To get instant updates about Blockchain Technology and to learn more about online Blockchain Certifications, check out Blockchain Council.