You must have heard a lot about the emergence of blockchain, is' int? But here in this article, we will focus on the practical issues for blockchain implementation.

Learning Of Blog
Introduction

Blockchain Implementation Practical Issues 

Conclusion
Introduction
In the tech world, blockchain technology is still the leading buzzword. Its ability to work in a distributed environment without getting tampered is the core source behind all the hypes.
As the technology is still in its developing phase, despite various possibilities in almost every sector, it will still take some course of time to get over all the challenges it is facing right now. Let's explore what the practical blockchain implementation issues are.
As blockchain is revolutionizing rapidly, its scope and career opportunities are beyond imagination. If you are looking to start a profession in blockchain space and want to become a blockchain expert or a blockchain developer, favorable chances are on its way.
Practical Blockchain Implementation Issues
Blockchain technology is an algorithmic immutable ledger that presents a future-ready architecture for organizations to transact and exchange business-related information securely.
Does it mean it has no challenges? Of course not. There are various challenges associated when it comes to implementation. So let's get started.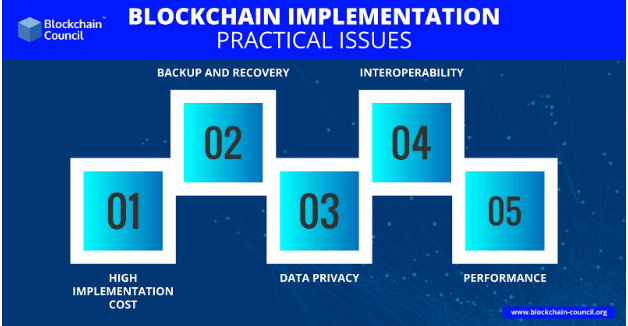 Lack of Internal Blockchain Knowledge
The first and foremost challenge while implementing blockchain is that most organizations have insufficient knowledge about technology. Companies do not have Blockchain experts and professionals who clearly understand the core concept of technology.
Thus organizations find it challenging to choose and adopt the best enterprise blockchain platform. Moreover, the companies are not aware of blockchain implementation steps that should guarantee the best outcome.
High Implementation Cost 
Although popular enterprise blockchain platforms such as Hyperledger Fabric have made great strides in terms of the transaction speeds( just about twice the rate over VISA platform), most of the existing platforms such as Bitcoin(transacts 3 to 5 transactions per second ) and Ethereum (up to 15 transactions per second ) are inefficient in terms of speed of transactions and the energy consumption. Thus we can infer that the most convenient blockchain platforms come at a vast implementation and energy costs.
Backup and Recovery
Backup and recovery of data for blockchain networks are also one of the significant implementation issues. Although theoretically, creating a new node is easy, but it's not practical spending several hours for a new node to sync with existing blockchain nodes and transfer configuration metadata. The recovery becomes even more critical when there is a requirement to migrate a node across datacenters.
Data privacy
Data privacy is a crucial bottleneck problem in blockchain as most enterprises do not appreciate the case where anyone can view their sensitive data, which might be delicate to their core business. Those who plan to share confidential business data are worried about confidentiality between several participants and shielding this data from access by other companions.
But, when blockchain nodes are run as a managed cloud service with users only able to access them through the APIs and event subscriptions, data privacy can be maintained to a great extend.
Blockchain Interoperability
Although they are various enterprise blockchain platforms, interoperability is a pertinent issue to which Blockchain developers are looking for mass adoption. The basic idea is to join one particular platform and to utilize the service on another enterprise platform if required without any severe compatibility problems.
Therefore, developers are finding a way through which users of different software can interact and conduct meaningful business.
Performance 
In the blockchain network, the performance requirement is never the same. It varies from one scenario to the other. Like for example, the performance metrics include throughput and latency, and outcomes will vary in terms of network size and hardware configurations, and the tradeoffs between higher throughput versus lower latency.
Thus, based on the deep understanding of the business demands and platform architecture, a reasonable performance optimization solution needs to be adopted.
This is not the end of the list. Moreover, a lack of regulatory clarity is one of the significant implementation issues. Many governments are still unsure about how they consider this technology from a legal standpoint, and this leads to complexity.
Conclusion
Enterprise blockchain is gaining popularity and adoption in almost all sectors and for different use cases. Although blockchain might seem to be offering several advantages to the industries, it needs to be re-architected depending on various use cases for greater acceptance of enterprise blockchain in the mainstream.
The buzz around blockchain probably won't subside, so hurry up and upgrade your skills now with the best online Blockchain certification courses.
To get instant updates about Blockchain Technology and to learn more about online blockchain certifications and become a blockchain expert, check out Blockchain Council.