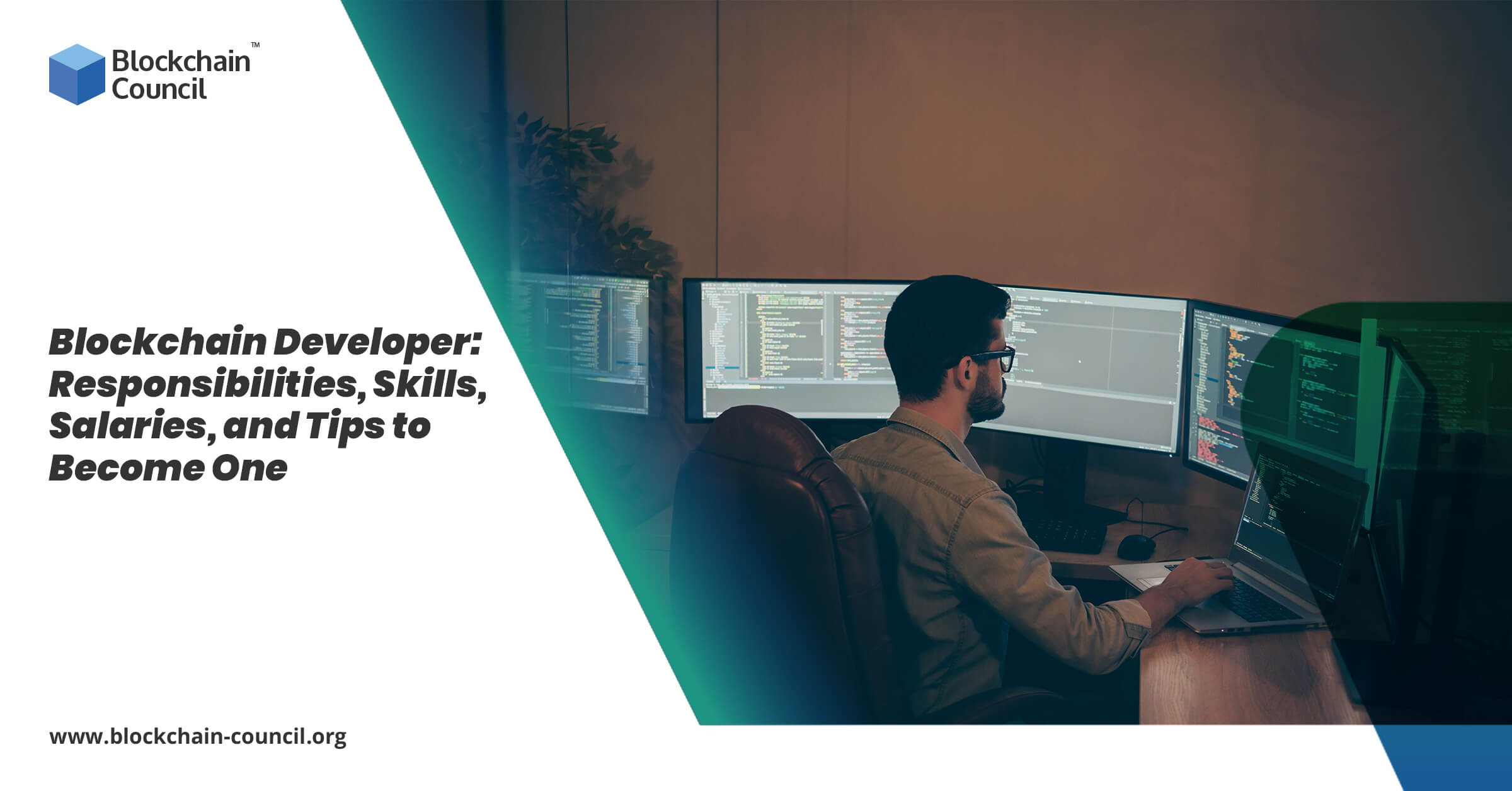 Are you a Blockchain enthusiast? Want to become a Blockchain Developer and upskill? You have landed on the right page. This article talks about the responsibilities, qualifications, salaries of a Blockchain developer and teaches how to become a successful developer.

Table of Contents 
Who is a Blockchain Developer?

What are the Roles and Responsibilities of a Blockchain Developer?

What are Skill Sets Required?

How Much They Get Earned?

Concluding Lines: How to Become One?
Who is a Blockchain Developer?
A Blockchain Developer is one who understands Blockchain technology profoundly and can build Blockchain-based applications. He/she specialize in creating and implementing technical solutions for organizations with Blockchain Technology. 
What are the Roles and Responsibilities of a Blockchain Developer?
The key responsibility of a developer is to analyze requirements, design secure blockchain technologies, develop application's functionalities and finally build and launch a blockchain network.
Apart from this, their other responsibilities include:
Blockchain Developers need to collaborate with managers and engineering teams in order to understand the requirements and envision functionalities.

Brainstorm and help create application features and interfaces with new tools and technologies using programming languages.

Create and build infrastructure, and apply the latest security measures to protect digital transaction data against cyberattacks and other malpractices.

Maintain and extend current client-side and server-side applications.

Optimize and secure blockchain-based applications by integrating the latest tools and technologies.

Documenting the entire blockchain development processes. Document new solutions as well as existing ones.
What are the Skill Sets Required?
Now, as we have understood who is a Blockchain developer and what are their roles and responsibilities, let's have a look at the skill sets required to become one. 
Blockchain Fundamentals
In order to become a successful Blockchain professional, one needs to understand and learn what its fundamentals are. Blockchain fundamentals include understanding how the technology works, its benefits and use-cases, what are smart contracts, concepts of networking, cryptography, etc.
Extensive Knowledge of Data Structures and Programming Languages
Since Blockchain has a complex structure, it is essential to understand and learn data structures
along with advanced cryptography for building a secure and immutable system. Also, one should consider learning a few programming languages such as Java, Solidity, C++, Python, JavaScript, Ruby, C#, etc.
In-depth Understanding of Blockchain Architecture
A Developer must have an excellent understanding of the working of a Blockchain and its architecture. Right from understanding its architecture basics to understanding the tools required, one must gain an in-depth understanding of everything related to Blockchain architecture.
Learn Blockchain Security 
One must gain a thorough understanding of Merkle Tree, cryptographic hashing, private key, and public-key cryptography, and much more. Learn about Blockchain's inherent security features and associated risk, and understand the best security practices for Blockchain infrastructure. In order to become a Blockchain developer, one must know how to mitigate Blockchain security risk.
How Much They Get Earned?
The salaries of Blockchain professionals are skyrocketing. In fact, it is the most demanding skill at present. But to earn high salaries, it is important to have the right skills in the Blockchain space. Other factors that contribute to salary are how much experience one holds and their job location. Blockchain Council, a globally-recognized online platform known for imparting world-class training in Blockchain space with its own market research, found that people with the right skills and certification, on average, make 30% more salary compared to equivalent job profiles.
According to Glassdoor, the national average salary for a Blockchain Developer is $1,01,689 in the United States, and the national average salary of a developer is ₹5,07,137 in India. Glassdoor also reports that the average salary for a Blockchain Developer is £50,137 in London, UK.
Concluding Lines: How to Become One?
Becoming a professional in this domain has become much simpler now, all thanks to tons of online learning material. If you are planning to start a career in the Blockchain space, now is the perfect time to get into Blockchain development.
Backed by the extensive practical-based sessions, Blockchain Council offers online training and certifications to aspiring trainees to render the desired competence to have a successful career in the Blockchain space. Blockchain Council offers the most in-demand certification, specifically in the crypto and blockchain field. It is one of the most renowned names for certifications & training in Blockchain and related fields worldwide.
So what are you waiting for? Get enrolled in Blockchain Council and become a Certified Blockchain Developer today!
To get instant updates about Blockchain Technology and to learn more about online Blockchain Certifications, check out Blockchain Council.