If you are wondering why most of the companies are rendering blockchain and how Blockchain-based companies are making profits, you have landed on the right page.

Learning Of Blog
Introduction and Potential Benefits of Blockchain
Ways By Which Blockchain Companies Earn Money
Compelling Reasons to Invest in Blockchain
Final Words
For the last few years, blockchain has been enjoying an increased adoption rate in almost all domains. In fact, many people consider this technology as a signal of an impending revolution. This hype raises a proposal about whether blockchain-based businesses and companies are making profits from blockchain, and if yes, then how?
Before understanding how companies and organizations are earning money from blockchain, let's have a quick glance at what are the things that blockchain is making possible that were impossible without it.
Storing and transferring assets in a decentralized manner with any intermediary.
Providing verified proof of the current and past states of all the processes instantly.
Designing governance and socio-economic structures independently.
Helping in sharing the costs and benefits of a business ecosystem.
Combining the ownership, the distribution of the value, and the incentive in a single asset.
Blockchain space is booming. If you have ever thought about taking your career in blockchain space, now is the time to invest in blockchain certification courses and become a certified blockchain expert or a blockchain developer.
Ways By Which Blockchain Companies Earn Money
 Let's figure out how blockchain companies are earning money.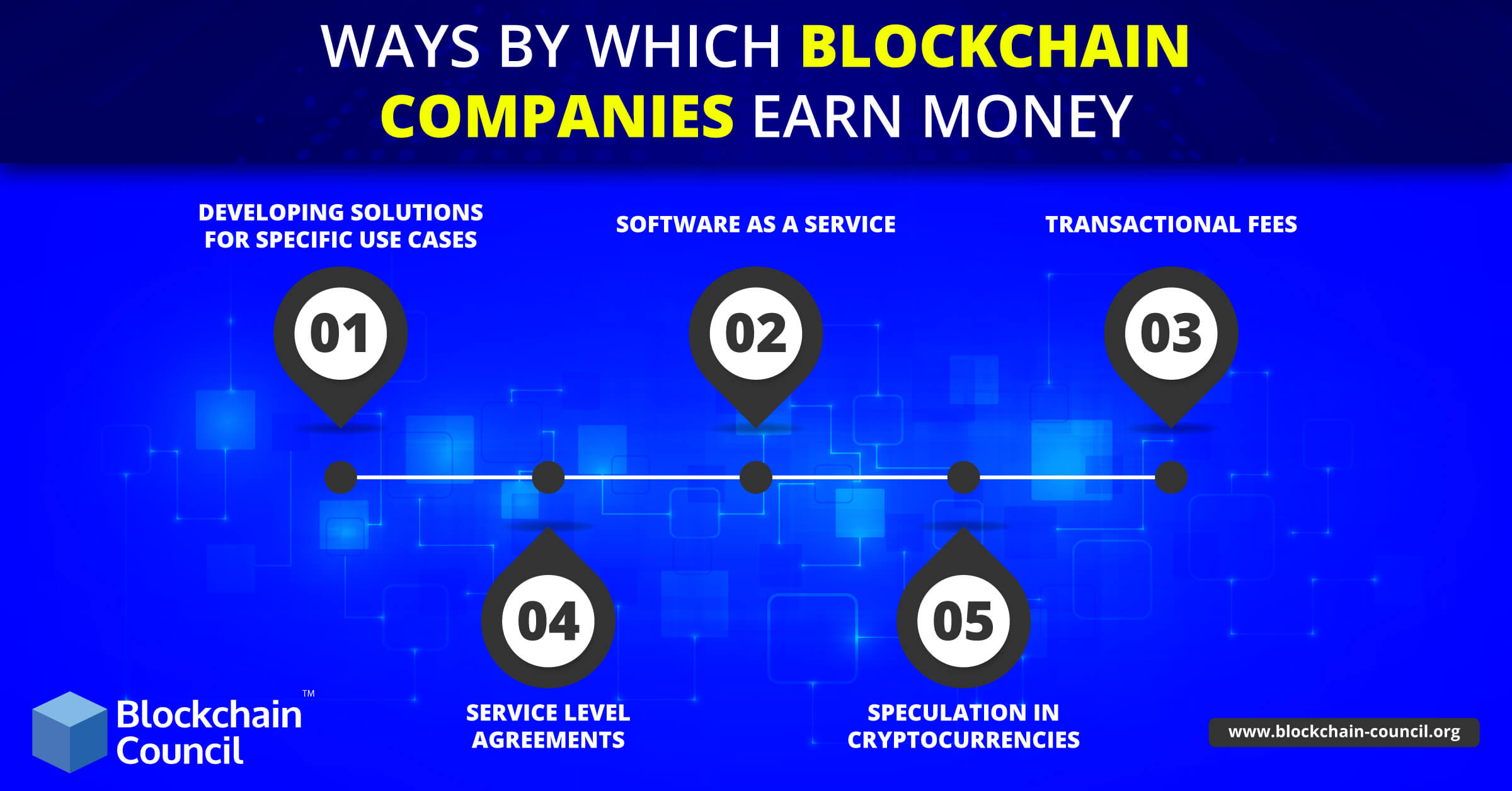 Developing Solutions For Specific Use Cases
IBM and Deloitte are renowned for creating customized blockchain solutions for their customers and clients. Today, millions of innovators are using prestigious IBM and Deloitte blockchain platforms to build, operate, govern, and grow a solution. These companies aim to bring revolutionary trust and transparency to various use cases such as supply chains, trade, cross-border payments, food supply, and much more.
When customers purchase these solutions depending on their requirements, the businesses earn money as compensation for their services.
Software as a Service
Various companies are earning money by offering users their API and infrastructure. The examples include Blockcypher and Tierion. BlockCypher is the infrastructure fabric for blockchain applications that help businesses, developers, and miners to leverage its features such as cloud infrastructure, APIs, multiple and robust data stores, and much more. Similarly, Tierion offers proof for businesses, chain points for developers.
Transactional Fees
This is another popular way by which businesses are earning money. There are a number of blockchain companies that create enterprise solutions for institutional investors.
When these institutions use blockchain solutions to improve their service delivery, they have to pay subscription fees for facilitating transactions in return for utilizing the developer's blockchain infrastructure. For example, R3Cev that aims at developing private blockchain solutions for trading and settlement.
Service Level Agreements
Few companies indulge in service level agreements (SLAs) with client companies for designing, developing, and hosting blockchain networks. For example, Microsoft.
Speculation in Cryptocurrencies
As Speculation remains the most prominent use case for cryptocurrencies, mostly all blockchain network have their native token, which is often held by the project team and developers. These groups work hard towards increasing the market value of the token, after which they sell it for profit. Examples include Factom, ConsenSys, and Lisk.
Compelling Reasons to Invest in Blockchain
Now, as we have understood how Blockchain companies make profits, let's have a list of compelling reasons to invest in this technology.
As we already discussed, top leading companies are seeing the potential in blockchain and starting to invest and explore future possibilities.
Blockchain is the perfect partner with other revolutionary technologies such as AI & IoT; hence it will be mass adopted globally.
Blockchain is relatively easy and low in cost. All you need to invest is to make an account on an online exchange and purchase the currency you want.
Blockchain is not just for cryptocurrency. There are numerous use cases to the blockchain.
Planning to invest your time and money in blockchain certification courses? You are just a click away.
Final Words
The blockchain technology is growing with each passing day. Although there are few challenges that need to be handled, the good news is that blockchain developers and researchers are working hard to identify and improve these issues. There is no domain today that has been left untouched with the impact of this technology, be it finance, healthcare, supplychain, education, and therefore companies are eyeing towards this technology as an investment.
To get instant updates about Blockchain Technology and to learn more about online blockchain certifications and become a blockchain expert, check out Blockchain Council.