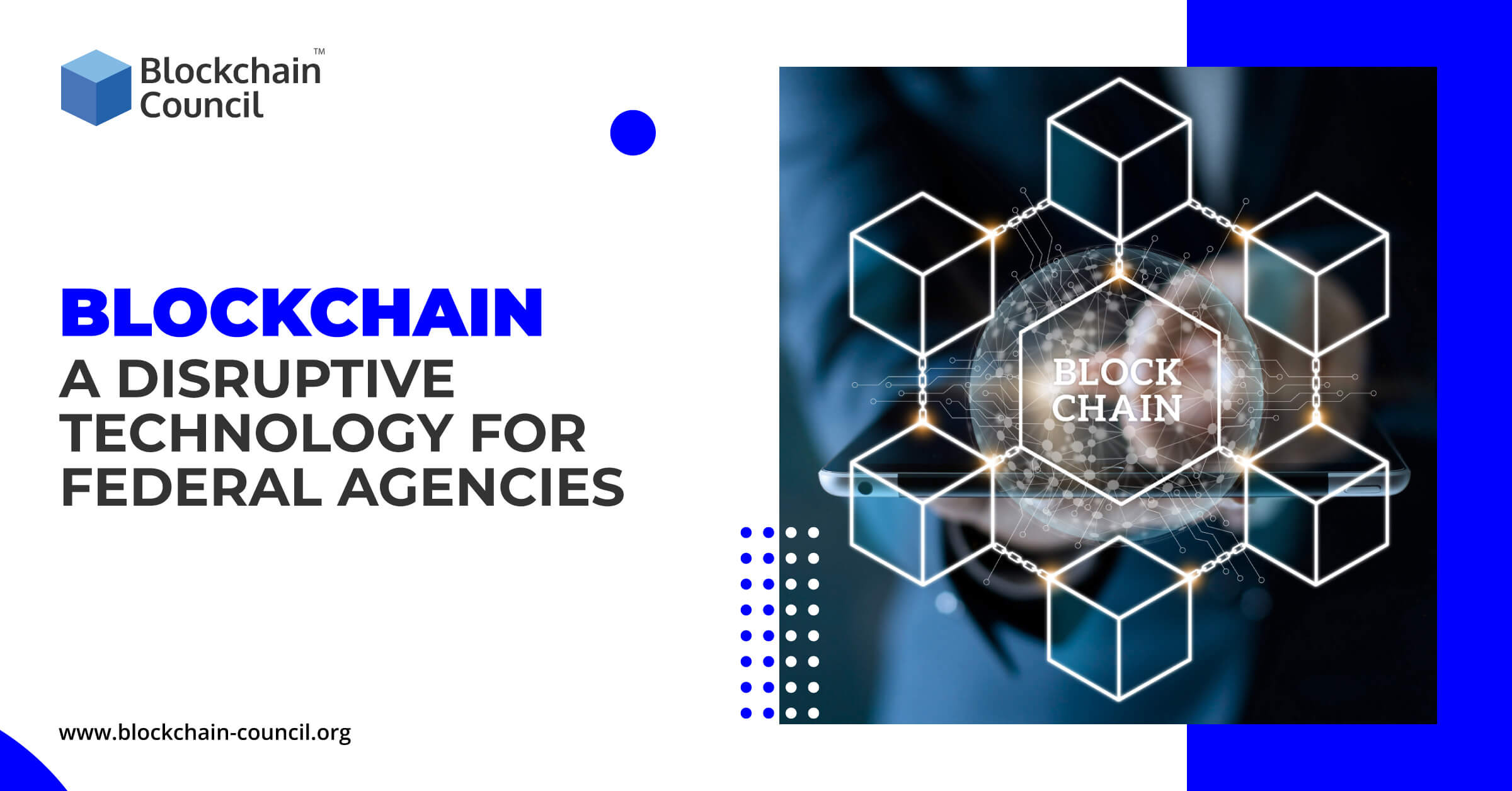 Wondering why several federal agencies are turning to Blockchain Technology? You have landed at the right place. This article explains why federal agencies are adopting Blockchain and what crucial role it plays worldwide. 

Table of Contents 
Blockchain Basics 

Potential Benefits of Blockchain for Government Institutions

Federal Agencies Leveraging Blockchain 

Conclusion: Is Blockchain and Federal Agencies a Good Fit? 
Blockchain Basics 
Blockchain is a peer-to-peer, decentralized, distributed ledger technology that uses encryption and hashing techniques to guarantee the truthfulness of the information being transferred. This new-age technology maintains complete immutability, which ensures that hackers are unable to manipulate any information, without somehow verifying an entire history of transactions in real-time against a distributed ledger system. 
Today Blockchain has its footprints in almost all sectors. Realizing the cross-cutting applicability of Blockchain, multiple federal agencies have started implementing Blockchain-based solutions for efficient business operations. 
Want to gain an in-depth understanding of Blockchain technology? Sign up with the Blockchain Council now!
Potential Benefits of Blockchain for Government Institutions
The excitement around this technology is building gradually. Private firms and even FDA (Food and Drug Administration) are testing Blockchain for various applications such as cross-border instant payments, secured data sharing and management, supply chain, identity management, etc.  The organizations worldwide are adopting Blockchain technology in the hope of benefiting from secure and transparent distributed ledger technology. Here is how Blockchain helps:
Reduces the Potential for Distrust
With its decentralized nature, Blockchain brings transparency and allows all participating parties to verify data. As Blockchain continues to push mass adoption, BeefChain, a first Blockchain-based company to receive USDA certification, is leveraging Blockchain that offers traceability solutions to the farmers in order to eradicate food security concerns.
In July 2020, it was announced that Cardano technology collaborated with Beefchain to resolve the existing issues like intermediaries, frauds, and other regulatory problems. 
Also, for establishing long-lasting trust with citizens, federal agencies are integrating Blockchain technologies with business processes. This is because when citizens and governments share access to records, the potential for distrust decreases.
Improves Efficiency and Ensures Quality  
Today, even in countries with the most robust regulatory oversight, it is impossible to identify medicines' origin. FDA (Food and Drug Administration) is identifying ways how information gaps that exist across the supply chain can be eradicated with Blockchain. 
A diversified and transparent supply chain in the pharmaceutical domain offers potential benefits to patients around the world in terms of access, reduced costs, and most importantly, quality medicines.
Protects Crucial Data and Streamline the Entire Process 
Federal agencies are looking forward to distributed ledger technologies, like blockchain with an aim to reduce redundancy, streamline processes, decrease audit burden, increase security, and data integrity. Government agencies, for example, the Department of Homeland Security, are considering adopting blockchain in the cybersecurity domain for protecting crucial data.  
Federal Agencies Leveraging Blockchain 
After the 2009 H1N1 epidemic, the staff at FDA recognized the need for adopting Blockchain. To track data on the H1N1 swine flu virus that began to spread again in 2017, officials in the FDA needed an effective system to support real-time communication and collaboration between federal and non-federal stakeholders. This was when the role of Blockchain came into play. 
Talking about federal agencies, a team under the leadership of Dr. Henry Francis, associate director for data mining and informatics evaluation and research at the FDA's Center for Drug Evaluation and Research, designed a Blockchain-based application that enables them to obtain encrypted data in real-time, from many sources to track data dealing with the outbreak. 
In 2017, Financial Innovation and Transformation (FIT) tested its first application by leveraging Blockchain technology to manage and track physical assets like mobile phones followed by the second application that was for software licenses management. 
Craig Fischer, the FIT project director, noted that although the government wants to pursue more use cases across several federal departments and agencies to use Blockchain, the FIT still needed to learn more about the technology.
The US Department of Health & Human Services (HHS) also utilizes a Blockchain-based tool, HHS Accelerator, to speed up the procurement process and bulk purchasing power while reducing its costs. It aims to improve record-keeping for vendor transactions.
The National Research Council of Canada (NRC) is using Ethereum Blockchain explorer to explore the use of public Blockchains in the transparent administration of government grants and contributions. 
Conclusion: Is Blockchain and Federal Agencies a Good Fit? 
As the Blockchain ecosystem is quickly evolving to collaborate and test its potential across various domains, it is no more a new technology. For federal agencies and private firms to keep adopting Blockchain, it has to deal with talent scarcity that Blockchain is dealing with at present. This technology definitely has the potential to provide improved access to information among departments along with transparency, efficiency, security and flexibility, and improved coordination between agencies.
To get instant updates about Blockchain certifications and become a Blockchain expert, check out Blockchain Council.