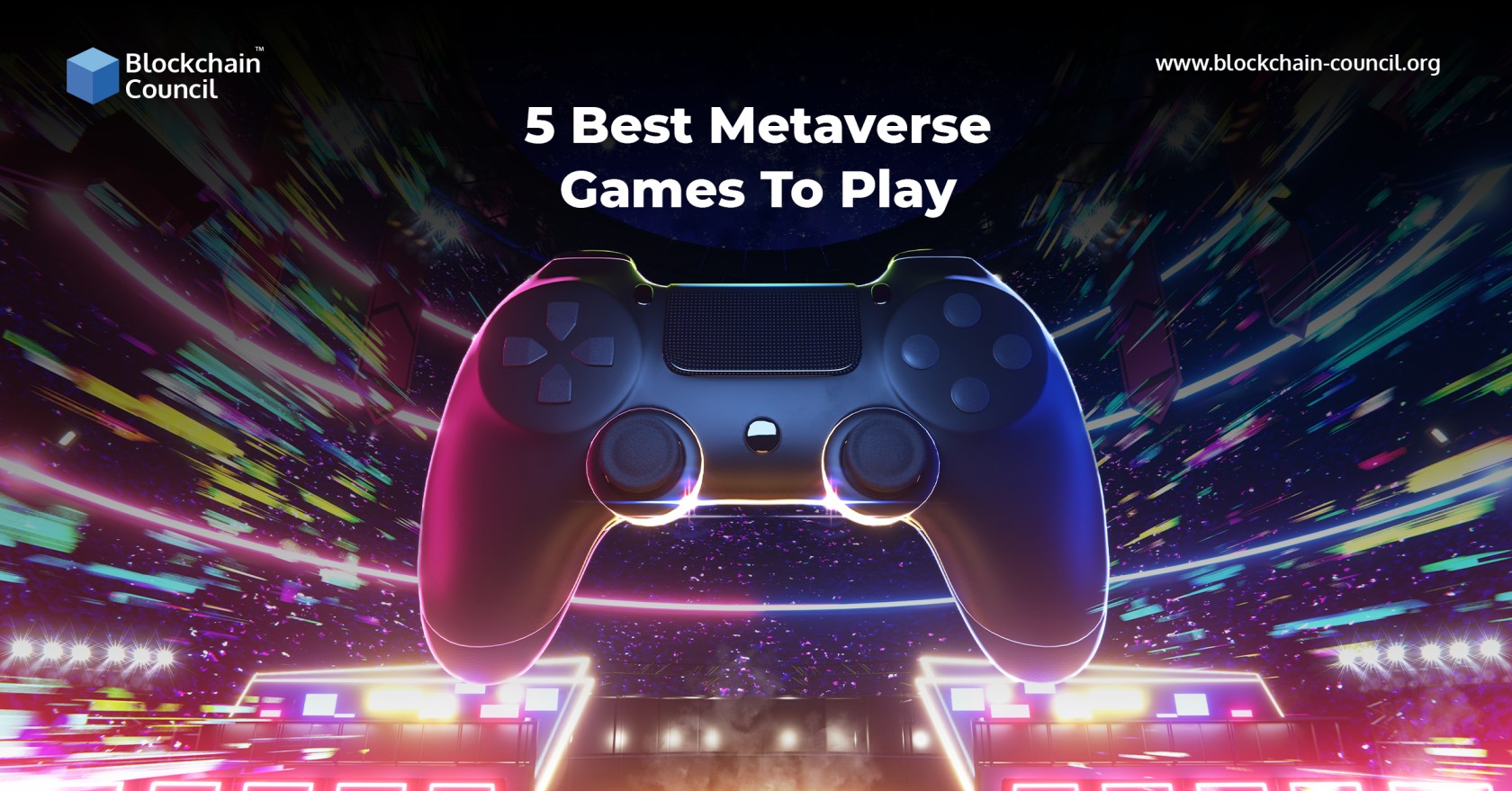 In the year 2021, Facebook was renamed Meta. This year, the metaverse will be a hot issue among many users all around the world. Gamers are accustomed to expressing an interest in the digital world, where they can do or be anything. If you're a gamer who has just discovered Metaverse, you've come to the correct place. A Metaverse is a vast online community where you may play games and meet new people. This article introduces you to some of the best metaverse games and the basic requirements to play metaverse games. But before that, let us understand what Metaverse is.

Metaverse: A Glimpse
The Metaverse is a collection of interconnected digital universes in layman's language. It consists of several programs and games that allow you to participate in an online gaming community in which you represent yourself as an avatar.
It's a network of 3D virtual environments focused on forming social bonds. You may connect with people worldwide within the Metaverse if you design your own 3D virtual avatar. You can participate in various activities in the Metaverse, such as multiplayer games, virtual concerts, and events. Only your imagination will limit you in what you can do and who you can be.
Metaverse is believed to be the most influential step into the world of virtual reality. As a result, companies like Microsoft and Meta are making significant investments in the research and development area.
Essentialities for the Metaverse Games
There are numerous ways to play Multiverse games. However, you will need a few essential items to have a look at these games. Take a look at everything you'll need to play Multiverse games, including:
Connection to the Internet
Almost all of the Multiverse games you'll find require an online connection to play. To play the Metaverse games, you'll need a reliable high-speed internet connection.
We recommend purchasing a VAR Headset to get the most out of any Metaverse game. For the most immersive Metaverse gaming experience, we recommend purchasing the Oculus Quest 2.
If you don't want to acquire a VAR Headset, you can play Metaverse games on a mid-range performance PC or a high-end tablet instead.
The Best Metaverse games to play
In the digital world, Metaverse is one of the trendiest discussions. Over the years, there have been numerous science fiction films, novels, and films based on the notion of the Metaverse. From meeting your favorite superheroes from childhood to enjoying a fantastic racing experience, you can see how cinema attempted to depict the Metaverse's future. Thus we cannot deny that the Metaverse holds a wealth of possibilities.
According to reviews, The Sandbox is currently one of the best metaverse games available. The game provides a virtual universe where you may create, own, and even profit from your gaming experience. The Sandbox, which is based on Ethereum's blockchain, is currently in its early stages of development. Nevertheless, Sandbox's enticing aesthetics and fascinating gameplay have roped players in.
One of the most popular blockchain games in the Metaverse, The Sandbox, attempts to disrupt mainstream games such as Roblox and Minecraft. NFTs, or non-fungible tokens, are a Sandbox feature that provides producers a stake in their work. In addition, players that actively participate in Sandbox's ecosystem will earn special goodies as a bonus.
Players in The Sandbox can construct their own games in the Metaverse. The game's enhanced gameplay experience will appeal to smart contracts and blockchain content providers. You can count on the Sandbox Game Maker to serve as an excellent example of this. With The Sandbox, players looking for solutions to this topic will find more than "how to play metaverse games." 
A Sandbox tool, VoxEdit, authorized users to generate their own assets. Users can upload, publish, and even sell the NFTs they make with VoxEdit.
Surprisingly, The Sandbox has about a 7% market share in the metaverse market.
Illuvium stands out among the billion-dollar games industry. The game engine is based on the Ethereum blockchain, and it is an open-world RPG game. The game's core concept is to explore the virtual world. The prime aim of the game is to gather influential entities known as "Illuvials" for the players' benefit. Illuvium is one of the best metaverse games ever, even though it hasn't been released yet.
Illuvium has a market cap of $1 billion and plans to launch in the first quarter of 2022. It's common for Illuvium discussions to center on gameplay clips from the game. Metaverse fans have praised Illuvium's graphics and gameplay for their high quality and immersive nature.
The colorful landscape of the Illuvium ecology also appears to be promising in the game. Meanwhile, Illuvium isn't necessarily one of the best metaverse games. On the other hand, Illuvium could benefit from its realistic gameplay experience and draw in a broad audience.
It is the world's first blockchain ecosystem to fuel an entertainment platform that offers blockchain-enabled services across a wide range of games. The network's ability to grow easily above 12,000 transactions per second, which is a remarkable achievement, is Ultra's most notable characteristic as a metaverse game.
Several centralized and decentralized services can be used to access in-game items and services such as discovering, purchasing, playing, and selling games, as well as in-game items. Furthermore, participants have the option to communicate with their favorite influencers and watch live-stream feeds of their favorite shows, in addition to participating in tournaments and challenges.
Ultra is one of the most successful metaverse blockchain games, with the unusual characteristic of transaction settlement that is both free and practically immediate. 
Ultra also has its own native ERC-20 token, $UOS, which can be traded on exchange platforms like Kucoin, Bancor Network, Uniswap, Bitfinex, and Bitrue. Another alternative is to stake with a $UOS token, which will allow you to receive ultra-rare NFTs as a reward. Ultra's most enticing feature is its adaptability, which allows it to be utilized for gaming as well as trading on NFT marketplaces. Users could also interact with entertainment services by using new DeFi applications, which could be made available by the platform.
If you look hard enough, the possibilities for "how to play metaverse games" are nearly endless. For example, Sorare is a role model for innovation in the video game industry. It's a non-franchise football game based on Ethereum's blockchain. Furthermore, approximately 180 football clubs have registered on Sorare for formal registration, with new clubs joining every week.
On Sorare, players could buy cards and create their own fantasy teams. Cardholders can score points evaluating the performance of real players in real matches that their cards represent. The teams with the most points would get the chance to design new cards once a week.
Sorare is one of the best examples of a metaverse game that has received a $680 million Serie B investment. There's another interesting tidbit to go along with the news that Ubisoft has developed a video game using NFTs created on Sorare.
Sorare is without a doubt one of the best online metaverse games available. A user with a valid email address can register for free and start playing the game immediately. Players could use payment cards, as well as bank transfers to purchase Sorare NFT cards. The Sorare NFT cards are available for purchase in over 40 countries.
Another most popular blockchain game in the Metaverse is Axie Infinity. Despite having been launched in 2018, the game has only recently received considerable acclaim. It's worth noting that Axie Infinity came to aid many jobless Filipinos during the COVID-19 outbreak. NFTs were used as gaming prizes and traded for bigger payouts. As a result, Axie Infinity's popularity has skyrocketed in recent years. Axie Infinity has long been recognized as one of the top offers in the NFT gaming market.
In Axie Infinity, each Axie is a one-of-a-kind creature with its own set of traits. Axies can participate in the game against one another and use their combined experience to win and receive rewards. Axie Infinity's $9 billion market cap makes it an outstanding addition to any metaverse gaming list. One of the most popular metaverse games, Axie Infinity, is still growing. The makers of Axie Infinity are also working on many innovative and intriguing ways to improve the game.
Conclusion
The term "metaverse" conjures up images of a pool of best Metaverse games to play. It is claimed to be the next step in the growth of the Internet. It's been described as a link between the virtual and digital worlds. Its developer has no idea how far the innovative technology will spread or how popular it will become. Year after year, it will expand and make dreams a reality. The complexity of Metaverse is a daring step that will require the world's top minds to get together and create such next-generation games that people will finally realize that the future is here.
It is advisable that before you delve into the metaverse realm, make sure you have enough grasp on the crypto exchange domain. If not, then you can reach out for professional help. Another option is to learn crypto trading so that you can easily handle your in-game wallet. 
Blockchain Council is one such platform that has got all you need.