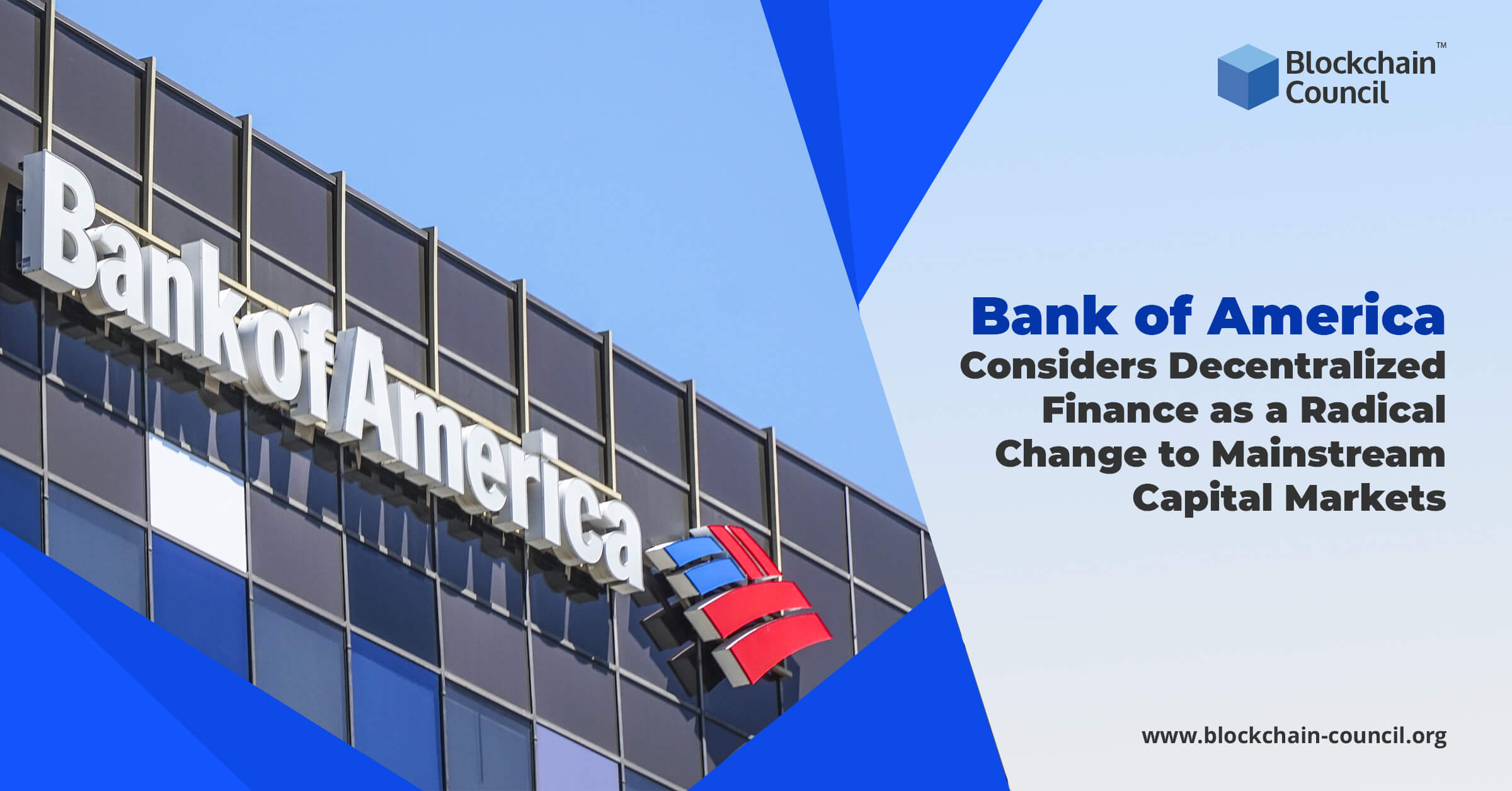 According to the latest announcement, Bank of America considers decentralized finance (DeFi) potentially more disruptive than Bitcoin. 
Although Bitcoin is the most popular cryptocurrency, Bank of America believes that Ethereum Blockchain is more prominent and has more advanced features, such as flexibility in its hosting of DeFi, than the first-ever cryptocurrency, Bitcoin. 

DeFi refers to the shift from centralized financial systems to peer-to-peer (P2P) finance that does not rely on third-party intermediaries; instead, it utilizes smart contracts on blockchains, Ethereum being the most common one.
The bank perceives DeFi space as a radical change to mainstream capital markets but believes that it has to go a long way in comparison to mainstream finance.
Bank Sees DeFi Potentially More Disruptive Compared to Bitcoin
In its recent report, "Bitcoin's Dirty Little Secrets," Bank of America expressed its views regarding the most popular cryptocurrency till data, Bitcoin, mentioning that the only good reason to invest and own BTC is when you see its prices going up.
The bank also calls central bank digital currencies "kryptonite for crypto," but it is influenced by decentralized banking, which it describes as "potentially more destructive than Bitcoin."
Despite Bitcoin's hitting $57,788.29 at present, Bank of America considers decentralized finance more disruptive. 
According to Bank of America, "DeFi has witnessed a lot of innovation among exchanges. Bank of America further explains that the important factor here is that many of the roles that are distinct in fiat trading are done on-chain by utilizing distributed ledger technology. It also mentioned DeFi services, from derivatives to asset management, as measures of growth.
Bank believes that when it comes to scalability, Ethereum outperforms compared to Bitcoin. The report also highlighted some of the issues associated with Ethereum, such as speed, block size, the price of ether, and so on.
As the price of Bitcoin and Ether has reached new highs, the total value locked in decentralized finance has soared as well. Apart from BTC and ETH, numerous tokens have reached new all-time highs, taking DeFi total market capitalization to new heights.
To get instant updates about Blockchain Technology and to learn more about online Blockchain Certifications, check out Blockchain Council.