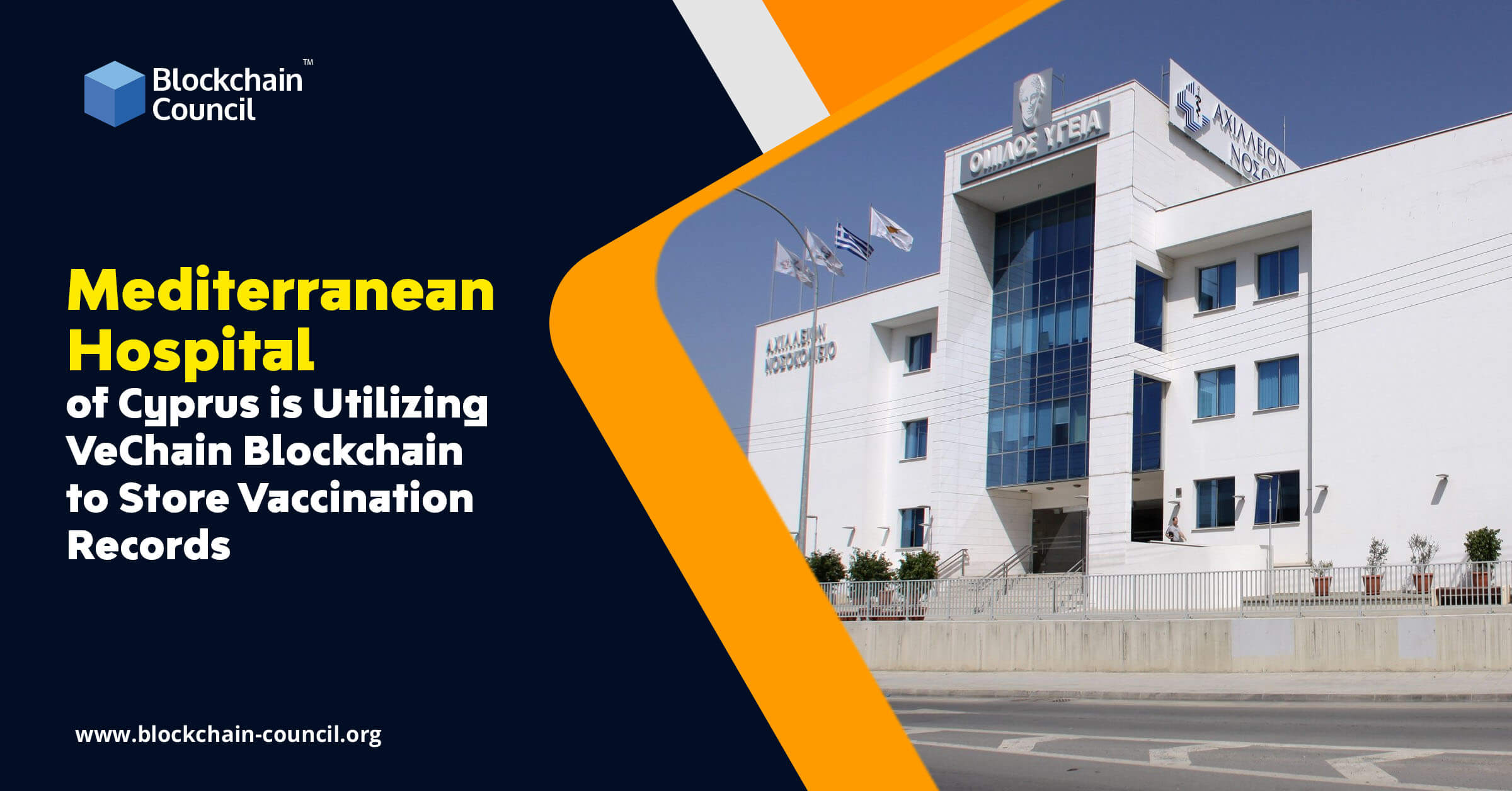 According to the latest announcement, the Mediterranean Hospital of Cyprus utilizes the VeChain platform to store its COVID-19 vaccination records.

Cyprus, which is one of the country's largest private health facilities, announced that 100 doctors and personnel of the hospital had received their first dose of the COVID-19 vaccine.
VeChain was launched in 2018 and is recognized as an enterprise blockchain solution that intends to bring accountability, efficiency, and transparency. The decentralized platform aims to enable secure product lifecycle management by focusing on supply chain and IoT protocols.
The first 100 COVID-19 vaccination records for medical personnel at The Mediterranean Hospital of Cyprus are now securely stored on the #VeChain public blockchain.

With this tech, govs and individuals are assured of the quality and validity of results.https://t.co/yKzLuF06mj

— VeChain Foundation (@vechainofficial) January 5, 2021
Digital Certificates: Another Step Towards Digital Transformation
As a part of the digital development, Cyprus Hospital also informed that the vaccinated personnel also received a digital certificate for their vaccination on their E-HCert App, successfully first launched in June 2020.
E-HCert App is an electronic wallet representing a new category of healthcare record system that combines interoperability, immutability, traceability, and compliance via VeChainThor Blockchain.
An app was launched for the COVID-19 RT-PCR test results and was used by around 8000 people who received their results after having a COVID-19 RT PCR test on their arrival at the International Airport in Cyprus.
Last week, VeChain Founder tweeted, saying that governments and individuals are assured of the quality and validity of results with this advanced technology. Mediterranean Hospital believes that these digital certificates are a crucial step towards the healthcare industry's digital transformation.
VeChain's Vital Role in Healthcare
Apart from the Mediterranean Hospital of Cyprus, the VeChain platform facilitates the E-HCert App to go far beyond COVID-19 records and onboards another hospital located in Cyprus named Aretaeio Hospital. After demonstrating efficacy in the Mediterranean Hospital of Cyprus, Aretaeio Hospital joined the VeChain ToolChain platform and integrated the digital lab test wallet solution, E-HCert App.
VeChain company, which is based on Blockchain, believes that Blockchain has the potential to reshape the current model radically and revolutionize the healthcare delivery, test results, diagnostics and can advance the process and security of information exchange between the participating parties.
Due to its high potential, Vechain has received strong backing from the various Chinese governments and has established connections with various top companies, including Walmart, BMW, LVMH, and others.
Apart from this, VET, VeChain's cryptocurrency, has gained 56% in the past week, according to CoinMarketCap.
To get instant updates about Blockchain Technology and to learn more about online Blockchain Certifications, check out Blockchain Council.