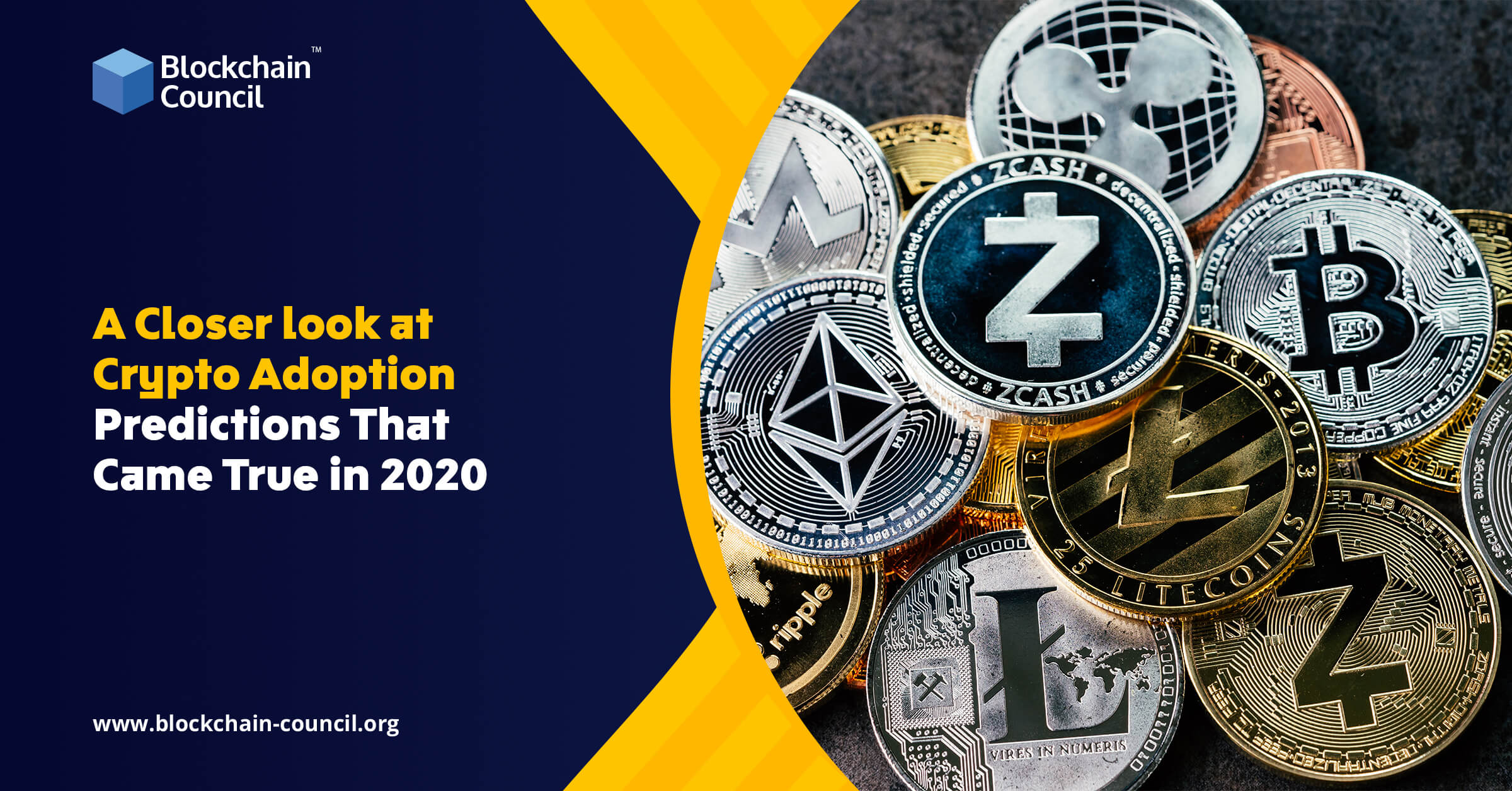 Are you a crypto enthusiast? If yes, you have landed on the right page. This article talks about some of the crypto and Blockchain adoption predictions that came true this year. 

Table of Contents 
2020 A Good Year for Cryptocurrency

Top Predictions that Came True 

Concluding Lines: Will The Future be Even Brighter?
2020 A Good Year for Cryptocurrency
Cryptocurrencies have performed debatably in 2020 and are continuing to attract new investors. Various crypto enthusiasts predicted that this year is going to be the best year to invest in cryptocurrencies, and eventually, it came out to be true. But there have been mixed opinions regarding crypto adoption. For instance, even when Bitcoin received its concise moment of fame, mentions of the token were mostly in dismissal of its potential, with some people calling the entire industry a scam. However, the end of 2020 depicts that the crypto world has defied most of its critics. With so many opinions regarding crypto and Blockchain adoption, here is a look at some of the crypto adoption predictions that came true in 2020.
Curious to learn more about cryptocurrencies? Become a Certified Bitcoin Expert today with Blockchain Council.
Top Predictions that Came True 
Now let's delve deeper to explore some of the crypto and Blockchain predictions that came true in 2020. 
Crypto Better Than Cash 
Back in 2014, Bill Gates, a co-founder of Microsoft, quoted that "Bitcoin is better than cash as you don't have to be physically in the same place and it can get pretty inconvenient when dealing with heavy transactions. In 2020, we can realize the relevance of his statement as Bitcoin has played a major role in the cashless economy. According to a Statista report, countries have started considering cryptocurrencies, replacing them with cash. It was stated that a few of the countries like Japan are looking to increase cashless payments to 40 percent by 2025. However, presently, only around 18 percent of payments are cashless. Moreover, several European countries, including Spain, Italy, Germany, China, and South Korea, have embraced cashless payments to a larger extent.
Apart from this, governments worldwide are considering adopting the Central Bank Digital Currency(CBDC) to dominate the digital commerce landscape and make the economy future-ready.
Coronavirus pandemic is another reason responsible for the crypto boom as governments across the globe moved to print more money to eradicate the economic crisis. Since cryptocurrencies enable faster payment at higher transaction volumes and lowest costs, they are widely accepted. 
DLT-Based Business Solutions 
Eric Schmidt, the former Google CEO, once stated that the ability to create something which is not duplicable has tremendous value, and if implemented, multiple people will build businesses on top of that. His statement seems to be realistic in 2020 as there has been a surge in the adoption of DLT-based business solutions.
COVID-19 pandemic has forced organizations, enterprises, government institutions, and even the general crowd to find alternative solutions to deal with the crisis situation. 
Due to the pandemic situation, institutions and organizations are looking for digital workflow alternatives. Since then, digitalization has been accelerated in international trade and other sectors. 
According to the report published by the World Trade Organization(WTO) indicates that there is an upsurge in DLT and blockchain-based projects in order to achieve increased workflow efficiency, reduce transaction costs, and improve collaboration.
Ethereum to Hit New Momentum in 2020 
Although Bitcoin continues to play a larger role in the world's cashless future, its progress seems less compared to the milestones Ethereum has achieved this year. 
Ethereum has shown significant growth due to the new wave of excitement around the booming decentralized finance(DeFi) sector.
Unlike traditional financial institutions, DeFi platforms allow users to lend and loan money using stablecoins without going through the cumbersome KYC verification procedures. Other benefits include that DeFi projects such as Compound allows users to start earning an estimated interest of about 7% a year. Recently, a week ago, Dune Analytics announced that DeFi had reached a million users. According to DeFi Pulse, the total value locked in DeFi projects is around $14 billion.
June edition of the Crypto Research Report (CRR) predicts the price of various cryptocurrencies, including Ethereum, and it was predicted that its price is expected to reach $331, $3,549, and $3,644 in 2020, 2025, and 2030, respectively. 
Few technocrats and Ethereum Experts also believe that the recent launch of Ethereum's latest upgrade, Phase 0 that introduced Beacon Chain, may speed up enterprise blockchain adoption in the near future.
Want to gain an in-depth understanding of Ethereum and become a Certified Ethereum Expert? We are here to assist you.
Crypto To Beat Gold 
A few years back, in 2018, a statement was made by Mike Novogratz, CEO, and founder of Galaxy digital holdings, saying 'Bitcoin is digital gold.'
In fact, a recent report also suggests that Bitcoin as a crypto asset has gone as far as outperforming gold this year. It was stated that the Bloomberg Galaxy Crypto Index of digital coins has rallied by 65%, exceeding gold's jump of more than 20 percent. A key reason for this surge is attributed to the wave in Ethereum, which accounts for more than a third of the crypto gauge's weight, and the increased adoption of DeFi has driven the climb in the Ethereum ecosystem.
Concluding Lines: Will The Future be Even Brighter?
COVID-19 pandemic has caused an upsurge in crypto and Blockchain adoption. Although there are a few challenges associated with the current state of Blockchain, looking at the stats, analytics, and expert comments by technocrats indicate that this adoption will explode in the years to come. To end up, we can say that DeFi is playing a major role in and will continue to provide advanced and secured finance by offering faster transaction services, attractive yields, and infrastructure that promotes advanced and secured finance.
If you are interested in learning more about cryptocurrencies and their trading strategies, you can get enrolled in Certified Cryptocurrency Trader, one of the most demanding certification course offered by Blockchain Council.
To get instant updates about Blockchain Technology and to learn more about online Blockchain Certifications, check out Blockchain Council.