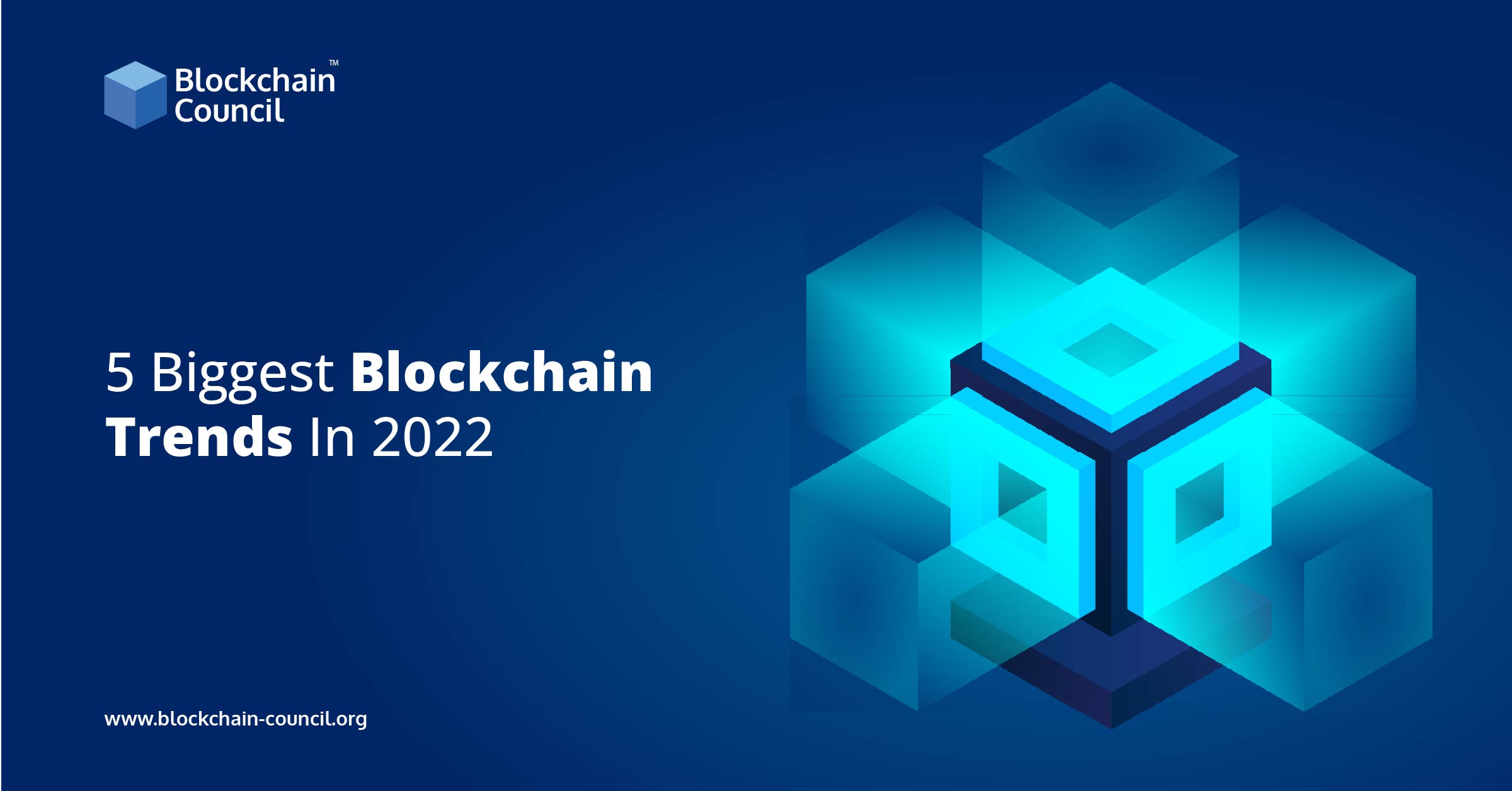 When Satoshi Nakamoto shared Bitcoin's whitepaper, no one would have thought in their dreams that the novel concept of paperless money will unlock a new wave of growth and innovation. The use of blockchain technology worked as the powerful catalyst supporting the entire decentralized ecosystem.

Calling 2021 as a ground-breaking year for the blockchain and crypto industry will not be an exaggeration for sure as we saw NFTs hurling up to new milestones, DeFi reaching maturation level, and Metaverse and Web3 technology attracting the attention of big firms. Top-tier cryptocurrencies soared to their all-time high values pushed by the active participation from investors across the world. This article will help you explore the various blockchain trends that are likely to prevail in 2022 and enthrall investors. Let's start to learn blockchain trends making a stride this year globally:
A Titbit on Blockchain Technology
If we look at the word 'Blockchain,' it shows that it highlights two essential elements 'a block' and 'a chain.' In Layman's terms, blockchain is a close-knit infrastructure where data is stored in blocks connected to each other through cryptography. Also referred to as a Decentralized Distributed Ledger, blockchain promotes the idea of decentralization where everyone gets a fair chance to own, interact, and grow without any interference from third parties. The digital database facilitates the storage of transactions and contracts in interconnected blocks. Each block is timestamped, encrypted, and immutable.
The world witnessed the first mention of blockchain technology in 2009 when Satoshi Nakamoto presented the idea of paperless money called Bitcoin. In the initial phase of crypto evolution, blockchain technology was seen as something with a limited scope of operation. However, as experts started delving deeper into the layers of the technology through research, they managed to discover the unprecedented potential of blockchain in revolutionizing the ecosystems we work in. Today, we can find blockchain applications across a wide range of industrial domains including finance, banking, education, healthcare, e-gaming, etc. You name it and blockchain is already making strides in the sector.
Salient Features of Blockchain Technology
Security
As mentioned earlier, blockchain stores data in blocks that are connected through cryptography which offers high-end security to the system. The decentralized structure eliminates third-party intrusions as all the transactions are verified by the participating nodes quickly. Blockchain supports immutability which means that no outsider can replace, delete, or modify the data stored on the network.
Transparency
Transparency is an important element when it comes to financial operations. Blockchain ensures full transparency in the execution, storage, and management of data. The ledger stores the history of each and every operation executed on the channel by the involved parties so that data is easily accessible at the time of need as proof.
Decentralization
The information about the transactions is not stored on one centralized server. Many network nodes store the data so as to ensure complete decentralization of power. With dependence on blockchain platform, users can enjoy thorough independence and interoperability.
Top Blockchain Trends To Make Way in 2022
Expansion of Blockchain as a Service 
Experts suggest that this year will witness the widescale development of firms and platforms offering BaaS services. For the unversed, Blockchain as a Service or BaaS is a robust solution that helps users to employ cloud services for building, using, and hosting their blockchain projects swiftly. It draws its inspiration from the Software as a Service (SaaS) infrastructure and adopts a similar working strategy. The concept involves services related to core infrastructural maintenance such as installation, monitoring, configuration, etc. The perks of using BaaS services are:
Less working complexities
Reduced cost of investment while using blockchain
Make the maximum out of the technology without requiring to code your network elements. This includes the use of blockchain chains, smart contracts, and DApps.
Enhanced security and transparency standards within the business module.
Presently, tech giants like Amazon, Microsoft, and IBM are at the forefront of offering BaaS services to customers. These firms used Ethereum, Corda, and Hyperledger for providing BaaS solutions. However, the scope of their services is limited to large-scale companies. With a sudden growth in medium and small-scale businesses along with entrepreneurship, soon we can see more firms entering the BaaS cluster to offer services to these entities. This will also bring blockchain to mainstream business and diversify its use case.
Blockchain and Web 3.0
It won't be an exaggeration to say that Web3 is the future of the innovative Internet we all desire to see. Now, with a push from blockchain technology, the sector is likely to reach new horizons in 2022 and so on. Interestingly, the concept of Web3 was introduced by Ethereum co-founder Gavin Wood who projected the idea of an Internet where power is decentralized unlike the centralized structure at present. Presently, global entities Alphabet, Microsoft, Meta, Apple, and Amazon own the biggest share of information on the Internet. They control and manage what goes into the web.
Gavin proposed a decentralized Internet called Web 3.0 where everybody will get the right to own and control. Web3 technology supports digitalization and promotes an open-source decentralized web model. Various reports suggest that 2022 will witness the growth of the partnership between blockchain technology and Web3. Firms and developers will put their energy to craft solutions that will use blockchain to unleash the potential of Web 3.0 technology.
The Rise of Non-Fungible Tokens 
Non-Fungible Tokens are like a magical wand that bestows ownership rights to asset holders. They use blockchain technology to confirm the user's right to a physical or virtual thing. Emerging as the biggest investment trends of 2021, NFTs allowed users to grab a share of unique and exclusive real-world assets. The digital collectibles became the most popular financial tool for celebrities, sports personalities, and business clusters. NFTs are digital collectibles representing items from the real world. It can be an art piece, signature of your favorite player, merchandise, or anything you can think of. Each NFT token is unique and they are non-fungible which means they cannot be exchanged or traded like crypto.
In 2022, we are likely to witness the expansion and diversification of NFTs to new verticals and users. The use of NFTs in e-gaming, promotion of products, and engagement with fans is likely to surge. As the blockchain industry will continue to experiment, we shall see more advanced versions of NFTs entering the market space. The users can learn about NFTs through blockchain courses.
Blockchain and Metaverse 
With Facebook changing its name to Meta and with Mircosoft experimenting with new products, Metaverse is the next big thing for the tech space. Revolving around the concept of virtual reality, Metaverse allows users to interact, operate, and earn in a completely new paradigm. It is the future of the Internet as it promises to open a new era of technological innovation.
In simple words, Metaverse is a 3D universe where several virtual ecosystems connect to form a bigger cluster. Users can play, communicate, and work together in these 3D spaces. Metaverse is a combination of Augmented Reality, Virtual Reality, and Blockchain Technology. It is more than just a virtual space as it incorporates various technical elements within it which are yet to be disclosed. Platforms like Decentraland, Axie Infinity, SecondLife, etc. are the examples highlighting the integration of blockchain technology and Metaverse. Cryptocurrencies help to build a digital economy in which investors can use tokens and assets in various purposeful means.
This year we can expect more active participation from big tech firms in the field of Metaverse. Multinationals like Google and Facebook might come up with new innovations and products in the sector. Metaverse is likely to garner attention from big as well as small firms and is likely to penetrate further across the globe.
Scope of Blockchain in DeFi To Expand 
In the technological era where going digital is the need of the hour, security is a major concern. The situation becomes more complex when it comes to the field of Decentralized Finance or DeFi. The concept has emerged as a trusted and safe way to unleash the potential of digital economy. Presently, one can easily find a wide range of blockchain-empowered platforms dealing in finance and insurance activities. The sector uses blockchain to ensure safety of funds and transparency in working strategies.
This year we will witness improved versions of security and safety protocols within the DeFi space. DApp developers will emphasize on curating products that will detect intrusions and malicious operations before they cause much damage to the core network. Cryptocurrencies like ETH, SOL, DOT, etc. will help to expand DeFi as they offer enhanced scalability and security to users. Projects like Forta that allows centralized apps to trace the security and Nexus Mutual that facilitates smart contract-based insurance will conitnue to attract more customers.
Sustainable Blockchains
'Go Green' will be the ultimate moto for various blockchain-supported firms in 2022 as we will move towards a more sustainable economy. As we know that blockchain mining is a rigorous process that involves heavy electricity consumption and energy release. The process lifts up the level of greenhouse gas emissions significantly. The adverse environmental impact of mining was one of the main reasons for Tesla CEO Elon Musk to stop using Bitcoin as a payment tool for Tesla car purchases.
It is likely to witness active participation of firms in adopting green initiatives. Focus will shift to reduction in the carbon footprint by acting accountable for their deeds. There are multiple ways to support this notion such as the use of carbon offsets, energy-efficient mining tools, and many more. The switch from Proof-of-Work to Proof-of-Stake consensus mechanism will also be encouraged to support sustainable blockchain goals.
Global Expansion of Cryptocurrencies
The previous year saw tremendous growth in the popularity of cryptocurrencies and blockchain technology. There was a rise in the mainstream adoption of virtual currencies especially to recover from the economic turbulence caused by the COVID-19 crisis. El Salvador became the first country in the world to accept Bitcoin as a legal tender to strengthen the remittances and payments network in the country.
Experts suggest that this trend will continue to flourish in 2022 as well and more countries will join the crypto bandwagon to ensure financial stability. Also, with governments around the world emphasizing on Central Bank Digital Currency or CBDC projects, the industry is likely to reach new domains. Financial watchdogs are taking necessary steps to chalk out a unified regulatory setup for managing, controlling, and operating virtual currencies, crypto exchanges, and related firms.
Blockchain and IoT
The use of blockchain technology to support the concept of Internet of Things is set to bloom in the near future. IoT is a strong network of interconnected computing devices and digital machines that facilitates exchange of data and information between them. Reports indicate that IoT will cause a surge in the volume of machine-to-machine transactions. The concept will allow users to make micropayments using virtual currencies when a digital device will purchase services from another machine. The widescale proliferation of 5G technology in 2022 will also promote innovation in the field. The users will get access to speedy connectivity and higher scalability.
Conclusion
Living in the technological bliss exposes us to new opportunities of growth and fuels experimentation with the existing tools to find the undiscovered. Every year encourages tech enthusiasts to use their expertise and innovate something unique. In 2021, we saw the burgeoning success of cryptocurrencies, stablecoins, NFTs, Metaverse, and Web3. Ever since the start of 2022, we have witnessed the same trends taking over the industrial and financial space. With Blockchain Technology supporting these new-age concepts, we can expect that the future belongs to decentralized resources. The industry is growing in heaps and bounds and as predicted in this article we are likely to see some path-breaking innovations in 2022 as well. If you are interested in learning more about blockchain technology, you can enrol in one of the best blockchain certification courses available on Blockchain Council for gaining subjective and practical knowledge.