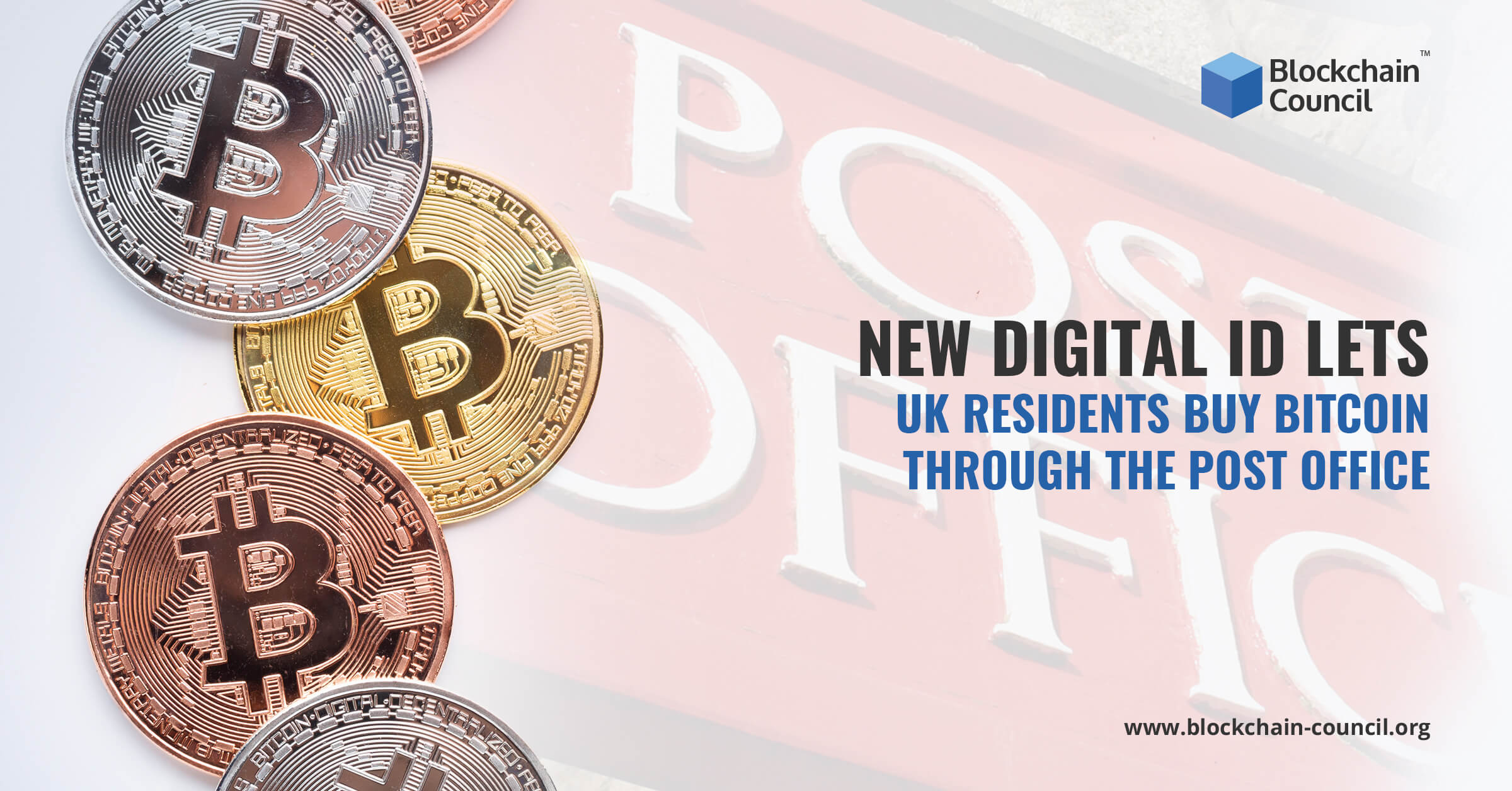 Buying Bitcoin and other cryptocurrencies here in the UK has always been a bit of a challenge. UK residents interested in purchasing cryptocurrencies have had to carefully weigh technical requirements, privacy concerns, and the legality of Bitcoin and other currencies. Things are looking up a bit, though, with an easier and safer way to buy Bitcoin through Post Office.

Post Office's New Online Identification Program
One of the primary challenges behind any Bitcoin purchasing scheme has been identity verification. While cryptocurrencies themselves have this problem down pat thanks to private key encryption, exchanging them for traditional currencies isn't easy. Post Office relies on a recent partnership with Yoti, a digital identity company, to handle that aspect of these transactions.
Post Office is launching its new verification method, Post Office EasyID. This system uses a free app combined with personal data and biometrics to provide a reusable ID for online use. The app offers a concrete way for UK residents to prove their identity online without compromising security. This is an essential step for making authorized cryptocurrency purchases.
Post Office EasyID is set to unify numerous different identification requirements under a single app. In addition to its use in cryptocurrencies, the ID will allow users to collect mail and parcels, claim lottery winnings under £500, access rental markets, manage personal information online, and gain access to exclusive social networking sites for verified users.
Swarm Markets Cryptocurrency Exchange
Swarm Markets is a UK cryptocurrency exchange that will allow Post Office EasyID vouchers to purchase Bitcoin and Ethereum. This is handled by purchasing vouchers which are then exchanged for the currencies themselves. The integration with the official Post Office EasyID system adds significant security to transactions through the exchange. Trust has long been an issue for everyday people interested in cryptocurrencies.
On the announcement of the new development, Philipp Pieper, co-found of Swarm Markets, stated, "Until now, people have been locked out of DeFi because there hasn't been a secure, trusted, and regulated platform for them to use. More people now have the option to get started in crypto and enjoy the benefits of DeFi."
This latest move towards accepted legitimacy and easier access for widespread use marks a significant development towards mainstream acceptance for decentralized finance in the UK.
Giving Bitcoin Buyers More Options
Figuring out how to buy Bitcoin and other cryptocurrencies starting from actual cash has been a hurdle for many investors in the past. The easiest method by far has been to purchase them through a cryptocurrency exchange. These organizations facilitate trades between different types of cryptocurrencies and allow people to deposit or withdraw funds.
Most exchanges take credit cards, and some can accept money through other methods. The limiting factor has traditionally been that people don't want to give their credit card numbers to a website that operates in a legal gray area at best. While large exchanges have established themselves as trustworthy, there is always a concern over privacy and security, especially after the collapse of Mt. Gox, then the largest exchange in the world, in 2014.
With the new arrangement, UK residents will be able to purchase vouchers directly at Post Office. They'll be able to pay however they like, eliminating the risk of handing financial information over to an unreliable website. They then redeem the vouchers with Swamp Markets, and the cryptocurrency is deposited into their virtual wallet.
Bitcoin Security and Privacy in the UK
This can be seen as a great development for cryptocurrency security in the UK, and protect you from certain crypto scams like Immediate Edge which was exposed by industry watchdog site ScamCryptoRobots.com. It's essentially the first legitimate way to buy Bitcoin and really own it yourself. The cryptocurrencies you buy with Swamp Markets are held in your own wallet, giving you complete control. You've also limited your risk by putting a clear divide between your cryptocurrency holdings and your banking or credit information. However, these benefits could come at a cost.
Some people are interested in the anonymity that cryptocurrencies can offer, but this essentially does away with that. This process gives the government a method to connect your actual identity to your Bitcoin wallet beyond a shadow of a doubt. Because the blockchain is a public ledger, it can start to piece together any and all transactions you make through that wallet. Purchasing Bitcoin through Post Office is a big step for cryptocurrencies in the UK, but not everyone will agree it's in the right direction.