Introduction
As we hurtle into the heart of the 21st century, the impact of artificial intelligence on industries is undeniable. Whether you're just dipping your toes or diving deep into the AI waters, understanding the top 10 AI jobs anticipated by 2025 is paramount. This guide will break down these roles, unraveling their complexities, and providing insights for both beginners and experts. Let's embark on a pragmatic exploration of the AI jobs that will define the near future.
AI and Job Landscape Transformation
The Rapid Evolution of AI Technology
The exponential growth of AI technology has been remarkable indeed. The global AI market, projected to reach an astonishing $1.59 trillion by 2030, showcases its unprecedented potential. From machine learning algorithms that learn from data to neural networks mirroring the human brain, AI has matured beyond mere theory. Notably, the AI market in the United States alone is expected to touch $299.64 billion by 2026, a testament to its skyrocketing trajectory.

In the context of AI jobs, roles are as diverse as the technology itself. Machine learning engineers fine-tune algorithms, while data scientists dissect complex data landscapes. Interestingly, the number of AI-related job postings has surged by an astounding 450% since 2013. However, there's a twist in this narrative—the demand for AI talent is outpacing the supply. By 2025, an impending shortage of 15 million AI professionals worldwide looms.
Job Market Disruption and Creation
The rise of AI is a double-edged sword, slicing through traditional job roles while forging new paths. Repetitive tasks susceptible to automation may be at risk, but this phenomenon also births opportunities. AI-generated content, chatbots for customer service, and automated data analysis spawn roles that blend tech skills with a deep understanding of human nuances.
An intriguing dimension lies in the financial realm: the average salary for an AI job significantly surpasses that of all other jobs. In the United States, the average AI job commands a substantial $120,000. It's no wonder that 83% of companies have deemed AI a top priority in their business plans. As the lines between human and machine blur, Netflix's annual $1 billion revenue from automated personalized recommendations underscores AI's real-world impact.
Navigating the AI Job Horizon
As we approach 2025, the AI job landscape beckons the curious and the visionary. AI-powered digital voice assistants, projected to reach a staggering 8.4 billion units by 2024, will soon outnumber people. This paradigm shift across industries, including healthcare, finance, manufacturing, and retail, reflects AI's pervasive presence.
In this AI revolution, machines may reign in computation, but our human ingenuity and creativity remain unparalleled. AI auditors ensuring transparency, AI interpreters bridging comprehension gaps, and AI trainers refining models—these are the roles that embody the metamorphosis. The global economy, poised to be reshaped by AI, anticipates fresh jobs, businesses, and soaring productivity.
Traditional Jobs vs. AI-Driven Roles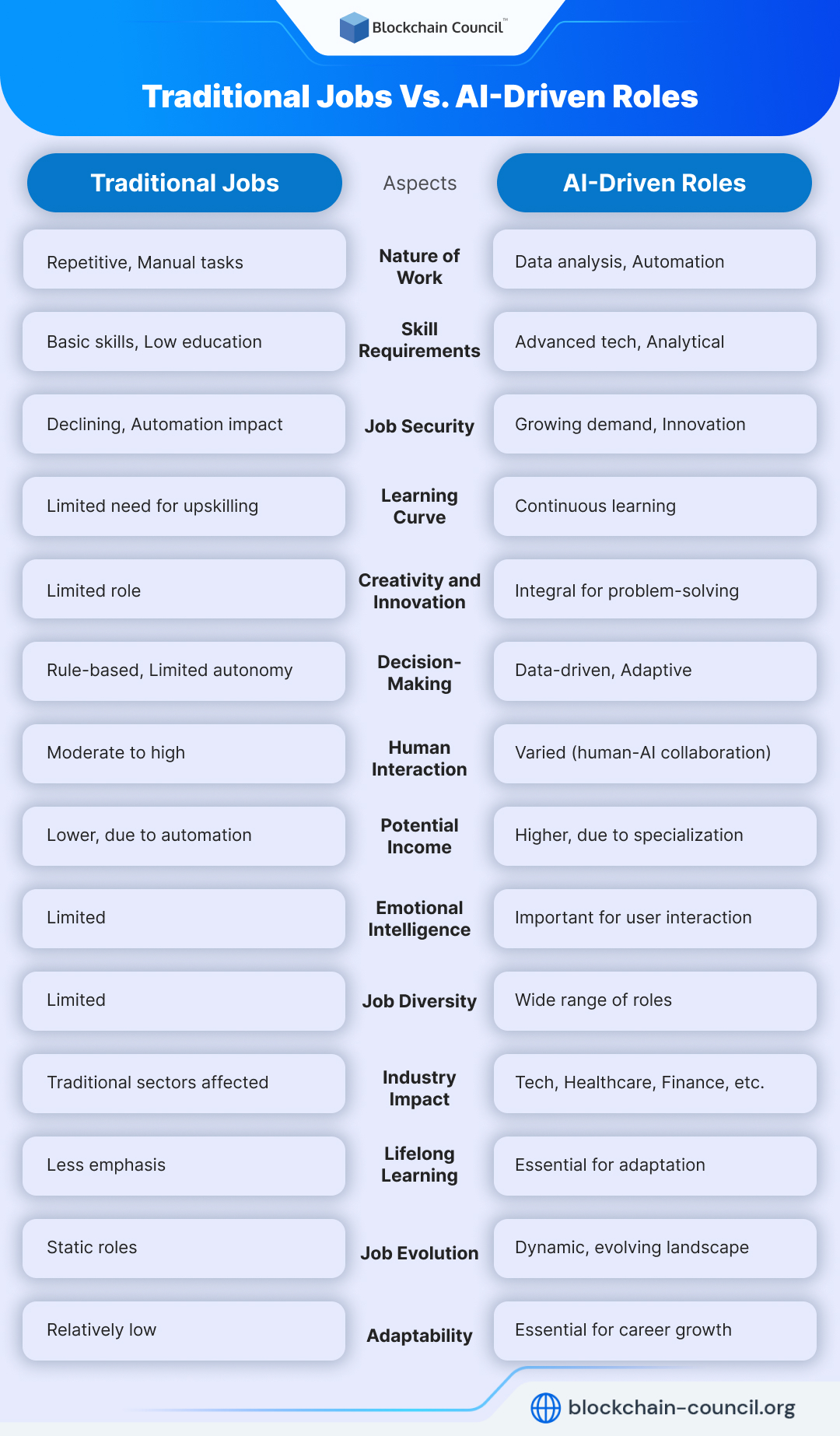 The Skill Shift: Upskilling and Reskilling for the AI Era
In a world driven by AI, staying current is no longer a choice but a requirement. For instance, AI Engineers must not only understand machine learning frameworks but also grasp programming languages like Python. This ever-evolving landscape demands professionals to continuously update their skill sets.
Reskilling takes the adaptability a step further. It involves professionals transitioning from their current roles to entirely new ones driven by AI's potential. The skill shift encompasses a wide range of learning paths. From grasping the basics of neural networks to exploring advanced fields like Quantum AI, professionals need to upskill and reskill across various levels. This spectrum of learning equips individuals to tackle current challenges and embrace future advancements.
Certified Chatbot Expert™
Be the human every chatbot needs! Master the art of NLP and become a global leader!
Exploring the Top 10 AI Jobs
AI Ethicist and Bias Analysts
Roles and Responsibilities:
In a world where AI influences decision-making, the role of AI Ethicists and Bias Analysts becomes paramount. These professionals ensure that AI technologies are deployed ethically and fairly, addressing concerns of bias and discrimination. The responsibilities in this role encompass:
Crafting guidelines for the ethical use of AI in various applications, fostering trust among users.

Identifying and rectifying biases in AI algorithms to ensure equitable outcomes for diverse user groups.

Navigating complex regulations and ensuring AI systems adhere to legal and ethical standards.
Skills Needed:
To thrive in this role, a blend of skills is essential:
Interdisciplinary Thinking:

Melding ethical philosophy with technical understanding to make informed decisions.

Data Ethics:

Grasping the nuances of data collection, usage, and privacy to minimize unethical practices.

Communication:

Articulating ethical considerations to both technical and non-technical stakeholders.
AI-Enhanced Healthcare Specialist
Roles and Responsibilities:
AI's potential in healthcare is monumental, giving rise to AI-Enhanced Healthcare Specialists who leverage technology to advance medical diagnostics, treatment, and research. This role boasts a transformative impact on patient care:
Developing AI models that analyze medical imagery and patient data for precise diagnoses.

Designing treatment plans tailored to individual patient characteristics using AI-driven insights.

Utilizing AI algorithms to expedite drug development, potentially revolutionizing pharmaceutical research.
Skills Needed:
To excel in this role, proficiency in the following areas is key:
Medical Domain Knowledge:

A solid understanding of medical practices and terminology to bridge AI capabilities with healthcare needs.

Machine Learning Expertise:

Proficiency in machine learning techniques, enabling the creation of accurate predictive models.

Clinical Collaboration:

Effective communication with medical professionals to translate AI outputs into actionable insights.
Autonomous Vehicle Engineers
Roles and Responsibilities:
Designing and developing algorithms that enable self-driving cars to navigate, make decisions, and respond to dynamic environments.

Collaborating with cross-functional teams to integrate AI technologies, such as computer vision and sensor fusion, into autonomous vehicle systems.

Ensuring the safety and reliability of autonomous vehicles by conducting rigorous testing and validation processes.

Implementing machine learning models to enhance perception, path planning, and control systems for seamless autonomy.
Skills Needed:
Machine Learning Mastery:

Proficiency in machine learning frameworks like TensorFlow and PyTorch is imperative. A solid grasp of neural networks and reinforcement learning is a must.

Sensor Expertise:

In-depth knowledge of LiDAR, radar, cameras, and other sensors used in autonomous vehicles.

Robotics Fundamentals:

Understanding robotic kinematics, control systems, and path planning algorithms.

Coding Proficiency:

Fluency in programming languages such as Python, C++, and Java.

Computer Vision:

Expertise in computer vision techniques to process visual data from sensors.

Data Fusion:

Ability to integrate data from multiple sources for accurate decision-making.

Problem-Solving Skills:

A knack for troubleshooting complex technical issues.

Regulatory Understanding:

Awareness of legal and regulatory aspects of autonomous vehicles.
Data Privacy Managers and AI Auditors
Roles and Responsibilities
Safeguarding user data and ensuring compliance with data protection regulations, such as GDPR and CCPA.

Conducting audits of AI systems to identify potential biases, ethical concerns, and privacy risks in data collection, processing, and decision-making.

Collaborating with legal and technical teams to develop privacy-enhancing technologies and strategies for responsible AI deployment.

Communicating transparently with stakeholders, including consumers, regulators, and internal teams, about data usage and privacy practices.
Skills Needed
Legal and Regulatory Acumen:

A deep understanding of data protection laws, such as GDPR and CCPA.

Ethics and Bias Awareness:

Proficiency in identifying and mitigating algorithmic biases and ethical concerns.

Technical Expertise:

Familiarity with AI and machine learning principles, enabling effective algorithm audits.

Communication Skills:

The ability to communicate complex technical concepts to non-technical stakeholders.

Risk Management:

Skill in assessing and managing risks related to data privacy and AI.

Cybersecurity Knowledge:

Understanding of cybersecurity protocols to prevent data breaches.

Problem Solving:

Capability to address unforeseen challenges in data privacy and AI ethics.

Collaboration:

Working across teams to ensure alignment with privacy and ethical standards.
Certified Artificial Intelligence (AI) Expert™
Harness the power of AI innovation and become a leader in reshaping industries.
Generative AI Engineers
Roles and Responsibilities:
Architecting Synthetic Realities:

Generative AI Engineers craft the foundation of virtual worlds, designing algorithms that birth landscapes, characters, and scenarios in realms previously unexplored.

Pushing Boundaries of Creativity:

They fuel the imaginations of artists and storytellers by enabling AI to generate art, music, and narratives that captivate the human soul.

Empowering Autonomous Systems:

These engineers develop algorithms that bestow autonomous machines with the power of decision-making, transforming industries like self-driving cars and robotics.

Personalized Marketing:

Generative AI

creates tailored marketing content, revolutionizing how brands connect with consumers on a personal level.
Skills Needed:
Deep Learning Expertise:

A profound understanding of deep learning frameworks, such as

TensorFlow

and

PyTorch

, is pivotal to navigate the intricacies of generative models.

Coding Mastery:

Proficiency in languages like

Python and R

is essential to manipulate data and build AI models effectively.

Creativity and Innovation:

Thinking outside the box is paramount, as Generative AI Engineers constantly push the boundaries of what AI can achieve.
Natural Language Processing (NLP) Engineer
Roles and Responsibilities:
Transforming Language Interpretation: NLP Engineers shape AI systems that understand, interpret, and respond to human language, driving advancements in chatbots, translation, and sentiment analysis.
Extracting Insights from Text: They mine information from vast textual data, providing businesses with actionable insights and driving informed decision-making.
Enhancing User Experience: NLP experts refine virtual assistants to provide seamless, human-like interactions, revolutionizing customer service and user experience.
Ethical AI: NLP Engineers tackle the challenges of bias and ethics in language models, ensuring AI communication remains unbiased and inclusive.
Skills Needed:
Linguistic Proficiency: A deep understanding of linguistic nuances is crucial to building AI models that comprehend and generate human language accurately.
Machine Learning Mastery: Proficiency in machine learning techniques, including supervised and unsupervised learning, equips NLP Engineers to develop robust language models.
Natural Language Toolkit (NLTK) and SpaCy: Familiarity with NLP libraries like NLTK and SpaCy is essential for efficient text processing and analysis.
Machine Learning Engineers
Roles and Responsibilities
Algorithm Design:

Machine Learning Engineers play a pivotal role in crafting innovative algorithms that power AI systems, enabling them to learn and adapt.

Model Training:

They are responsible for training models using extensive datasets and fine-tuning them for optimal performance and accuracy.

Data Preprocessing:

These professionals handle data preprocessing, ensuring that the input data is clean, relevant, and suitable for training.

Evaluation and Testing:

Machine Learning Engineers rigorously evaluate and test the models' performance, making necessary adjustments to enhance outcomes.

Deployment:

They facilitate the deployment of machine learning models into real-world applications, ensuring seamless integration and functionality.
Skills Needed
Programming:

Proficiency in languages such as Python and libraries like TensorFlow or PyTorch is essential.

Statistical Understanding:

A solid grasp of statistical concepts aids in effective model creation and evaluation.

Data Manipulation:

Strong skills in data preprocessing, transformation, and feature engineering are crucial.

Algorithmic Thinking:

Problem-solving skills to design and optimize algorithms for diverse tasks.

Domain Knowledge:

Understanding the specific industry or domain to tailor AI solutions accordingly.
AI Prompt Engineer
Roles and Responsibilities
Natural Language Processing (NLP):

AI Prompt Engineers specialize in developing AI models capable of understanding and generating human-like text based on prompts.

Prompt Design:

Crafting effective prompts that elicit desired responses and maintaining model performance.

Fine-tuning Models:

These professionals meticulously fine-tune language models to produce coherent and contextually accurate outputs.

Ethical Considerations:

AI

Prompt Engineers

address ethical concerns related to bias, misinformation, and controversial content generation.

Innovation:

Continuously exploring novel ways to enhance AI-generated content and adapt to evolving linguistic trends.
Skills Needed
NLP Expertise:

In-depth knowledge of NLP techniques, including attention mechanisms, transformer models, and language generation.

Creative Writing:

Proficiency in crafting compelling and coherent narratives for various applications.

Coding Proficiency:

Strong programming skills to work with NLP libraries like Hugging Face Transformers.

Critical Thinking:

Ability to evaluate and improve model outputs critically.

Ethical Awareness:

Understanding the ethical implications of AI-generated content and striving for responsible

AI development

.
Chatbot Expert
Roles and Responsibilities:
Designing and Developing Chatbot Architectures:

Mastering

Natural Language Processing (NLP)

and machine learning frameworks to create responsive and context-aware chatbots.

Enhancing User Experience:

Understanding user behavior and feedback to continuously improve the chatbot's conversational capabilities.

Integration and Maintenance:

Seamlessly integrating chatbots into various platforms and maintaining their performance and security.

Data Analysis:

Utilizing

data analytics

to derive insights from chatbot interactions, driving iterative improvements.

Staying Abreast of Trends:

Keeping pace with the evolving NLP and AI landscape to implement the latest advancements.
Skills Needed:
NLP Proficiency:

Mastery in Natural Language Processing, sentiment analysis, and language generation.

Programming Skills:

Fluency in languages such as Python, along with a grasp of machine learning libraries like TensorFlow or PyTorch.

Problem-Solving Mindset:

The ability to dissect complex user queries and provide innovative solutions.

Creative Thinking:

Crafting engaging and contextually relevant dialogue flows.

Communication Skills:

Bridging the gap between technical jargon and user-friendly interactions.
AI-Policy Makers and Regulators
Roles and Responsibilities:
Formulate ethical guidelines and policies for the responsible use of AI across industries.

Monitor AI technologies and applications to ensure compliance with legal and ethical standards.

Collaborate with governments, organizations, and tech companies to establish regulations for AI usage.

Address concerns related to data privacy, bias, and security in AI systems.
Skills Needed:
Deep understanding of AI technologies, their potential, and their societal impact.

Knowledge of legal and regulatory frameworks related to technology and data.

Strong analytical and critical thinking skills to assess complex AI systems.

Effective communication and negotiation skills for stakeholder engagement.
Certified Artificial Intelligence (AI) Developer™
Discover the power of AI and open door to limitless possibilities.
Preparing for an AI Job: Get Certified
Landing a high-paying AI job can be tough. However, with industry-recognized AI certifications by the Blockchain Council, you can ace an AI job in this competitive age:
 
 
 
 
 
 

Certification Name

Benefits

Duration

Certification Validity

Exam

Access Mode

Certified Artificial Intelligence (AI) Expert™

Beginner-friendly training in AI and data science

12 Hours

Lifetime

Online

Self-paced

Covers core AI concepts and technologies

Up-to-date knowledge in the AI field

Certified Prompt Engineer™

Learn prompt engineering and its impact

6 Hours

Lifetime

Online

Self-paced

Hands-on experience with OpenAI API

Cutting-edge techniques in prompt engineering

Certified ChatGPT Expert

Unlock career opportunities in ChatGPT and AI fields

7 Hours

Lifetime

Online

Self-paced

Master the revolutionary ChatGPT technology

Certified Artificial Intelligence (AI) Developer™

Uplift your career as an AI developer

14 Hours

Lifetime

Online

Self-paced

Comprehensive training on AI concepts and core questions

Certified Chatbot Expert™

Gain a comprehensive understanding of chatbot design

6 Hours

Lifetime

Online

Self-paced

Develop skills in natural language processing

Master the Art of AI (Learning Path)

Combine multiple AI certifications for a comprehensive

38 Hours

Lifetime

Online

Self-paced

4-step AI education path

Deep understanding of key AI concepts and techniques
Navigating the AI Job Market: Challenges and Strategies
Intense Competition and Job Scarcity
The allure of AI has led to an influx of job seekers, resulting in intensified competition. Additionally, AI technology itself has entered the scene, posing both opportunities and challenges. However, success in this environment requires more than just coding skills. A deep understanding of machine learning, deep learning, and natural language processing is essential. Beyond technical expertise, the ability to translate complex algorithms into actionable business insights is what sets exceptional candidates apart.
This competition is not without its numbers. Job postings in AI have soared by an astonishing 450% since 2013, highlighting the growth of this sector. Yet, this growth has also led to a projected shortfall of 15 million AI professionals by 2025, emphasizing the demand for skilled individuals in this field.
Adapting to Rapid Technological Shifts
The hallmark of the AI landscape is its constant evolution, rendering previous skills obsolete at a rapid pace. Adapting to this ever-changing landscape necessitates continuous learning. Online courses, webinars, and workshops are invaluable tools in staying up-to-date with emerging AI trends.
Industries are also evolving to accommodate AI's influence, necessitating a versatile skill set. Academics transitioning to industry must apply theoretical knowledge practically, while industry veterans must refresh their skills to remain competitive. Embracing change in this manner positions professionals as drivers of innovation and encourages a culture where failure is seen as a stepping stone to progress.
Statistics further emphasize the benefits of AI roles. The average salary for an AI position significantly surpasses the average salary across other jobs. For instance, in the United States, AI professionals earn an average salary of $120,000. However, the journey isn't without its challenges. With a 2:1 ratio of job openings to applicants in the AI field, competition remains fierce.
Conclusion
In the evolving landscape of AI, these ten roles stand as pillars of progress. From enabling machines to learn and communicate to addressing ethical concerns and shaping business strategies, these roles define the AI-driven future. Whether you're starting your journey or seeking to specialize, these careers offer a glimpse into the limitless potential of artificial intelligence. As 2025 approaches, consider how these roles align with your aspirations and expertise, for the world of AI careers is ripe with opportunities waiting to be harnessed.