The rise of Web3 has presented a new mainstream opportunity for businesses to grow and use the latest tech advancements. An understanding of the working and elements of Web3 will help you develop a conscience of how to use Web3 to improve the scalability of a business. This article will help you understand the benefits of becoming a Web3 expert in 2023 and the opportunities in the Web3 domain as it disrupts the global market. 
What is Web3? 
Industry revolutions, especially the ones with technical advancements, have previously been seen disrupting the entire ecosystem of a business or organization. This revolutionary evolution of the fast Internet with 5G has landed new scenarios and opportunities for businesses, including AR, AI, ML, Blockchain, and the most popular, Metaverse. Web 3.0 was originally called the Semantic Web by World Wide Web inventor Tim Berners-Lee, and was conceived as a more autonomous, intelligent, and open internet. In 2014, Gavin Wood, founder of Polkadot and co-founder of Ethereum, used the term "Web3" to describe a decentralized online ecosystem based on blockchain. Web3 technologies is a set of new-age business and user solutions that change how humans interact with machines and exist in an ecosystem built around them. For starters, Web3 technologies include Blockchain, Metaverse, and NFT marketplaces that collectively enhance the interaction between the machine-built virtual world and humans. 

We are on the edge of facing a technological revolution that revolves around expanding and building machine learning and artificial intelligence capabilities, Blockchain-based solutions, and utilizing the fast 5G internet to develop interoperability between different devices in an ecosystem.
Read More- How To Become A Blockchain Expert In 2023?
Key Elements of Web3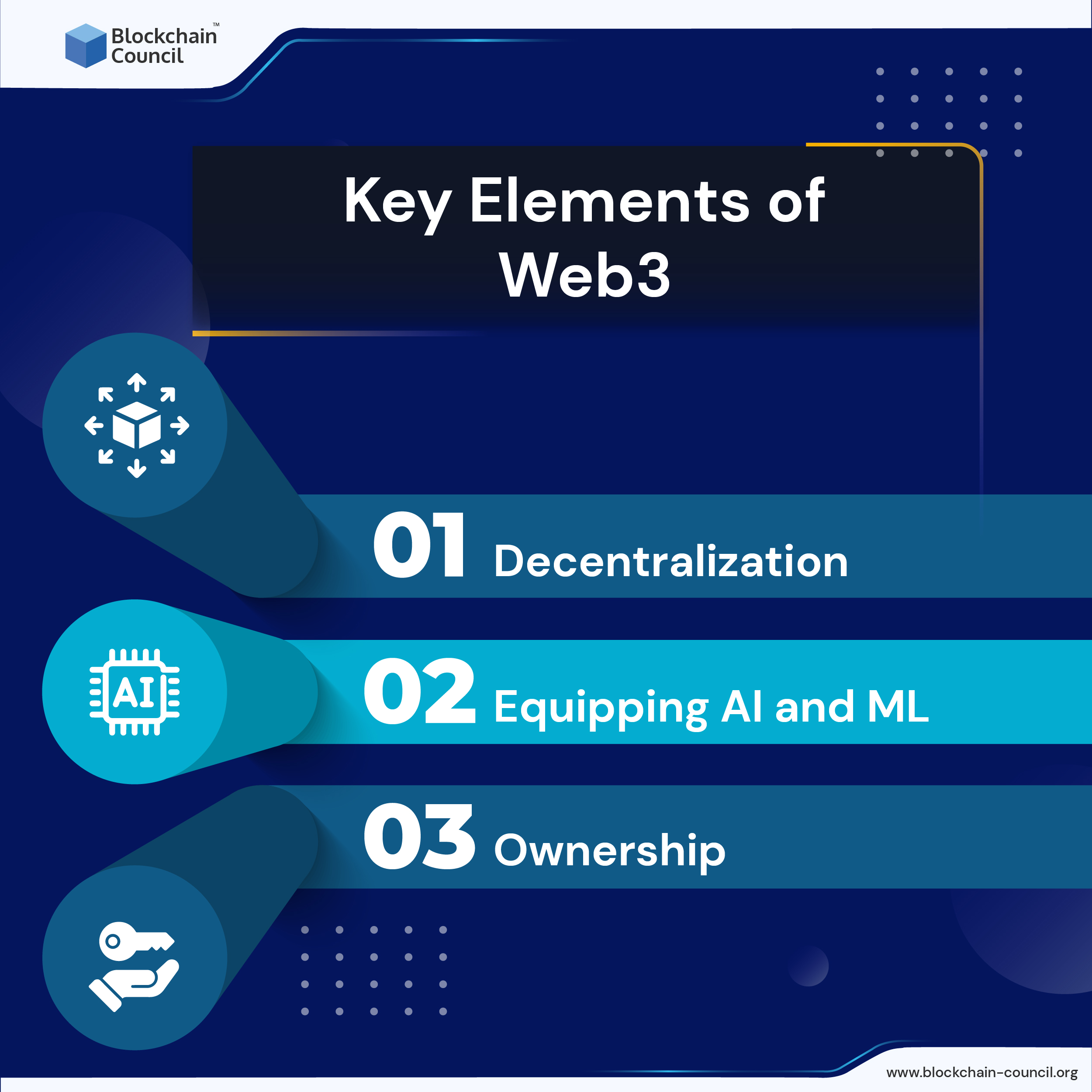 Web3 ecosystems allow organizations to implement the 'democracy' inspired decentralized architecture that solves the issues and concerns of the conventional centralized architectures like data security, lack of interoperability, and participation. There are three major elements of Web3 that are the most significant changes in an organization with Web3 integration. However, these three are not the only elements of Web3 architecture. Web3 is a wider horizon of different technologies. If you want to gain an in-depth understanding of Web3 development, you need to go with complete Web3 training that covers different aspects required to become a Web3 developer. 
Decentralization 
Web3 ecosystems are built on Blockchain technology primarily. The systems built on Blockchain function as decentralized, meaning that the entire control over a system/database or network lies in the hands of participants of the network rather than a central authority that governs all the decisions of the network. Blockchain entitles every data transaction to a block and constructs a chain of blocks to form a network that allows individuals to be part of the system. Nodes represent an individual on a chain network. Every Blockchain node keeps a vote in all the decisions on the chain and decentralizes the entire network allowing all the nodes to view, access, and use all the information and data stored on the chain. You might wonder how this decentralized network catches up to the security concerns of a chain. Web3 technologies that decentralize networks are also equipped with a distributed ledger that records every data transaction on the chain network. These entries in the ledger do not offer any node of the chain to permanently delete any recorded entry in the ledger. However, users can edit the data, and the transaction is recorded. It forms a loop and offers immutable security, which on the other hand, is lacking in most organizations nowadays. 
Equipping AI and ML 
Metaverse is one of the most popular Web3 technologies among businesses globally. It offers 3D digital spaces in a virtual world where users can perform different activities, tasks, and businesses. Metaverse is built on core technologies like AR, VR, XE, and MR that blend with artificial intelligence and machine learning to ensure seamless human interaction and experience in the virtual space. Businesses are inclined towards equipping Metaverse to get a global reach, as anyone can access a Metaverse with legit credentials. From Fashion, Education to Healthcare, Real-estate, and E-commerce, Metaverse has become a trend where every business wants a piece. Industry experts and leaders believe that Metaverse has the potential to escalate business ecosystems and allow global brands to grow together in a community-centric environment like Metaverse. For individuals who seek a booming career in Information and Technology, Metaverse is the gateway to building a secure career future-proofed with the technology of the future. The Metaverse may become a global mainstream service in the next 5 years, considering the adoption rate. 
Ownership 
The ownership element is a major missing in the present ecosystem and environment. Everything on the web becomes public, and you cannot track where it is being used globally. Millions of people can watch and use something that you created without even knowing the owner. It results in losing the authenticity, and creators suffer as monetizing the content is with such issues. Ownership might not sound as useful as it is to you in the short term, but experts believe it to be one of the major reasons Web3 technologies are getting global acceptance. 
Read More- Web3 Frequently Asked Questions For Beginners
Why are Web3 experts and developers essential to the emerging Web3 ecosystem? 
Web3 has become an integral part of business ecosystems, and the adoption rate is growing rapidly. This paradigm shift in businesses created opportunities for individuals and professionals with expertise in Web3 technologies. In recent years, the requirement for Web3 developers has increased exponentially, and the same follows for key technologies like Metaverse and NFTs. NFT especially rose when it sustained the marketplace during Crypto winter and became stronger than ever. Brands like Nike, Adidas, and Volvo are building their marketplaces in the virtual Metaverse to become future-ready for the upcoming market transformation. There are plenty of opportunities in the Web3 domain, and professionals with expertise and certifications are getting impressive payouts, considering the global conditions of employment nowadays. 
Choose from more than 50 certifications on trending and emerging career domains like Metaverse, NFT, and Blockchain, and work with top global companies as a Web3 expert. 
Conclusion
Web3 experts and developers have become crucial for the world to adopt Blockchain and other key Web3 technologies at full pace. During Crypto winter, there has been a considerable drift in the number of Web3 developers participating in global developments of open-source technologies and systems. However, as the market is gaining some stability, the conditions have been better. Web3 experts believe there are immense possibilities for enthusiasts who want to build a career in this emerging technology. Blockchain Council provides certifications to help you gain credibility in your knowledge and understanding of Web3 technologies. 
If you want to keep up with the trends of Blockchain industry, join our communities on Discord, Reddit and Telegram.