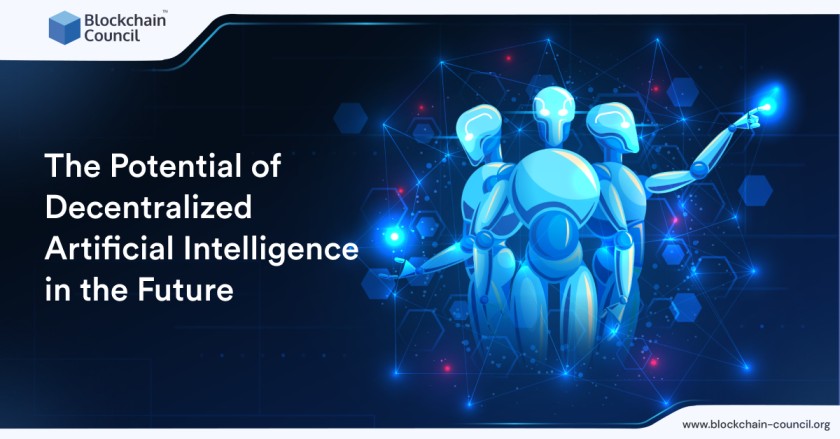 Table of Contents We live in a world of technology and innovation. Artificial Intelligence (AI) is a powerful tool in today's world to analyze vast amounts of data and make decisions faster than any human ever could. But as AI grows in popularity, the evil consequences of having all that power in the hands of…
https://www.blockchain-council.org/wp-content/uploads/2023/01/The-Potential-of-Decentralized-Artificial-Intelligence-in-the-Future.jpg
439
840
Toshendra Kumar Sharma
https://blockchain-council.org/wp-content/uploads/2022/02/Logo-500x96-1.png
Toshendra Kumar Sharma
2023-01-30 13:45:12
2023-01-30 14:47:32
The Potential of Decentralized Artificial Intelligence in the Future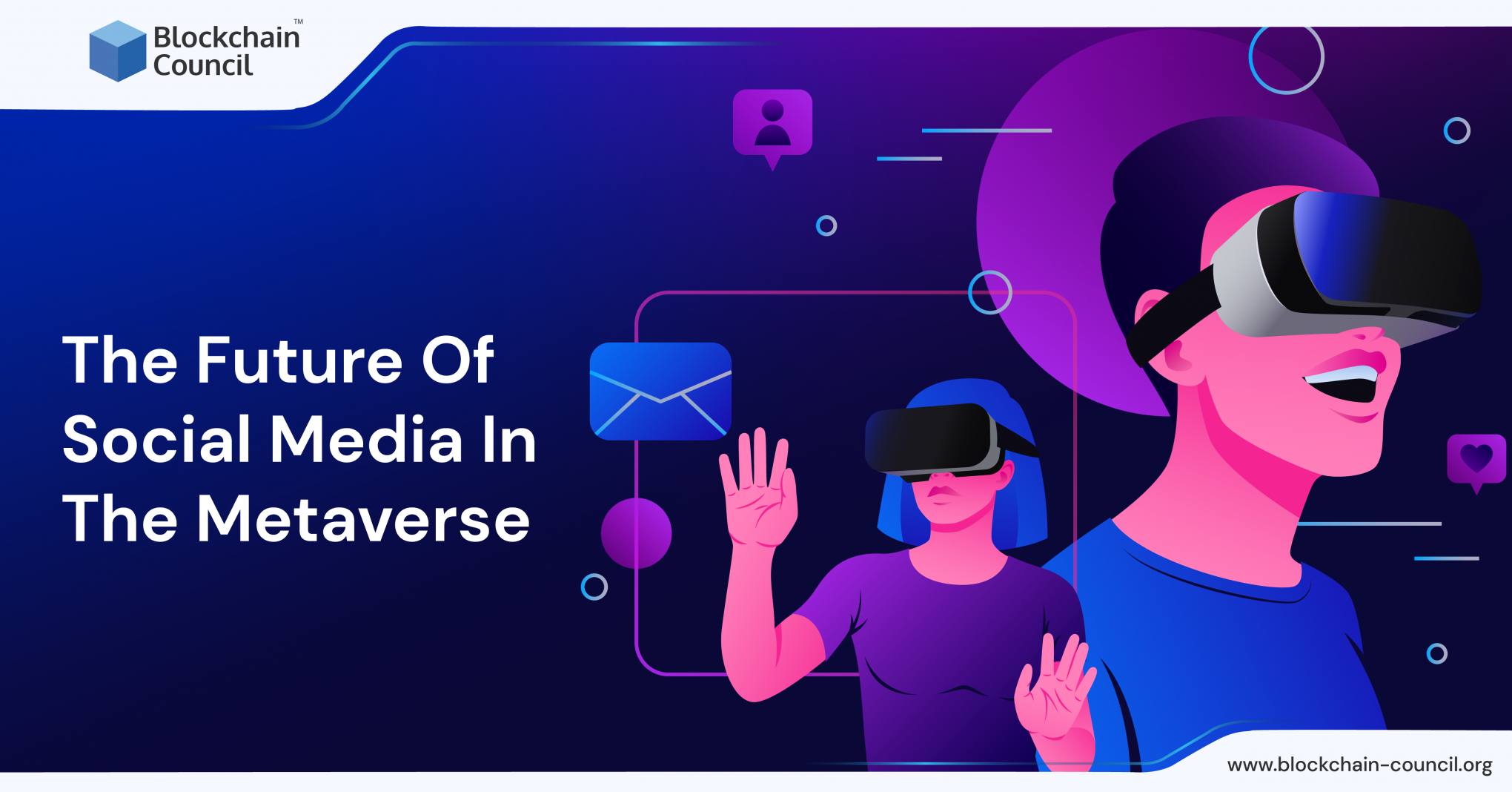 Table of Contents Overview The advancement of technology has led to the creation of virtual worlds that have changed how we interact with each other and how we consume and create content. Social media, one of the most significant technological advancements of our time, is also impacted by this shift. In this article, we will…
https://www.blockchain-council.org/wp-content/uploads/2023/01/The-Future-Of-Social-Media-In-The-Metaverse-01-e1673430748219.png
1068
2040
Blockchain Council
https://blockchain-council.org/wp-content/uploads/2022/02/Logo-500x96-1.png
Blockchain Council
2023-01-11 19:17:20
2023-01-25 09:31:37
The Future Of Social Media In The Metaverse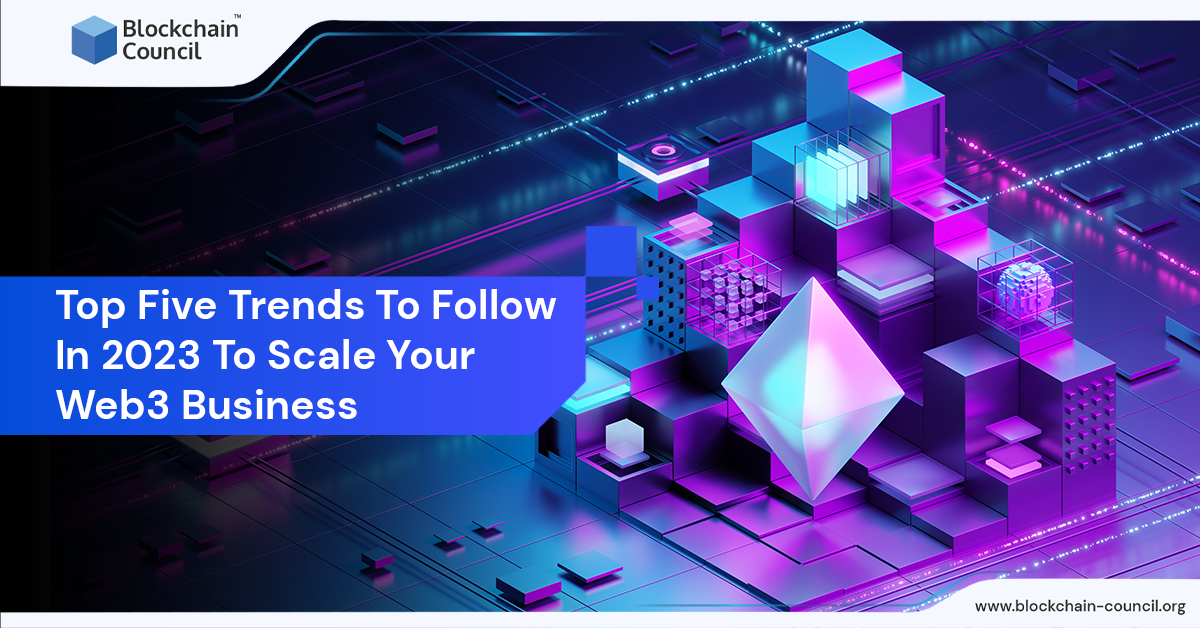 Table of Contents Introduction Web3, also known as the decentralized web, is an umbrella term that refers to a set of technologies and protocols that aim to give users more control over their online data and interactions. These technologies, such as Blockchain and peer-to-peer networks, are driving the next generation of the internet and are…
https://www.blockchain-council.org/wp-content/uploads/2023/01/5-Web3-Trends-That-Will-Go-Big-in-2023.png
628
1200
Pradeep Aswal
https://blockchain-council.org/wp-content/uploads/2022/02/Logo-500x96-1.png
Pradeep Aswal
2023-01-10 13:34:07
2023-01-11 13:17:33
Top Five Trends To Follow In 2023 To Scale Your Web3 Business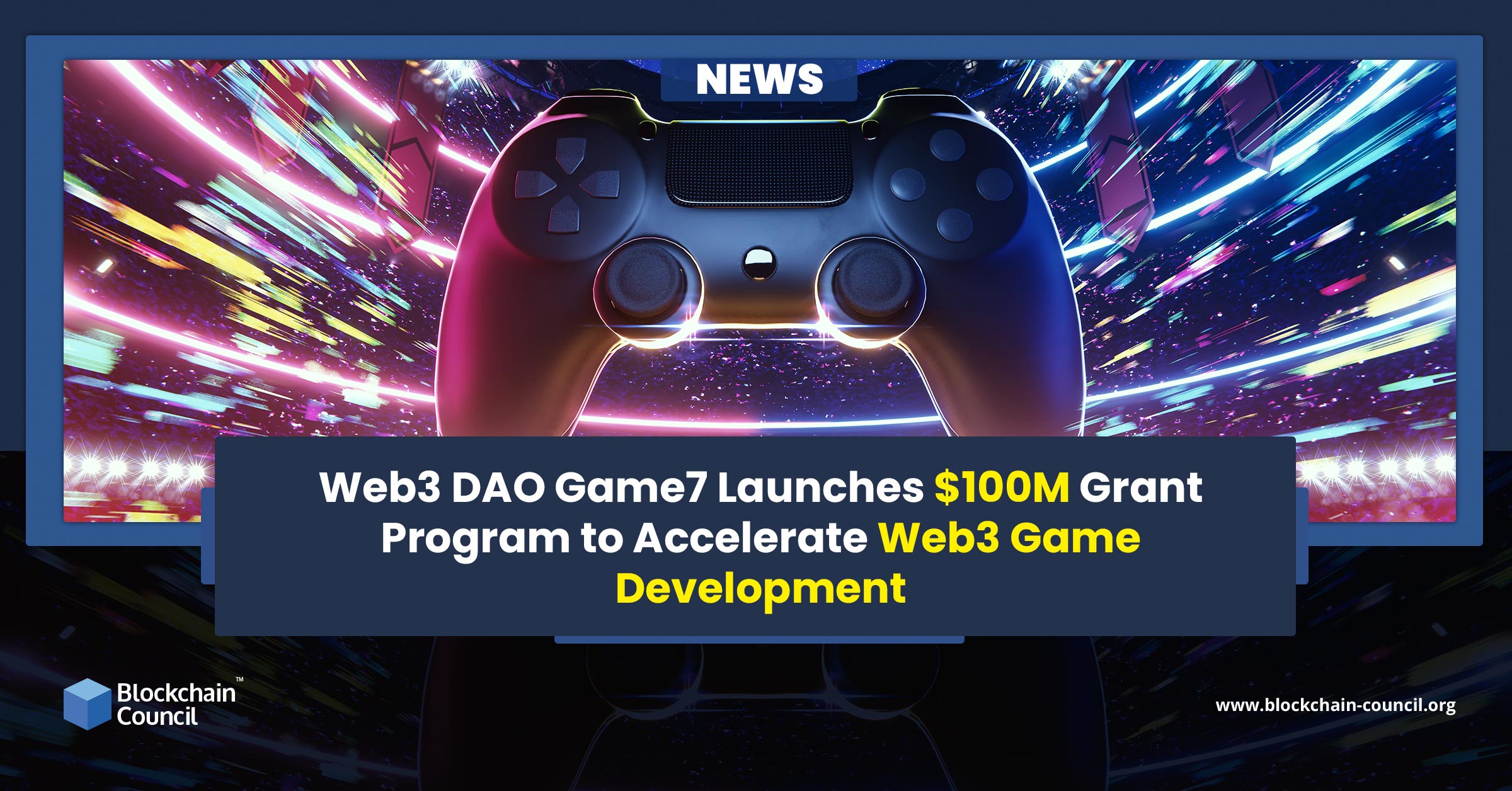 The decentralized autonomous organization, Game7, is operating actively in the web3 gaming space. The brand has now announced a grant program to nourish the development of metaverse gaming with web3 Technologies. The firm said that this grant would accelerate web3 gaming community development. They announced the grant with a tweet saying, "we are putting web3…
https://www.blockchain-council.org/wp-content/uploads/2022/11/Web3-DAO-Game7-Launches-100M-Grant-Program-to-Accelerate-Web3-Game-Development-news-emailer.jpg
1256
2400
Anshika Bhalla
https://blockchain-council.org/wp-content/uploads/2022/02/Logo-500x96-1.png
Anshika Bhalla
2022-11-30 11:46:40
2022-11-30 11:46:40
Web3 DAO Game7 Launches $100M Grant Program to Accelerate Web3 Game Development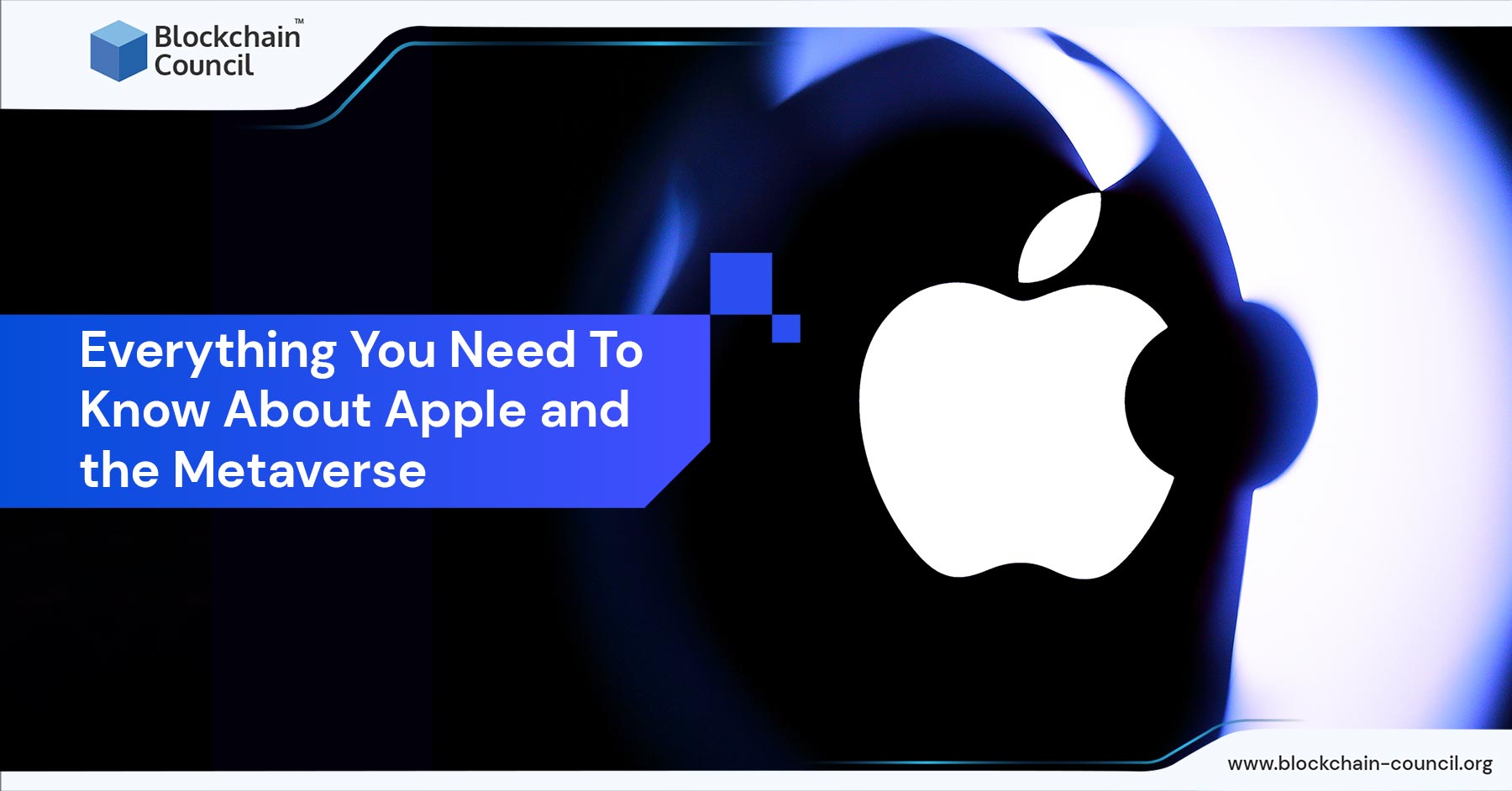 Apple is working on offering immersive experiences with the help of augmented reality, virtual reality and mixed reality, like crucial innovations. But it's Apple that we are talking about, and one thing that sticks with the organization's brand image is consistency and a risk-free ecosystem. With a web3 transformation of the entire global marketplace striking…
https://www.blockchain-council.org/wp-content/uploads/2022/11/Everything-You-Need-To-Know-About-Apple-and-the-Metaverse.jpg
942
1800
Blockchain Council
https://blockchain-council.org/wp-content/uploads/2022/02/Logo-500x96-1.png
Blockchain Council
2022-11-09 15:01:55
2022-11-09 15:05:01
Everything You Need To Know About The Apple and the Metaverse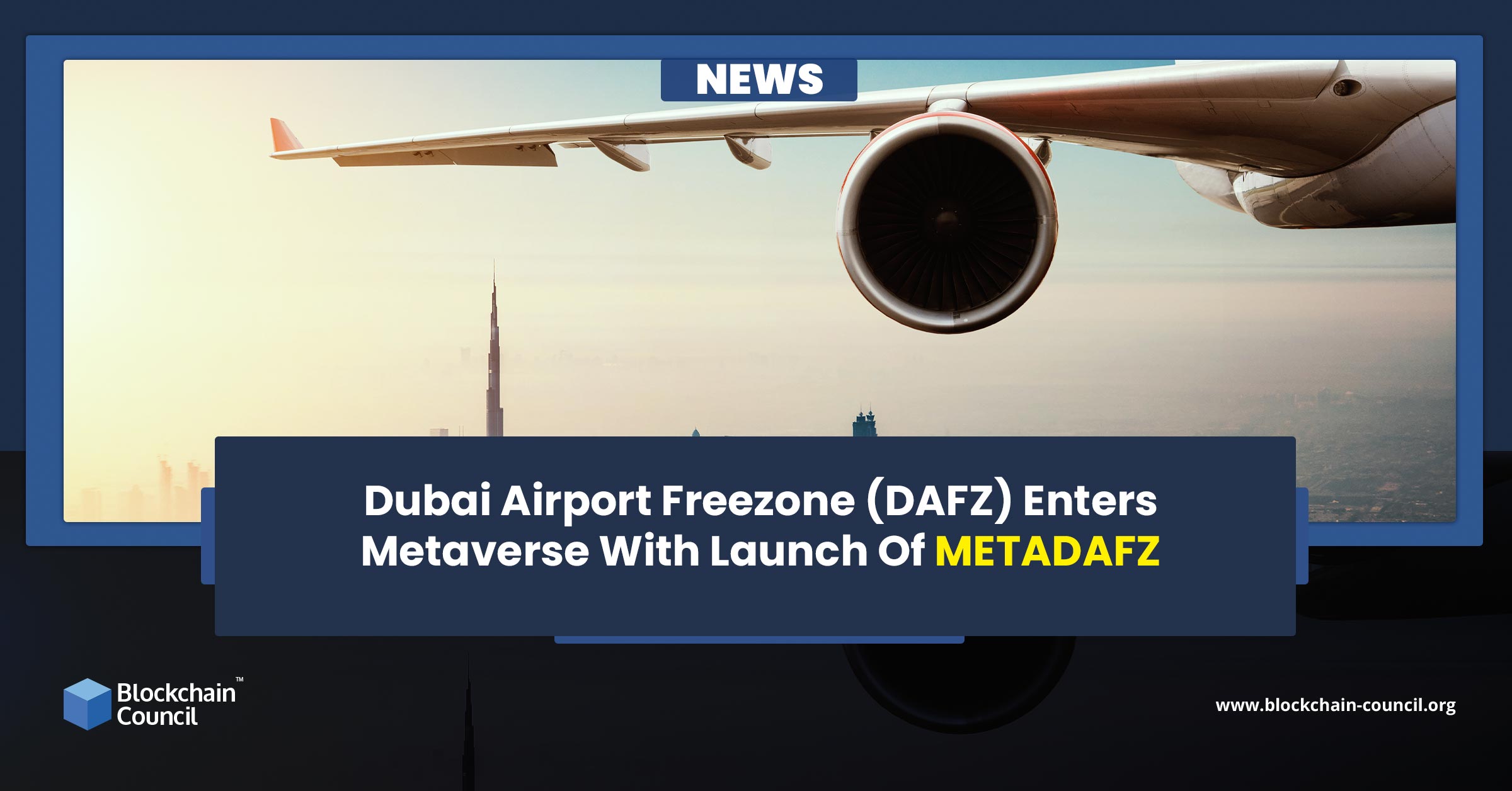 Metaverse development is in its initial stage, and nobody knows what a fully developed metaverse would look like. After all this, the newest technology in the world is driving people crazy, and businesses are looking at it as a new source of driving sales figures crazy. Out of all the countries, the Middle East and…
https://www.blockchain-council.org/wp-content/uploads/2022/10/Dubai-Airport-Freezone-DAFZ-Enters-Metaverse-With-Launch-Of-METADAFZ-news-emailer-1.jpg
1256
2400
Ayushi Abrol
https://blockchain-council.org/wp-content/uploads/2022/02/Logo-500x96-1.png
Ayushi Abrol
2022-10-10 14:46:46
2022-10-18 04:50:51
Dubai Airport Freezone (DAFZ) Enters Metaverse With Launch Of METADAFZ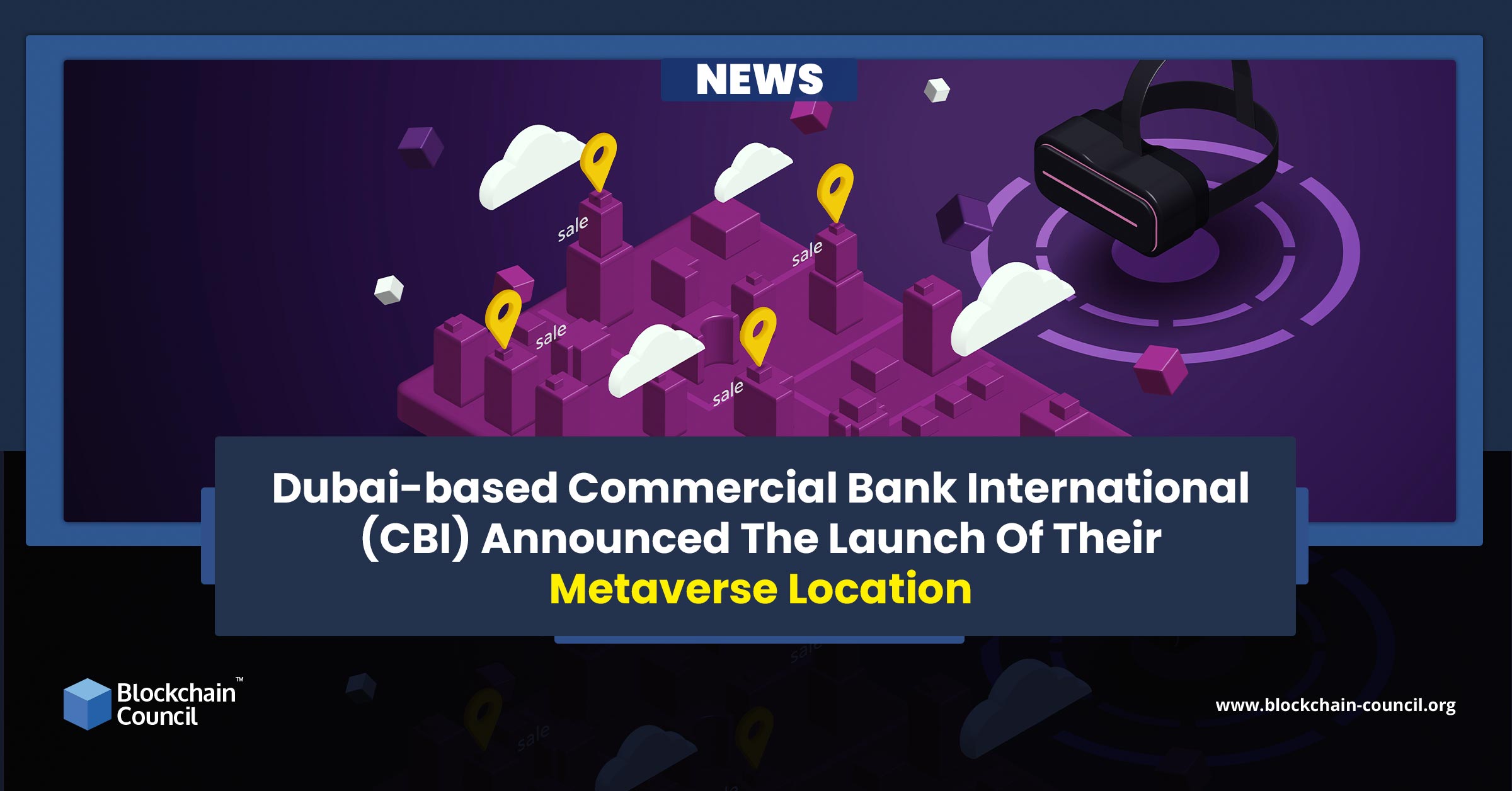 Commercial Bank International (CBI), a leading Dubai banking service provider, has confirmed its presence in the metaverse. As per the announcement made by the banking entity, popularly known as CBI, they will be the first United Arab Emirates bank to provide services in the web3-based metaverse. The leading banking service provider has chosen Decentraland as…
https://www.blockchain-council.org/wp-content/uploads/2022/10/Dubai-based-Commercial-Bank-International-CBI-Announced-The-Launch-Of-Their-Metaverse-Location-news-emailer.jpg
1256
2400
Ayushi Abrol
https://blockchain-council.org/wp-content/uploads/2022/02/Logo-500x96-1.png
Ayushi Abrol
2022-10-10 13:17:11
2022-10-18 05:36:21
Dubai-based Commercial Bank International (CBI) Announced The Launch Of Their Metaverse Location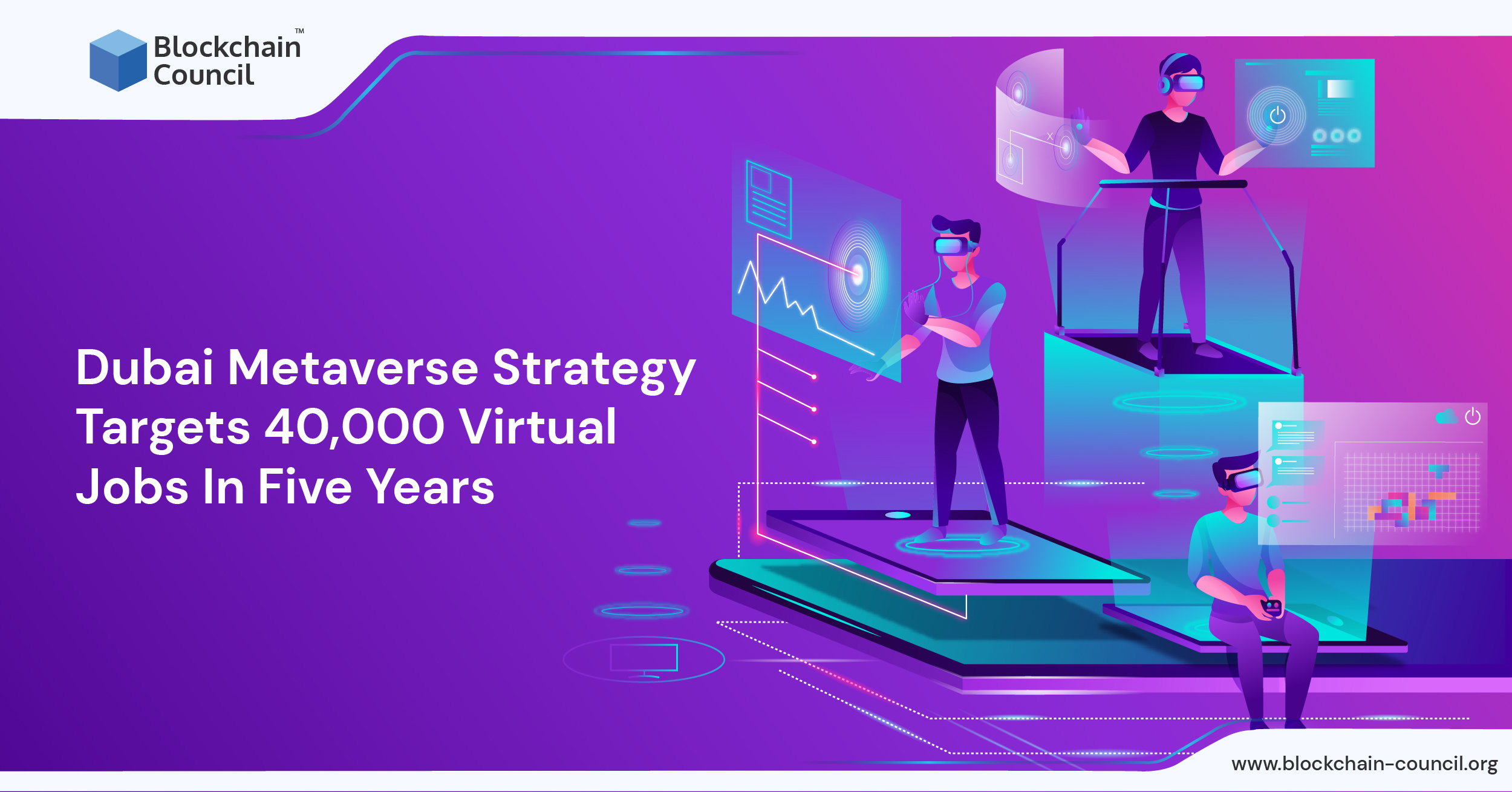 The Chairman of Dubai Executive Council and Crown Prince of Dubai, Sheikh Hamdan bin Mohammed bin Rashid Al Maktoum, announced the official launch of Dubai's Metaverse Strategy, stating clearly the city's aim to make a big leap in turning it into one of the top 10 global metaverse economies. The strategy also pointed out the…
https://www.blockchain-council.org/wp-content/uploads/2022/10/Dubai-Metaverse-Strategy-Targets-40000-Virtual-Jobs-In-Five-Years-01.jpg
1309
2500
Blockchain Council
https://blockchain-council.org/wp-content/uploads/2022/02/Logo-500x96-1.png
Blockchain Council
2022-10-01 06:24:31
2022-10-18 05:59:08
Dubai Metaverse Strategy Targets 40,000 Virtual Jobs in Five Years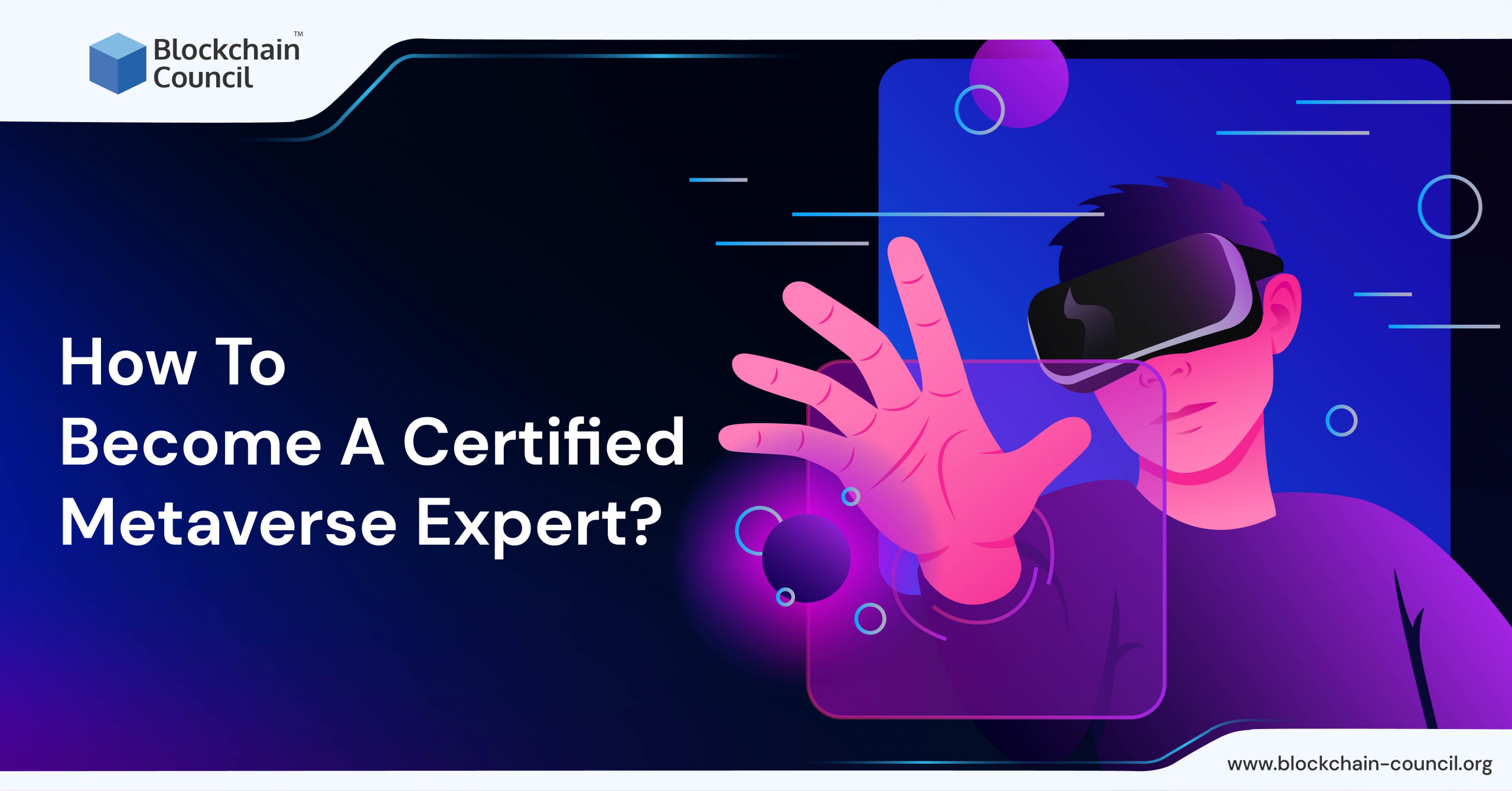 Technology development is crucial for enhancing our experiences in extended reality and different aspects of the digital world. In this advancement, metaverse technology has progressed quite quickly. Regarding digital communication, only voice calls and text messages were available a decade ago. But thanks to the metaverse, we probe possibilities unrelated to traditional voice and text…
https://www.blockchain-council.org/wp-content/uploads/2022/09/How-To-Become-Certified-Metaverse-Expert-01-scaled.jpg
1340
2560
Blockchain Council
https://blockchain-council.org/wp-content/uploads/2022/02/Logo-500x96-1.png
Blockchain Council
2022-09-29 11:53:28
2022-12-28 07:22:08
How To Become a Certified Metaverse Expert?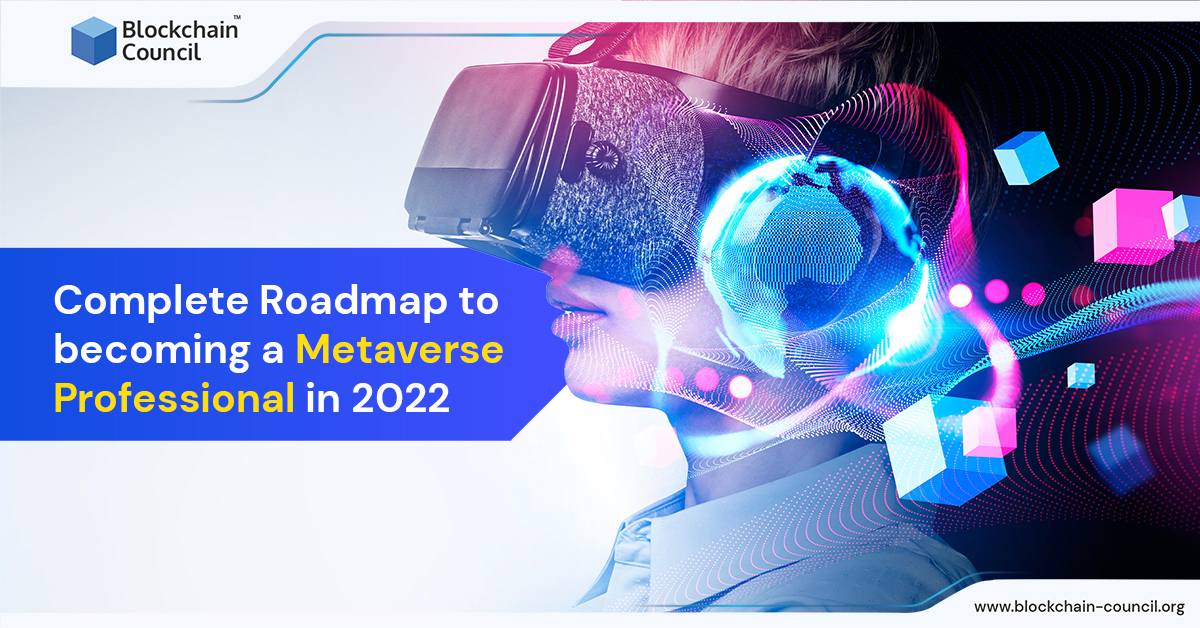 Web3 career prospects are in huge demand in 2022. Blockchain, NFT, Defi and Metaverse are the new lucrative options for enthusiasts who wish to make their career in IT. The concept of the Metaverse, specifically, has taken up the world by storm, and industries are jumping in to take their part in it. Wish to…
https://www.blockchain-council.org/wp-content/uploads/2022/09/Complete-Roadmap-to-become-Metaverse-Professional-in-2022.jpg
628
1200
Blockchain Council
https://blockchain-council.org/wp-content/uploads/2022/02/Logo-500x96-1.png
Blockchain Council
2022-09-20 09:42:52
2022-09-21 07:45:57
Complete Roadmap to becoming a Metaverse Professional in 2022
Subscribe to Our Newsletter
To receive Offers & Newsletters
Invest in your learning! Here's a coupon code tailored just for you
50,000+ Professionals certified so far by Blockchain Council
Enroll today in any of the popular certifications sought after by the industry.