Web3 career prospects are in huge demand in 2022. Blockchain, NFT, Defi and Metaverse are the new lucrative options for enthusiasts who wish to make their career in IT. The concept of the Metaverse, specifically, has taken up the world by storm, and industries are jumping in to take their part in it. Wish to make your career as a Metaverse Professional? In this blog, we will provide a complete roadmap following which you can excel as a Metaverse Professional and capitalize on the opportunities provided by Metaverse.
What is Metaverse?
Described briefly, Metaverse is nothing but a hypothetical iteration of mankind's age-old dream of such a world that unifies the virtual with reality. Think of it as a virtual environment, just like 3D games, where you can exist, engage and interact with anything and everything digitally. A complete virtual world where you can create and explore endless opportunities and leverage them for exponential income possibilities.

Experts believe that the concept and its substitutes are still in their nascent stages. Metaverse technology is meant to revolutionize and expand ubiquitously across all technological spheres.
Career Opportunities in the Metaverse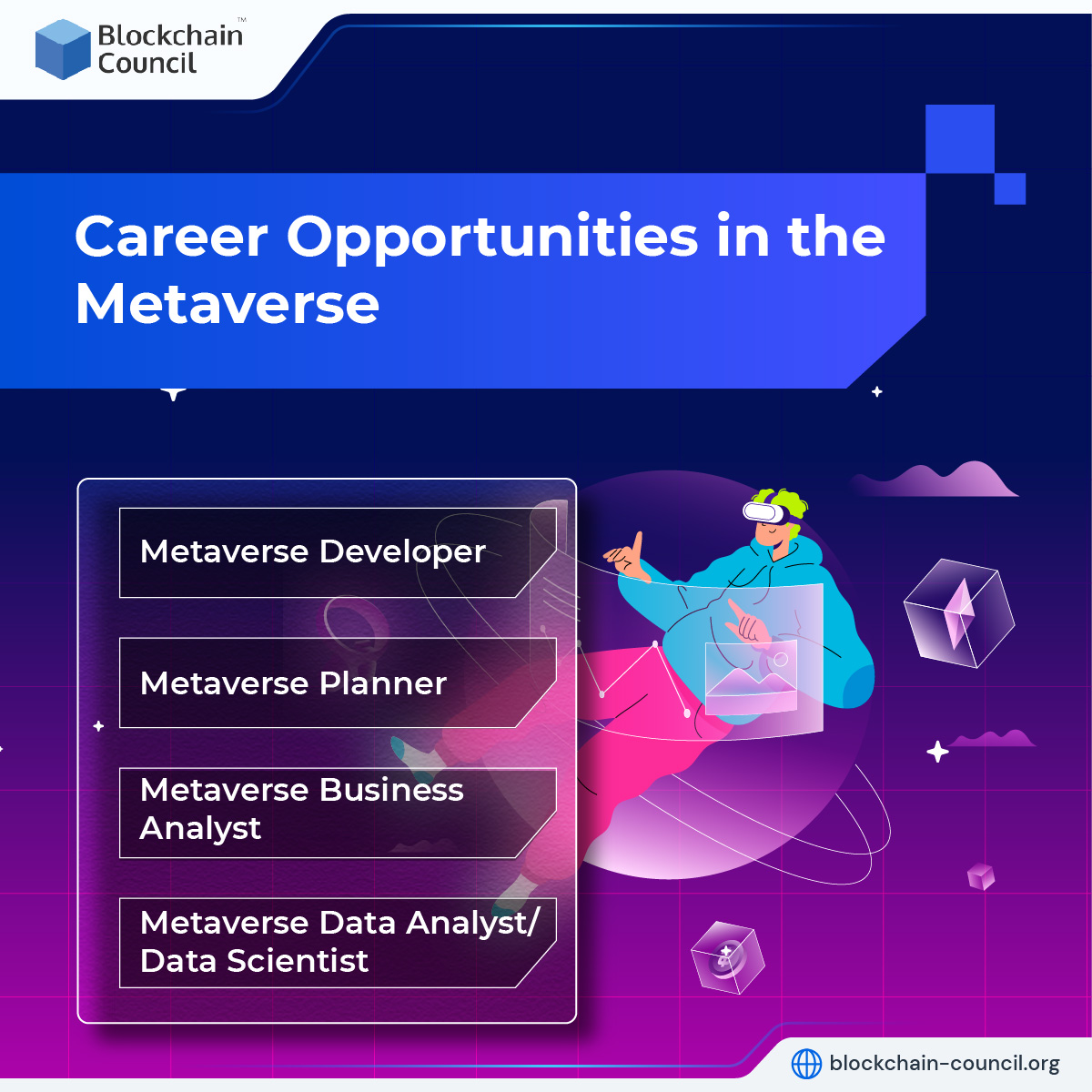 With more and more of the creator economy aggregating towards the domain, multiple job opportunities are forming in the web3-verse. Here are some of the best job opportunities that you can opt for in the Metaverse:
●      Metaverse Developer
A Metaverse Developer builds decentralized apps (dApps) and smart contracts using blockchain technology as per the Metaverse platform's architecture and protocols. They also develop 3D models, designs, and solutions that can be integrated to enhance user experience in the Metaverse.
Necessary Skills to become a Blockchain Developer:
Learn a Programming language, Data Structures, Database & Networking, Cryptography
●      Metaverse Planner
Metaverse Planners identify market opportunities, design case studies and roadmaps, and more in order to build a strategic catalog of initiatives based on proof of concept. They are also responsible to execute Metaverse strategies from conceptual stages to development.
Necessary Skills to become a Metaverse Planner:
Communication skills, Creativity, critical thinking, knowledge about game design and immersive tools
●      Metaverse Business Analyst
Metaverse Business Analysts foster new business opportunities for potential clients in the Metaverse by assisting with strategic analyses through various technological solutions.
Necessary Skills to become a Metaverse Business Analyst:
Communication skills, Negotiation skills, conceptual ideas about Blockchain, Multiparty Systems, NFT, Extended Reality
●      Metaverse Data Analyst/Data Scientist
Data Scientists in the Metaverse define, develop, and demonstrate proof-of-concept and functioning prototypes by developing enterprise-grade apps and guaranteeing the quality and responsiveness of Metaverse platforms and applications.
Necessary Skills to become a Metaverse Data Analyst/Data Scientist:
Good grasp of user interfaces, statistical/analytical expertise, objective decision-making, ability to curate business solutions
There are lots of other opportunities available in the Metaverse which involve UI/UX designers, product management, content writing, public relations, etc. All of these professions are highly compensated and come with the advantage of remote working opportunities.
Steps to Become a Certified Metaverse Expert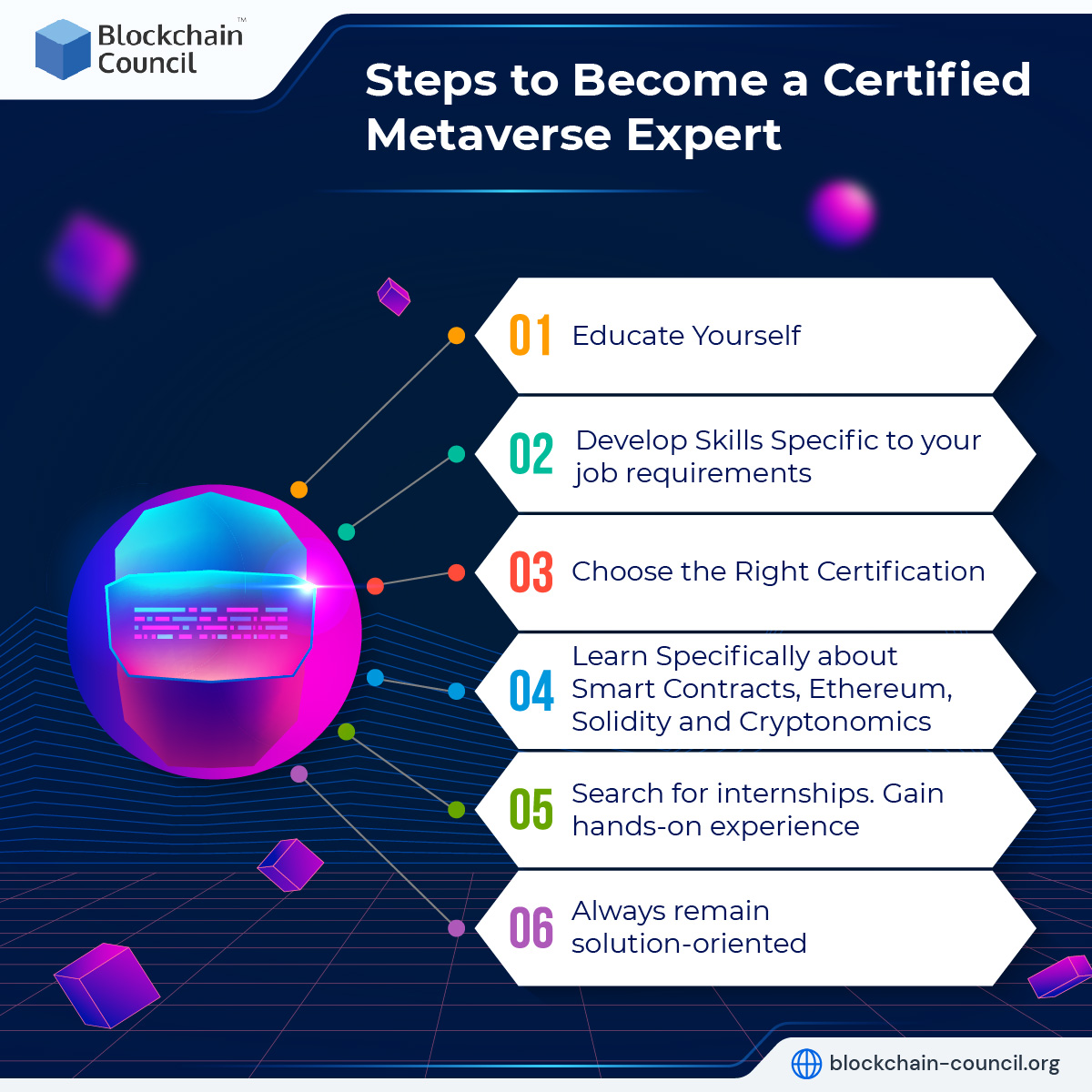 The roadmap to becoming a Metaverse expert is really not that hard. You simply have to stay committed to the process, educate yourself, and build up the right skills, and the next thing you know, you will be working for a Metaverse company or project as a Metaverse Expert. Follow the steps below to become a certified Metaverse expert:
1.    Educate Yourself
One of the primary reasons why people are unable to advance in their careers is that they limit their knowledge and learning. Therefore, your first and foremost responsibility would be to educate yourself. Learn about the fundamentals of Blockchain, Web3, NFT, and Metaverse. There is no end to learning. As you continue to learn, you will develop more interest in the field. Due process, your pathway as a Metaverse professional will automatically be clear.
2.    Develop Skills Specific to your job requirements
The right way to land a job as a Metaverse expert is to develop the right skills for any specific profession. Hence, you need to cultivate those specific skills which are fit for your profession of choice. If you want to be a developer, then learn coding, data structures, algorithms, and cryptography. If you want to be a content writer, then enhance your knowledge about SEO, keyword-based research tricks, and writing. A jack of all trades is a master of none. So, develop only those skills that are aligned with your job expectations.
3.    Choose the Right Certification
As the industry is still in its nascent stages, being certified is not absolute, but it is definitely a plus. Professional certifications will incur you better opportunities with higher compensation and benefits. But you need to choose your certification rightfully. For example,  if you are wanting to be a developer, then you might opt for blockchain, Ethereum, or other likewise cryptography-related certifications. On the other hand, if you want jobs in non-technical fields, you might opt for mixed reality and expert certifications. The difference between tech and non-tech roles in the Metaverse is really blurry. Therefore, most non-tech certifications also consist of introductory information about technicalities.
4.    Learn Specifically about Smart Contracts, Ethereum, Solidity, and        Cryptonomics
Blockchain technology is fundamentally based upon the concepts of smart contracts, cryptography, digital ledgers, and consensual algorithms. All other innovations of Blockchain, Metaverse being one of them, share similarities. As a Metaverse Expert, it is necessary that you understand all of these. Such will ensure much higher possibilities for you to land a job in the Metaverse.
5.    Search for internships. Gain hands-on experience
There is no better way to gain real-world working experience than working under professionals who have more experience than you in the field. Search for internship opportunities. There will be plenty as the domain is still afresh and evolving. Learn from the higher-ups, and collaborate on group responsibilities. Don't be afraid of making mistakes. Gain knowledge and imply. In no time, you will be a master in your field.
6.    Always remain solution-oriented
It is perhaps the most genuine recommendation one can ever give. Always be solution-headed. Don't simply apply just because of the money. Try to think of creative ways to approach your problems. Brainstorm different possibilities and research more about how industry experts are providing solutions. The metaverse is a boon for the creator economy. Communicate with artists, clients, and individuals regarding what possibilities they seek from the Metaverse. Devise your solution strategies likewise, and we assure you that you will have a highly rewarding and fruitful career ahead.
Is Metaverse Certification really necessary?
We won't say a Metaverse Certification is necessary, but having it highly increases your chances of getting hired. Nowadays, there is a multitude of online platforms that provide certifications and training on Blockchain and Metaverse. You can enroll yourself in any of the courses according to your need and complete them to become a certified Metaverse expert.
Certifications available at Blockchain Council
Blockchain Council is one of the most sought-after blockchain-oriented online education and certification platforms. We provide a diverse range of certifications in the fields of Web3, Blockchain NFT, Crypto, and Metaverse. All of our courses are expertly curated, fundamental-driven, knowledge inclusive, and fit to make you ready and employable for the market.
Enroll yourself in our courses and become an expert today! Click Here.
Bottom Line
Leveraging industrial nascency is one of the best ways to develop a high-grade professional career. Expert projections depict that the Metaverse Market size is currently $ 27.21 Billion and it can reach up to $824.53 Billion by 2030. Meta CEO Mark Zukerberg envisions the Metaverse to be a vast economy.
This is perhaps the most promising career prospect one can opt for in the coming times. We suggest you enroll in a Metaverse certification course today, learn in-depth about Blockchain and Metaverse, and enjoy a lucrative career as a Metaverse Expert.