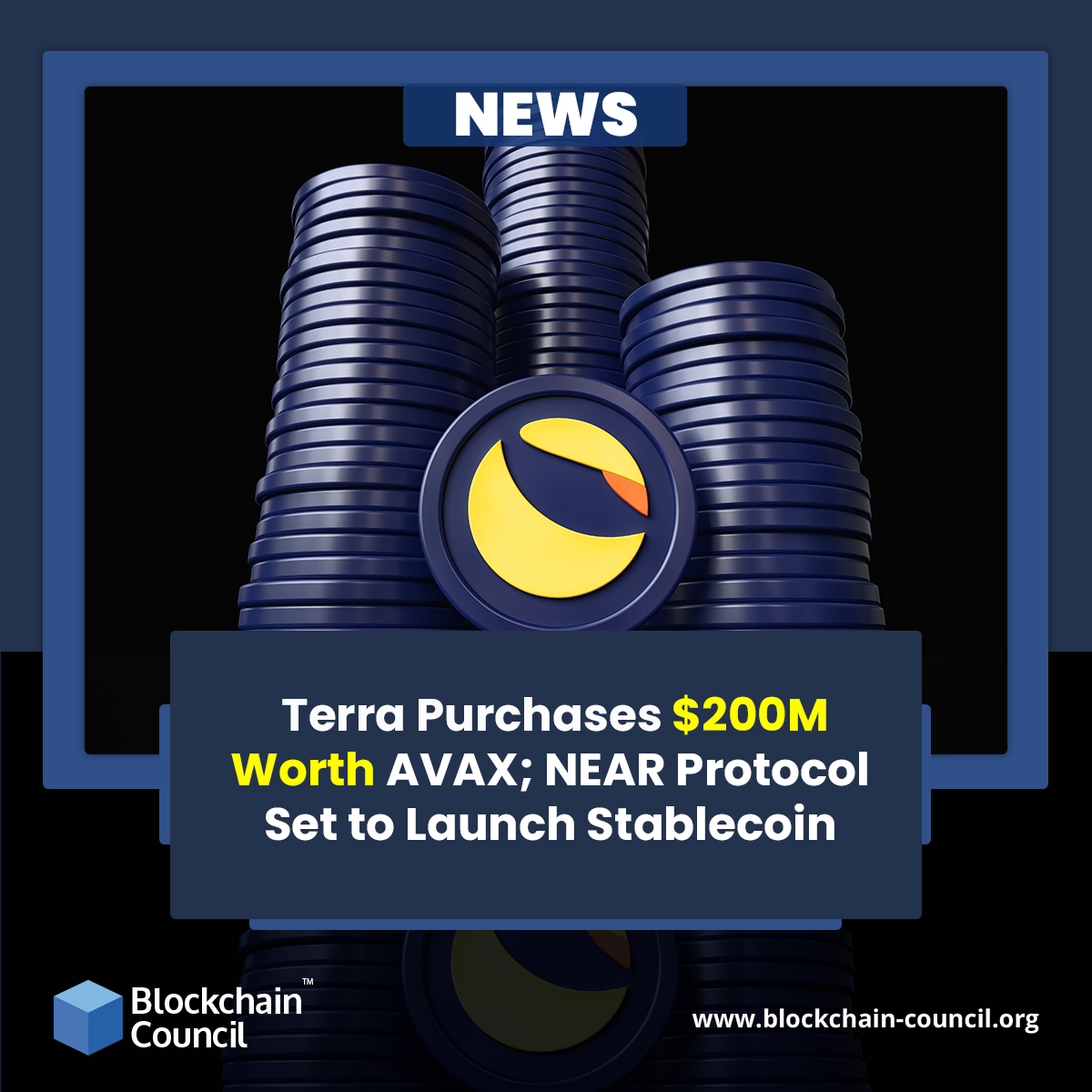 Thriving as the workforce behind the Terra blockchain ecosystem, the Luna Foundation Guard (LFG) and Terraform Labs (TFL) have jointly acquired $200M worth of AVAX tokens from the Avalanche Foundation. The LFG purchased $100 million worth of Avalanche's native currency AVAX via its UST stablecoin in an OTC transaction with the firm. On the other hand, Terra's development supporter Terraform Labs undertook a LUNA to AVAX token swap to acquire the remaining $100 million worth of tokens and achieve strategic alignment of the core ecosystem incentives.

1/ Thrilled to reveal the blossoming collaboration between @avalancheavax and Terra will also be further solidified with a $100 million Treasury Swap between TFL and the Avalanche Foundation of $LUNA <> $AVAX to strategically align ecosystem incentives!https://t.co/z9A86CWZDs

— Terra (UST) 🌍 Powered by LUNA 🌕 (@terra_money) April 7, 2022
With this development, the Avalanche Foundation presently holds $100 million worth of UST stablecoin and $100 million worth of LUNA coins in its kitty. The purchases are directed to reinstate the stability of Terra's in-built stablecoin project, UST which stands tall with a $16.7 billion worth market cap. The Luna Foundation Guard works as a non-profit entity designed to create reserves for the UST project. The portal used its personal UST holdings to acquire the $100 million worth of tokens from the Avalanche Foundation.
The founder of Terraform Labs or TFL, Do Kwon interacted with Bloomberg and shared some insights about the partnership. The chief revealed that LFG chose AVAX because of its strong presence in the fast-developing global blockchain cluster and the loyalty of investors toward the ecosystem. The spearhead said that Avalanche is in a growing stage and so a lot of its development relies on the loyalty of the investors for the native currency. The users feel connected with a product that syncs itself with the AVAX network. However, this loyalty is not dominant in Ethereum investors.  
Terra is sweeping its way into the industry and this has made its competitors uneasy who are working hard to gain an edge. Following the trend, Terra's competitor and a layer1 solution, Near Protocol (NEAR) is gearing up to launch a stablecoin called USN for users. The project will offer DeFi exposure to the investors as well as help them to earn a 20% APY on their USN holdings. Terra's Anchor protocol presently offers a 19.49% APY on UST holdings. The founder of Crypto Insiders Telegram group, Zoran Kole advocated the superiority of NEAR over Ethereum and Terra.  
If you are willing to widen your understanding of crypto and blockchain concepts then Blockchain Council is here to help you. The portal offers a wide range of courses offering in-depth knowledge on the subject along with premium exposure to the crypto space through practical training as well.
If you want to keep up with the trends of blockchain industry, join our communities on Discord, Reddit and Telegram.