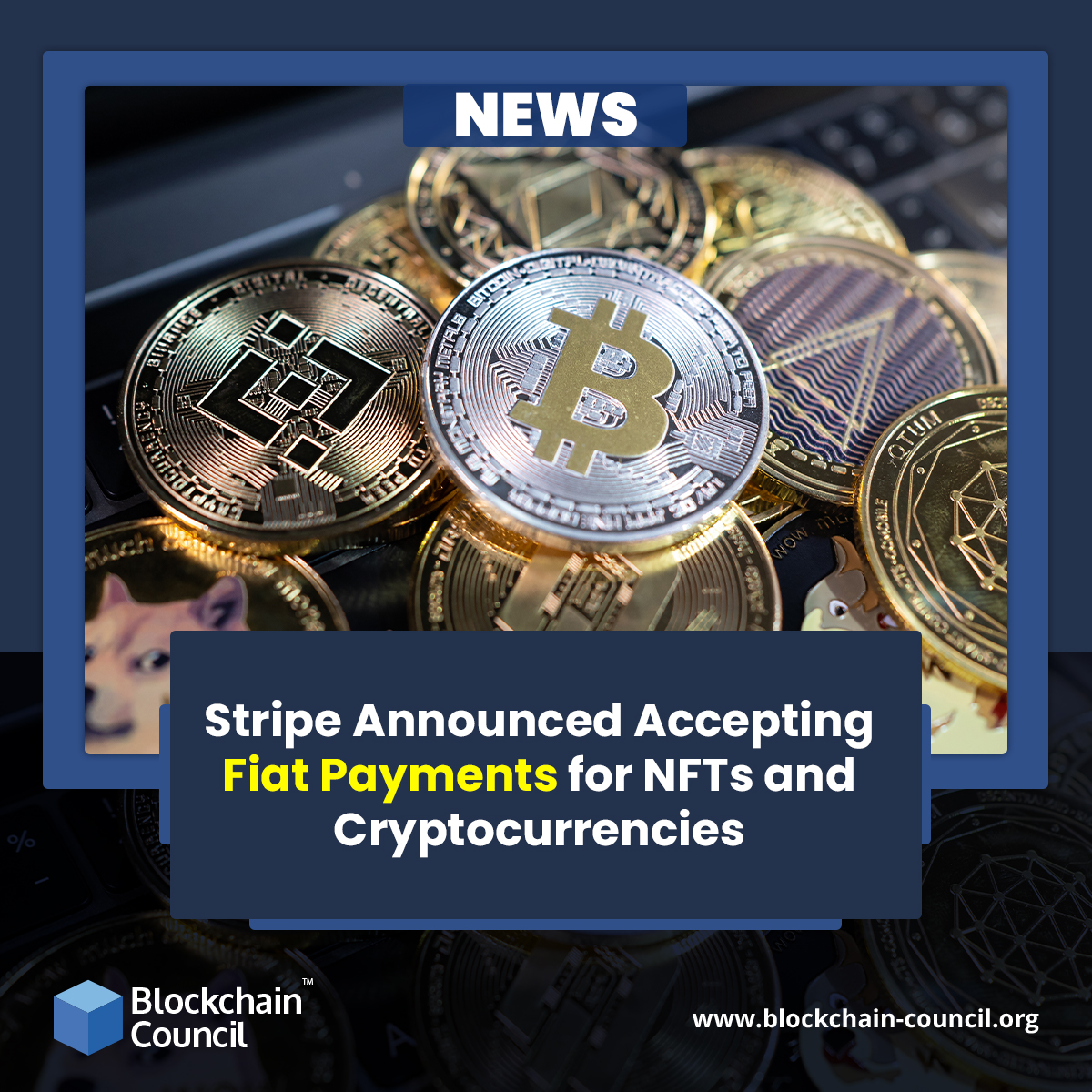 Working as a top-tier fintech firm from the U.S., Stripe has taken a strategic step towards crypto expansion by enabling support for fiat-based NFT and digital asset purchases for investors. As cryptocurrencies and NFTs continue to dominate the financial space, Stripe's newly-launched API service will help the firm in offering a user-friendly trading experience to crypto fans. The use of fiat for purchasing crypto assets and NFTs will help Stripe users in diversifying their portfolios in a simplified way without worrying about payment channels.

According to the announcement, firms can employ Stripe's Application Programming Interface (API) for accessing a plethora of services. The new solution will allow business entities to trade crypto using fiat, offer access to digital wallet solutions, allow user payouts in fiat, manage KYC and validation solutions, along with the utilization of data to detect and restrain illicit transactions quickly. The news was broadcasted by Stripe co-founder John Collins in an official Twitter post released on March 11, 2022. The company has also announced partnerships with trusted brands like FTX, FTX US, Blockchain.com, Nifty Gateway, and Just Mining to support the launch of the crypto business portfolio.
Stripe now supports crypto businesses: exchanges, on-ramps, wallets, and NFT marketplaces. Not just pay-ins but payouts, KYC and identity verification, fraud prevention, and lots more. https://t.co/3X173SkdPd

— John Collison (@collision) March 10, 2022
Talking about the pact, FTX's chief of strategy Tristan Yver stated that the collaboration will help the company in simplifying crypto trading. This will eventually help the firms in attracting a wider user community. The team is looking forward to opening multiple revenue streams by making crypto involvement easy for the users.
Stripe now supports NFT sales—and we're doing a drop of our very own today!

🄲🅄🄱🄴 🅃🄷🄸🄽🄶🄸🄴🅂

An open edition NFT drop presented by @stripe and @niftygateway.

All proceeds benefit healthcare nonprofit @watsi.

6:30–8:30 PM ET: https://t.co/Js0qCYQ4KN. pic.twitter.com/iUM6zGj01C

— edwin (@edwinwee) March 10, 2022
The Stripe community has launched an airdrop of NFT collectibles titled 'Cube Thingies' through Nifty Gateway. The assets come with a price range between $242.42 and $424.24 each to users for minting. The money collected from the sale will be wired to non-profit healthcare tech firm Watsi. The firm announced support for Bitcoin in 2014 but soon backed off within four years citing BTC's low transaction speeds and fees. However, the company stated that it would re-enter the sphere when crypto payments will become more easily accessible for investors.
If you are looking for a good crypto course, then Blockchain Council can help you. The portal provides a plethora of certificate courses devoted to the crypto sphere to help investors gain expertise, knowledge and practical exposure in the sector.