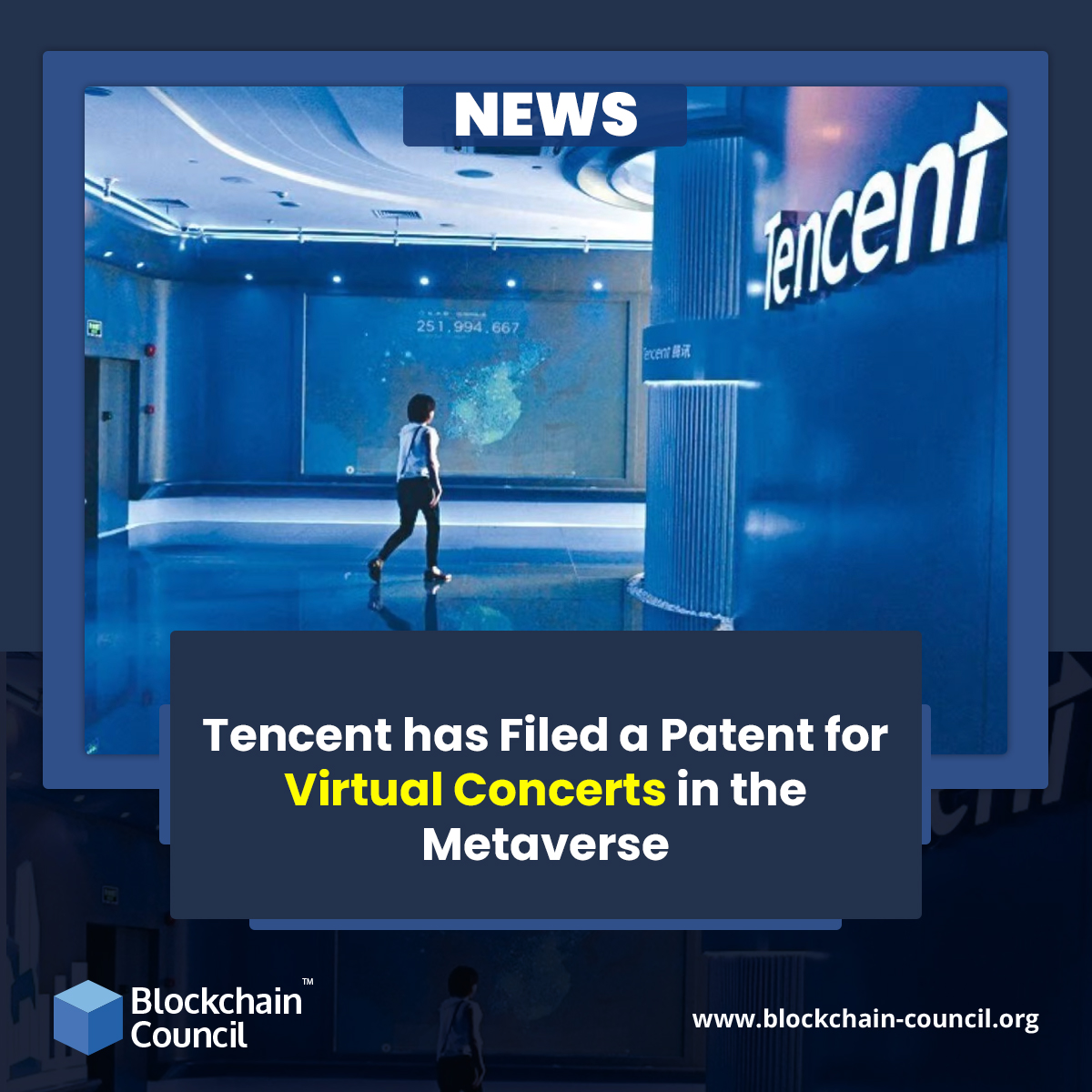 Thriving as a globally-dominating technology conglomerate from China, Tencent Holdings Ltd. has filed a patent request to host virtual concerts in Metaverse's virtual world. Lodged with the Chinese National Intellectual Property Administration (CNIPA), the patent approval will place Tencent as a strong player in the metaverse domain by giving it an edge over the other multinational firms. With this trademark application, Tencent has made its next strategic move focused towards proliferation into the fast-growing Metaverse tech space.  

What forms the interesting part here is that Tencent's deep interest in venturing across the metaverse comes right after the incessant warnings released by the People's Bank of China (PBoC). The Chinese government via PBoC gave multiple warning calls to investors citing the risks associated with crypto and metaverse technology. The central banking institute has often shared a speculative view towards crypto, NFTs, and digital technology tools such as Metaverse. The officials have advocated that such technologies and resources can be easily employed to execute illicit operations like money laundering, tax evasion, etc. by the individuals. The government also shut down Bitcoin mining rigs in the country to clamp down the growing industry.
The government in China has restrained all forms of activities related to virtual currencies like Bitcoin including the mining activities that were widely centered in the region. Interestingly, despite all this, a substantial number of investors are actively dealing with NFTs and metaverse. As per a report from The Paper, nearly 1000 Chinese tech companies have filed more than 16,000 metaverse-focused trademark applications to the concerned authorities.
In December 2021, Tencent planned the country's first-ever virtual concert called TMELAND in the Metaverse. The New Year-themed event witnessed participation from nearly 1.1 million people. This reflected the high potential metaverse market in the country. The firm acquired American tech firm Black Shark and Wave to support its vision. The startup company specializes in using motion-capture technology for organizing real-like virtual concerts. One of its metaverse concerts held last year on TikTok saw the participation of popular singer The Weeknd. The popularity of Metaverse technology is continuously on a rise with firms like Meta (earlier Facebook) striving to come up with innovative projects for customers.
The crypto industry is highly-dynamic and so people find it hard to understand its core concepts well. To overcome this hurdle, Blockchain Council offers a plethora of courses dedicated to cryptocurrencies and blockchain technology. The certifications are designed by experts to offer detailed knowledge to the students about the field so that they can start investing and earning.