The Blockchain Council team will be present at the World Metaverse Show, Dubai, on October 5-6, 2022, at the Address Dubai Marina Hotel. 
Come and meet the Blockchain Council's team at this premier event and get the chance to win a Virtual Land in the COMEARTH Metaverse. COMEARTH is the world's first Web 3.0 e-commerce metaverse which allows brands & creators to create unparalleled commerce experiences while consumers discover everything in one place.

Click here to schedule your appointment with our team members, Rohan Kulshreshtha, AVP Events & Partnerships, and Nitish Srivastava, AVP Sales & Strategic Alliances, at the World Metaverse Show and enter this exciting giveaway.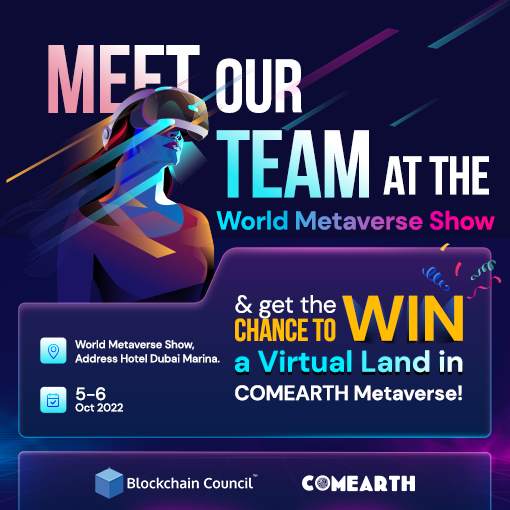 World Metaverse Show is a thought-leadership-driven, business-focused, global initiative that is gathering digital builders, entrepreneurs, investors, governments, enterprises, technology providers, and experts from gaming, 3D, VFX, XR, Web3, and beyond.
Event Details:
Date: 5-6 October 2022
Venue: The Address Hotel Dubai Marina
Tickets: Available Here (Use Coupon Code BCC15 to get 15% Off on Standard & VIP tickets and exhibitor slots)
The Show features exciting keynotes, enterprise use cases, product showcases, panel discussions, and tech talks to discuss the trends and challenges in technology implementations that will eventually determine the future of virtual reality and its applications.
World Metaverse Show is connecting global Metaverse experts and technology providers with pre-qualified CEOs, Chief Creative Officers, Directors of Metaverse Engineering, Chief Metaverse Officers, CMOs, Chief Product Developers, and Chief Innovation Officers – all under one roof.
Don't miss this excellent opportunity to learn, meet and network with the key decision-makers in the Metaverse space and click here to schedule your in-person meeting with our team attending the event.