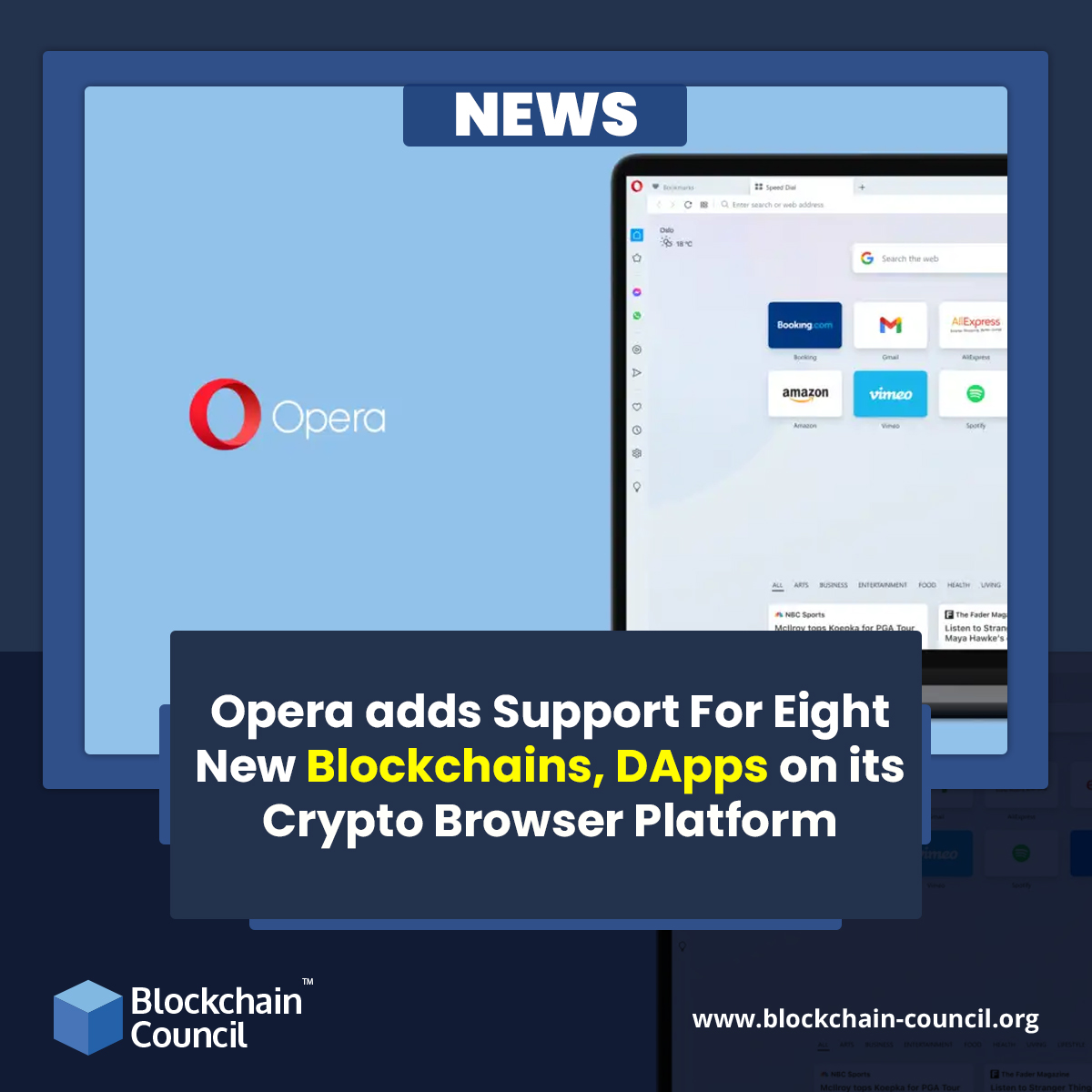 Coming from Norway, the popular web browser Opera has introduced a chain of developments in its core infrastructure to support its expansion across crypto and blockchain ecosystems. The globally-acclaimed browser has announced to add support for eight top-tier blockchain and layer-2 channels along with some potential decentralized apps or DApps. As part of its latest Web3 push, Opera will implement support for Solana, Polygon, StarkEx, Ronin, Celo, Nervos, and IXO blockchain networks on its platform to enhance the operational capacity of its infrastructure. 

Earlier in 2018, Opera took its first crucial step into crypto by launching its in-built digital wallet solution for customers. The portal emerged as the first web browser to include a digital wallet for storing virtual currencies that became quite popular amongst investors. In January 2022, the team launched a new initiative and came up with the beta version of the Crypto Browser Project. The firm is laying special emphasis on its expansion plans focused on Web3 solutions specifically blockchain projects, DeFi, and DApps. Now, as part of its latest upgrade to the Crypto Browser, the team has included eight new blockchain networks to further its growth in the sector.
According to the report, the users can access the above-mentioned decentralized channels along with a plethora of lucrative features including DeFi via Opera's crypto browser and digital wallet. The integration of Polygon and StarkEx will help investors to enjoy lower gas fees and speedy transactions. With the upgrade, Opera will encourage users to take advantage of the fast-developing Web3 ecosystem. The Crypto Browser project aims to offer a one-stop solution to all Web3 browsing tools and services. 
There has been a constant flow of funds and industry support for Web3 projects. Recently, Yuga Labs, the creator of Bored Ape Yacht Club fetched $450M to fuel its investments in the Metaverse and Web3 sector. Katie Haun, a former a16z founding partner, recently raised $1.5B to support investments in crypto and Web3. Opera is putting all its efforts to mark its strong presence in the decentralized sphere and giving stiff competition to other firms in the industry.
If you are planning to hone your skills in crypto and blockchain technology then Blockchain Council has something great for you. The platform offers multiple certificate courses dedicated to the crypto sphere wherein the participants are given subjective as well as practical knowledge about the industry.  
If you want to keep up with the trends of blockchain industry, join our communities on Discord, Reddit and Telegram.