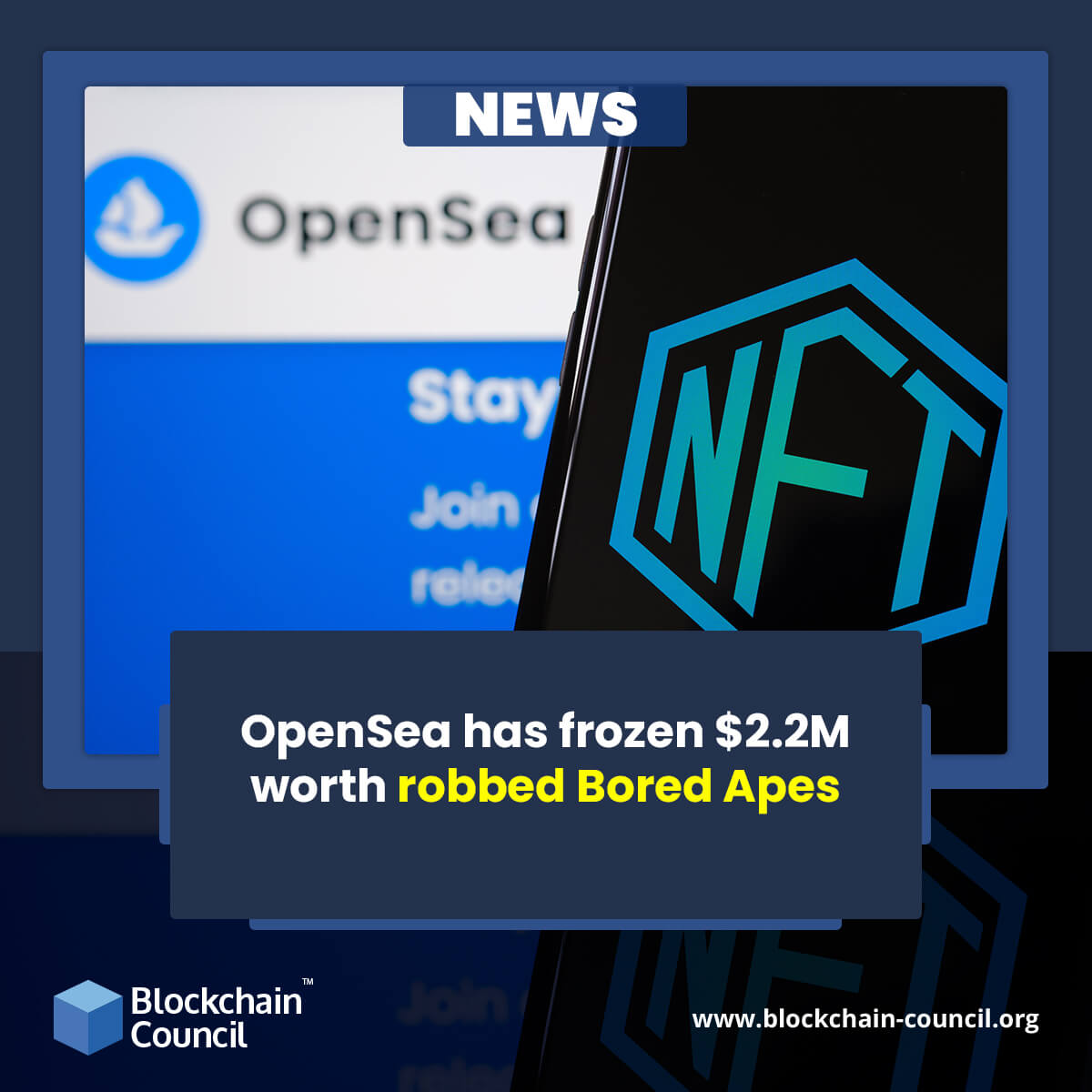 Leading marketplace for Non-Fungible Token fans, OpenSea has frozen 16 Bored Ape and Mutant Ape NFTs right after they were stolen from the hot wallet of a New York art gallery operator, Todd Kramer. The digital collectibles were stolen from the account named 'toddkramer.eth' that is linked to the Ross+Kramer Art Gallery in New York. Terrified by the theft of his valuables, Kramer released a series of tweets informing about the loss and seeking help from OpenSea and the NFT cluster.

According to the announcement, the owner lost a whopping $2.2M or nearly 615 ETH worth of Non-Fungible Tokens from his hot wallet. The valuables included one Clonex, seven Mutant Ape Yacht Club, and eight Bored Ape Yacht Club tokens. For the unversed, a hot wallet is a crypto wallet that gets connected to the Internet, primarily MetaMask, as and when the device it is installed on is connected. Thus, a cold wallet or a hard wallet gets connected to the Internet only when its device is manually plugged into the system. The transactions require approval through the physical touch of the buttons. Hard wallets are considered to be better than hot wallets in safeguarding digital assets.
The team of experts at OpenSea took immediate control of the situation and froze the stolen tokens to restrict their trading on the trading platform. The steps taken by OpenSea to freeze the stolen assets have disappointed a few users. Some investors commented that this shows the lack of decentralization on the platform that is an unprecedented feature of cryptocurrencies. Grady Booch, a known software engineer, mocked the situation by saying that his idea of cryptocurrencies involved the elimination of all sorts of intervention.
Kramer revealed that he lost his assets in a phishing scam where the hackers gained access to his wallet when he clicked on a suspicious link. However, after seeing the unsympathetic comments on his post, Kramer deleted the tweet and called Twitter ruthless. He stated in one of his tweets that he has learned his lesson because of the theft and is now aware of the diligence required for handling valuable crypto assets in a hard wallet.
The incidences of theft and frauds are not unfamiliar for the crypto and NFT industry. Earlier an NFT collector named bergpay.eth lost five Jungle Freaks and two Sandbox NFTs in his Ethereum wallet. The crypto experts always advised investors to be very protective about their passcodes and wallet codes when trading on related platforms.