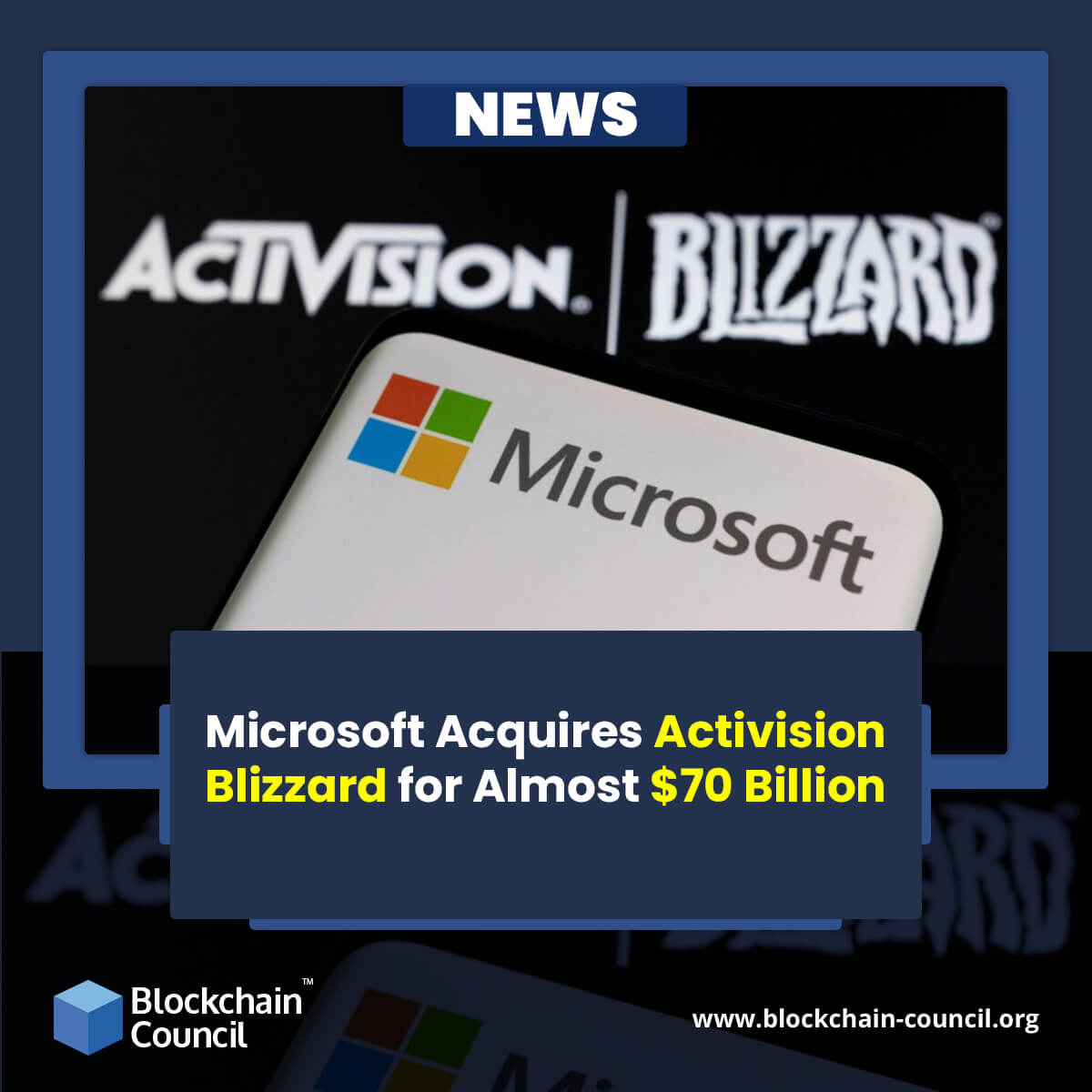 The acquisition of Activision Blizzard by Microsoft was the major news this week. Microsoft revealed today that it would pay $68.7 billion for Activision Blizzard, a game company. Microsoft has put a foot forward for turning into the world's third-biggest gaming organization as far as revenue, following Sony and Tencent. 

Last year, the new deal outperformed Microsoft's $7.5 billion purchase of Bethesda, the studio behind the Doom and Fallout titles.
Microsoft is putting its bets on the gaming industry's future in the following years. We saw the Metaverse skyrocket in popularity in Q4 of last year, so betting on gaming in the coming years could be one of Microsoft's best recent moves.
Blizzard's stock has risen by more than 30% today due to the acquisition, reaching at $86. The current market capitalization of Blizzard is $64.1 billion, which is nearly $4 billion less than the value of the latest acquisition.
Blizzard's acquisition by Microsoft is a perfect opportunity for the corporation to distance itself from its previous leadership, which received a lot of bad press after allegations in August 2021 claimed abuse of female employees at the company.
Fortunately, Activision CEO Bobby Kotick will step down after the Microsoft deal is finalized. 
In terms of how the acquisition would affect gamers, we can expect to see more exclusive titles and DLCs released exclusively for Xbox systems. Halo Infinite, which is only accessible on PC and Xbox systems, is an excellent example.
Microsoft's new acquisition is definitely a strategic move to acquire a competitive advantage over Sony and provide more compelling reasons for people to choose an Xbox over a Play station device. But, of course, it's only natural, given Microsoft's multibillion-dollar acquisitions of some of the industry's largest and most profitable gaming companies.
This could demonstrate that future Call of Duty games may be accessible on Microsoft-claimed platforms like Windows and Xbox.
While it's too soon to tell whether Blizzard games will begin shipping solely for Microsoft platforms, it is evident that Microsoft is searching for a more significant portion of the gaming business sector. And making well-known titles selective to its control center is a quick method for acquiring a significant benefit in clients and income.