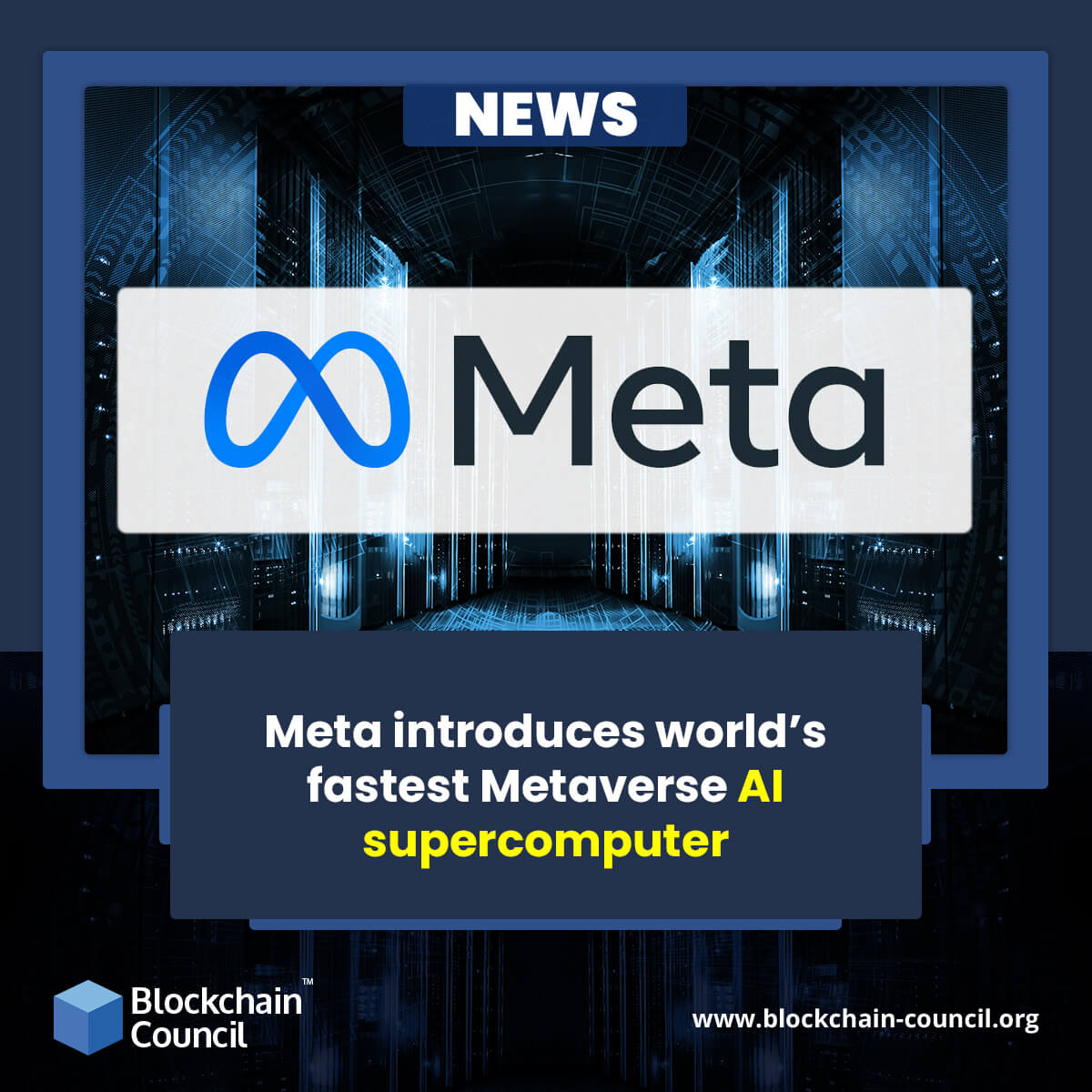 With the striking surge in the popularity of Metaverse technology, firms from across the globe are constantly working to expand their operations in the cluster. The most prominent player in Metaverse has been Facebook's parent firm 'Meta' that has released a blog post featuring its newly-designed AI-supported supercomputer named 'Research SuperCluster' (RSC). Led by Mark Zuckerberg, Meta is the new revamped name adopted by the firm to shift its focus to Metaverse that has managed to emerge as one of the fastest-growing digital sectors.

According to the claims made by Meta, the RSC supercomputer will work as a strong facilitator for the company's expedition into the Metaverse cluster. The project is one of the fastest supercomputers in the world and will help the team to create a strong Metaverse channel for its users. With this highly-anticipated supercomputer, Meta is looking forward to placing itself at the top spot against its competitors right after the project's full implementation in mid-2022 by the firm. The team has not revealed any information about the location of the supercomputer and the investment involved in its creation.
The blog post stated that the development of the next-gen technologies will need powerful computers like RSC efficient to perform quintillions of operations every second. The RSC supercomputer will help to create technologies for the upcoming projects involving Metaverse technology. The Metaverse will be widely dependent on AI applications and related projects.
Mark Zuckerberg in his Facebook post conveyed that the Metaverse requires huge computing power for managing a high volume of operations quickly. The RSC project will be able to execute quintillions of transactions per second and work effortlessly well across hundreds of different languages for developing advanced AI projects. The technology will help to design powerful AI solutions for computer vision, natural language processing, and speech recognition. The new AI products will help to collaborate multiple operations simultaneously for the users.
facebook @Meta builds a supercomputer in private to better monetize users' data in its metaverse.

ethereum builds a world computer in the open that allows users to control their data in the metaverse.

not the same. https://t.co/lTFIFRw840

— Camila Russo (@CamiRusso) January 24, 2022
Talking about the project, decentralized finance analyst, Camilla Russo compared Meta's RSC with the Ethereum channel. The expert said that ETH is seen as somewhat like a global supercomputer by several industry people. Earlier in December 2021, the VP of Intel's accelerated computing systems and graphics cluster, Raja Koduri remarked that the present computing infrastructure will have to improve a thousand times to support the Metaverse industry. The Metaverse refers to a virtual world where people can work, play, and connect through virtual reality and augmented reality technologies.